Microsoft has been supporting its users in productive work for years. By releasing better and better versions of systems and following evolutions of Office suites, it responds to all the needs of people worldwide. Therefore, it is one of the leading software sellers of our time.
In 2022, Microsoft released another suite of outstanding applications – Microsoft Office 2021. This product is a prime example of how software developers cooperate with users by collecting opinions and suggestions about their work. MS Office 2021 is a compilation of the most successful functions and tools known to some Microsoft 365 users.
However, not everyone wants or can use the cloud, so the company decided to release a product perfect for all users. But is it really the best office suite? And does it surpass the well-known MS Office 2019? If you are seeking answers to these questions, continue reading this article about the ultimate Microsoft Office 2019 vs 2021 comparison.
What's new?
Microsoft Office 2021 features many improvements and new tools to make your work more productive. The pack includes flagship programs known by millions of satisfied users worldwide. The application bundle is also available in three editions tailored to individual needs: Home & Student, Home & Business, and Professional.
Home & Student version is a proven set of essential applications, including Word, PowerPoint, Excel, OneNote, and Teams.
On the other hand, Home & Business adds Outlook, the most needed for regular e-mail contact.
You will receive the full content of the package in the Professional edition, which, in addition to the already mentioned applications, also includes Access and Publisher.
But let's start with the basics. Office 2021 was released at the same time as Windows 11. No wonder, as both products complement each other and work together perfectly. However, the most notable change is the new look of the app bundle from Microsoft. The interface is much more pleasing to the eye than in previous editions, the colors are less distracting, and their tones are reduced to more natural shades. Of course, you can always customize them as you please! In addition, the shape of the windows and the arrangement of the most vital functions are much friendlier, creating an intuitive working environment.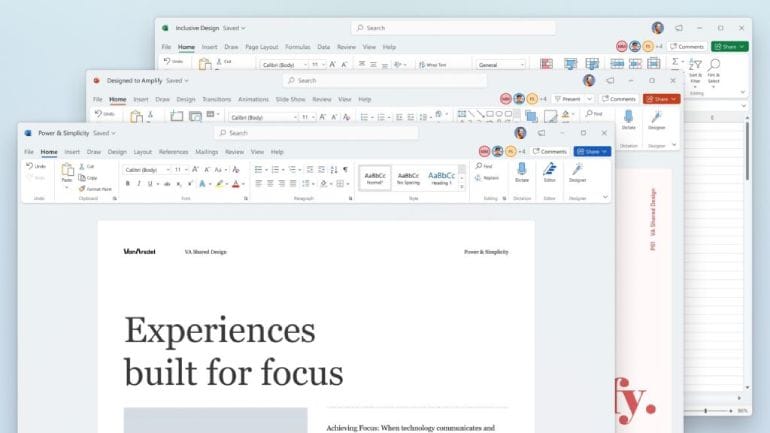 Source: Microsoft
Another massive change is the inclusion of Microsoft Teams in the Office suite. This reliable application has proven its worth during a global pandemic, becoming a source of contact for millions of people. Thanks to its simple operation, it boosted remote learning, work, or spending free time together. It has become an absolute must-have not only for professional users but literally everyone. In Office 2021, you will receive it in each of the three editions, so you can never worry about losing contact with your coworkers or friends.
But that's not all, as each app has also received new features that make your work easier than ever. Discover the iconic Word with text predictions to perform any creative process faster and more satisfying. Do you work with Excel? Office 2021 features new dynamic arrays and tools for better searching or writing the most complex formulas in your project. There is also something for PowerPoint users with the highest needs for their work. From now on, you can record any presentation – including cursor movements or narration. And the irreplaceable Outlook will translate every e-mail into over 70 languages, so you can avoid any obstacles in communication with others.
How about Office 2019?
Surprisingly, the differences between the two suites aren't that huge. In the older set, you will find the same applications as in Office 2021 Professional but without MS Teams and OneNote. For some, it may be a drastic difference, but if you use other messengers on your PC or smartphone and your work does not require Teams – you can safely resign from Office 2021.
It is also worth mentioning that updating Office 2019 to 2021 is impossible, and each edition should be treated as a separate product. However, the changes coming with MS 2021 are not particularly revolutionary. Office 2019 offers functions like translating text and converting handwriting or motion graphics for years. It is more than the minimum of impressive features for most casual users. So if you do not require a perfect set of the most modern tools and like to use the familiar and proven Office 2019 – enjoy it as long as you desire.
What to choose?
The MS Office 2019 vs 2021 comparison is the basis for heated discussions on Reddit. The conclusion, however, is obvious – and it is simply the individual needs. If you are a professional user and need the latest features and regular updates for your education or work – choose Office 2021. It is a guarantee of being always up-to-date and staying in touch. Especially if you've also purchased a Windows 11 license that will work perfectly with this particular app bundle.
However, if your work, study, or entertainment needs do not require the most revolutionary features, stick to the proven Office 2019. It is still a new suite of applications that works perfectly with any system – including Windows 11. Like Office 2021, this product is ideal for users who do not necessarily want to use the cloud and value working offline. So by choosing the 2019 version, you can be sure of safety, the comfort of work, and proven support in every creative process.