All the newest games are fun. They deliver smooth gameplay, perfect graphics, and captivating stories. But there are titles with extraordinary power – classic retro games!
When it comes to the classics, everyone has something else in mind. Some players think of titles from the 2000s, while others dream of arcade video games. And today, we are embarking on an exciting journey to the past – all the way to the years before the 90s. It is a perfect occasion for those who have not had the opportunity to witness the roots of gaming. And for those who want to dust off their memories. At Classic Video Game 2022 sales, everyone will find the best deals for themselves! Get in, no time to explain – here's a list of the best old games released before 1991.
Space Invaders
| | |
| --- | --- |
| Release: | 1978 |
| Genre: | Shoot 'em up |
| Developer: | Taito |
This legendary arcade game, released in 1978, encouraged thousands of kids to spend their pocket money on arcades. And although it's graphically simple and lacking a rich plot, it's one of the most challenging titles ever!
In your hands, you have the only cannon that can stop the alien invasion. Shoot the incoming invaders' troops and destroy all enemies! But be careful – this gameplay is endless. The more enemies you eliminate, the faster their units appear. For fans of this unique title, we especially recommend the renewed version of the game – Space Invaders Extreme!
Key features
Play one of the most challenging classics of 1978
Fight the alien invasion
Shoot as fast and precise as you can
Destroy special ships and collect more points
Donkey Kong
| | |
| --- | --- |
| Release: | 1981 |
| Genre: | Platform |
| Developer: | Nintendo R&D1 |
Did you know that before Mario became Mario, he was someone entirely different? You will find his origins in this classic arcade platformer from 1981!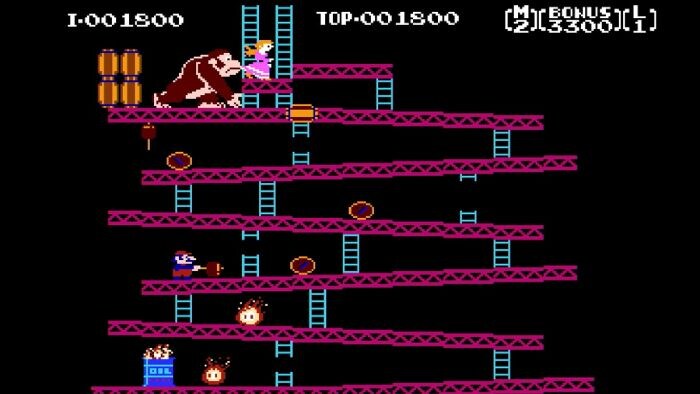 Donkey Kong is an ape belonging to the main character of the game – Jumpman. Faced with bad treatment, he decides to take revenge on his owner and kidnaps his beloved, and the player's task is to get her back. Does it remind you of something? Although Jumpman is a carpenter in the Donkey Kong game, he is none other than the famous and beloved Mario. Donkey Kong is one of the first games with a campaign about saving a lady in distress right in the middle of the action.
Key features
See Mario's debut in the world of video games
Save your loved one from the hands of an angry gorilla
Complete the levels by jumping and avoiding deadly obstacles
Collect items and earn points
Castlevania
| | |
| --- | --- |
| Release: | 1986 |
| Genre: | Platform |
| Developer: | Konami |
It is the title that started an avalanche of creativity in the TV series and video game industry. Although its origins date back to 1986, it still arouses not only sentiment but also excitement.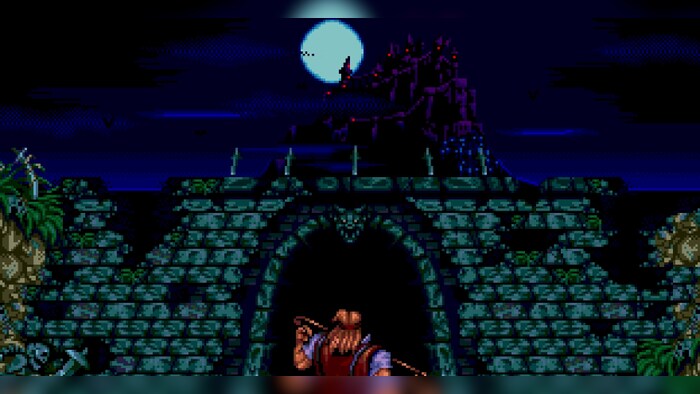 When the world is peaceful, vampire hunters are no longer needed. But in the underground of the massive castle hides the most powerful vampire monster – Dracula! The last descendant of the Belmonts will have to awaken an ancient destiny within himself and face the lord of darkness. If you are interested in playing the very beginning of the series, Castlevania Anniversary Collection on Steam will surely meet your expectations.
Key features
Play as Simon and fight the vampires
Explore the castle and travel through the levels
Use special weapons and eliminate enemies
Confront the bosses and defeat Count Dracula himself
The Legend of Zelda
| | |
| --- | --- |
| Release: | 1986 |
| Genre: | Action-adventure |
| Developer: | Nintendo R&D4 |
It's an action-adventure video game from Nintendo that had many excellent sequels since its 1986 release. Play as Link and see the beginning of his thrilling adventure in the kingdom of Hyrule!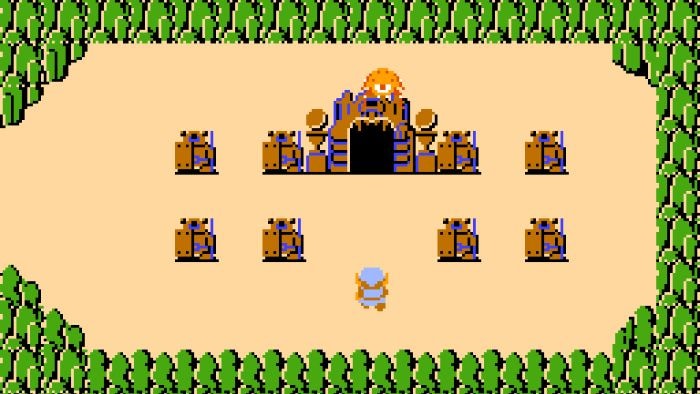 Triforce of Wisdom is lost, and Princess Zelda must be saved. Only one hero can complete these challenging tasks – Link! Embark on an adventure of your life in the kingdom of Hyrule. And if you are interested in newer versions of the series, be sure to check out The Legend of Zelda: Breath of the Wild from 2022 – it's an exciting and magical adventure in an impressive and polished setting.
Key features
Play as Link and save Princess Zelda
Experience the gameplay that laid the foundation for an entire adventure game genre
Explore the levels and collect valuable items
Use your sword to defeat your enemies
Dragon Quest
| | |
| --- | --- |
| Release: | 1986 |
| Genre: | Role-playing |
| Developer: | Chunsoft |
Welcome to one of the mechanically simplest role-playing games ever! Take part in a heroic adventure and restore peace to the kingdom of Alefgard ravaged by darkness.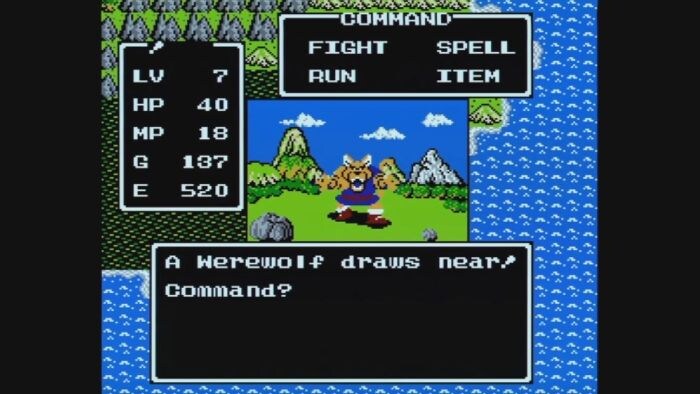 Dragon Quest is a classic story about a hero saving a princess from oppression. Become a hero from nowhere and set off on a journey to deal with the evil Dragonlord's dark envoys once and for all. This game initiated a whole series of legendary RPGs about the battle against evil and the extraordinary power of friendship.
Key features
Play as an adventurer worthy of saving the princess
Set off on a journey through Alefgard and discover its history
Complete missions and gain experience
Fight your enemies and defeat the evil Dragonlord
Street Fighter
| | |
| --- | --- |
| Release: | 1987 |
| Genre: | Fighting |
| Developer: | Capcom |
The golden era of arcade machines gave us one of the most famous fighting games in the world – Street Fighter. Play solo or against your friend and discover the legend of the fiercest street fights!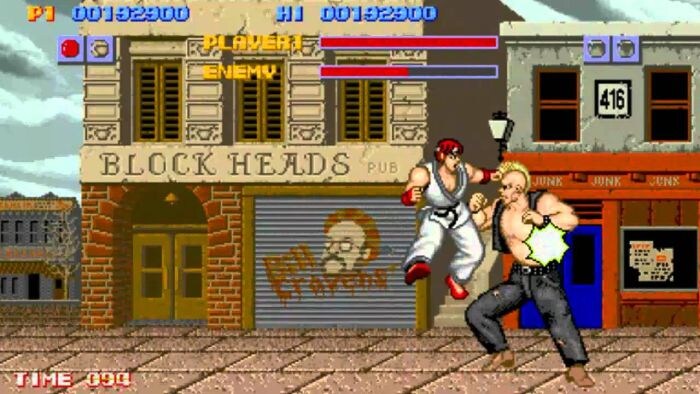 Play as Ryu or Ken and set off on an epic journey to battle the best of the best. Discover the most effective combinations of attacks, become the strongest of them all, and win! This game has captured the hearts of players worldwide, collecting more and more fans of the latest installment – Street Fighter 5 for Windows and PlayStation 4.
Key features
Choose your hero and face the most skilled enemies
Train your moves and skills
Create complex combos and attacks
Get carried away by Ryu and Ken's friendship story
Final Fantasy
| | |
| --- | --- |
| Release: | 1987 |
| Genre: | Role-playing |
| Developer: | Square |
It is a game that was supposed to be Square Co.'s last project and has become their most successful title. The entire series is already an impressive piece of work, and many of its threads have their origins in the first part, released in 1987 for NES consoles.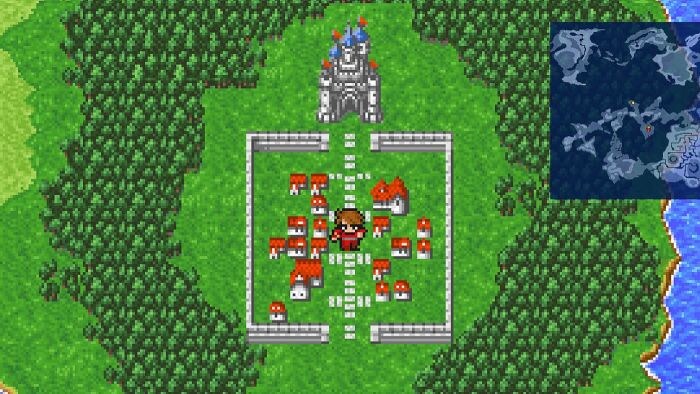 Gather a party of four heroes and set off on a journey through magical lands to complete tasks and learn their history. This adventure will take courage and brains – experience it to uncover the greatest mysteries of the Final Fantasy world and discover the roots of this legendary series!
Key features
Create a group of four heroes
Set off on a journey through various lands
Complete quests and gain experience
Explore and discover the secrets of magical continents
Metal Gear
| | |
| --- | --- |
| Release: | 1987 |
| Genre: | Action-adventure, stealth |
| Developer: | Konami |
Are you a fan of Solid Snake, and the Metal Gear series is one of your favorite titles? So maybe a little journey back in time? See Metal Gear from 1987 – the video game that laid the foundations for an entire genre of stealth games.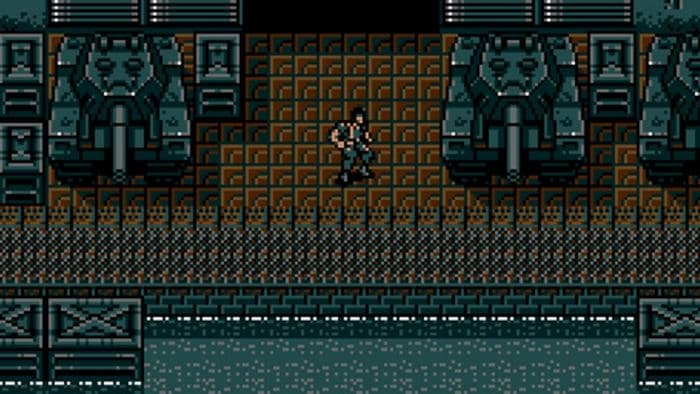 When Gray Fox fails the mission, only Solid Snake can bring things to a happy end. Stop a nuclear attack and become one of the most valued members of the elite FOXHOUND unit. It is a true classic for fans of the best Metal Gear stealth games!
Key features
Play as the legendary Solid Snake
Explore the enemy base and collect valuable information
Sneak and eliminate enemies by surprise
Witness the start of one of the best stealth series ever
Prince of Persia
| | |
| --- | --- |
| Release: | 1989 |
| Genre: | Cinematic platformer |
| Developer: | Broderbund |
It is a video game that inspired the players' imaginations and thirst for adventure. Go on a magical journey, avoid traps and save a lovely princess from the hands of the evil Vizier Jaffar.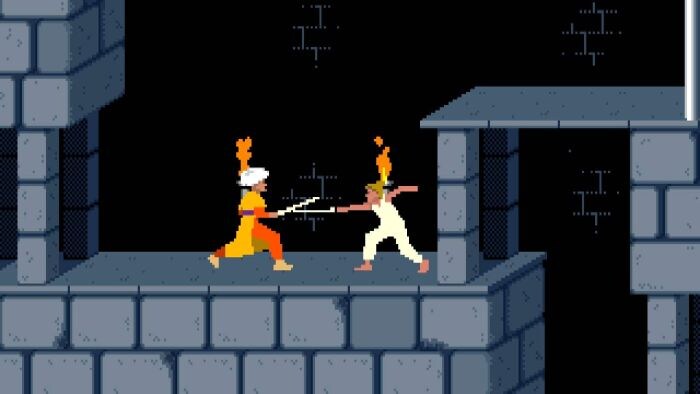 Play as the prince and embark on an adventure to save the princess and all Persia! The fate of the entire kingdom depends on you, so you must show some strength and courage to overcome all obstacles set by the evil Jaffar. Prince of Persia is a game that climbed to the heights of popularity after its release in 1989 – and the following parts of this classic series continue to come out today.
Key features
Play as the prince and save the princess and Persia
Explore the levels and avoid traps
Jump, run and fight
Solve puzzles to follow the upcoming chapters of your adventure
SimCity
| | |
| --- | --- |
| Release: | 1989 |
| Genre: | City-building |
| Developer: | Maxis |
It's a city-building simulator released on PC by Maxis in 1989 that introduced a series of fantastic games known worldwide. What was the first SimCity like? Let's see!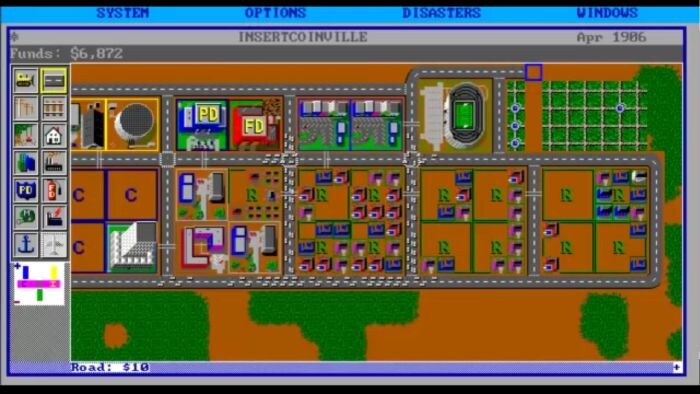 As in the latest installments of SimCity, their ancestor also focuses on building a city and taking care of the most vital needs of citizens. Use the cash, construct buildings, create an efficient transport network and collect taxes. This game is an award-winning title right in the heart of the best city builders ever.
Key features
Buy plots of land and construct buildings
Create a road network and arrange transport for citizens
Monitor moods and reduce crime
Make everyone happy and willing to pay taxes
Kid Icarus
| | |
| --- | --- |
| Release: | 1986 |
| Genre: | Platform |
| Developer: | Nintendo |
Become a little angel and get caught up in the intrigue between beings stronger than you. This game is a real treat for fans of the myth-based classics!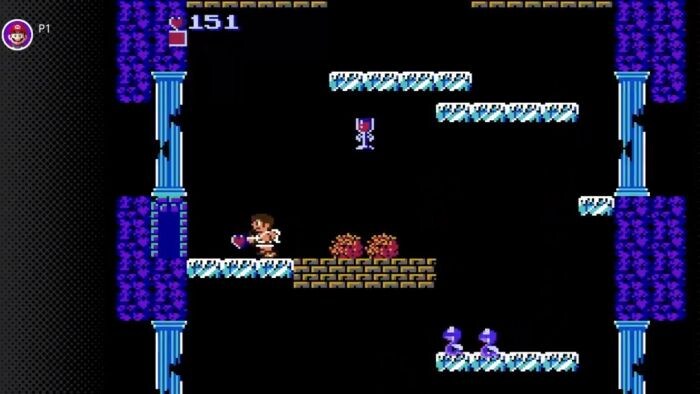 Play as Pit – an angel, tasked with saving the good goddess and stopping the evil one. To achieve success, the hero has to travel through various worlds and confront their dangers. It's a game about gods, the underworld, the heavens, and restoring divine harmony. What's more, it offers several possible endings to this addictive story!
Key features
Play as Pit and embark on an adventure to save Palutena
Use an endless supply of arrows and eliminate enemies
Collect equipment and trade
Defeat monsters and gain experience
Mega Man
| | |
| --- | --- |
| Release: | 1987 |
| Genre: | Action, platform |
| Developer: | Capcom |
Play the first part of the monumental series of platform video games from Capcom, released in 1987. Play as the most charming robot ever and do whatever it takes to stop evil Dr. Wily!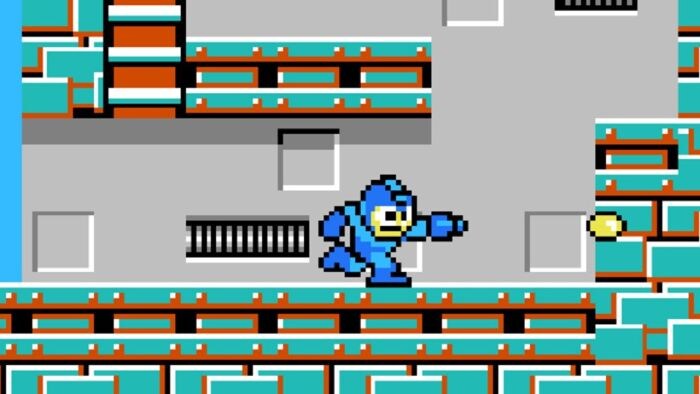 Mega Man is a robot tasked with stopping evil scientist Dr. Wily from destroying the entire world. During this challenging mission, he can count on his creator – Dr. Light, and many of his other helpers. What made this series so successful right from the start? The impressive range of unique weapons and Mega Man abilities. These features took platform gameplay to a whole new level of satisfaction!
Key features
Play as Mega Man and save the world from destruction
Explore levels, avoid obstacles and climb ladders
Switch weapons and earn points
Eliminate the bosses and defeat the evil Dr. Wily
River Raid
| | |
| --- | --- |
| Release: | 1982 |
| Genre: | Scrolling shooter |
| Developer: | Activision |
It is a game released in 1982 by Activision for Atari 2600. This particular title was a real gem for fans of military missions and the shoot 'em up genre.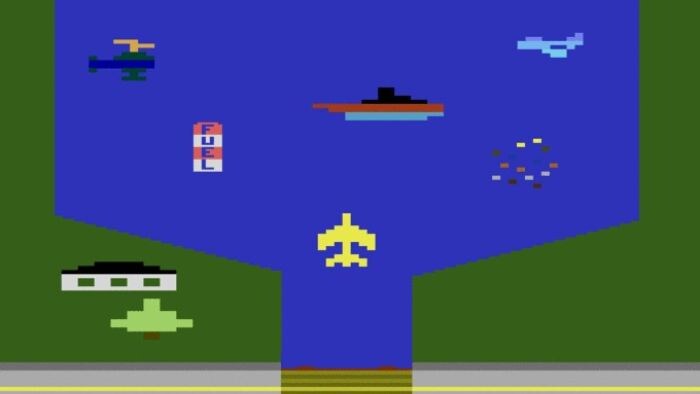 Take control of a fighter jet and fly over the river to eliminate all enemies. There will be other planes, ships, and even balloons! Adjust the direction of flight and defeat as many enemy objects as possible to ensure victory.
Key features
Pilot a fighter jet flying over the river
Slow down or speed up
Shoot enemy objects and score points
Refuel and continue your mission
The Secret of Monkey Island
| | |
| --- | --- |
| Release: | 1990 |
| Genre: | Graphic adventure |
| Developer: | Lucasfilm Games |
This amazing title is remembered by players as one of the hardest video games ever. Since then, we can play new parts of the series and its exceptionally refined remake as well!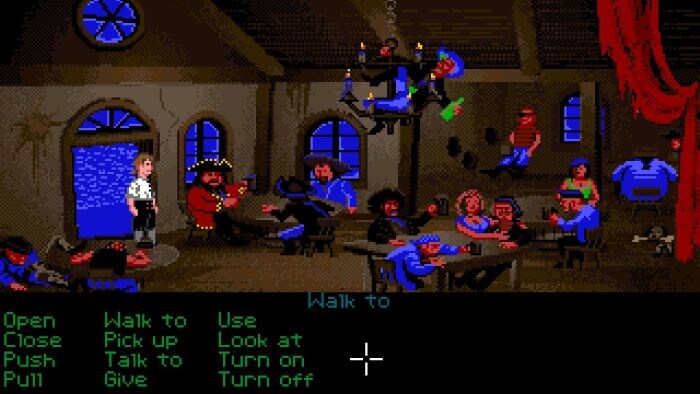 Guybrush Threepwood has only one dream – to become a pirate! As it turns out, it's not that easy. To become a pirate, you have to prove you are a pirate. Complete a series of challenging tasks and puzzles that will ensure a happy ending to this story. Who knows, maybe you'll find the love of your life along the way?
Key features
Play as a young man who wants to become a pirate
Explore, discover secrets and collect information
Chat with the fascinating heroes of this fantastic adventure
Solve complex puzzles and watch your pirate career unfold
Super Mario Bros.
| | |
| --- | --- |
| Release: | 1985 |
| Genre: | Platform |
| Developer: | Nintendo |
Finally – the greatest legend among games released before 1991. Play a game that has become the definition of a classic. And its hero a legendary figure who has conquered the whole world with his majesty.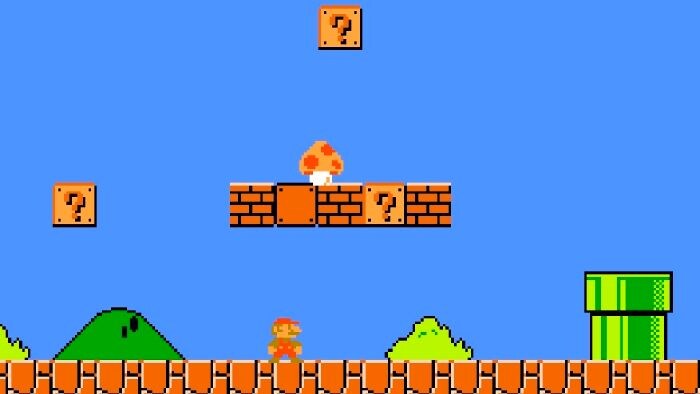 Play as Mario – the most courageous plumber of all time. Fight alone or with Brother Luigi against the evil Bowser to save the beautiful Princess Peach. Progress through the levels, discover the effects of the found items, and defeat your enemies. Every day is a good day to play Super Mario Bros!
Key features
Play as Mario and save Princess Peach
Travel through the levels and collect coins and mushrooms
Jump on your opponents and defeat them
Play solo or in multiplayer
Old games are all about nostalgia. Long childhood days of gameplay to complete that one perfect jump. Many hours of searching for solutions to a challenging puzzle. There's some love-hate element to this relationship!
But classic video games did not fade away with the golden age of gaming. On the contrary, it is time for them to revive again – as a unique treat for collectors and all fans of video game history. And people who collect old consoles or buy new models to play their favorite games. And casual gamers enjoying the occasional remake of classic video games on Steam sales. Where does this delight with classic games come from? Well, these titles are the essence of simplicity. You enter the game, the rules are clear, the mechanics are simple, and all you have to do is have fun! No overpriced DLCs, no confusing stories, and no disappointments with bugs. Pure joy – no strings attached!