In the era of popular TV shows like Hell's Kitchen or Masterchef, the cook profession is gaining more and more recognition. We can witness the best of the best efforts whenever we like, wondering: Would I be qualified to do that too? Well, not everyone is born for this exact career. But everyone can try their hand at Overcooked!
This series of cooking simulation video games from Ghost Town Games is gaining more and more fans. Challenging, fun, connecting people, and revealing the nature of working in a professional kitchen. A kitchen that floats at sea or gets attacked by demons. Wondering which Overcooked part you should buy? Here is a guide prepared just for you. Welcome to the ultimate Overcooked or Overcooked 2 comparison!
Overcooked & Overcooked 2 games
| | Game | Release | Genre | Developer | Sale | |
| --- | --- | --- | --- | --- | --- | --- |
| | Overcooked Steam Key GLOBAL | 2016-08-03 | Indie | Ghost Town Games Ltd. | 79% | Read more |
| | Overcooked! All You Can Eat (PC) - Steam Key - GLOBAL | 2021-03-23 | Indie | Ghost Town Games Ltd. | 76% | Read more |
| | Overcooked! 2 - Surf 'n' Turf (PC) - Steam Key - GLOBAL | 2018-10-03 | Indie | Ghost Town Games Ltd. | 55% | Read more |
| | Overcooked! 2 - Season Pass Steam Key GLOBAL | 2019-04-18 | Indie | Ghost Town Games Ltd. | 84% | Read more |
| | Overcooked - The Lost Morsel Steam Key GLOBAL | 2016-11-15 | Indie | Ghost Town Games Ltd. | 77% | Read more |
| | Overcooked | Gourmet Edition (PC) - Steam Key - GLOBAL | 2016-08-03 | Indie | Ghost Town Games Ltd. | 67% | Read more |
| | Overcooked! 2 | Gourmet Edition (PC) - Steam Key - GLOBAL | 2018-08-07 | Indie | Ghost Town Games Ltd. | 74% | Read more |
General overview
Both titles are cooking sim video games focused on cooperation where four heroes can face a series of challenging culinary tasks. The gameplay is part of a larger story in which the diverse kitchens of the mighty Onion Kingdom fight for victory. The heroes must undertake the task of preparing the most excellent dishes to delight their guests and score as many points as possible. This way, they will move to the following levels and so on.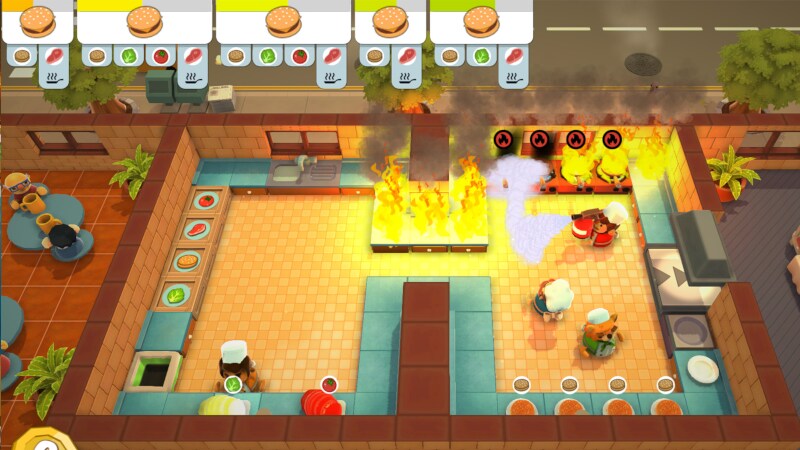 The game is set in a colorful and humorous atmosphere, making it a perfect recommendation for an evening with a loved one at home or a party with friends. It is also great for kids who have the opportunity to compete with adults! As for the mechanics – this one is easier than the execution itself. Players follow precise recipes that they have to complete. The order and pace are the most crucial factors in this game. Everything can go wrong here! Impatient customers, burning pots and plates, dirty moves of the opposing team, and numerous traps. Chaos and mayhem! Sounds like fun? So let's decide the ultimate game for you.
The main differences
Both games are nearly similar, but after a while of gameplay, you will discover that Overcooked II has implemented some changes. Is it for the better? Let's find out! A big novelty is, above all, entirely new levels and recipes. Players have to deal with many moving elements and ensure all guests are satisfied. Moreover, Overcooked II tells a slightly different story of the Onion Kingdom, where Onion King unleashes an ancient evil that seeks the destruction of all humanity. It is another chance to become a hero!
One of the main differences is throwing items all over the kitchen. You can toss the ingredients into your pot, into another player's pot, or throw it across the length of the kitchen, only to see how far you are throwing. It is an enormous help in the challenging cooking process as you still have to take care of the remaining dishes and make sure the pots are clean.
What else? Unlike Overcooked 1, the second part introduced the online multiplayer. It significantly diversifies the gameplay, as you can cooperate or compete with total random players from around the world! It is your chance to experience an entirely unpredictable adventure in the world of Overcooked.
Which should you buy?
Although Overcooked seems to score better at this comparison, let's check what the others have to say about it. The feedback from many players on Steam or Reddit confirms some patterns about the mechanics of both parts. And it turns out that Overcooked II is much easier than the first part. So easy, it's downright frustrating. Kitchen competition fans may be disappointed with the Overcooked II difficulty level, especially if they've already dealt with part one. It is a proposition for those who want to have fun without focusing too much on the gameplay.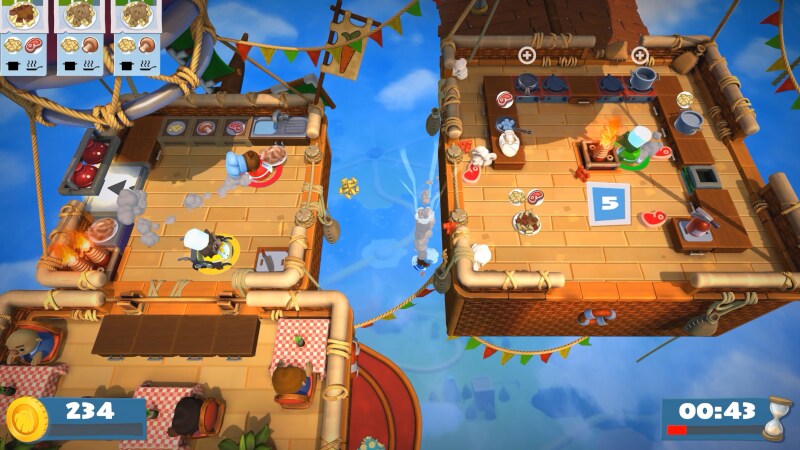 However, if you are enthusiastic about online gameplay, Overcooked II should be your choice. You can play it, not only solo but also with friends, family, or strangers from around the world. As you can see, this creates many possibilities – if, of course, you are a fan of multiplayer games. But if you are still unsure, there is one more vital factor to consider: money.
Is it worth it?
Very positive reviews on Steam confirm each part of Overcooked is a solid success. It is a perfect proposition for any occasion. A pleasant afternoon, a lazy date on the couch, drinks with friends, or a birthday party for kids. Therefore, it is a purchase worth your money. But what money are we talking about here?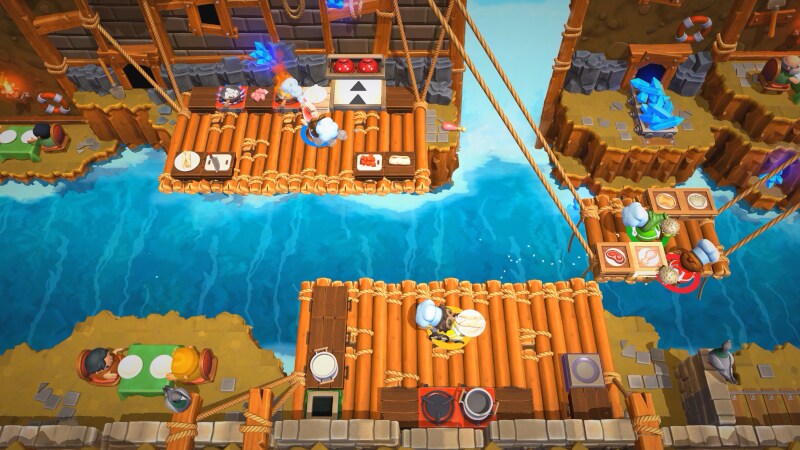 Well, you currently only pay a few bucks for Overcooked on Steam, but the second part usually costs a lot more. So you have to reckon with the fact that for a higher price, you get easy gameplay but with a multiplayer mode. The first part is a challenging classic for those who like to burn themselves from time to time. But do not worry! Among the top deals on G2A.COM, you'll always find the best prices and the best offers for your dream titles. Also, PlayStation Plus or Epic Games Store players can often count on promotions or free games – including Overcooked.