Gift cards are one of the best present ideas of our time. Especially since many of them mean more fun than just buying stuff for prepaid money, and this category includes the Paramount Plus Gift Card.
Paramount started small as CBS All Access, but now it triumphs under a new brand as one of the most popular and competitive streaming services in the world. For less than $10 a month, users get unlimited access to a well-stocked library of their favorite series, movies, and shows to watch with or without ads.
So if you are looking for a peaceful place to watch new titles like Halo, all Paranormal Activity parts, NFL, or Rocky – this is your ultimate choice. And you can unlock this service with a gift card! How does it work? And is the Paramount Plus gift card even worth it? With this comprehensive guide, you will learn everything about Paramount Plus Gift Cards.
Where can I use it?
Like other streaming services, including Netflix and Hulu, Paramount Plus is your chance to enjoy a gigantic database of new movies, TV series, sports, and fun shows. It's also a great gift idea for someone who doesn't have an account on this site yet but likes to discover new watchable content on various themes. Or for yourself!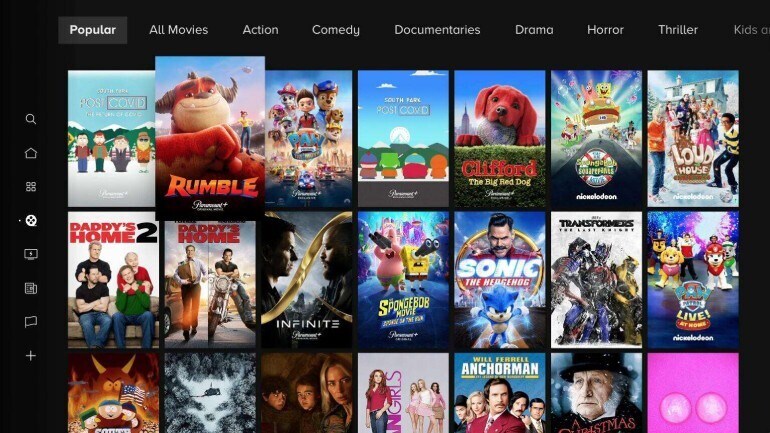 source: https://thestreamable.com/
Once you've redeemed your gift card via desktop or mobile web, embark on your epic adventure with Paramount Plus's massive library on whatever device you prefer. Watch in the browser or through the app – it runs on Android, iOS, Fire smartphones and tablets, streaming devices, smart TVs, PCs, and gaming consoles.
What can I buy with a Paramount Plus Gift Card?
With a digital gift card, you can choose from several attractive options to enjoy extra funds in your Paramount Plus account. The most classic means the standard account creation and purchase of a subscription plan (Essential for an experience with ads and Premium ad-free). And when using this voucher, you do not have to enter any credit card information!
But know that when starting an account for the first time, you cannot purchase an annual plan right away. By using the Paramount Plus Gift Card, you will only create an account with a monthly subscription, but from now on, you can top it up to enjoy the annual plan.
Use your gift card to pay for an existing subscription if you already have an account and have fun with the streaming service. It will take seconds and allow you to watch your favorite movies without unnecessary interruptions. And if you want and have enough gift card credit, nothing stops you from upgrading your monthly plan to an annual version.
How to redeem?
All gift cards are simply unique codes that need to be entered in the right place to unlock access to a high-quality streaming service. They come in physical and digital versions, but the latter provides the comfortable possibility of instantly topping up your account. You can even buy several cards and enter their codes separately. With Paramount Plus, the entire process is child's play.
Go to your browser and search for https://www.paramountplus.com/redeem/.
Log in to your existing account or create a new one if you are not yet a Paramount Plus user.
After completing this necessary step, enter the code from your Gift Card and select the desired plan.
All ready! Your extra credit automatically transfers to the chosen service, and you can start watching your favorite movies and shows right away.
Conclusion
Among the most popular streaming services, Paramount Plus is the cheapest next to Peacock, delivering high-quality 1080p and 4K video quality. You can explore it with a 30-day trial before redeeming a gift card and see what type of plan will be the best. This library is over 5,000 movies and TV shows from CBS, Comedy Central, Nickelodeon, and more. This includes iconic shows like RuPaul's Drag Race, Big Brother, and Young Sheldon. Paramount Plus gift cards may not be the best choice for diehard enthusiasts of the enormous original content provided by services like Netflix. But it offers many titles you won't find anywhere else. Using your gift card, you can start an adventure with original content like Star Trek: Discovery, Five Bedrooms, Why Women Kill, and 1883. But is it worth it? We say it is. Over 30,000 hours of immersive content for such a reasonable price is one of the best deals you can get.
And when it comes to the Gift Card, it's the best gift idea for friends or family. Buy it once to check whether the recipient will fall in love with this content or not. With this simple card, you can introduce someone to the extraordinary world of streaming services or let them enjoy their favorite series available only on Paramount Plus. It's also an excellent solution for older people wanting to keep up with the enormous range of ever-evolving streaming services. And thanks to the intuitive interface, they should have no problem finding their dream shows. So yes, if you want to give someone a well-spent time or enjoy it yourself, the Paramount Plus Gift Card is a cheaper and surprisingly rich choice for everyone.