Economy management games are a paradise for perfectionists, kids, creative players, and those looking for some chill. This genre is fantastic for all occasions and helps release tension after an exhausting day. If you wonder which one is the best – check out the Parkitect vs Planet Coaster comparison!
Both titles are a dream come true for all fans of the famous Roller Coaster games. In Parkitect and Planet Coaster, you can build impressive amusement parks to attract crowds of satisfied guests. You can let your imagination run wild and design the craziest rides. What's more, your parks will bring unimaginable profit and satisfaction. Not sure which of these games you should choose for yourself? Check out this comparison of Planet Coaster and Parkitect to lose yourself in the fun world of parks!
General overview
Planet Coaster and Parkitect are the descendants of the biggest Tycoon giants of economy management games ever. The creators of these titles have thoroughly familiarized themselves with the subject, introducing many clever improvements and variations to the already known gameplay. The goal of each of these games is one – to develop a fabulous amusement park. By choosing from the available game modes, you can decide whether play an economic campaign or devote yourself to free building. However, the two games also have their differences, so let us help you decide whether to choose Parkitect or Planet Coaster.
Graphics
You will probably notice the graphics quality of the two titles is dramatically different. While Parkitect has simple visuals, Planet Coaster takes them to a whole new level of fun. In Parkitect, everything is friendly to new users. The trees, buildings, and rides models are simple and easy to manage.
Meanwhile, Planet Coaster is a graphic masterpiece where you can admire the tiniest details of views or buildings all day long. So if you care about detailed graphics – definitely choose Planet Coaster.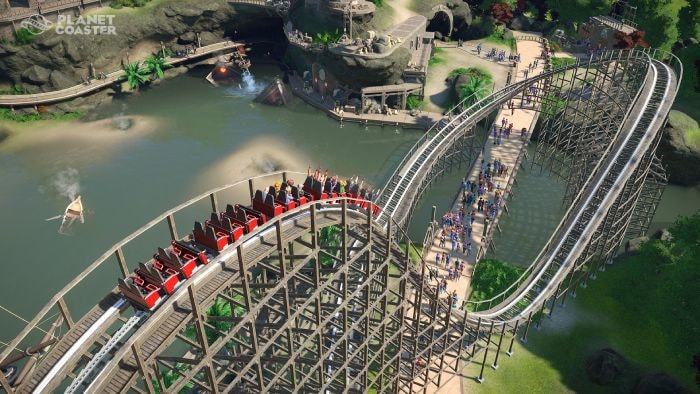 Gameplay
While the goal is the same in both games, the path to achieving it differs. In Parkitect, designing and building rides is much easier and more intuitive. In this game, you can create some impressive attractions in just a few minutes and go straight to constructing more structures. Meanwhile, Planet Coaster focuses primarily on the building. It is a recommendation for players who like to spend long hours refining the smallest details of each element of the park's decor. You can also use a massive set of tools that will allow you to create the craziest projects.
Moreover, Planet Coaster has a massive fan base on Steam, constantly creating new content for the game. With the Steam Workshop, you can download ready-made elements or buildings and add them to your gameplay. So if you prefer more relaxed gameplay focused primarily on management – Parkitect is the game for you. And if you're looking for a building enthusiast's paradise, choose Planet Coaster.
Summary
Parkitect is a game for players looking for relaxation and a less challenging attractions building. The user-friendly interface helps create stunning attractions in no time and devote yourself to managing the entire property. It is also an option for players who want to buy a park building game cheaper. Planet Coaster is a more expensive alternative with massive downloadable content. It is a game for more experienced players seeking a challenge in their favorite genre. Moreover, it allows you to let your imagination run wild and design truly magnificent parks.