Is a perfect time to check if your current PC is still capable of running new games without issues and get a new one if it's not able to meet your expectations. But to enjoy the full gaming experience, you will need not only a powerful computer that could handle the latest games.
Prepare for the upcoming games with a perfect gaming gear.
Gaming PC: Intel Core i5-9400F and Nvidia GeForce GTX1660
| | |
| --- | --- |
| Intel Core i5-9400F CPU and Nvidia GeForce GTX 1660 OC GPU | |
| Fast SSD drive and 8 GB RAM DDR4 | |
| Asrock H310CM-DVS motherboard | |
Let's start with the core of any gaming setup – the computer itself. You can save yourself a lot of trouble by getting one of the powerful pre-built units.
No need to worry about the compatibility of each part of the computer, as all of the hard work is already done by the professionals who spent their time on choosing the best parts and assembling them into a fully working PC. All you have to do is to plug the power cord and boot the system – it's up and running and ready to launch your favorite titles once you install them on the drive.
One of the possible choices could be a pre-built PC with Intel Core i5-9400F CPU and a powerful gaming graphics card GTX 1660 OC from Nvidia, a slightly better variant of the very popular 1660. It's a solution meant to run the latest games without problems and should easily handle games such as the upcoming Cyberpunk 2077 and Dying Light 2.
Gaming Laptop: Hyperbook Pulsar Z15S
| | |
| --- | --- |
| Powerful RTX 2060 graphics card from Nvidia | |
| Fast mechanical keyboard with independent RGB backlighting | |
| Unique and durable design | |
It's common knowledge that laptops are not meant to be used for gaming, but if you're in need of a device that you can take with you wherever you want, then you've got no other choice than to get one.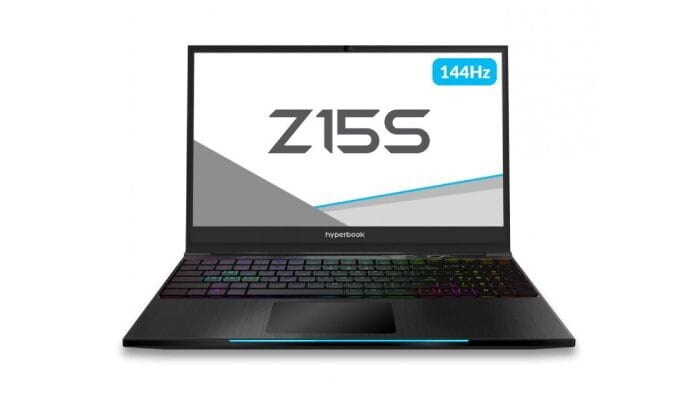 The good news is that laptops are not what they used to be in the past and they can handle games much better than they did even a few years ago. They come in various shapes and sizes, they can house powerful GPUs, and they have very efficient cooling systems, so no need to worry about overheating and stuttering. The drawback is that gaming laptops are usually slightly more expensive than PCs of comparable power, but for that extra money you get a device that can be packed even inside a small laptop bag – not a chance you'd be able to do that with a huge tower PC.
Hyperbook Pulsar Z15S is not the cheapest gaming laptop out there, but it's an incredibly good choice that will serve you well for years to come. It comes with a powerful RTX 2060 graphics card that supports the real-time ray tracing technology, an RGB mechanical keyboard, and a 144 Hz screen – an amazing combo no gamer could pass by indifferently. And if by any chance virtual reality is your thing, this laptop will allow you to play this way as well.
Gaming Keyboard: Motospeed K87S
| | |
| --- | --- |
| Mechanical ergonomic keyboard with no numeric keypad | |
| RGB lighting and OUTEMU red/blue switches | |
| N-key rollover and lots of keys with additional functions | |
It's hard to use a computer without a keyboard, so let's take a look at one. But it can't just be any keyboard, it has to meet specific gaming needs – for this reason, we strongly recommend getting one of the mechanical keyboards, as they are much better suited for gaming than your average 10 USD device.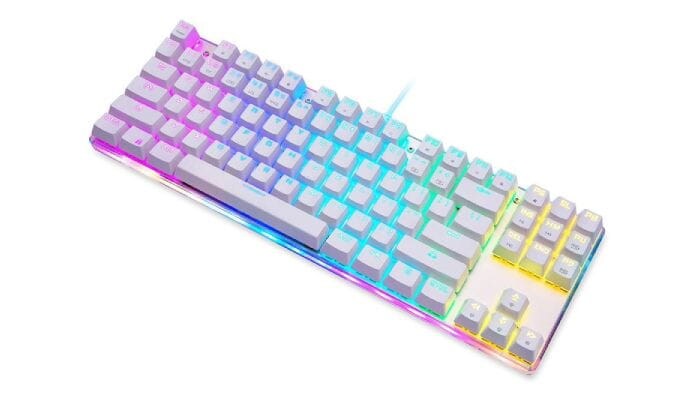 An interesting option is Motospeed K87S, a mechanical keyboard that comes with cool RGB backlighting and OUTEMU red or blue switches, the choice is yours. The keyboard has a very simple design with keycaps that can be easily removed, allowing you to clean the keyboard easier and also customize the keys to your needs. You could, for example, switch WASD keys with the ones having a different color or texture, reducing the risk of hitting the wrong key in the heat of a battle.
Motospeed K87S has no numeric keypad – in gaming scenarios, it's a good thing, as this way the keyboard takes less space and leaves more room for comfortable mouse movement, which is especially important in first-person shooter games. Get your compact keyboard now and perform these sweet 360 no scope shots – it should be much easier when you have more space on your desk top.
Gaming Mouse: Logitech G502 HERO
| | |
| --- | --- |
| Exceptionally accurate gaming mouse equipped with HERO 16K sensor | |
| Removable weights make it possible to adjust the weight to personal preferences | |
| 11 fully programmable buttons and LIGHTSYNC RGB | |
The standard combo of keyboard and mouse wouldn't be complete without the latter, so now let's take a look at a gaming mouse that should work well in most gaming scenarios.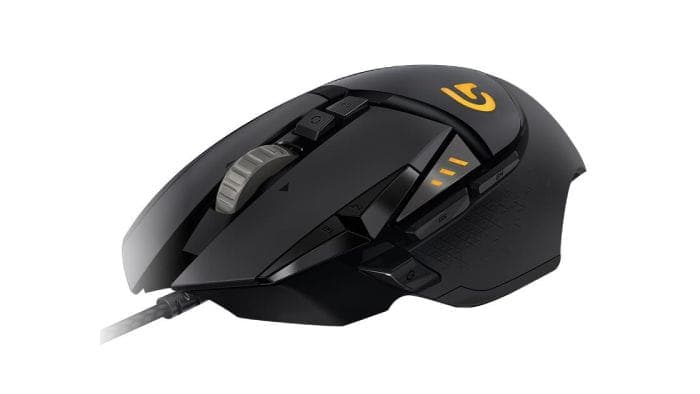 Logitech G502 HERO is a high-performance gaming mouse that will perfectly complement your current gaming setup. It's an incredibly accurate mouse that will serve you well in games, where precise moves are required, like fast-paced first-person shooters, or real-time strategy games. It's not an ordinary mouse and you can tell it just by the looks of it. It has 11 fully programmable buttons you can use to bind some useful macros or commands, making it easier to use them in the heat of a battle.
Logitech mouse also comes with adjustable weights – add them or remove to change the device's weight according to your own preferences and to the game you are currently playing. Moreover, the mouse is a LIGHTSYNC RGB device, meaning it does not only have RGB lighting – it has RGB lighting that can be synchronized with other Logitech products.
Mouse Pad: Mars Gaming MMP4
| | |
| --- | --- |
| Smooth nanotextile surface | |
| XXL size that can cover an entire desk top | |
| Built-in wireless Qi fast charging base | |
While we're at mice, even the best ones won't work well enough if used on an uneven surface. That's why some smart people came up with a thing called mouse pads.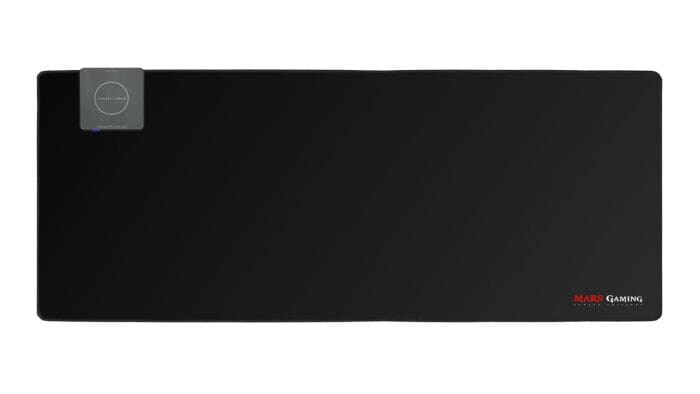 A mouse pad is designed to provide a much better experience when using a mouse by delivering a smooth surface you can slide your mouse on. But our recommended mouse pad is much more than that. It's an XXL size that can cover an entire desk top – check the exact dimensions before purchasing one, or it may turn out to be too big for your needs. An interesting addition is the built-in wireless Qi fast charging base – you can place a Qi-ready device on it to wirelessly charge the device's battery. Isn't that convenient?
Gaming Controller: Microsoft Xbox One Wireless Controller
| | |
| --- | --- |
| Wireless controller with a range of up to 9 meters | |
| Simple and comfortable to use | |
| Very durable construction | |
Although mouse plus keyboard combo works well enough in most scenarios, sometimes using a gamepad is way more convenient.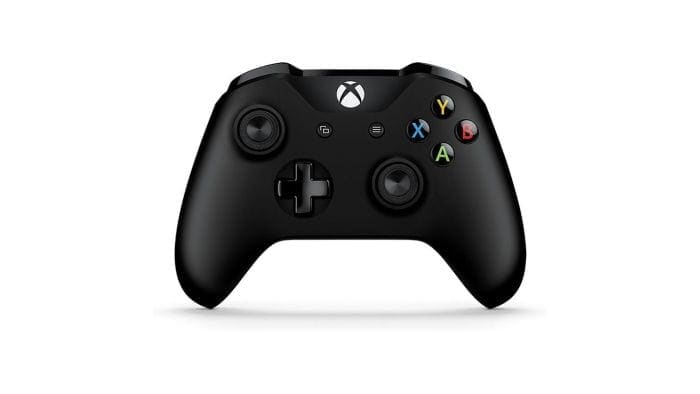 Analog sticks allow you to make smooth and precise moves you wouldn't be able to achieve with a keyboard. Take a racing game for example – using a keyboard you need to repeatedly press and release the key to keep turning at a certain angle because the key can either be pressed or not, there's nothing between these two states, unlike in modern gamepads, where you can control the steering wheel precisely. Additionally, with a wireless gamepad, you have the possibility to play while laying down on your sofa or play with a friend.
We recommend getting an Xbox One gamepad. It's durable and very comfortable to use. All of the buttons and triggers can be reached easily, giving you unparalleled effectiveness in games. This one is a matter of preference, so you can alternatively choose Sony's DualShock or even something from a different company. We chose the Xbox controller because a large majority of players use the Microsoft Windows operating system – Xbox is also owned by Microsoft, so you are guaranteed that it will work seamlessly.
Headphones: Razer Electra V2
| | |
| --- | --- |
| Virtual 7.1 surround sound | |
| Comfortable to use over longer periods of time thanks to the auto-adjustable headband | |
| Detachable boom mic | |
You can't have the best gaming gear without a proper headset. If you are a serious gamer then you probably know that it's a very important part of any gaming setup, and Razer Electra V2 fits gaming needs perfectly.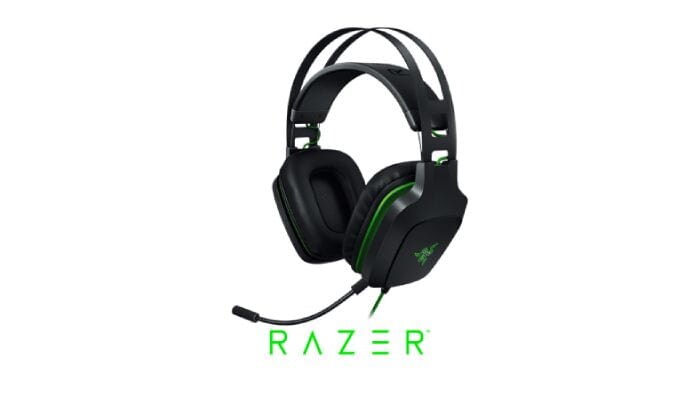 It comes with a detachable boom microphone – an especially important feature if you are often playing online, as it allows you to communicate with your team and coordinate your actions. The headset generates a virtual 7.1 surround sound, significantly improving your awareness in 3D titles, allowing you to quickly determine the direction from which the enemy is shooting at you.
On top of that, Razer Electra V2 is extremely comfortable to use, even over longer periods of time – it reduces the risk of a headache caused by the press of a headband, and it's important as we know that gaming sessions can last for hours.
Gaming Chair: DIABLO X-FIGHTER
| | |
| --- | --- |
| Ergonomic design combined with amazing looks | |
| A back cushion that helps to maintain a correct posture | |
| Adjustable chair height and position of the armrests | |
Being able to take a comfortable position during play is a very important subject – taking it lightly may lead to some serious spine disorders in the future, or in some cases, even to disabilities.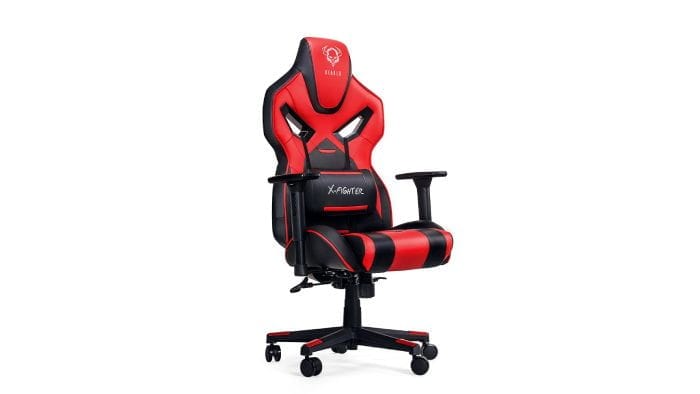 Gaming chairs are not only about the cool looks – they are actually made with gamers in mind and are designed to minimize the risk of occurring health issues caused by spending too much time in one position. Don't push your body to the limits, however, and do yourself a favor by taking a break every hour or so. Walk for a while and do some simple exercises to help the blood circulate.
DIABLO X-FIGHTER chair is meant to be used by those gamers who expect the highest comfort possible. With ergonomic design and a back cushion, it will significantly improve the way you sit and play and will help you to maintain a correct posture. The chair has several adjustable elements, so you won't have any trouble adjusting it to match your own body.
Gift Card: Steam Gift Card 50 USD GLOBAL
| | |
| --- | --- |
| Adds 50 USD to a Steam account's balance | |
| Use the code yourself or gift it to someone else | |
| No expiration date – use whenever you want | |
What's the point of having a powerful PC if you don't the latest games to play? Well, you can get some new titles with a Steam Gift Card that will add 50 USD to your Steam account balance.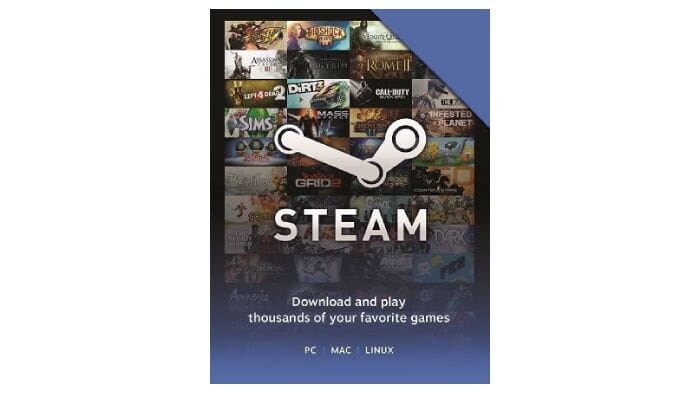 Add funds and enjoy shopping time – browse the rich library of the latest games and choose the ones you will enjoy the most. Strategies, racing simulators, RPGs, first-person shooters, indie games – Steam has it all. Use the funds yourself or gift them to a friend – the purchased code can be activated by anyone, but be mindful of region restrictions if there are any. Global Steam gift cards can be activated anywhere.
Summary
Start the new year with a new gaming gear and get ready for the newest games as they are released. Prepare yourself in advance, so you can start playing right away once the game you are waiting for is out. Complete your gaming setup with essential parts, such as a keyboard, a mouse, a headset, and a gaming chair. Get yourself a piece of gaming equipment used by professionals – answer the call to action and join the competition.