What if you're a fan of point-and-click adventure games, but the genre started boring you out of your mind? Pick up some horrors, of course! If you're looking for some creepy or downright spooky point-and-click titles featuring some good old puzzles spiced up with scary stuff, you've come to the right place!
This list covers quite a variety of scary point-and-click horror games. Some of them are more traditional in their gameplay, others experiment with the formula and offer unique experiences far from simple jump scares and the like. There is place for both cult classics and some newer productions here. Either way, you shouldn't be disappointed.
Point and Click Horror Games
| | Game | Release | Genre | Developer | Sale | |
| --- | --- | --- | --- | --- | --- | --- |
| | Still Life | 2005-06-06 | Adventure | Microids | 80% | Read more |
| | Still Life 2 | 2009-08-10 | Adventure | Microids | 79% | Read more |
| | Five Nights At Freddys 2 | 2014-11-10 | Adventure | Scott Cawthon | | Read more |
| | Five Nights At Freddys Sister Location | 2016-10-07 | Indie | Scott Cawthon | | Read more |
| | Five Nights At Freddys 3 | 2015-03-02 | Horror | Scott Cawthon | 10% | Read more |
| | Five Nights At Freddys Security Breach | 2021-12-17 | Horror | Scott Cawthon | | Read more |
| | Dark Fall Lost Souls | 2010-04-21 | Adventure | Darkling Room | 93% | Read more |
| | Dark Fall The Journal | 2002-06-19 | Adventure | Darkling Room | 81% | Read more |
| | Dark Fall The Journal | 2002-06-19 | Adventure | Darkling Room | 81% | Read more |
| | Dark Fall 2 Lights Out | 2004-08-24 | Strategy | Darkling Room | 73% | Read more |
| | Fall Of Light Darkest Edition | 2018-08-14 | Horror | Darkling Room | 94% | Read more |
| | Sanitarium | 1998-04-30 | Adventure | DotEmu | 0% | Read more |
| | Post Mortem | 2002-11-01 | Adventure | MC2 | 70% | Read more |
| | Bad Dream Coma | 2017-03-09 | Adventure | Desert Fox | 75% | Read more |
It is time to delve into some of the scariest point and click horror games on the market. Read on!
Five Nights At Freddy's
| | |
| --- | --- |
| Release date: | 2014 |
| Genre: | Horror |
| Developer: | Scott Cawthon |
Let's start with a cult classic from a couple of years ago. Five Nights at Freddy's took the gaming world by storm with its simple gameplay blending point-and-click adventure games, survival horrors and a creepy atmosphere. Alright, security guard, will you complete your shift and make it out alive?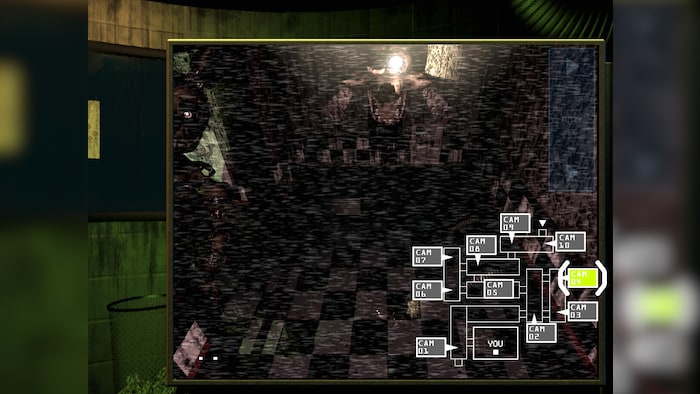 There are four animatronic characters that live in the restaurant and become homicidal at night. You need to use the security camera network to track their location. However, there are certain places that you can't see using it and you need to check them by lights.
Remember that using the security measures consumes electrical power, which is limited. Once you exhaust it all, you're done, the animatronics will get you and you'll have to start again. There are five levels to complete in total. If you finish the game, you'll get access to the sixth "night," which is more difficult and then the seventh "night," which allows you to customize the difficulty.
All in all, it's a fun little game and a simple concept executed pretty much perfectly, even though it probably doesn't necessarily fit the "point-and-click adventure" bill. It started an entire franchise, too. If you liked Five Nights At Freddy's, you might consider picking up other games in the series, including a bunch of spin-offs.
Key features
You play as Mike Schmidt, a security guard at Freddy Fazbear's Pizza
Your task: survive the night without depleting all electrical power and getting jumpscared by homicidal animatronics
Four creepy animatronic characters who prowl the restaurant and stalk you
There's a pretty spooky story behind the whole thing, too
Dark Fall: The Journal
| | |
| --- | --- |
| Release date: | 2002-06-19 |
| Genre: | Adventure |
| Developer: | Darkling Room |
This independent horror adventure game made waves back in 2002. It puts you in the shoes of an unnamed protagonist who rushes to help his brother and finds himself at odds with an ancient evil, the titular Dark Fall.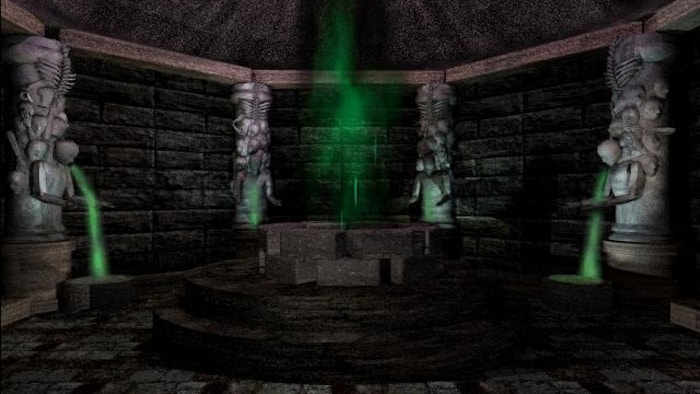 The game itself is a classic point-and-click adventure affair. To progress the story, you solve various puzzles of varying complexity. But there is one thing that makes Dark Fall stand out among its contemporaries and modern adventure productions: you need to keep track of the notes and clues you find yourself, the game doesn't do it for you. Better have a pen and a sheet of paper at the ready!
If you liked Dark Fall, you might like the fact that the game has received several sequels, with plots mostly unrelated to the other entries in the series. They are Dark Fall II: Lights Out (originally released in 2004), Dark Fall: Lost Souls (released in 2009), and Dark Fall: Ghost Vigil (released in 2020).
Key features
You get to face an ancient evil that's called the Dark Fall
Classic point-and-click adventure gameplay model
The game does not keep track of any notes, you need to do that yourself
A very simple interface
Sanitarium
| | |
| --- | --- |
| Release date: | 1998-04-30 |
| Genre: | Adventure |
| Developer: | DreamForge Intertainment |
Sanitarium is one of the greatest adventure games of all time, period. Full of surrealistic, disturbing imagery, this game will most likely freak you out, just like ASC's executive, Travis Williams, once said.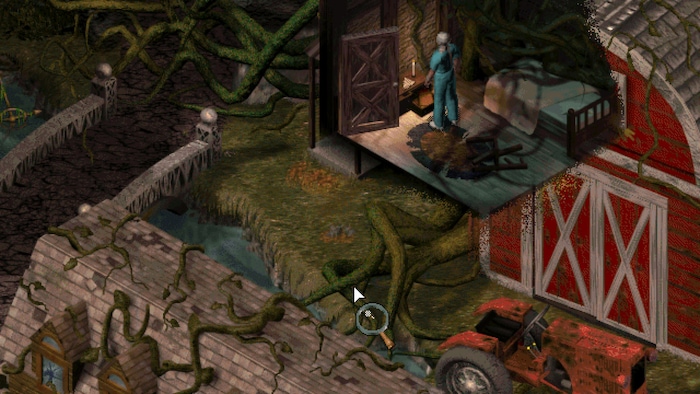 Your protagonist is a man named Max. A car accident leaves him in coma, but he eventually awakens in a dilapidated sanitarium without any recollection of who he is and what actually happened. Time to seek some answers!
This search takes you to some really otherworldly locations, including a town whose inhabitants are malformed children overseen by some strange alien, a circus, an alien hive crawling with cyborg insects, and an Aztec village. All these adventures bring you closer to uncovering who you are and why you ended up in a place like this.
Key features
One of the most unique (and most disturbing) psychological horror games of all time that lets you explore some of the strangest worlds ever portrayed in a video game
You're never sure if what you're witnessing is real or just a figment of the main character's own imagination
You can't actually die here, so you don't have to worry about failing
Isometric perspective
Post Mortem
| | |
| --- | --- |
| Release date: | 2002-11-01 |
| Genre: | Adventure |
| Developer: | MC2 |
Before Still Life, there was Post Mortem. In this adventure game you play as Gustav McPherson, a former New York detective, who is tasked with investigating a gruesome murder. This quickly reveals that there is an even darker truth behind this.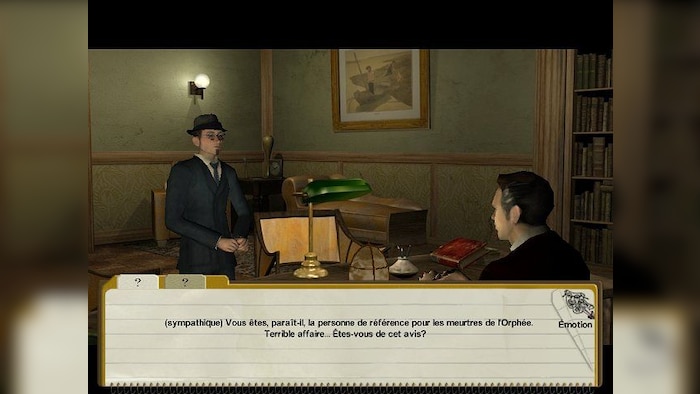 Ah yes, the troubled detective with psychic abilities trope… In Post Mortem you get to explore Paris and see it through the eyes of Gus. The gameplay is a usual adventure fare: you walk around and investigate various environments, talk to a diverse cast of characters and solve puzzles. The plot involves dark rituals and artifacts, so there is some horror imbued in this detective story.
Post Mortem spawned two spin-offs, Still Life and Still Life 2, which focus on a new character: Gus' granddaughter, Victoria McPherson. More on these games below.
Key features
You play as a former detective with a clairvoyant sixth sense, Gustav McPherson
First-person perspective
Traditional adventure gameplay that consists of talking to varied characters, investigating your surroundings for clues and solving puzzles of all sorts
A captivating murder mystery story that involves the occult
Still Life
| | |
| --- | --- |
| Release date: | 2005-06-06 |
| Genre: | Point-and-click adventure |
| Developer: | Microids |
Post Mortem gave us an even better adventure game: Still Life. This spin-off/sequel lets you play as the granddaughter of Gus, Victoria, who followed her ancestor's footsteps and became an FBI agent. Now, there's a serial killer on the loose and it is up to McPherson to solve the case…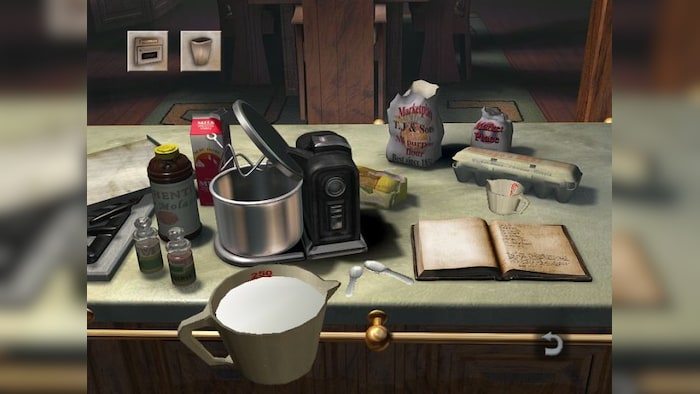 Still Life is basically Syberia turned into a murder mystery game with horror elements. What's interesting about this title is that it offers two playable characters. As Victoria finds her grandfather's old files, she quickly realizes that the case he was working on is very reminiscent of what she's dealing with.
So you jump back and forth between the present day and the 1940s, solving puzzles, talking to characters and gathering clues as either Gus or Victoria. While not necessarily a straightforward horror game, it still features enough creepiness for fans of scary stuff to enjoy.
Still Life has also received a sequel, Still Life 2, released in 2009. What's nice about these games is the fact that you don't need to play Post Mortem beforehand to understand the plot.
Key features
Two playable characters: Victoria McPherson and her grandfather, Gus
The plot involves a search for a notorious serial killer
Strangely enough, the killer's modus operandi is eerily similar to a case from the 1940s
You'll get to see Prague as it was decades ago
Bad Dream: Coma
| | |
| --- | --- |
| Release date: | 2017-03-09 |
| Genre: | Adventure |
| Developer: | Desert Fox |
Now this one's a unique piece. Bad Dream: Coma is a super creepy adventure game with hand-drawn graphics and enough disturbing stuff to haunt you after you've finished it.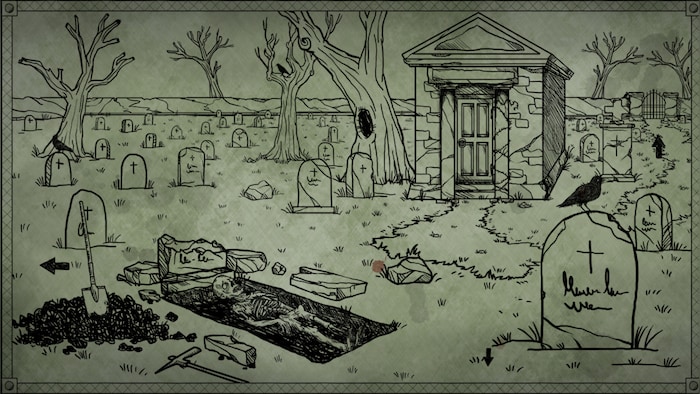 The game transports you back to the dreamlike world known from the Bad Dream series (formerly Flash games). Creepy visual style and horrible things happening on screen perfectly build a memorable, nightmarish atmosphere.
The main feature of the game is that there are no obvious choices. You can try making different decisions to see totally different outcomes. This ensures that no two playthroughs are the same. Yup: this one is a point-and-click adventure game with high replayability. How many of them do that?
Key features
Creepy hand-drawn graphics and a unique atmosphere
A nightmarish world to explore
High replayability and lots of different choices that you can make throughout the game
Minimalism can be horrifying, too – less is more, right?
Stasis
| | |
| --- | --- |
| Release date: | 2015-08-31 |
| Genre: | Adventure |
| Developer: | THE BROTHERHOOD |
This game seems to be a mixture of the above-mentioned Sanitarium and a film titled Event Horizon. You know, this cult classic science fiction horror from 1997.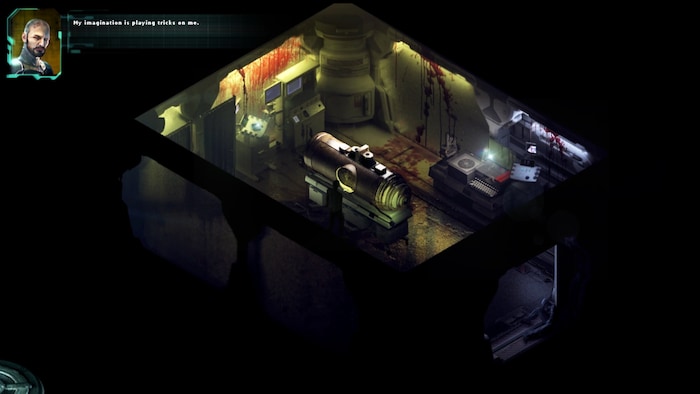 Stasis is set in space on a spaceship called the Groomlake. The main character, John, awakens to find the whole crew dead. What happened here? What killed all these people? Where's John's wife and daughter? Figuring all this out will require you to tinker with onboard computers, combining items and solving all sorts of puzzles.
It's hard not to think of DreamForge Intertainment's masterpiece from 1998 when playing Stasis. Just look at the perspective and graphics! It's a well-made horror piece that some have called one of the best adventure games in years.
Once you've finished this one, be sure to check out Cayne, a free-to-play spin-off set in the same universe, released in 2017. There's also a sequel, Stasis: Bone Totem, in the works, slated for release in Q1 2023.
Key features
A point-and-click adventure experience in the vein of the classics of the genre
Horrifying atmosphere and a science fiction setting
Multiple (and horrible) ways John, the protagonist, can die in
Music composed by Mark Morgan, an industry veteran known from his masterful Fallout soundtracks, with additional compositions by Daniel Sadowski
If you're looking for the best point-and-click horror adventure games, the titles above should totally satisfy you. The list features the genre's most revered classics. Don't wait, grab some great deals on these on G2A.COM now!