Despite being just a few decades old, the history of video games is incredibly rich and full of amazing ideas that ambitious developers were able to turn into addictive, stunning, and entertaining creations.
However, even with all the modern AAA games, sometimes you can't beat a good old arcade classic, so it's not surprising that some of the old games are receiving more attention and are being revisited lately.
If you're looking for some nostalgia-inducing experience, check out the most popular classic arcade games on the list down below.
| | Game | Release | Developer | Trailer | Sale |
| --- | --- | --- | --- | --- | --- |
PAC-MAN Championship Edition 2
| | |
| --- | --- |
| Released | 2016-09-13 |
| Genre | Arcade & Platform |
| Developer | BANDAI NAMCO Studios Inc. |
Let's start with the famous game, where we can play as a likable being that looks like a piece of partially eaten pizza.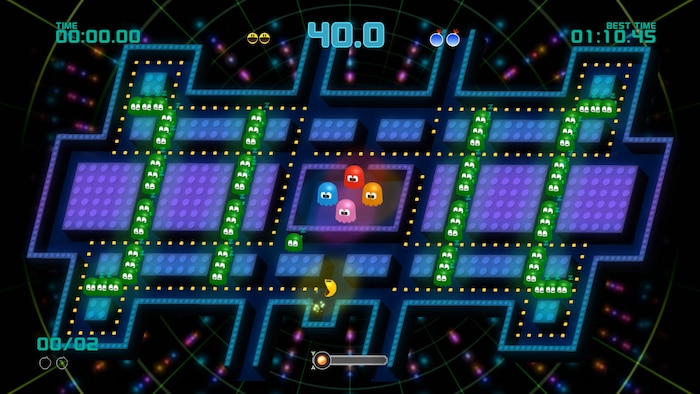 Pac-Man games are usually arcade games at their finest. You're thrown into a maze and your goal is to survive as long as possible while collecting points and avoiding deadly enemies that will kill you on contact.
Sometimes it's not possible to outmaneuver the ghosts, thus developers introduced a few special power-ups that can also be collected during play – these will give you not only a short period of invincibility, but will also turn you from prey to hunter, so for a few seconds it will be you who chases the ghosts, not the other way around.
Key features
Addictive gameplay and short game sessions
Extremely easy to learn
Arcade at its finest – requires fast reflexes
Adventure mode with objectives and boss fights
Street Fighter V
| | |
| --- | --- |
| Released | 2016-02-15 |
| Genre | Fighting |
| Developer | CAPCOM |
You don't have to be a huge fan of fighting games to recognize this series – it started back in 1987 and is still going strong.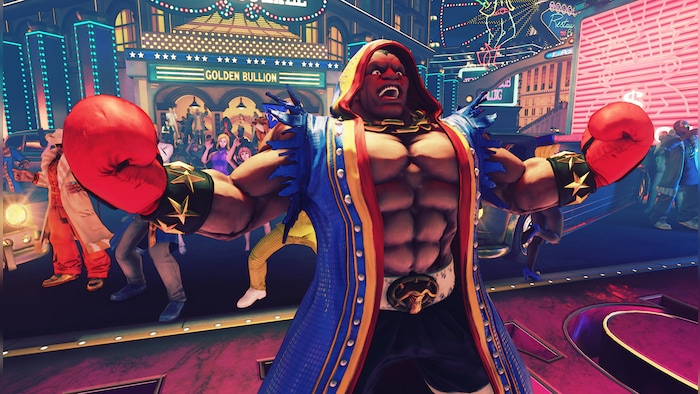 Street Fighter V is surprisingly similar to its predecessors and surely brings back memories, but at the same time, it's full of things that make it a new and fresh experience – especially if you didn't play the last few Street Fighter games. The most impactful change here is the introduction of the V-Gauge that, when charged, allows each character to perform certain special moves that are unique to each character. And speaking of characters, you can expect to meet some of the original ones, like Ryu and Cammy, as well as entirely new ones, like the fierce Aztec warrior, Necalli.
Key features
An addictive fighting game from a widely popular franchise
Combo-based gameplay that requires good reflexes
Smooth combat with dozens of characters, each having its own unique playstyle
Polished visuals that make everything more enjoyable
Gauntlet Slayer
| | |
| --- | --- |
| Released | 2014-09-23 |
| Genre | Adventure |
| Developer | Arrowhead Game Studios |
Dungeon crawlers are challenging games that put emphasis on short adventures and permanent death – Gauntlet slightly altered this simple gameplay formula, and the final result is incredibly fun.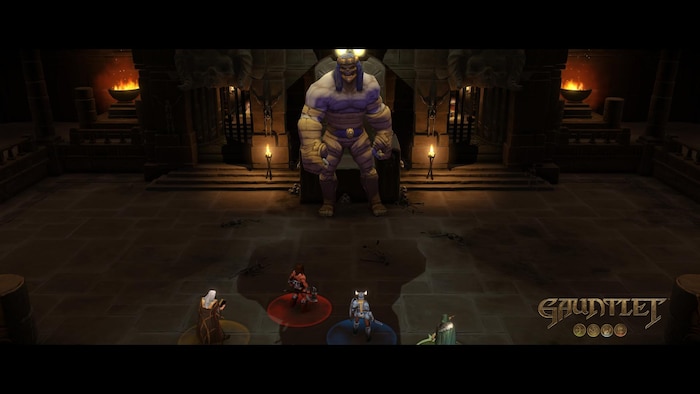 Gauntlet is a dungeon crawler – a type of game, where you'll have to explore dark undergrounds full of treasures and dangerous monsters. Usually, dungeon crawlers are turn-based and focus on short game sessions with permanent death and unlockable features that can make each subsequent run a bit easier. Gauntlet, which started originally as an arcade game in 1985, is slightly different, mainly because it's more of a hack & slash and it's played in real time. Its modern version, Slayer Edition, also comes with online multiplayer that allows teams of up to 4 players to conquer the depths together.
Key features
A unique mix of hack & slash and dungeon crawler
Randomly-generated dungeons filled with valuable treasures guarded by ferocious enemies
Four unique playable characters to choose from, each requiring a different strategy to play effectively
A polished multiplayer experience designed for up to 4 players
Space Invaders Extreme
| | |
| --- | --- |
| Released | 2008-02-21 |
| Genre | Action |
| Developer | Taito, Backbone Entertainment |
Space Invaders is another example of a great and addictive classic arcade game that turned out to be so good that it still lives in memories of a particular generation of players.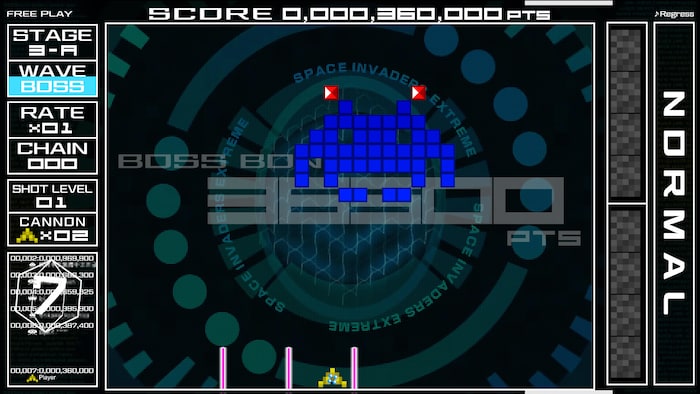 Space Invaders, like most arcade games, is super simple to learn but challenging to master, due to the fact that it relies almost entirely on the player's reflexes and his ability to make fast and precise moves. The game allows you to pilot a spaceship that needs to take care of the alien invasion. Aliens are not very smart and they usually move in a predictable pattern, which makes them easy targets – or at least that was the case in the original game because the Extreme version adds a lot of variety to the gameplay and introduces some special stages and even boss levels to spice things up a bit.
Key features
A modern version of a classic arcade game
Simple yet addictive gameplay with the emphasis being put on shooting down enemies while avoiding incoming dangers
Challenging boss stages and various power-ups that make them easier to beat
Numerous additions and improvements over the original
Double Dragon IV
| | |
| --- | --- |
| Released | 2017-01-30 |
| Genre | Action & Shooter |
| Developer | Arc System Works |
If you didn't have the opportunity to play Double Dragon yet, you don't know what you're missing – but it's not too late to fix it and give the game a go right now.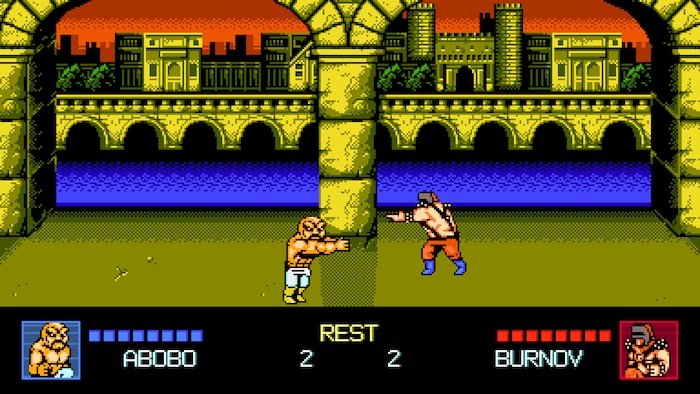 Double Dragon is a side-scrolling fighting game, where you'll have to explore a number of different locations in order to achieve your ultimate goal, which is to save kidnapped Marian and to face a new challenge in form of the Renegade gang. Like most of such fighting games, Double Dragon IV is played best with a friend in co-op, where you can team up and kick enemy butts together. If you're in for some nostalgia vibes, you can't go wrong with this one.
Key features
Classic retro fighting game
Playable enemy characters and new game modes, including versus and tower
Some hidden unlockable content for completionists
Best when played in 2-player co-op
Mortal Kombat 11
| | |
| --- | --- |
| Released | 2019-04-23 |
| Genre | Action |
| Developer | NetherRealm Studios |
Mortal Kombat is undoubtedly one of the most popular fighting game series ever made, and with the newest releases, it's even better and approachable, especially for new players.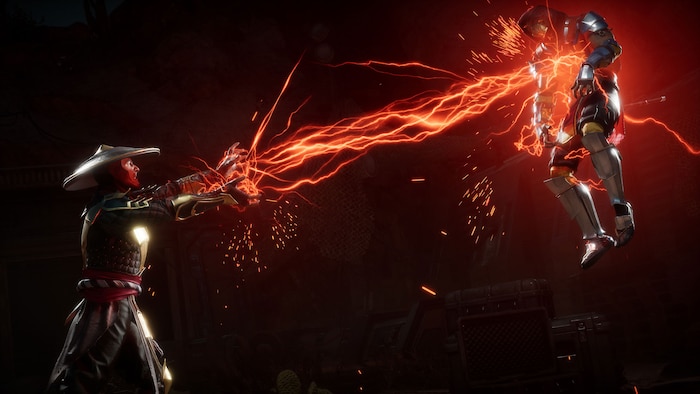 Sometimes it's hard to capture the spirit of the original, but Mortal Kombat does an excellent job at keeping the series alive and fresh while retaining the fun factor of older games. With each new version being polished to even higher levels, you can expect to get an enormous amount of excitement from one of the series' latest installments. MK 11 introduces some gameplay changes, making the game a challenge even to the series' veterans who may have already a few decades of experience under their belts. We're talking specifically about Fatal Blows and Flawless Blocks – two new techniques that, if used correctly, can easily turn the tides of the duel.
Key features
Addictive 2.5D fighting game that continues the well-known series
Intense gameplay with lots of brutality, violence, and blood
Stunning visuals with jaw-dropping effects
An impressive roster of unique characters to choose from, each with his own unique moves and playstyle
Contra Anniversary Collection
| | |
| --- | --- |
| Released | 2019-06-11 |
| Genre | Action |
| Developer | Konami |
Even though the original game is over 30 years old, probably it would be difficult to find someone who didn't play or at least didn't hear about Contra ever before.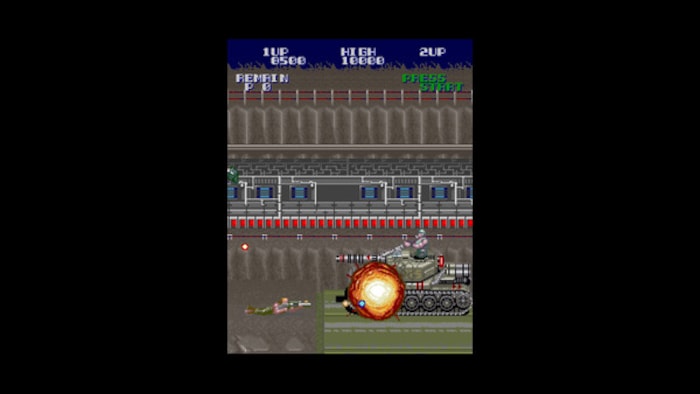 Contra is a run and gun game and the genre's name describes the game itself pretty well already, as you'll have to run through a number of different locations while constantly shooting at hostile targets who may occasionally drop some power-ups to make your character stronger. Anniversary Collection is a convenient package of the best Contra games in the series, including, but not limited to, Contra (Arcade), Super Contra, Super C, Contra III: The Alien Wars (also known as Super Probotector: Alien Rebels which is available as a different game in the Anniversary Edition), and Contra: Hard Corps.
Key features
Amazing nostalgia trip with one of the most iconic run and gun arcade games
Convenient package of the best classic Contra games in the series
Fast-paced retro action with a fitting soundtrack
Solid platform action with power-ups, demanding bosses, and elements of bullet hell
Metal Slug
| | |
| --- | --- |
| Released | 2015-06-25 |
| Genre | Action & Shooter |
| Developer | DotEmu |
One can't forget about Metal Slug – a game that is somehow similar yet entirely different from Contra that we just mentioned above.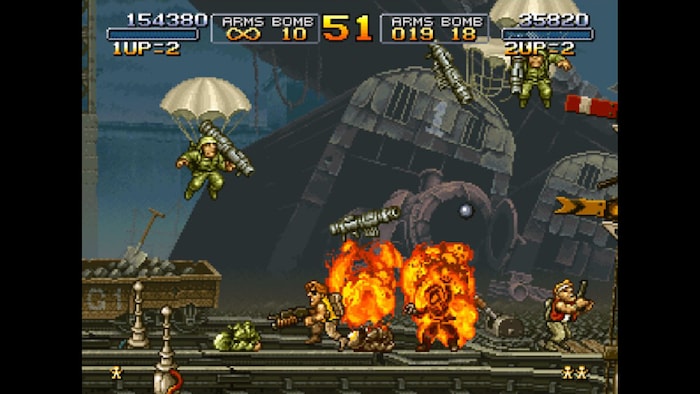 Metal Slug was a widely popular arcade game and despite the fact that it's been released back in 1996, it still takes a special place in the hearts of some players. Now it's a better time than ever to return to this old classic, thanks to the existence of a multitude of ports that allow us to play the original game on modern computers and consoles. If a side-scrolling game where you'll be able to control an advanced tank unit is what you're looking for, then Metal Slug is something made just for you. And if that sounds good, then you may also be interested in checking out Metal Slug Bundle that contains Metal Slug, Metal Slug 3, and Metal Slug X in a convenient package at a discounted price.
Key features
Classic run and gun formula with a tank
Addictive gameplay that puts emphasis on quick action
Challenging bosses that will test your skills and reflexes
Online co-op mode for extra replayability and fun
Sonic Mania
| | |
| --- | --- |
| Released | 2017-08-29 |
| Genre | Action & Shooter |
| Developer | Christian Whitehead |
Adventures of a lightning-fast hedgehog were wildly popular back in the old days – so popular that they've gained a cult following that keeps this iconic character alive even today.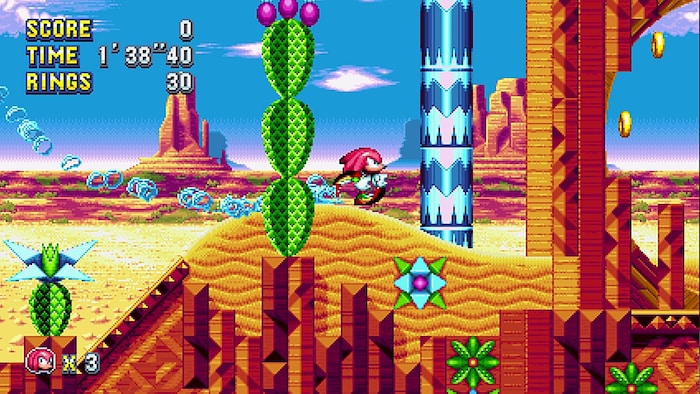 Sonic Mania allows players to relive the past and once again join Sonic the Hedgehog and his friends during their adventures. Sonic can run at extremely high speeds which means that you can expect a dynamic and fast-paced action that requires good reflexes and precision. What makes the game unique is the fact that although it's mainly a 2D platform game that plays just like the original, there are certain bonus stages that are played in a slightly different way – they will temporarily transform the game into a 3D challenge, where players have to chase the UFO and steal its Chaos Emerald, as well as collect the rings along the way.
Key features
The most popular fictional hedgehog returns with new adventures
One-of-a-kind nostalgia-inducing experience
Fast-paced action that serves as an ultimate test of one's reaction times
Great platform game with lots of room for competitive play with friends
TEKKEN 7
| | |
| --- | --- |
| Released | 2017-06-01 |
| Genre | Fighting |
| Developer | BANDAI NAMCO Studios Inc. |
For the final title we've got another fighting game, which probably was – and still is – Street Fighter's and Mortal Kombat's fiercest rival.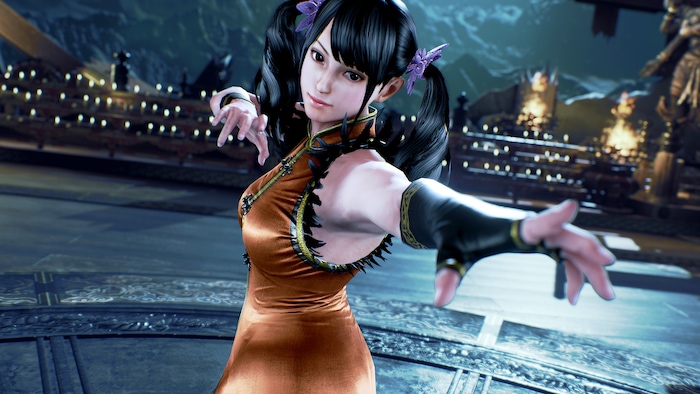 Tekken takes its own approach to the dueling genre. It's not as bloody as Mortal Kombat and not as demanding when it comes to perfectly timing countless combo attacks to defeat opponents. It puts more emphasis on defense and countering whatever enemy throws at you, which favors patience and waiting for the best opportunity to strike. Nonetheless, it's still fast-paced action and requires good reflexes to stay competitive, but at least the single-player mode is much more forgiving, especially for newcomers.
Key features
A seventh main installment in a widely popular arcade fighting franchise
Dozens of unique playable characters, both new and returning
Top-notch visuals and stunning effects
Polished and well-executed competitive multiplayer
Top Popular and Classic Arcade Games to Play Right Now
Back in the days, arcade games were dominating the gaming market. They were the ones that were the most popular, mainly due to their accessibility – it was considerably easier and more affordable to find arcade machines to play favorite games than to buy a console or computer, even considering the fact that each time you lost, you had to insert a coin to continue playing.
For many of today's players arcade games were their first contact with the world of virtual entertainment – for the first time ever they had the opportunity to experience the thrills of a real game. They were able to test their hand at fast-paced challenges of all kinds, from fighting games to racing games and various platformers, and, most importantly, they were able to locally play together with friends, which was something unthinkable at that time. It was an entirely new experience, but people quickly fell in love with video games and the gaming market started to grow rapidly.
With today's technology, we can recreate the best classic retro games so they can be played on both modern computers and consoles – while it may not be a huge deal for young players, who don't remember most of the classics, it's an amazing opportunity for older ones to relive the past and play their favorite retro titles as it's 1986.
If you're wondering what would be the top 10 best arcade games of all time, please take a look at the list above to find out – we tried our best to find the most appealing classic titles that you can buy and play right now.