These days smartphones and tablets are so common, they serve as one of our essential everyday tools. We use them not only to make calls or send text messages anymore. We use them to browse the web, check emails, access social media, upload photos, and videos and play games – and it's still just a fraction of possible smartphone uses. They are also increasingly powerful.
Did you know that your pocket-sized device is already much more powerful than supercomputers used by NASA to send men to the moon? To be more precise – millions of times more powerful. No one could have ever dreamt about it just a few decades ago. And now, here we are, using these precious pieces of technology to check our Facebook status over and over again.
But there's one thing devices such as smartphones and tablets are not able to handle efficiently enough in some cases – writing. Sure, you can type everything you need using the on-screen keyboard, and it's often sufficient for our needs, like writing a few sentences on Messenger or googling some phrases on the Internet. But when we need to type large amounts of text, nothing can really beat a traditional keyboard with physical keys.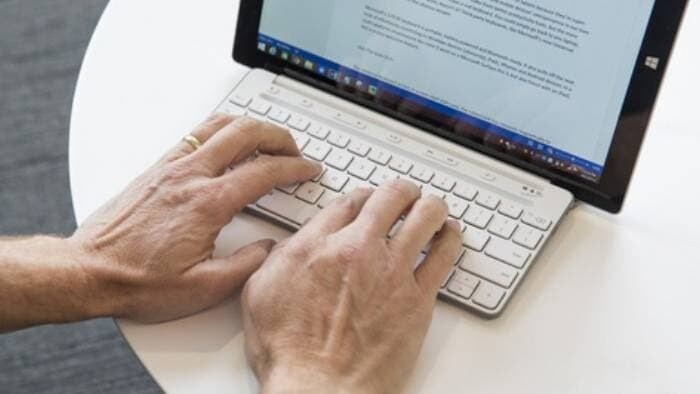 When we use the on-screen keyboard, we usually use only thumbs or pointing fingers to type, thus it's not surprising we can't achieve the speed and efficiency of writing on a standard keyboard, on which we can put both hands and use all fingers simultaneously. There was clearly a hole in the market. Fortunately for consumers, manufacturers were quick to respond, and this is when portable keyboards appeared.
Portable keyboards bring the convenience of traditional typing known from computers and laptops to smaller devices, such as smartphones. This way you can enjoy fast and comfortable typing without the need to take a full-sized keyboard with you. Portable keyboards are usually small enough to unnoticeably fit into any backpack. They don't take much of valuable space, which also comes in handy when you want to actually use it. You can easily put it on your lap while traveling by plane or train and start typing right away – typing on a smartphone have never been easier.
There are a lot of portable keyboards available on the market and it might be hard to choose the right one at first. Keyboards may come with different features, and you may find some of these more desirable than others. To make your decision easier, today we'll present you with a list of some possible options – all of which you can purchase for an unbeatable price on G2A.COM marketplace.
Logitech K480
| | |
| --- | --- |
| Weight: | 820 g |
| Size: | 299 mm x 195 mm x 20 mm |
The first on our portable keyboards comparison list is Logitech K480. Its most interesting feature is probably the fact you can pair it via Bluetooth with up to 3 different smartphones or tablets simultaneously, and choose the one you want to use at the moment with the dial knob.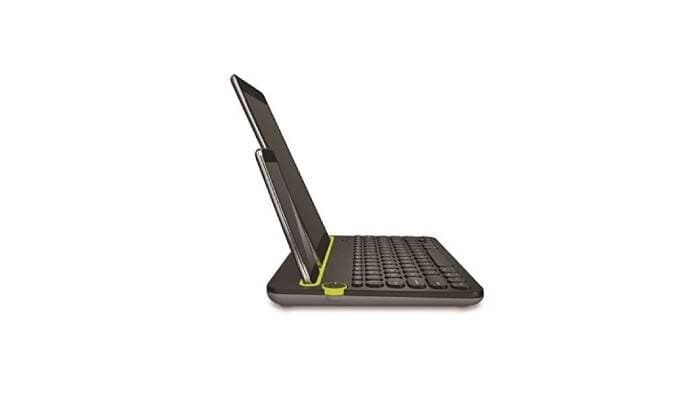 This will save you some time on configuring the device each time you change your smartphone. The keyboard also has a long cradle you can use to put your device inside – enjoy easy writing without the need for an external smartphone stand.
Active Key STP/R3/BT/ES-0
| | |
| --- | --- |
| Weight: | 320 g |
| Size: | 200 mm x 150 mm x 50 mm |
Active Key STP/R3/BT/ES-0 is another interesting option to consider. It is clear that the manufacturer had portability in mind when he came up with the idea for this keyboard.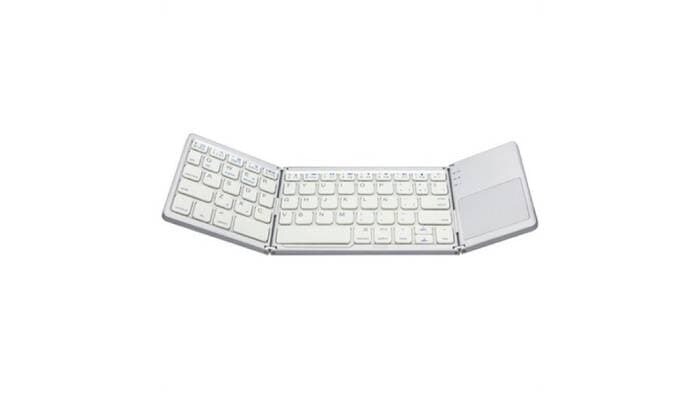 It has no cradle, which results in a smaller overall size, but it is also a foldable one, making it even easier to pack and take it anywhere you want. It is worth mentioning the presence of an 800 DPI touchpad, which will effectively turn your smartphone into a laptop. Keep in mind the layout of the keyboard, though – it is designed for Spanish consumers, and it will need to be adjusted internally through system settings to work with other layouts.
EWENT EW3146
| | |
| --- | --- |
| Weight: | 360 g |
| Size: | 300 mm x 120 mm x 25 mm |
Next, we have EWENT EW3146, which is a perfect example of simplicity combined with functionality.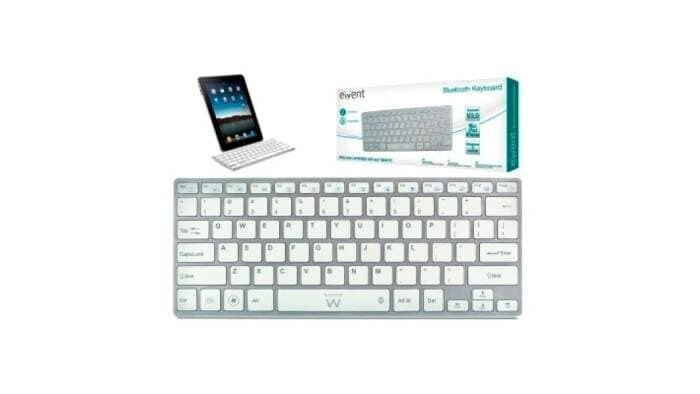 It's a low-profile ultra-slim portable keyboard compatible with Android and iOS devices alike, meaning you will have no trouble connecting it to your favorite smartphone or tablet. It works wirelessly via Bluetooth and offers a much smoother experience when it comes to typing on your pocket electronic device. You can even connect it to your PC as a last resort solution in case your main keyboard gets damaged.
Sandberg 2in1 Bluetooth Keyboard
| | |
| --- | --- |
| Weight: | 180 g |
| Size: | 285 mm x 131 mm x 27 mm |
If you have multiple smartphones you wish to connect with a portable keyboard, Sandberg 2in1 Bluetooth Keyboard also might be a good choice, as it allows to connect 2 devices simultaneously and switch between them on-the-go.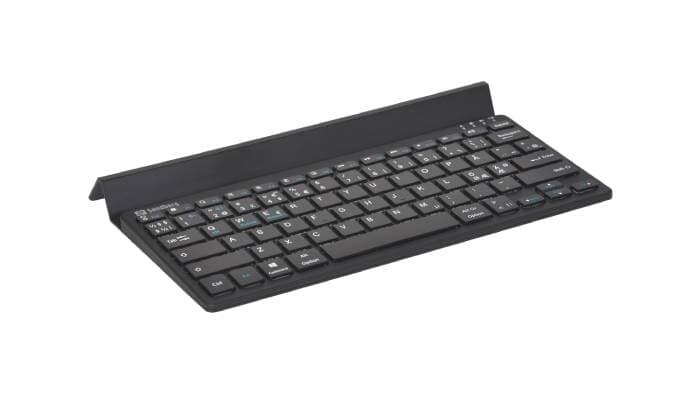 It features a smartphone holder, which – thanks to its open construction – allows to mount bigger-sized devices. The keyboard also features multimedia keys, making navigating through your music playlist a breeze.
Wireless Bluetooth Keyboard for Apple iPad Air1 Air2
| | |
| --- | --- |
| Weight: | 860 g |
| Size: | 244 mm x 188 mm x 18 mm |
If you are an iPad user, you might want to check out the keyboard dedicated for Apple tablets. One of such keyboards is Wireless Bluetooth Keyboard for Apple iPad Air1 Air2 Pro 9.7 Inch 2017/2018 Black Black Regular.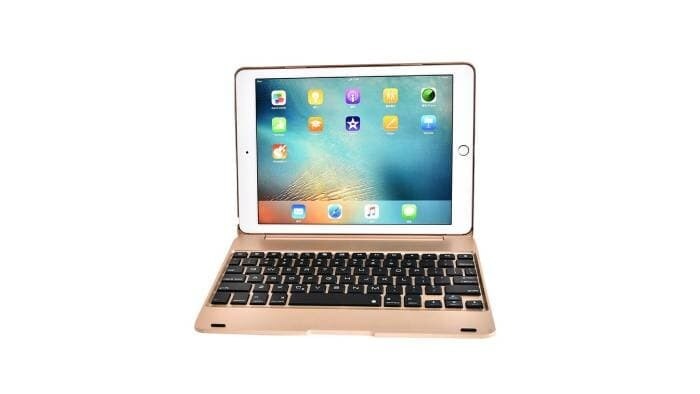 It features a 9.7-inch iPad holder which allows to fit your device perfectly, effectively turning the tablet into something resembling a real laptop. You can even close the whole after finished work, just like you would do with a laptop. The keyboard itself is responsive and comfortable to use, and multimedia buttons are a nice little addition to the overall solid product.
Reytid Wireless Smart iKeyboard with Touchpad
| | |
| --- | --- |
| Weight: | 187 g |
| Size: | 170 mm x 109 mm x 25 mm |
This one will be a good choice if you are after something even more portable than the above-mentioned products, yet still offering a high level of functionality.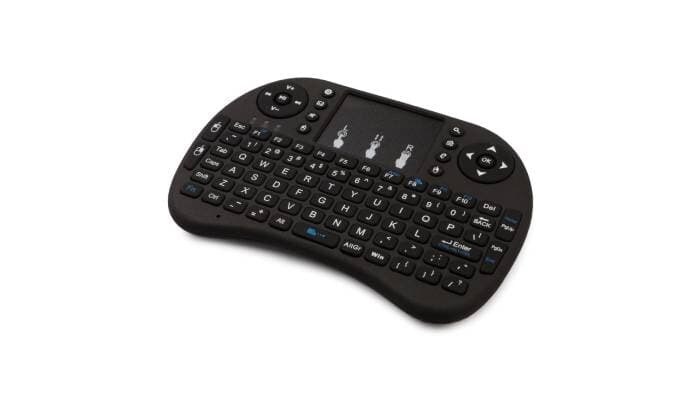 This mini keyboard fits in your palm and can be used as both keyboard and mouse, thanks to the conveniently-placed touchpad on top of the device. The keyboard works on 2.4 GHz frequency, ensuring no lag or other unwanted effects occurring while navigating your Android or iOS-powered device.
Iggual IGG315262
| | |
| --- | --- |
| Weight: | 360 g |
| Size: | 300 mm x 130 mm x 30 mm |
If you are looking for a simple and affordable low-profile keyboard which works out of the box, you should try iggual IGG315262.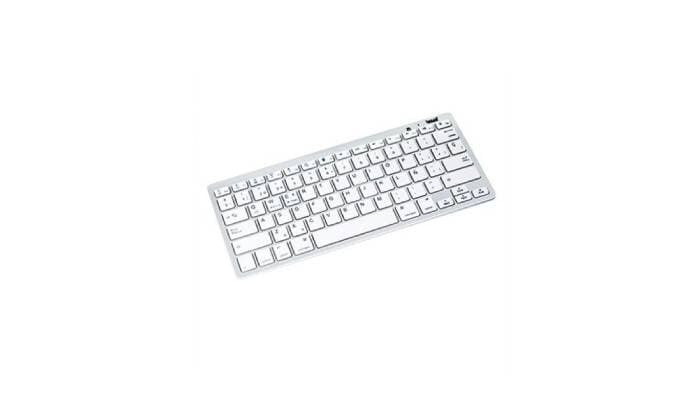 Simply pair the keyboard with your Android or iOS smartphone or tablet via Bluetooth and start typing, no further configuration needed. Thanks to the low key travel distance, the keyboard is rather quiet, making it a good choice in case you don't want to disturb others. Keep in mind, however, this is another product meant for the Spanish market and it has a Spanish layout.
Foldabits Folding Bluetooth Keyboard
| | |
| --- | --- |
| Approx. dimensions when folded: | 125 mm x 85 mm x 2 mm |
| Approx. dimensions when open: | 250 mm x 85 mm x 1 mm |
The last entry on the comparison list is the Foldabits Folding Bluetooth Keyboard. The keyboard is compatible with most types of devices and will work with mobile devices running Android and iOS, as well as with Windows PC.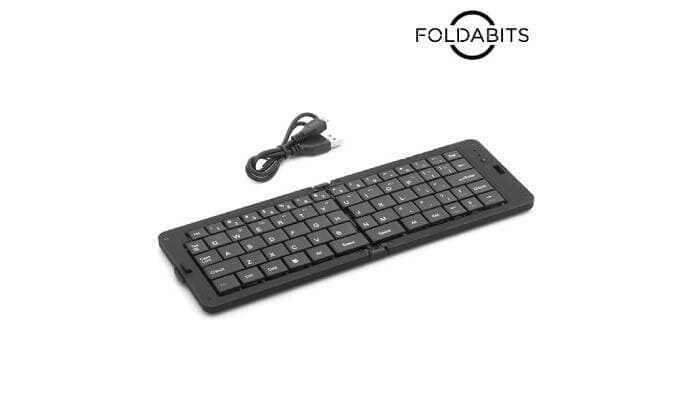 Its biggest feature is the fact you can fold it in half to make it take even less place than usual. In fact, the keyboard is so small when folded, you can even put it inside the pocket in your trousers. It takes approximately 3 to 4 hours to fully charge the keyboard's battery.
Summary
Typing on a smartphone is not an easy task when we need to type large amounts of text and do it quickly. Thankfully the issue is easy to resolve by purchasing an external portable keyboard. Available keyboards offer different functionalities, and you might find some of them more useful than others. If you want a tiny device, you could try iggual IGG315262. If you also need mouse functions, you may be interested in a solution with a built-in touchpad, like Reytid Wireless Smart iKeyboard. And if the presence of a smartphone holder is a must, then you should definitely try Logitech K480.