Summer is probably the best season to go outside and spend free time outdoors with friends. For some people, however, what nature has to offer is not convincing enough, so they need an additional incentive to leave home. This could be something simple like music – being able to listen to your favorite tracks outside might turn every trip into a much more enjoyable experience.
In that case, you could invest in wireless earbuds, but if you are planning to take your friends with you, portable Bluetooth speakers are the way to go.
Portable speakers allow you, for example, to make a small intimate pool party. They can also be used to bring some positive vibes to the grilling Sunday in the garden or to create a certain atmosphere during a picnic on the beach. These are just a few simple ideas – nothing stops you from coming up with your own, possibly more creative ones.
Whatever the case may be, when shopping for portable speakers it's worth noting they come in different shapes and colors, but most importantly, the audio quality will vary between devices. The choice is often boiled down to the amount of cash you can spend on the speakers – the more expensive ones will usually serve you longer and can feature some nice additions, like being waterproof. However, it doesn't necessarily mean you can't get good portable speakers for a reasonable price. In fact, today we will show you it's very possible to buy solid speakers while not spending a fortune on doing so. Read on to find out some possible budget options in the portable Bluetooth speakers market.
Defunc BT Speaker TRAVEL
| | |
| --- | --- |
| Playback time: | 6 h |
| Frequency response: | 80–20000 Hz |
| Waterproof: | No |
| Power: | n/a |
This speaker is proof that you can combine a low price with a stylish design. You can take Defunc BT Speaker TRAVEL wherever you need to play your music loud, and you won't be ashamed to show it to others.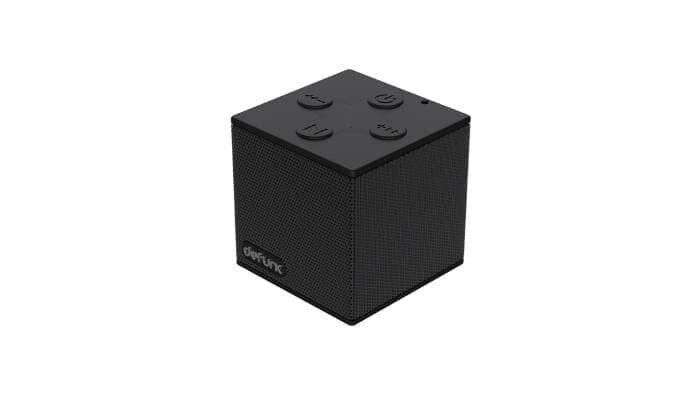 It can connect to your smartphone or music player via Bluetooth and it will be able to sustain the connection at a distance of up to 10 meters. The built-in microphone allows to conveniently use the speaker to receive incoming calls, and the installed battery allows for up to 6 hours of continuous play. The speaker comes in 3 different colors – black, silverish, and goldish.
JBL GO 2
| | |
| --- | --- |
| Playback time: | 5 h |
| Frequency response: | 180-20000 Hz |
| Waterproof: | Yes (IPX7) |
| Power: | 3 W |
JBL GO 2 is the successor to the well-received JBL GO. The new version of the portable speaker eliminates most flaws that were present in the original.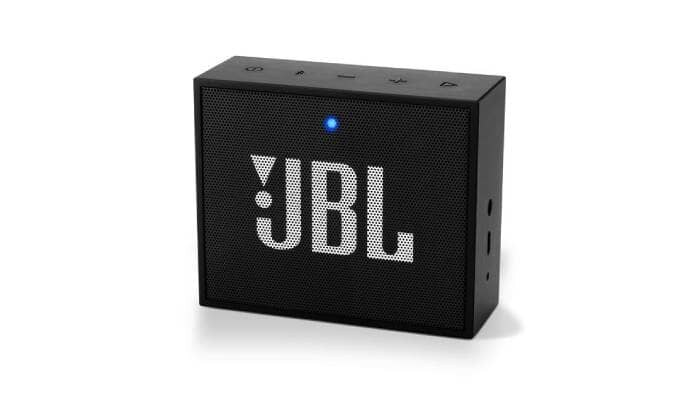 As such it received a new, refreshed look – sharp edges are replaced with rounded ones. The durable casing provides an additional layer of defense against scratches. Additionally, JBL GO 2 is rated at IPX7, meaning it is resistant to splashes and accidental submersions in water. The speaker comes in a variety of different colors, so you will surely find the one you'll like.
Edifier MP200
| | |
| --- | --- |
| Playback time: | 12 h |
| Frequency response: | 150-14000 Hz |
| Waterproof: | Yes (IP54) |
| Power: | 5.5 W |
If you are looking for a small and cute-looking portable speaker which will perfectly fit into any party, then Edifier MP200 is probably the best choice.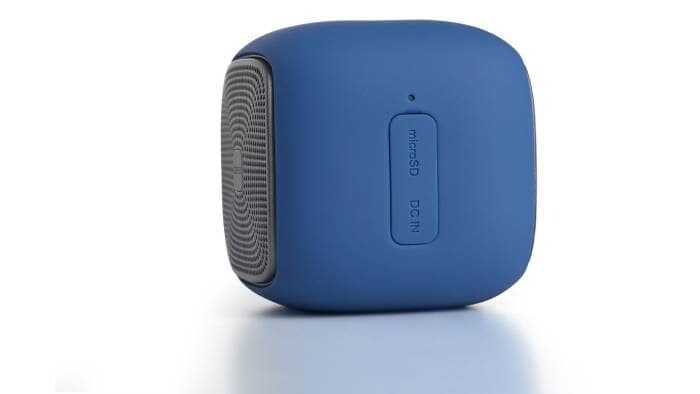 It has a nice in touch rubber coating which prevents small mechanical damages, like scratches and abrasions. It is also rated at IP54, meaning it can survive accidental splashes and is resistant to dust. The speaker is easy to use and plays very loudly for such a small device. It features a microSD slot and the durable lithium battery capable of powering the device for up to 12 hours straight.
NGS Roller Creek
| | |
| --- | --- |
| Playback time: | 3 h |
| Frequency response: | n/a |
| Waterproof: | Yes (IPX7) |
| Power: | 10 W |
NGS Roller Creek is another waterproof option, perfect to use in places such as swimming pools or beaches. Despite only 10W power, the speaker plays loud and clear.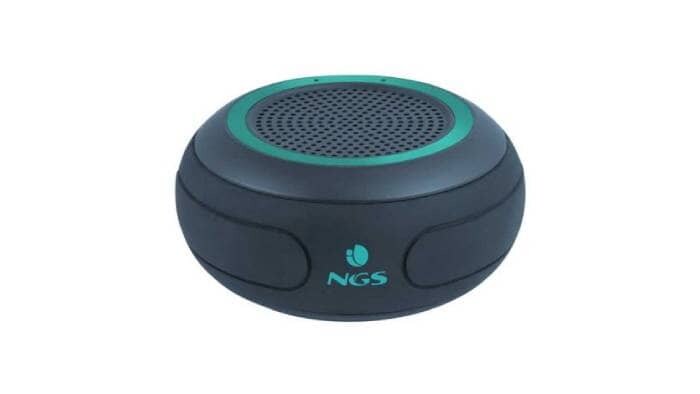 It can play the music from your smartphone or laptop via Bluetooth, as well as directly from the micro SD card. It's worth noting you can pair two speakers together, allowing you to use them as the source of music even on larger outdoor parties. Additionally, it has a locking carabiner which allows, for example, to attach the speaker to trousers and enjoy the music while hiking with friends.
Sandberg Waterproof Bluetooth Speaker
| | |
| --- | --- |
| Playback time: | 8 h |
| Frequency response: | n/a |
| Waterproof: | Yes (IPX7) |
| Power: | 2x 10 W |
While this speaker is not the most compact one, it is still small enough to be considered portable. Sandberg is known for making sturdy and solid products – its Bluetooth speaker is no different, making it a great choice for survival-themed forest trips.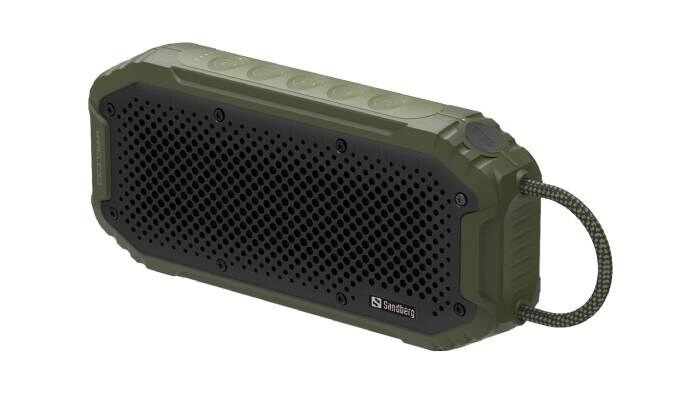 The speaker is waterproof with the rating being described as IPX7, meaning it will survive not only splashes and raindrops but also accidental submersions in up to 1 meter of water, as long as the device spends no more than 30 minutes in it. It is also worth mentioning Sandberg speaker can serve as a 5200 mAh power bank which you can use to charge your other devices in emergency situations. However, all of this comes at a higher price, which is slightly above the stated 50 USD mark.
Summary
Finding a good portable Bluetooth speaker for under 50 USD is not as hard as it might seem. There are multiple possible options available on the market, some of which we presented you above. Depending on your own needs, you might choose a speaker which looks funkier, like Edifier MP200 or more mature, like Sandberg Waterproof Bluetooth Speaker. Water-resistance also may be a concern – if you plan to use the speaker in water, you will certainly need the device with an IPX7 rating.