Capcom never fails, regularly launching refreshed versions of subsequent titles in its legendary survival horror series. And now it's time for another and one of the scariest – Resident Evil 4 Remake. What can we expect from this big release?
The original Resident Evil 4 mastered third-person gameplay and gripping storytelling. And as we already know, the remake will be even darker and more immersive than its praised predecessor.
But when preparing to buy this sensational game, some players may wonder which edition to choose and what are the essential differences. So we've decided to examine the subject and take a good look at their contents in this ultimate RE4 Deluxe vs Standard comparison!

Overview of Resident Evil 4 Remake
Launching on March 24, 2023, Resident Evil 4 Remake will run on PC, Xbox Series X/S, PlayStation 4, and PlayStation 5.
The title features the original game story but tailored to modern gamers' evolving needs. We can expect smoother animations, refined audiovisuals, new plot threads, and impressive gameplay mechanics like crafting. You can also complete optional quests and more realistic AI!
Standard Edition
Resident Evil 4 Remake Standard Edition comes at a reasonable price with two epic bonuses for those who decide to pre-order. So overall, by picking this edition, you'll get the base video game, Attache Case: Gold and Charm: Handgun Ammo.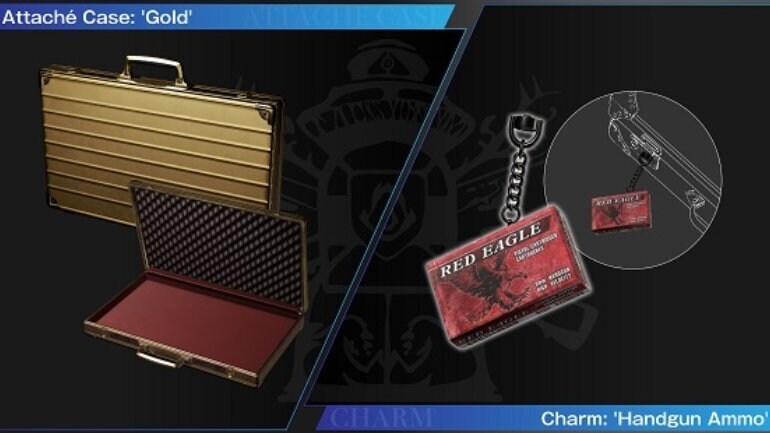 Deluxe Edition
When it comes to the Deluxe Edition, pre-order will cost you a little more for all the Standard Edition content plus Attache Case: Classic and Charm: Green Herb. But there is more! This version brings many other in-game goodies inaccessible in the Standard Edition. This DLC pack is not only cosmetic accessories but also weapons and costumes that will always be available! So by buying it, you will also receive:
Hero costume for Leon and filter
Villain costume for Leon and filter
Casual costume for Leon and Ashley
Romantic costume for Leon and Ashley
Sentinel Nine pistol
Skull Shaker shotgun
Treasure Map: Expansion
Sunglasses (sporty)
Soundtrack swap: Original Version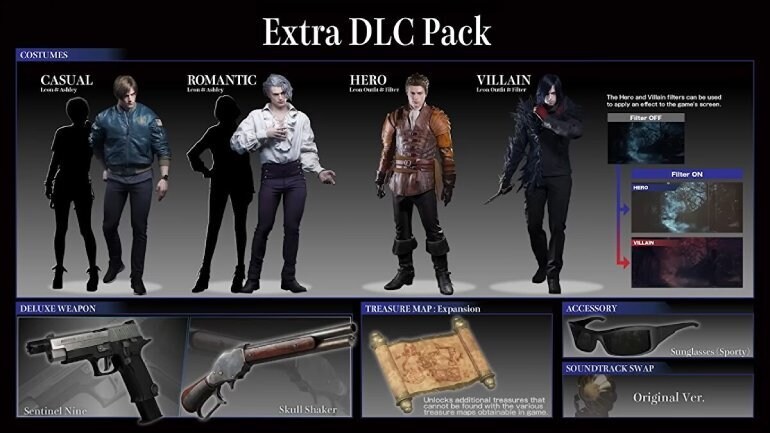 Comparison between Standard and Deluxe Editions
So let's see which edition is more worthy of your attention. As you can see, RE4 Remake Standard is the basic version of the game with two extras available only in preorder. After that, it will be just the game itself.
But the Deluxe Edition brings many fantastic accessories even after the grand release! And it costs just a little more than Standard. By choosing Resident Evil 4 Remake Deluxe Edition, you can boost your style with unique costumes and cosmetics or have fun with two additional weapons and a Treasure Map. So is it worth it? It seems this pick is the ultimate way to make the entire horror experience more immersive and personal.
Conclusion
The Resident Evil 4 Remake launch is one of this gaming year's highlights and an excellent opportunity to get more with your preorder. But if you're a player who doesn't care about all those extra cosmetic accessories and hype surrounding the release date – don't worry. Just buy the Standard Edition and enjoy your favorite game in its purest form cheaper. But remember that the Deluxe Edition costs just $10 more. So it's definitely worth it, and there's no shame in enjoying a bit of extra content for less than other grand releases have to offer.