When the Japanese Square video game company launched the first Final Fantasy, there was no sign of the enormous success the title was to achieve. Now, after many more installments in the series, we know the legend of the series is likely to shine forever. But – there's another.
Two years after the premiere of the first Final Fantasy game, Square (now Square Enix) developed and released a SaGa series. It consists of games like Final Fantasy Legend or Romancing SaGa, which quickly won the hearts of players in Japan. The first game in this unique series was also the first role-playing video game for the Game Boy console. As we know today, the title had little to do with the original Final Fantasy, and the name itself came to life for marketing reasons.
However, it was a breakthrough in its genre, experimenting with the existing rules of video RPG. The gameplay featured an open world and a non-linear story with multiple endings. If you would like to take a closer look at the titles in this series, today is the day! Here is a list of all Final Fantasy Legends and SaGa video games!
The Final Fantasy Legend 1
Game Boy
Nintendo DS
Switch
PC (Windows)
| | |
| --- | --- |
| Release: | 1989-12-15 (Game Boy) / 2021-10-21 (Steam) |
| Developer: | Square Co |
From the dawn of time, a gigantic tower has been standing in the center of the world. Its spike marks the way to Paradise. Many adventurers have tried to get to the top and explore this mystery, but none have returned from the expedition victorious. Maybe you will?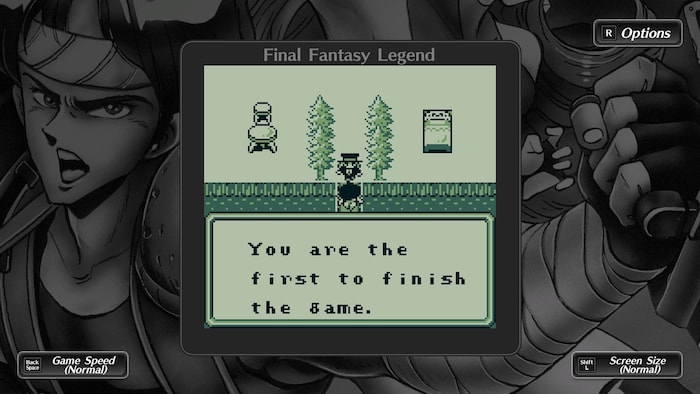 Choose from several classes like humans, mutants, and monsters and create your unique hero. Prepared for the road, travel to the top of the tower to discover its secrets and become its first explorer! On your way, you will encounter various enemies and potential party members. Recruit them for an adventure, discover multiple character development paths and become an ultimate hero!
Key features
Play the first game released on Game Boy
Create a character choosing from people, mutants, and monsters
Embark on an adventure to discover what is at the top of a massive tower
Explore the land and meet other characters
The Final Fantasy Legend 2, 3
Game Boy
Nintendo DS
Switch
PC (Windows)
| | |
| --- | --- |
| Release: | 1990-12-14 / 1991-12-13 / 2021-10-21 (Steam) |
| Developer: | Square Co |
Both following parts of the Final Fantasy Legend series offer a similar gameplay scenario as Final Fantasy Legend 1. Play part 2 and go in search of your lost father. Or try part 3 and discover a world of challenging time travels!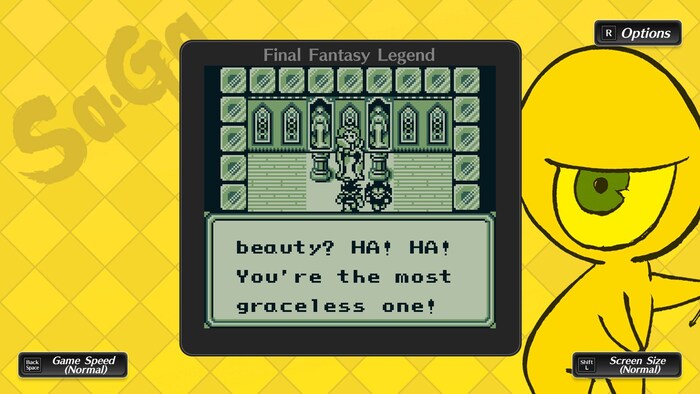 The gameplay in both parts is similar, but you will also discover some new mechanics. Over the years, the character development has evolved a bit, and the pure fantasy climate of the story has taken on a bit more of a sci-fi nature. In these parts, you will also be able to play a new class – robot or cyborg!
Key features
Play the sequel to the groundbreaking game on Game Boy
Experience new adventures and discover breathtaking fantasy and sci-fi worlds
Recruit teammates and fight in turn-based battles
Develop your character as you want
Romancing SaGa
SNES
Playstation 2
| | |
| --- | --- |
| Release: | 1992-01-28 |
| Developer: | Square |
Play RPG, which in 2006 made it to the list of the 100 greatest games of all time, according to Famitsu readers. Set off to the magical world of humans, gods, and demons and fight the evil god Saruin!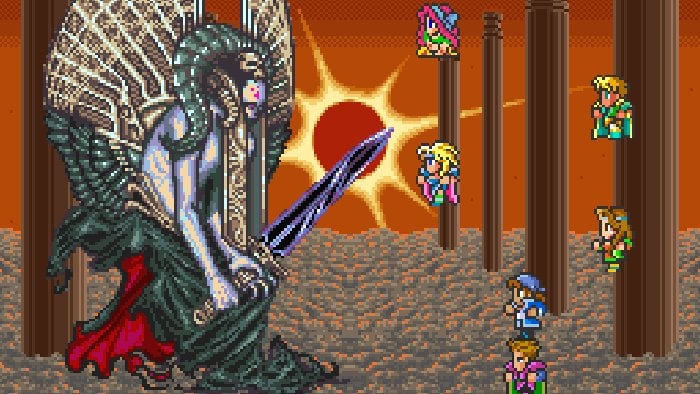 Choose from eight characters like barbarian, nomad, ranger, and more. Embark on your adventure in one of eight different locations and get carried away by the totally random meetings that can take you anywhere. Create a team, explore faraway lands and dangerous dungeons, and discover scraps of history by completing challenging quests.
Key features
Play as one of eight fearless heroes
Create a team and fight in the turn-based mode
Explore the map and develop your level to fight powerful enemies
Meet fascinating characters and complete quests
Romancing SaGa 2
SNES
Mobile
Switch
PC (Windows)
| | |
| --- | --- |
| Release: | 1993-12-10 / 2017-12-15 (Steam) |
| Developer: | Square Enix |
It is the next installment in the series, released in 1993 only in Japanese. In 2016, it got its remake and finally made its debut worldwide.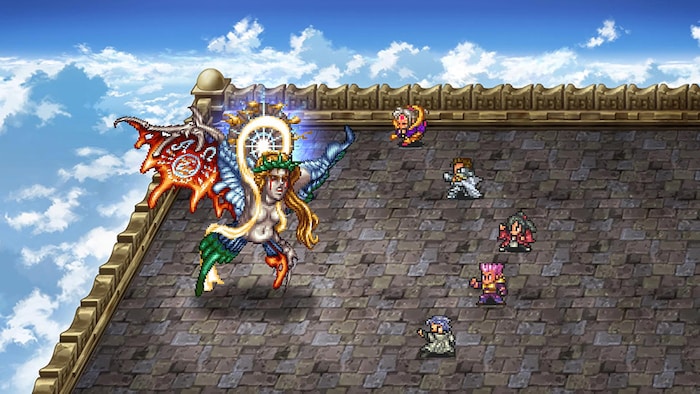 When the Seven Heroes return as the evil demons, only the dynasty of rulers from Avalon Castle will be able to stop them. Take on the role of family members and grow in strength as a ruler and a whole nation. Take care of your kingdom, develop in combat and explore. And one day, you will be ready for the ultimate battle against your greatest enemy.
Key features
Play the remake of the best-selling game from 1993
Accept the role of a ruler at Avalon Castle and fight evil
Explore, develop skills and get stronger
Recruit new heroes for your party
Romancing SaGa 3
SNES
Mobile
PC (Windows)
| | |
| --- | --- |
| Release: | 1995-11-11 / 2019-11-11 (Steam) |
| Developer: | Square |
It is an epic role-playing game, released in 1995 on the SNES in Japan. Play a remaster of this fantastic story designed by the legendary Akitoshi Kawazu and discover a retro RPG in a new edition for PC.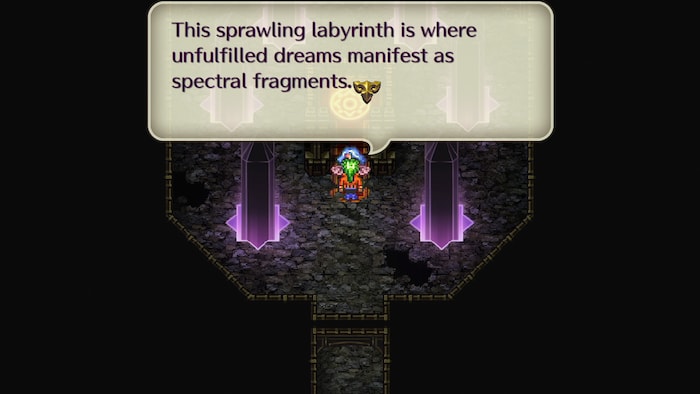 Every three hundred years, a Rise of Morastrum brings death to all born this year – regardless of race. However, one child survives each time, and this way, the evil Archfiend and the good Matriarch come to life. When the next eclipse arrives, no one knows what kind of hero will appear in the world. Choose from eight characters and set off on a journey to discover the mystery of the grim event of a deadly solar eclipse!
Key features
Pick one of eight characters and take control of your fate
Explore a magical land and recruit teammates
Fight in the turn-based mode and enjoy dynamic effects
Complete missions and gain experience
SaGa Frontier
Playstation
Mobile
Windows (Steam)
| | |
| --- | --- |
| Release: | 1997-07-11 / 2021-04-15 (remastered version) |
| Developer: | Square Enix |
It is the seventh installment of the SaGa series, the action of which takes place across the galaxy. Play the remaster of this classic role-playing game from 1998 and create your legend in a fresh new style.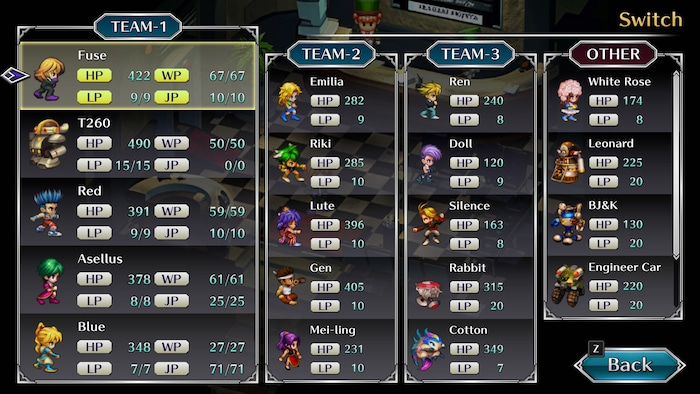 Travel across the solar system and discover entirely new nations and even more adventures! Pick one of seven unique heroes and follow their story path as you create the entire tale. SaGa Frontier is a video game with a non-linear storyline, leaving endless freedom of gameplay control in the hands of the players.
Key features
Play the remaster of the epic 1998 RPG
Travel around the solar system and encounter its population
Make decisions, explore and create your own story
Meet new party members and create complex attack combos in combat
SaGa Frontier 2
Playstation
| | |
| --- | --- |
| Release: | 1999-04-01 |
| Developer: | Square |
It is the second installment in the SaGa Frontier series, with the story set in a slightly different reality, not referring to the previous part. Set off to the world of Sandail and discover two stories that blend throughout the plot.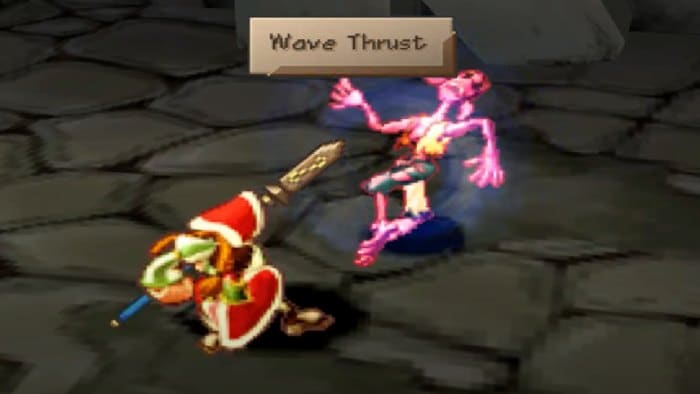 Guide the fate of the exiled prince and see how his adventure will unfold. Or get involved in the turbulent relationships of the Knights family and see if they can find the ancient artifact. Welcome to the beautiful world that will engage you from the very first second! Explore, decide your own fate and create a team to reach the farthest lands of this endearing world.
Key features
Choose one of the two heroes
Set off on a journey and explore the most distant lands
Create a team and prepare your attacks
Discover numerous secrets and their origins
Unlimited Saga
Playstation 2
| | |
| --- | --- |
| Release: | 2002-12-19 |
| Developer: | Square |
Meet seven brand-new characters and explore a magical fantasy land through their eyes! It is another installment in a fantastic role-playing game collection, released in 2003 for PlayStation 2.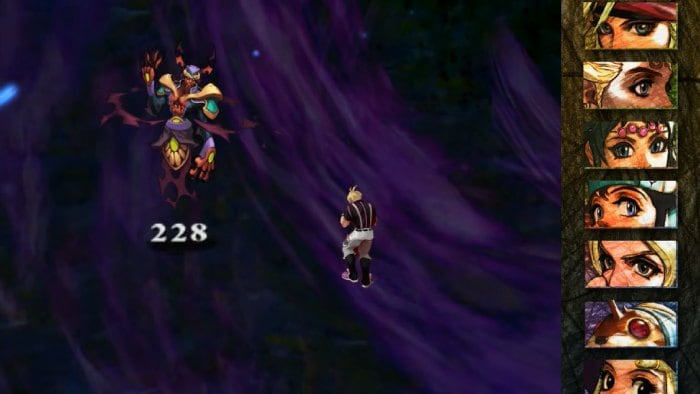 Play as each of the seven heroes and discover the chapters of their story. Accept missions, complete them, gain experience and explore. Get to know your hero better and make him gather fearless members for the team. The developers introduced 3D graphics, which took the gameplay experience to a whole new level of fun.
Key features
Play the stories of seven new heroes
Learn their goals and guide their adventure
Find worthy members for your team
Fight in turn-based mode and create deadly combos
Emperors SaGa
Social websites (GREE, Mobage)
Android
| | |
| --- | --- |
| Release: | 2012-09-18 |
| Developer: | Square Enix, AltPlus |
It is a unique installment in the series, which significantly differs from other titles. The game was released in 2012 by Square Enix and featured elements of story known from previous games.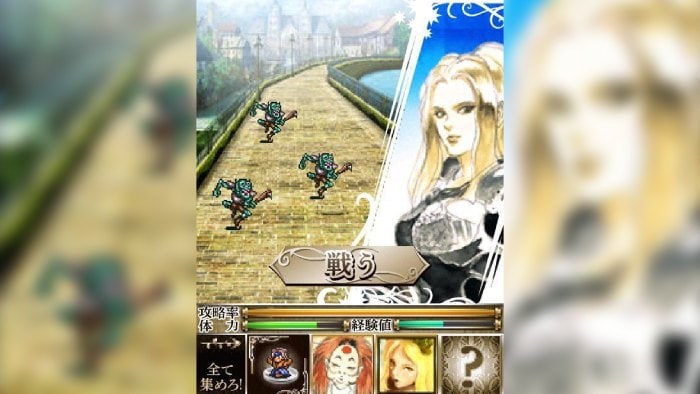 You are playing as the ruler of the entire kingdom and keep your citizens happy by doing your best to ensure their well-being. This title focuses on combat featuring digital cards that display the statistics of particular fighters.
Key features
2012 card role-playing game
Take on the role of the ruler of the entire kingdom
Confront your enemies and keep the citizens safe
Plan attack strategies and win
Imperial SaGa
Web browsers
| | |
| --- | --- |
| Release: | 2015-06-18 |
| Developer: | Think & Feel |
| Discontinued: | 2019-12-26 |
It is the browser version and the eleventh part of the SaGa series of games. If you miss battles from Romancing SaGa 3 – this title offers an almost identical combat system.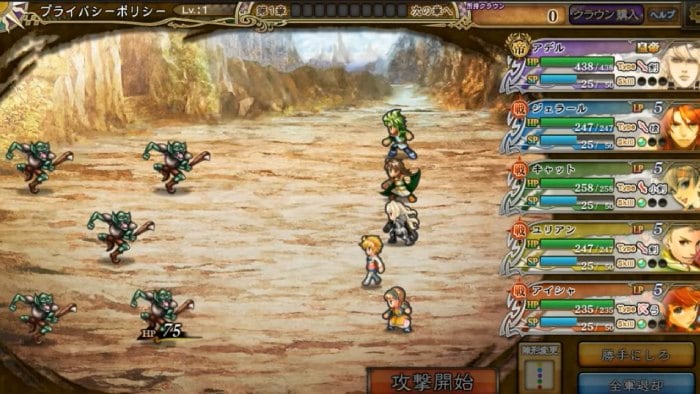 Play as the mighty ruler of one of the many lands set on a fantasy map. Choose from a variety of heroes and locations to start your adventure! Become the dream emperor and defend your homeland against evil attacks. Form a team of legendary characters known from previous parts and set off on a journey to collect even more treasures and defeat more and more powerful enemies.
The game was discontinued in December 2019 due to waning support for Adobe Flash.
Key features
Play the browser version of the series
Play as the emperor and take care of your kingdom
Choose from a variety of characters and create a party
Explore, collect treasures, and defeat hordes of enemies
SaGa: Scarlet Grace
Playstation Vita
Android
iOS
Windows (Steam)
| | |
| --- | --- |
| Release: | 2016-12-15 (PSP) / 2019-12-03 (Steam/PC) |
| Genre: | Role-playing |
| Developer: | Square Enix Business Division 3, Studio Reel |
Play the biggest installment in the series, released in 2016 on PlayStation Vita! Learn thrilling stories, explore breathtaking locations, and restore order to an epic fantasy world.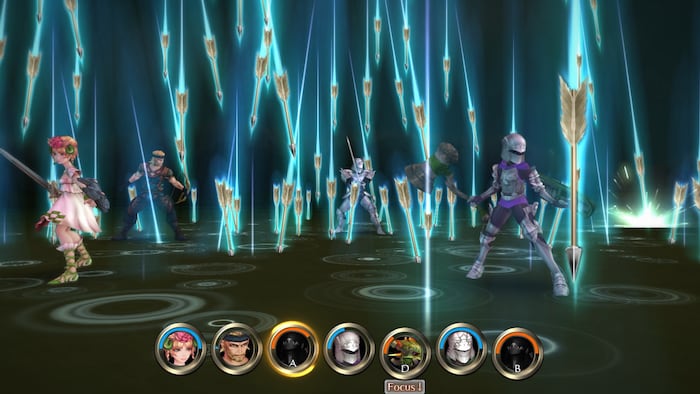 Learn the stories of four unique heroes and manage their actions to understand what they all have in common. Explore as much as you want and make your own decisions that will affect the story of the rest of the game. Fight in the turn-based mode and pay particular attention to the formation and location of your units, and you will surely win every fight!
Key features
Play as one of the four heroes and discover what they have in common
Explore the vast map and engage in various events
Create a team and fight to develop your skills
Get carried away by an intriguing story
Romancing SaGa Re; univerSe
Android
iOS
| | |
| --- | --- |
| Release: | 2018-12-06 |
| Developer: | Square Enix |
It is a free-to-play continuation of the plot known from Romancing SaGa 3, which takes place 300 years after the events of the last part. Confront the rising evil and banish it once and for all!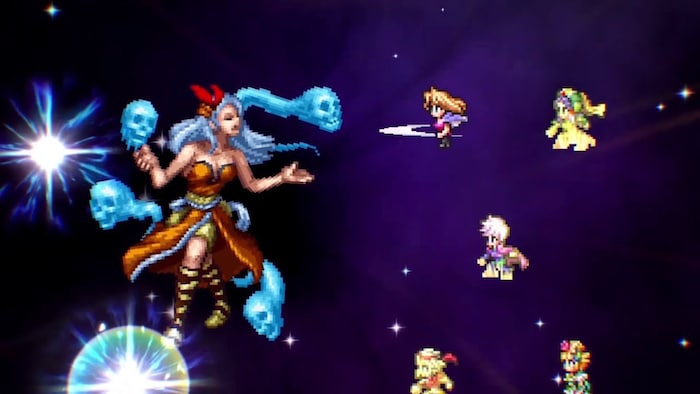 Enjoy the classic SaGa gameplay and embark on a journey that will ultimately drain all evil of its power. Create a team, explore and discover the secrets to learn history even better. Meet characters, visit towns, and get carried away by the charm of the mobile jRPG loved by players worldwide.
You can get the Romancing SaGa Re;univerSe from Google Play or AppStore.
Key features
Play the story sequel for Romancing SaGa 3
Meet various characters and recruit them to your team
Explore the map and complete tasks
Enjoy classic gameplay that fans of the SaGa series love
Imperial SaGa Eclipse
Android
iOS
PC (Online browser game)
| | |
| --- | --- |
| Release: | 2019-10-31 |
| Genre: | Role-playing |
| Developer: | Think & Feel |
This browser video game is a sequel to Imperial SaGa, but the developers implemented some changes to improve the gameplay. Enter the world of gods, wicked spirits, and humans to discover your destiny!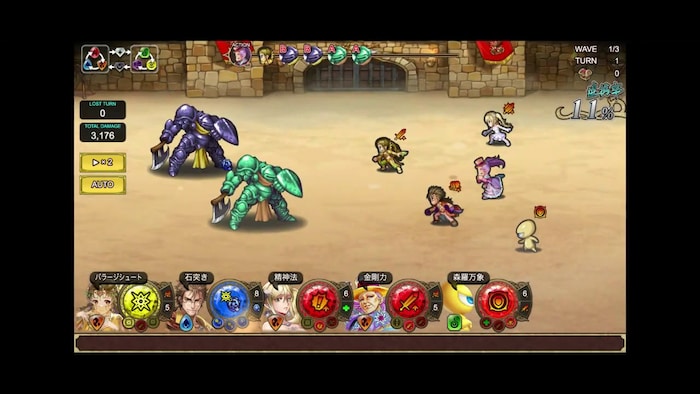 Play as Liber and create a party of the bravest heroes who will dare to undertake the journey of their life. Engage in turn-based combat, plan attacks, and develop talents by fighting and making friends with others. Learn to use your unique skills to your advantage and discover the darkest secret hidden by your fate.
Key features
Play the direct sequel to Imperial SaGa
Create a hero and learn his story
Meet other heroes and make friends
Fight and develop your skills
Final Fantasy Legends and Saga video games did not become a bestseller in Japan because Final Fantasy was their closest relative. Their success is the developers' experimental approach to the game mechanics.
This unique collection has granted players unimaginable freedom of choice and the power to direct their own stories. With the charming graphics and a different captivating plot each time – this gameplay is pure perfection. If, after reading this list, you felt a sudden urge to play some retro RPG about magic and heroes – don't worry. It is a completely healthy reaction!