Steam is a massive online game store and a place to build your dream library of favorite titles or spend time with friends. It is why Steam Gift Cards are becoming increasingly popular!
Topping up Steam Wallet with a gift card is easy, and giving it to a friend as the ultimate gaming present can be the best idea for any occasion. But did you know you can get such a card cheaper? Saving has never been so easy! Learn a few of these steps, and you will surely enjoy using your Gift Card like never before.
Research Discounts
Playing games on Steam provides Steam Trading Cards you can craft badges from. Doing so will level up your Steam account but may also earn you a random coupon for one of the games on the platform. When you add it to your cart, Steam will automatically apply the discount. But this is not the end of the possibilities!
Various websites and retailers often offer coupons, promo codes, and massive deals on Steam Gift Cards. You'll quickly notice many reasonable offers on games and digital gift cards, making the search for the perfect product much easier. You can also register for various online loyalty programs to get such a voucher, but doing so may result in receiving spam emails.
Compare Prices
Checking prices at various online retailers and comparing them on dedicated websites can bring extremely beneficial results.
Many of them also contain information about sales or specific discounts – for every occasion. And if you want to save and plan to buy more, consider finding gift cards in bulk to get more for less. Some of them contain one type of gift card, while others feature combinations designed for specific life events, so there is a lot to choose from!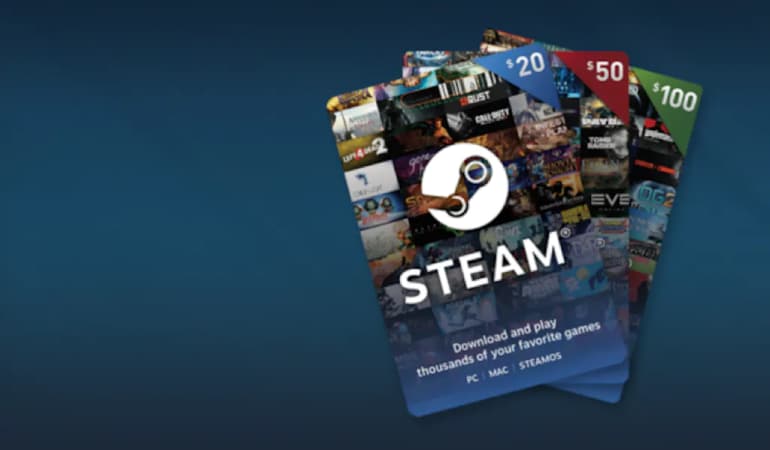 Use Cashback Sites
Cashback has become very popular in recent years as it enables saving money on online purchases. If you often shop online, sign up for a cashback service of your choice and receive back some of the money spent in the form of points for any purchases in the future. Just redeem them for your dream Steam Gift Card and get it cheaper than anywhere else!
Look for Special Deals
Grand events bring profitable seasonal deals where you can find your favorite product cheaper than usual. All kinds of holidays like Christmas, Valentine's Day, Halloween, and more are excellent opportunities to get games and gift cards. Many come in attractive bundles, so you don't have to limit yourself to one product and enjoy more at an incredibly reasonable price. Such promotional offers mean wishes granted – especially when it comes to gaming.