Space combat is a popular concept when it comes to video games, so it's not surprising to see many games that offer more or less realistic combat scenarios in space, where you can pilot your very own spaceship and battle against other players or bots in a series of fast-paced sci-fi matches.
If you love this kind of action, check some of the best space combat simulation games on the list below.
Top Space Combat Simulation Video Games
Elite Dangerous
| | |
| --- | --- |
| Release: | 2015-04-02 |
| Developer: | Frontier Developments |
Elite Dangerous is a must when speaking of the best space combat simulation games. The title lets players explore an open-world environment which is an entire galaxy represented on a realistic scale and allows them to engage in various space activities, from trading and fighting off the enemies, to flying around for fun.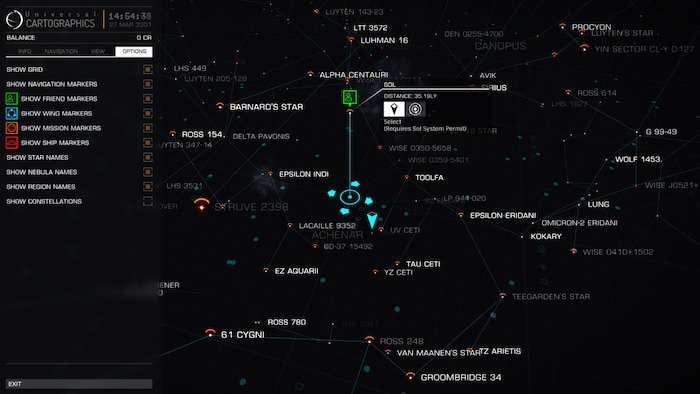 If you are looking for a space combat simulation game that's easy to play yet has a realistic feeling to it, then Elite Dangerous is a game you should definitely try. It's worth mentioning that although it has some solo-friendly features, it focuses on a multiplayer experience – in fact, it's something you could call MMO with spaceships.
Key features
Space combat simulation that's easy to play but still has realistic feel to it
Huge playable area – a 1:1 representation of the Milky Way with real stars, planets, and more
Focused on multiplayer
FreeSpace 2
| | |
| --- | --- |
| Release: | 1999 (2014 on Steam) |
| Developer: | Volition |
First of all, don't panic. Yes, we are aware that the game was released in 1999, but it doesn't make the title any worse. It's one of the classics among the space fighting sim games, and therefore worth mentioning nevertheless, but more importantly,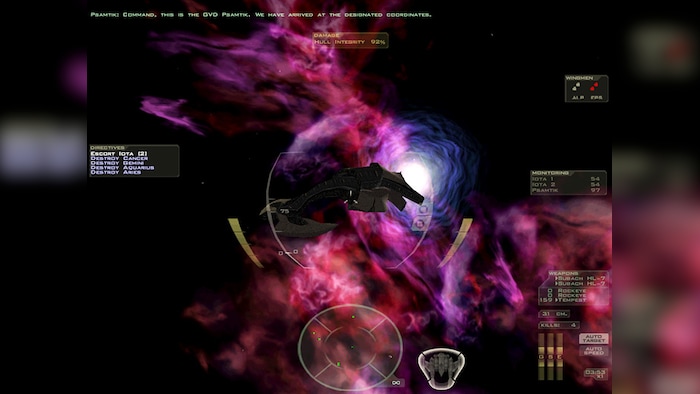 it's still surprisingly playable, although visuals may appear to be quite outdated. If you could just ignore that fact and focus on gameplay, then you might be in for a lot of fun – FreeSpace 2 plays like a good WWII dogfight simulator, allowing you to fly your own spaceship from first-person perspective and hunt down enemy fighters and other bad boys as you attempt new missions.
Key features
Fast-paced dynamic space action
Large number of spaceships and huge capital ships
Addictive gameplay focused on realistic dogfights with use of futuristic weapons
House of the Dying Sun
| | |
| --- | --- |
| Release: | 2016-11-01 |
| Developer: | Marauder Interactive, LLC |
House of the Dying Sun is quite unique title, and for several reasons. It's not just yet another space combat simulator, but much more.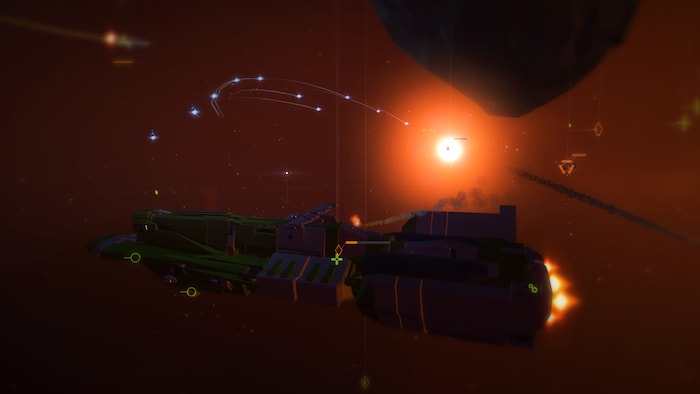 Imagine a game, where you could directly pilot not only your own spaceship, but also take control over any allied ship that's part of your fleet – and here you can do exactly that. You can also command the other ships and give them orders to aid you during combat.
Mastering this ability is a must if you want to succeed, as no battle was ever won by a lone wolf. Another cool feature is the fact that you can pause the game any time and plan your next move carefully, giving the game some tactical flavor.
Key features
Classic space sim combat with tactical options
Fleet management and possibility to take control over other ships from the fleet
Powerful fleet upgrades that can make future encounters easier
No Man's Sky
| | |
| --- | --- |
| Release: | 2016-08-12 |
| Developer: | Hello Games |
Thanks to a hard work of the game's developers, No Man's Sky turned from a rather disappointing production it was in the beginning into a full-fledged title that gives players an opportunity to start their own epic adventure in the vast open space.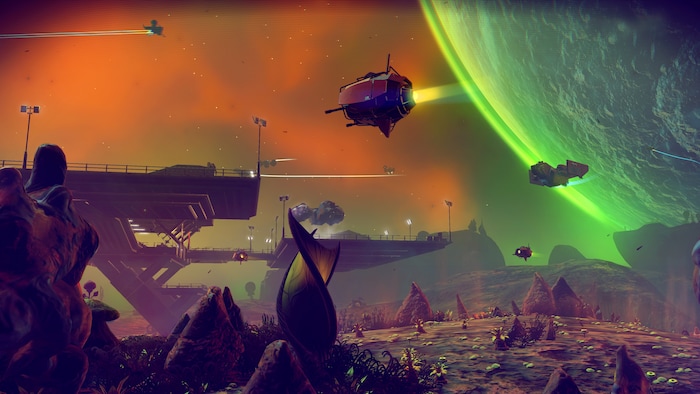 It's not your typical space combat simulator, as it's more focused on space exploration and visiting new planets in search of new upgrade materials and other stuff, but the needs of those interested in some space first-person dogfight action will also be satisfied.
Key features
Puts strong emphasis on space exploration
Infinite universe with procedurally generated fauna and flora
Tons of upgrades, survival elements, multiplayer action, and base building
Everspace
| | |
| --- | --- |
| Release: | 2017-05-25 |
| Developer: | ROCKFISH Games |
Everspace is another interesting and unique position on the list, mainly due to the fact of roguelike elements being present in the game. Every time you start a new journey, you will enter a new randomly generated universe, where you will be tasked with completing instantiated levels in order to progress further.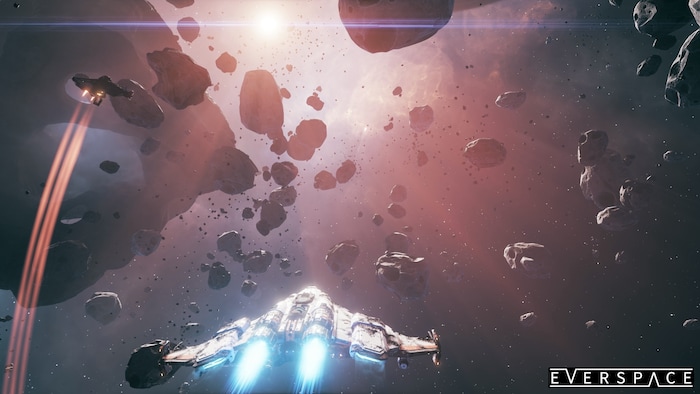 During your adventure you will fight dangerous enemies and collect valuable loot that will help you survive by giving you access to new powerful weaponry and equipment. Don't be afraid to die, though – with each death you will become stronger, thanks to persistent upgrade system that allows you to use gathered resources to upgrade your ship before you start a new journey.
Key features
Space combat with roguelike elements
Randomly generated set of levels – no two adventures are the same
Various upgrades that will make it easier to progress further after death
War Tech Fighters
| | |
| --- | --- |
| Release: | 2017-08-16 |
| Developer: | Drakkar Dev |
Who said that space combat needs to be focused on spaceships, dogfights, and shooting lasers left and right? Meet War Tech Fighters, a game that's not afraid of trying new things and approaches the genre from a completely different way.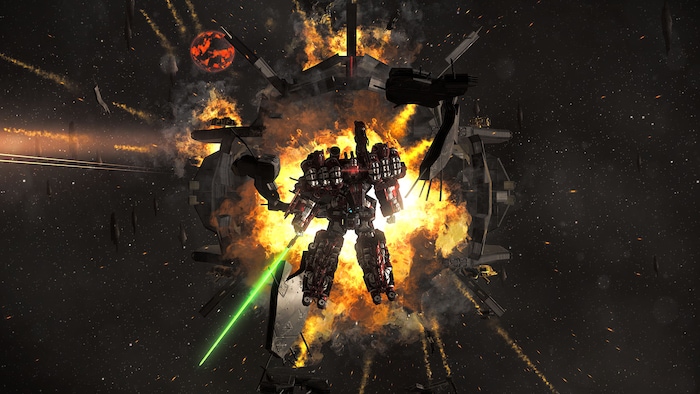 Instead of piloting a spaceship, you will be put inside a powerful and technologically advanced mech equipped with the latest collection of futuristic weapons. Clearly inspired by japanese anime, War Tech Fighters allows players to participate in flashy combat and eliminate enemies from afar or get closer and use swords and shields instead.
Key features
Different playable mechs suitable for different playstyles
Character progression – earn mech experience and improve your machine
Tons of upgrades and customization options
SpaceBourne
| | |
| --- | --- |
| Release: | 2018-10-05 |
| Developer: | Burak Dabak |
SpaceBourne is an indie game that was developed with player freedom in mind. The title allows players to engage in various types of activities, including mining asteroids and hunting bounty targets to make their name in the vast inhospitable space.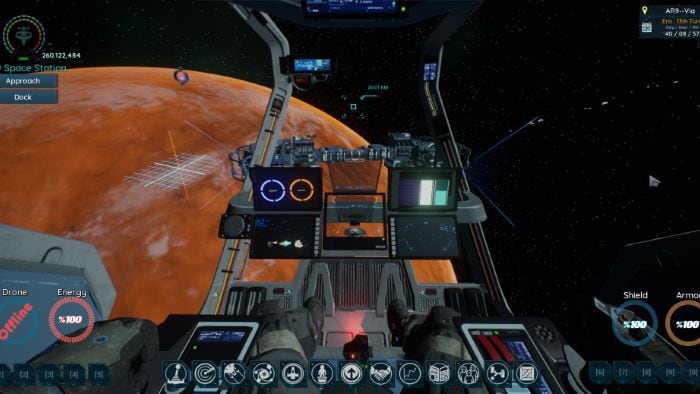 As you play you will encounter many futuristic weapons with their own unique characteristics, which makes it possible to customize your spaceship to suit your playstyle. During the game you will also earn experience as you complete various side and main missions – gain levels and develop your character to make your life easier in the future.
Key features
4 unique races with their own spaceships
A wide array of weapons to choose from
A lot of freedom – be a miner, salvage ships, hunt down pirates, and more
Rebel Galaxy
| | |
| --- | --- |
| Release: | 2015-10-20 |
| Developer: | Double Damage Games |
Rebel Galaxy is not really a simulator, as it favors fun and arcade gameplay over realism, but if you're up for a game that offers some cool fast-paced space combat, then you'll be in for a treat.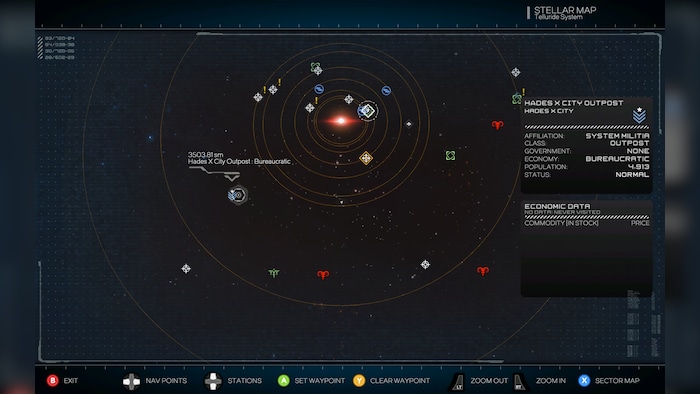 The game lets you pilot a capital-class ship and allows you to take part in various activities. These include pirating, mining, trading, exploring, and bounty hunting, giving everyone a chance to play the game in the most enjoyable way. The goal, besides the completing story missions, is, of course, to become the most powerful and influential pilot in the universe.
Key features
Large randomly generated universe
Tons of activities to participate in
Many different playable spaceships that can be further customized to suit everyone's needs
Nexus: The Jupiter Incident
| | |
| --- | --- |
| Release: | 2004-11-05 |
| Developer: | Mithis Games |
Let's get back to classics again and take a moment to appreciate the little hidden gem from 2004. Nexus: The Jupiter Incident is a game that instead of putting you in the shoes of a pilot, gives you a set of challenges to complete with use of a pre-defined fleet.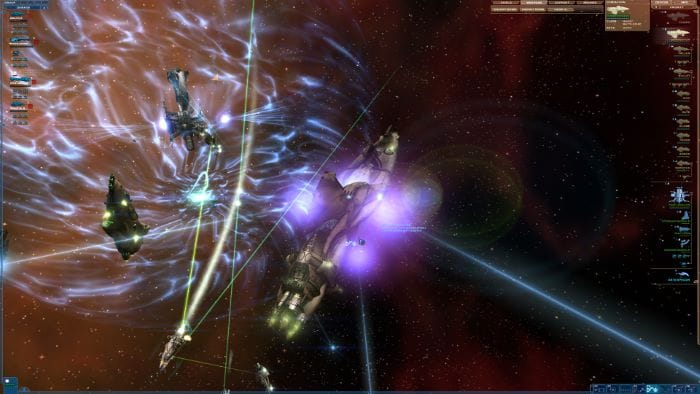 During each mission you will be able to command up to 10 spaceships – winning the mission will require you to utilize each one's strengths on the space battlefield. Lead your fleet in real time, give your ships orders, and test your skills in a variety of mission types, from espionage and sabotage to fight and stealth. Can you complete them all?
Key features
Real-time combat with use of up to 10 different friendly spaceships
An exciting campaign with 26 unique missions
Dozens of weapons and devices to utilize on the battlefield
STAR WARS™: Squadrons
| | |
| --- | --- |
| Release: | 2020-10-02 |
| Developer: | Motive Studios |
It's been many, many years since the last full-time Star Wars-themed dogfighting game. Shades of this appeared in various games, like Star Wars Battlefront series, but these were mere modes. Thankfully, coming from Motive, there's Star Wars: Squadrons soaring over the horizon.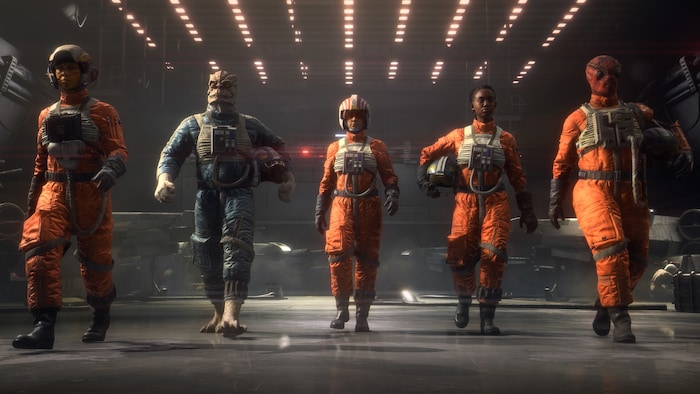 By all accounts, Squadrons might be just the game people have been waiting for. One of the coolest features is that the ship interior stays as faithful to the design of the ships from the Original Trilogy as possible, while also retaining the necessary functionality. There will be a lot of rerouting power to different subsystems, wild maneouvres, and a full singleplayer campaign to get you acquainted with the systems before launching into the multiplayer space.
Key features
Storyline set right after Return of the Jedi
Cockpits true to the movies
The first dedicated Star Wars starship combat sim in years
EVERSPACE™ 2
| | |
| --- | --- |
| Release: | 2021-01-18 |
| Developer: | |
Following hot on the heels of its very successful predecessor, Everspace 2 looks every bit like a space sim worth taking seriously. Designed specifically for singleplayer, it takes you on a fascinating journey from planet to planet and system to system, as you pursue loot, experience, and you own, more personal, goals.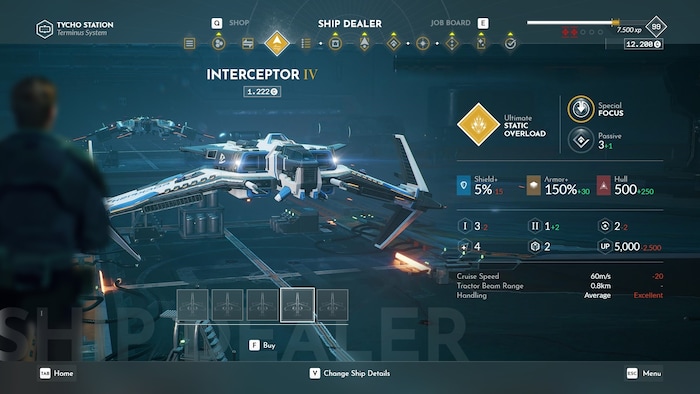 Everspace 2 looks even better than the first game, with new ships, new locations, and polished flight simulation. Collect new gear to customise your ship, or try to find a new craft to you collection, whatever helps you venture further and further. There is a lot to do, and a lot to enjoy.
Key features
Free demo, so you don't need to go in blind
Plenty of ships to collect
Fast-paced space combat
Star Wars: Battlefront
| | |
| --- | --- |
| Release: | 2015-11-17 |
| Developer: | EA DICE |
For the last game on the list we have something for Star Wars fans, Star Wars: Battlefront. Although the game does not focus on space combat simulation, it does have a fighter squadron mode that lets players pilot one of the iconic spaceships from the Star Wars universe and fight to death in a multiplayer deathmatch game.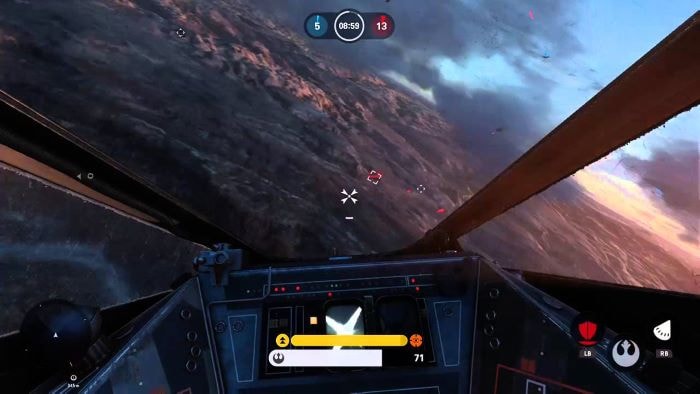 While it's hardly a simulation and wouldn't found among dedicated space combat games, it's surprisingly fun and addictive, which should give you a more relaxed experience in comparison to what other games from the list are offering. And once you get bored of it, you can just choose a different mode and play as your character on the ground and test your skills in a more traditional third-person shooter instead.
Key features
Focused on multiplayer
Fast-paced arcade action in the iconic Star Wars universe
Several addictive game modes to choose from
Summary
Space combat simulation games can be realistic but they can also sacrifice a portion of realism in favor of more dynamic and fun gameplay. Some games are trying to achieve a balance and offer arcade gameplay that still feels somewhat realistic, at least to a certain degree, as it would be hard to make a truly realistic sci-fi game that implements concepts we don't even have in real life yet.
Space combat simulations are usually about giving players the opportunity to pilot a spaceship and complete various missions that may include trading, hunting bad boys, or simply exploring the open space in order to find new and exciting systems to loot and plunder. The world, or rather universe, can be pre-made or generated randomly for additional fun. Or can be a mix of both.
Some games may try to approach the genre from a different way, and instead of focusing on dogfights and maneuvering the spaceship, they can give players a different type of machine to operate, such as a mech, which results in an entirely different experience. Developers are still coming up with new ideas that are meant to bring some fresh air to the genre, so space war may be presented in different shapes and sizes.