Imagine possessing unimaginable power over a mighty army fighting for the entire galaxy's fate. As it turns out, you can make this dream come true even today!
Developing tactical movements on the map is fun, especially when set in the legendary Star Wars universe. The opposing factions of the dark and light sides of the force inspire combat like no other sci-fi story. Grow in power and conquer or let your people live in peace. The choice is yours, and it's time to find out what kind of leader you are.
Experience the Best of Star Wars Strategy Games
Star Wars: Empire at War
| | |
| --- | --- |
| Release year: | 2006 |
| Developer: | Petroglyph |
Embark on your adventure two years before the events of A New Hope movie. It is a time of war between the Empire and the Rebellion, and the entire galaxy's future is in your hands.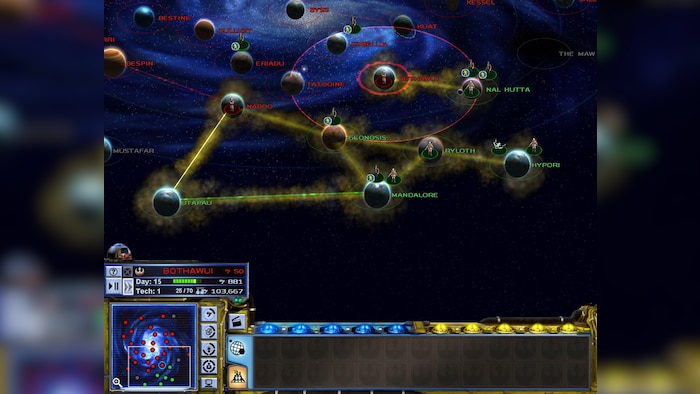 Discover dozens of interstellar and planetary locations to start a battle for everything! In this game, you will encounter Star Wars legends like Darth Vader, Admiral Ackbar, Emperor Palpatine, Obi-Wan Kenobi, and more. You will use the most effective combat units like AT-ATs, TIE Fighters, or Star Destroyers. And it all happens in a thrilling solo or multiplayer campaign!
Key features
Play a classic PC strategy game
Choose your side and decide the galaxy's destiny
Enjoy a rich selection of scenarios, maps, and combat vehicles
Play solo or in multiplayer
Star Wars: Force Commander
| | |
| --- | --- |
| Release year: | 2000 |
| Developer: | LucasArts |
It is a real-time strategy game where you will experience the grandest battles, set between the plots of A New Hope and Return of the Jedi.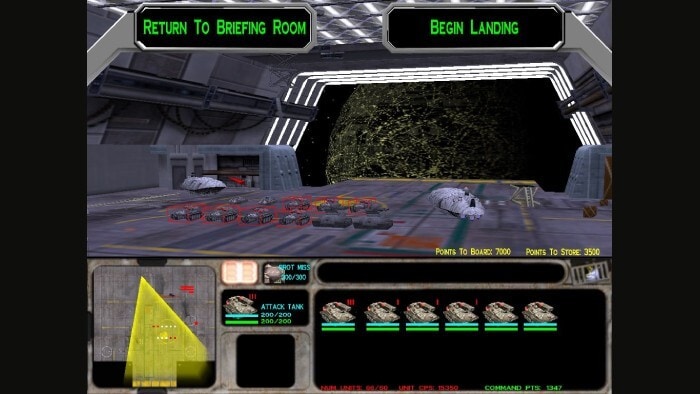 Start the single-player campaign as young Imperial officer Brenn Tantor. Soon, everything will change, and you will join the Rebellion in monumental events like the Battle of Endor. Create legendary combat units, play 24 engaging campaign missions, and enjoy iconic locations from your favorite franchise. This game is a dream come true for strategy enthusiasts!
Key features
Play the classic RTS game set between A New Hope and Return of the Jedi movies
Play through 24 addictive single-player campaign missions
Compete with other players in exciting multiplayer
Create mighty armies equipped with the best combat vehicles
Star Wars: Galactic Battlegrounds
| | |
| --- | --- |
| Release year: | 2001 |
| Developer: | Ensemble Studios |
Lead one of six races fighting for supremacy over the galaxy. Prepare – these battles are going to be massive and addictive!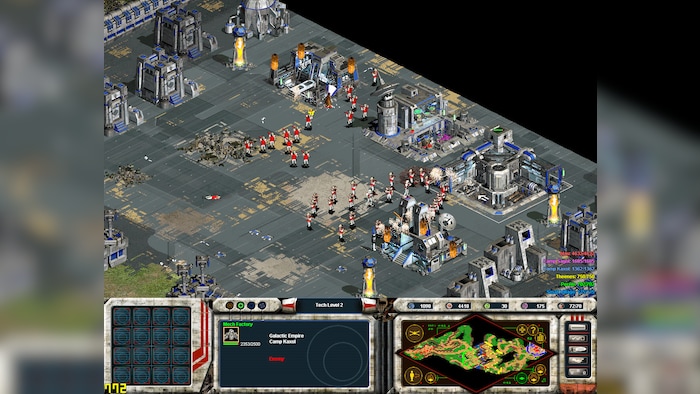 SW: GB is an RTS combining combat with resource management. Play as the Wookiees, Empire, Rebellion, Naboo, Gungans, or Trade Federation, and have strategic fun with iconic vehicles and weapons. Gather resources and discover new technologies to become even better on the battlefield – solo or in multiplayer. If you've ever wanted to play Age of Empires set in the Star Wars universe – this is the game.
Key features
Embark on an epic battle as one of six playable races
Collect resources and create new units
Explore various maps and design your own scenarios
Play solo or in multiplayer
Star Wars: Rebellion (video game)
| | |
| --- | --- |
| Release year: | 1998 |
| Developer: | Coolhand Interactive |
Control one of the two playable factions to experience legendary moments of the Star Wars saga. It's the ultimate choice if you're looking for large-scale space battles!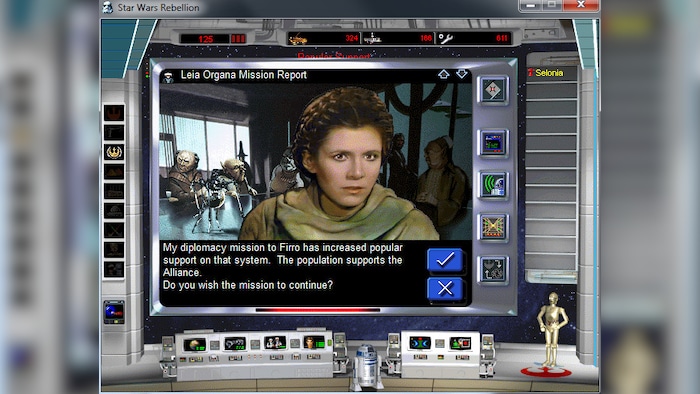 Play as the Empire or the Rebel Alliance to complete challenging missions and take over the galaxy. Engage in diplomacy, forge alliances, and gain support. And in the meantime, expand your star fleet by creating deadly powerful units like TIE Bombers, Star Destroyers, X-Wings, and the terrifying Death Star.
Key features
Choose a side in the great conflict between the Empire and the Rebel Alliance
Forge alliances to gain support for your efforts
Expand your fleet and create new combat units
Use the unique Lord Vader and Luke Skywalker skills
Many strategy games set in the Star Wars universe came to life during the peak popularity of the first six movies. Today, they are classics. Some of them may seem outdated. But their magic is not aesthetics but the passion the creators put into development to provide the finest strategic experience in their beloved universe. There is no better recipe for a good game, and that's why new titles often stay for a while and the older ones – forever.