Playing video games is usually more enjoyable when you can use a good computer or a powerful home video game console to do so, but such devices lack portability and can't be used to play anywhere you'd like to.
Portable consoles solve this issue, but they have their own drawbacks, such as lower performance. It would be great if we could combine the best of two worlds – imagine a portable console, that would not only allow us to play video games anywhere but also offered performance that could rival a modern gaming PC. Sounds too good to be true? Meet the Steam Deck!
What is the Steam Deck?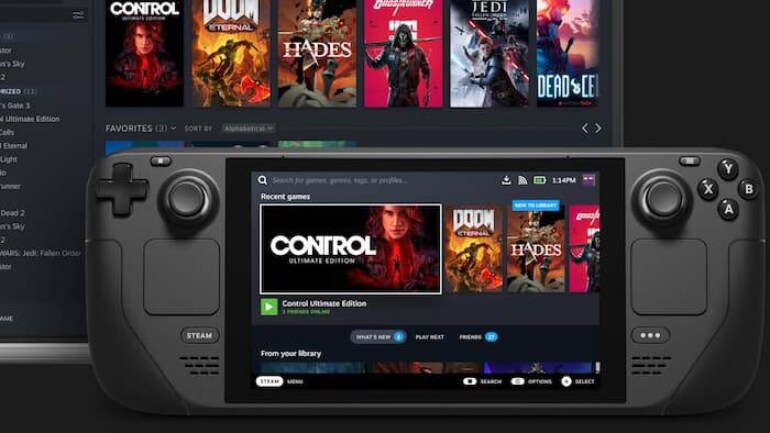 Steam Deck is the latest portable console developed by Valve. It was made to fill the niche of powerful hybrid portable consoles – a niche once entirely dominated by the Nintendo Switch. If you compare the two, however, you will quickly realize the difference in performance, because the Steam Deck is not just a simple console – it's an entire gaming PC packed into a convenient, handheld package, that can also be docked and used as an ordinary PC when a bigger screen and traditional peripherals are needed.
Once docked it can be connected to an external display, mouse, keyboard, wired networking, and so on, turning it into an ordinary PC, which combines portability with a real PC experience – something that's not commonly seen. Unlike with the Switch, however, the dock has to be bought separately.
Although comparing a portable console to a PC at first may sound like an April Fools' joke, it becomes clear that such comparisons are fully justified if you just take a closer look at the device's specs, where you will find hardware that, according to Valve, could even rival Ryzen 3000 desktop processors and Radeon RX 6000 GPU series. Now that's impressive, but we'll have to wait and see if the rumors are true.
PC Performance at Your Fingertips
If you're a gamer and you're looking for a portable video game console, one of your main concerns is probably the device's performance. If that's the case, then look no further than the Steam Deck, as you won't find anything that even comes close to what Valve's handheld console has to offer in terms of raw computing power.
The Steam Deck comes with a custom APU made by AMD. Based on Zen 2 and RDNA 2 architectures, it reaches up to 1.6 TFLOPS which is comparable to the scores of Xbox One and PlayStation 4. This will be more than enough to play even the latest AAA games at stable 30 FPS in 720p. According to Valve engineer Yazan Aldehayyat, however, we can expect to see the performance of a PC that runs on a Ryzen 3000 CPU and is backed up by a GPU from the Radeon RX 6000 series – if that's true, it would be quite a feat for a portable console.
The console's 4-core CPU uses variable timing frequencies, ranging from 2.4 to 3.5 GHz. Similarly, the 8-CU GPU runs between 1.0 and 1.6 GHz, which allows the console to reduce its power consumption when playing less demanding titles, and dynamically adapt to more advanced ones. Speaking of power consumption, despite its high performance, the device is capable of running casual games for 5 to 6 hours straight thanks to its capacious 40 watt-hour battery.
The Steam Deck is supported by 16 GB LPDDR5 RAM and comes in three different storage models: 64 GB eMMC, 256 GB NVMe SSD, and 512 GB NVMe SSD.
Controls, Display, and Design
The new Steam console has a crisp 7-inch 1280×800 LCD touchscreen that runs at a fixed 60 Hz refresh rate and strikes a balance between readability and size. It's big enough to allow us to clearly see the entire action during play, but it's also small enough to not be considered bulky or unwieldy, which significantly improves the comfort of use.
And the comfort of use is an important factor for handheld devices, but fear not – according to Valve, the Steam Deck was designed with prolonged gaming sessions in mind. It's clearly a device dedicated to more demanding players, so you can expect a combination of sturdy construction and all sorts of easily accessible buttons and switches. The console features thumbsticks, a d-pad, ABXY buttons, shoulder buttons, rear buttons, and two trackpads, one for each thumb. It may sound like a lot at first, but you will quickly realize how much it improves the quality of life during use.
In terms of looks, the Steam Deck is simple and elegant – you certainly won't be ashamed to use it in public.
Not Only for Steam Library Games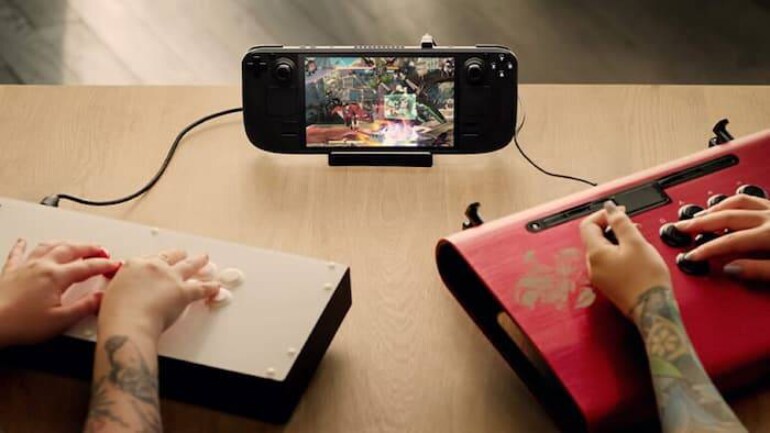 One of the most important pieces of news about the Steam Deck is that although the console was made with Steam games in mind, there's nothing stopping us from loading the device with video games from other digital distribution platforms, including Epic Games Store, Origin, or even use it with cloud-based gaming services, such as Google Stadia and GeForce NOW.
Moreover, if you don't like the pre-installed SteamOS operating system, you can install Linux, Windows, or even something else in its place, you name it. The Steam Deck can be customized and personalized by the end-user according to his own wants and needs. Such amount of freedom isn't too common these days, so huge thumbs up for Valve for allowing players to decide what's best for them themselves.
The Steam Deck – Pricing and Availability
The Steam Deck comes in three storage variants, and each has its own price tag. Prices are as follows: the cheapest option with 64 GB storage space will cost you $399, the second one with 256 GB SSD can be ordered for $529, and finally, there's 512 GB SSD for $649.
According to Valve, expected order availability is set to Q2 2022.
Final Thoughts
Steam Deck is a promising handheld gaming computer that is not only as powerful as some modern computers and home video game consoles, but it's also affordable enough to let people enjoy their favorite AAA games wherever they want without the need to spend too much of their entertainment budget. A highly customizable hybrid device that can run not only the games from your Steam Library but also other digital storefronts, is surely something many can't wait to get their hands on – including us.