Whether you're a video games fan, or simply work on PC a lot, you probably know how important it is to have a good keyboard.
However, picking the right one isn't as easy as it may seem. If a wide spectrum of manufacturers wasn't daunting enough, there are also key questions to ask: do you need any additional buttons? Do you need a separate numerical keyboard? Are you going for a membrane or mechanical one? How important is the design, when compared to functionality? Do you want it wireless, or don't mind a cord? Finally, how much can you spend on your gaming keyboard?
We can't answer these questions for you, but we can make the decision somewhat easier to make by explaining the factors going into picking the right tool for the job. We will also present several suggestions for the best budget gaming keyboards available at G2A Marketplace for great prices alongside a quick-reference description of their most important features.
Best budget gaming keyboards

Name
Image
Type
Switch
Brand
Thor 300 TKL
Mechanical
Outemu Red / Outemu Blue
CK 550 GKGL1
Mechanical
Gateron Blue
RX85 RGB Mechanical
Mechanical
Kailh Brown
K55 RGB
Membrane
no data
K3 RGB
Membrane
no data
Master Keys Pro GeForce
Mechanical
Cherry MX Red
Razer Ornata Chrome
Membrane
no data
Mechanical or membrane?
The most crucial and fundamental distinction between keyboards is what type of system makes the keys work. Both have their advantages and drawbacks, so let's see what these are.
Membrane
The membrane keyboards are typically the cheaper ones, although not without their advantages.
To start off, their name comes from the rubber layer between the keys. A typical membrane keyboard can be seen on microwaves: a flat, uniform layer of a flexible material on which symbols are printed or etched. Once pressed, the conductive fragment of their underlay contacts the circuit closing it and sending an appropriate signal.
Another type of a membrane keyboard, and one more relevant to gaming and using a PC in general, are dome-switch keyboards. Instead of a flat membrane, here, each key is represented by a rubber dome with a conductive material beneath it. The domes can be hidden under plastic keys, or have symbols printed or etched on them, as is the case with many TV remotes.
The domes are a substitute for spring, so they push back against the finger, providing a slight tactile experience. They also allow the user to type faster than they could on a traditional membrane keyboard.
Mechanical
Although quite costly, mechanical keyboards are an indispensable tool for everyone who writes a lot.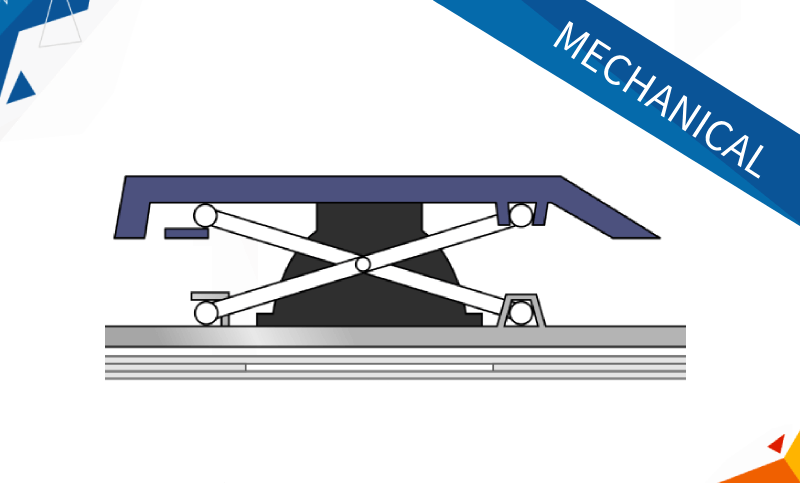 Where dome-switch KB normally requires the users to press the keys all the way down for them to activate, a mechanical one has customizable switches which can actuate faster, without having to press them fully. This proves to be extremely useful, especially for a longer period of time.
The switches also provide audible "clicks" when they trigger, which while loud (depending on the type of switch) lets you know when you can stop pressing. As a result typing on a mechanical keyboard, while necessitating some getting used to it, ends up faster and more tactile.
Mechanical keyboards are mostly used by people who write professionally, for example, as copywriters or translators, but they also can be deployed in a variety of different gaming genres such as platform games which require sharp reflexes and quality keyboard to replace a game controller.
Comparison
Prices: due to a small number of moving elements dome-switch keyboards can be quite a bit cheaper than mechanical ones. So much so that while you could easily get a really good d-s keyboard under a strained budget, you might have some problems getting a comparably solid mechanical for the same amount of money.
Weight: mechanical keyboards are much heavier than their counterparts. Depending on how much you expect to travel it may be a boon or a bane. Membranes ones are much more convenient in travels, but if you're stationary then you might enjoy how stable the mechanical ones are thanks to their weight.
Sound: membrane keyboards can still make some noise, but it doesn't come close to most mechanical ones, especially those with the extra-loud "blue" switches. While many people enjoy the sound, if you don't work or play alone you may need to consider the comfort of other people in the room.
Speed: mechanical keyboards are quite a bit faster than regular ones since the key doesn't to be pressed quite as far to register.
Wireless or with a cord?
This question, for the most part, is a matter of preference and convenience. It's up to you whether you prefer your keyboard unbound by a cord, or you have a Bluetooth adapter ready and want to spare yourself the bother of having more cords to manage. On the other hand, corded keyboards don't pose the risk of running out power, and they tend to be faster than wireless ones, which may be an important point if you type particularly fast or play games where split-second reactions are a matter of life and death.
Form or function?
Although interesting appearance isn't mutually exclusive with functionality, they tend to drive the price up, so if you have a limited budget, you may have to sacrifice one for the other, unless you don't require flashy designs to be satisfied. On the other hand, RBG backlight has become so commonplace as to lose some of the original impacts and doesn't affect the price as much as a few years ago.
Specialized keys
Not all keyboards limit themselves to featuring just the usual suite of keys. Often they also include media keys, letting you control video and audio playback without having to open the media player window. Some keyboards also allow the user to define macros, which is extremely useful in games but can be of use out of gaming as well, depending on how you configure them.
With the most important features introduced, we can move on to some suggestions drawn from the popular gaming keyboard products which you'll be able to buy under $70 on the G2A Marketplace.
The best gaming keyboards with affordable prices
Thor 300 TKL
comparably light
doesn't take up much space
unobtrusive
customizable backlight
| | |
| --- | --- |
| Type | Mechanical |
| Brand | Genesis |
Thor 300 TKL is a compact keyboard mechanical keyboard designed with gamers in mind. It's as basic as it gets, without any extra keys, or even a NumPad. Thanks to that it is quite portable without losing basic functionality.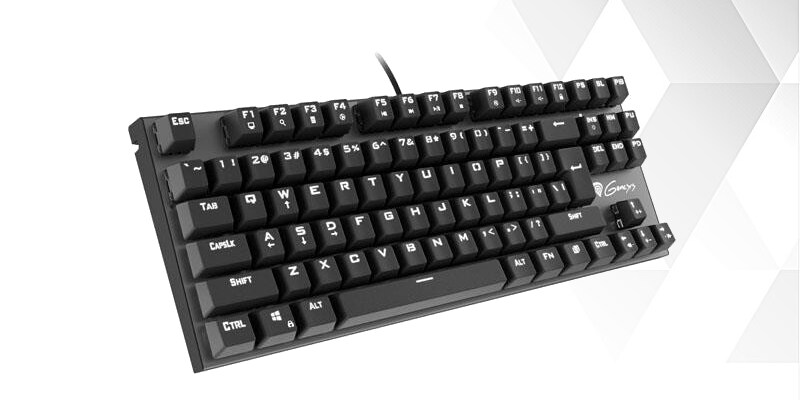 The type of switch installed (red or blue) determines the backlight color: red switches feature a white backlight, while blue ones glow green. You can also pick from many different lighting modes, including a few customized for specific game genres. Overall this keyboard is a perfect solution if you're frequently on the go and need something that won't take up much space in your luggage.
K55 RGB
quiet
media and macro keys as well as a NumPad
comfortable wrist rest
Corsair's gaming keyboard looks every bit like proper gaming peripheral. Unlike Genesis' compact product it has a NumPad, and on the left side, it also features six customizable macro keys.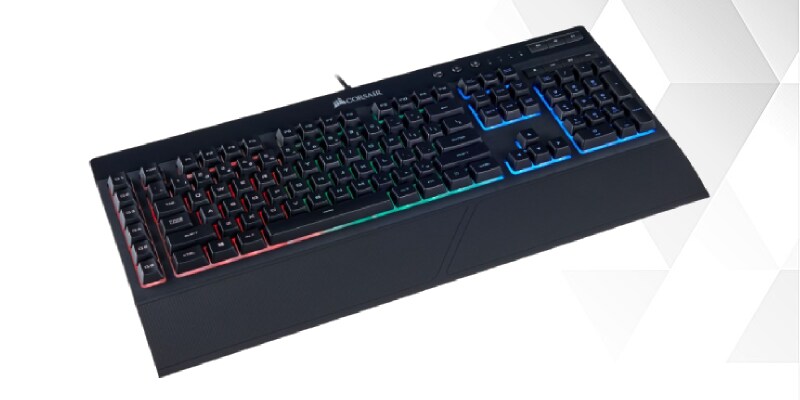 They are going to be quite useful to you whether in-game or out of it in everyday usage. It also offers dynamic backlighting for the keys, with several modes to choose from. K55 ensures user comfort through a rubber wrist rest, which you can detach should you decide it doesn't work out for you. The keyboard is also rather quiet thanks to its membrane structure, so you don't run the risk of getting on the nerves of other people around you.
RX85 RGB Mechanical Keyboard
comparably quiet
a knob for fine volume control
detachable wrist rest
| | |
| --- | --- |
| Type | Mechanical |
| Brand | Genesis |
Genesis' other offering is RX85, a mechanical keyboard, which abandons Thor's compact nature and embraces broader functionality. As a result, it adds a Numpad and media controls (like a volume knob), as well as enables the users to configure button macros and profiles through its dedicated software.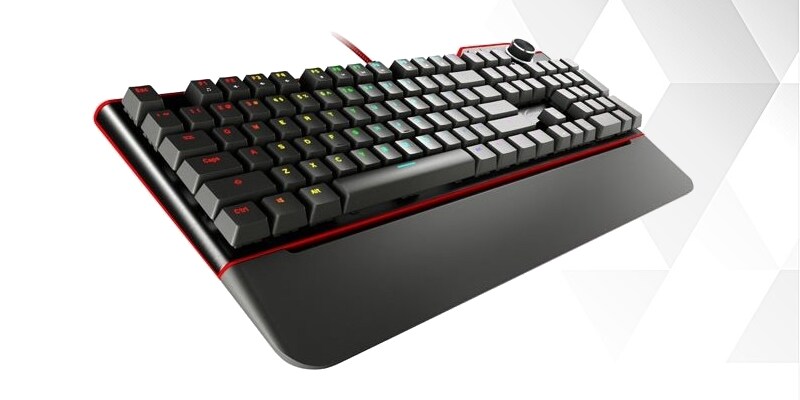 Like K55 it has a wrist rest attachment held in place by magnets for easy detachment. RX85 uses Kailh Brown switches, which are rather quiet for a mechanical keyboard without sacrificing tactile feedback and speed. According to specifications, it actuates after being pressed just 2mm down, which is likely to interest heavy typists.
CK-550-GKGL1
an easily customizable backlight
stylish brushed aluminum design
durable Gateron Blue switches
| | |
| --- | --- |
| Type | Mechanical |
| Brand | Cooler Master |
The mechanical CK550 is a resilient keyboard with a satisfying degree of customizability and functionality, as well as pleasant design. It has a basic layout, with advanced options placed on standard keys and activated with a dedicated button between the Windows key and the right Control.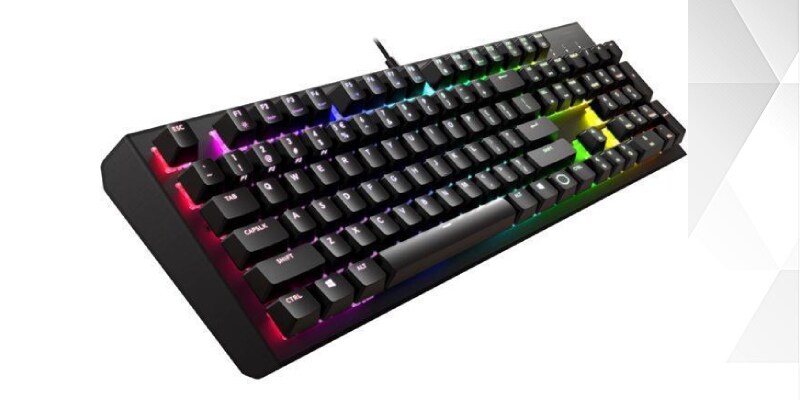 It has several distinct lighting modes, including reactive and an obvious static one, and you can customize the color on the fly if you need to. It looks and feels very solid, with a brushed aluminum body and weight provided by mechanical switches of the Gateron Blue variety—a very tactile, although a rather loud subset.
Ornata Chroma
a stylish and highly customizable backlight
compatible with Xbox One
feedback of a mechanical keyboard
Razer's Ornata Chroma is a membrane keyboard, but don't let it fool you—it's a solid offering functionality-wise, and if you like flashy peripherals you're going to like the fluid and complex backlighting system with several different settings, including a few customized for the purposes of specific genres.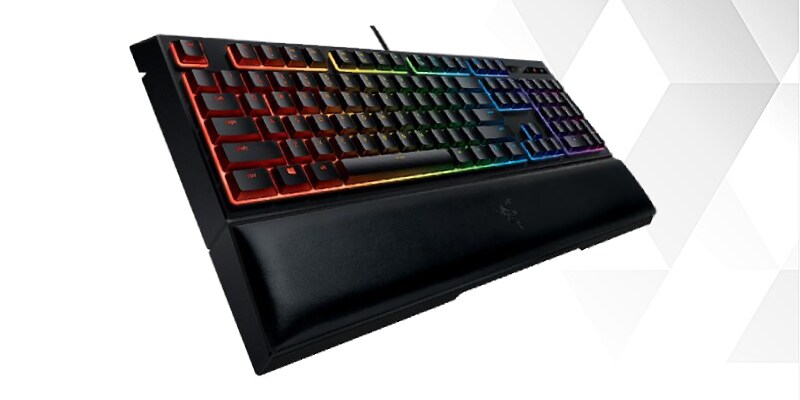 The mecha-membrane technology provides feedback similar to that of a mechanical keyboard, but without the added weight of mechanical switches. Anti-ghosting feature can handle up to 10 key pressed at the same time, and it's compatible with Xbox input.
MasterKeys Pro L–GeForce® GTX Edition
vivid green backlight you can program yourself
n-key rollover
easily configurable macros
| | |
| --- | --- |
| Type | Mechanical |
| Brand | Cooler Master |
Cooler Master's GeForce-themed keyboard's immediately visible defining feature is the intensely and vividly green backlight, meant to evoke a connection with Nvidia's brand.
The keyboard comes packaged with a Software Development Kit, which allows you to develop your own lighting schemes, provided you have some experience with C++. MasterKeys Pro L uses Cherry MX Red key switches, which provide a more linear experience than the more tactile Brown or Blue switches. With a then-key rollover, you can be sure that you're not going to face any problems when you press many keys at the same time.
K3-RGB
plug-and-play
membrane with red-switch feedback
dust- and splash-resistant
Xtrfy's K3-RGB keyboard is a fast, stylish, and durable keyboard with a standard layout. Like Razer Ornata Chroma it is membrane-based but provides feedback in line with that of mechanical keyboards.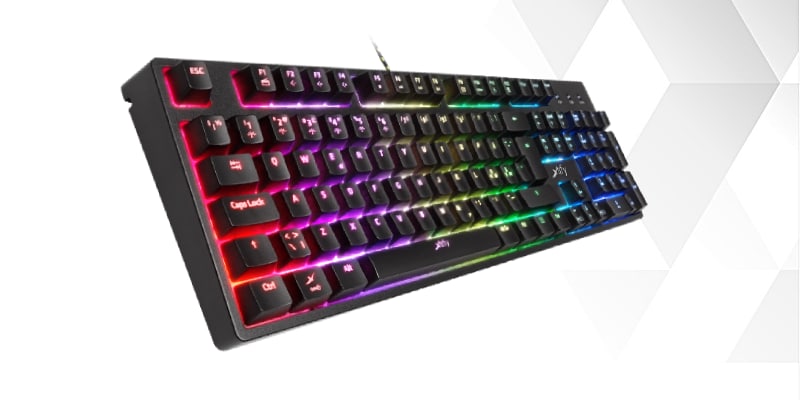 There's no special software necessary to make it work, it's basically plug and play, with settings being handled using the keyboard itself—with key shortcuts and internal memory. This also applies to the RGB backlight, adding style to the already well-designed keyboard. Add to that a 19-key rollover and the result is a functional and good-looking peripheral.
Compatibility with consoles
Keyboards (and mice for that matter) are also useful even if you typically game on PlayStation or Xbox because they do occasionally work with PC peripherals. Although not all games are going to make full use of them, usually you'll still be able to type with them or use PC-like controls to navigate through menus.
Complete your gaming gear with a great mouse
Keyboards mentioned in this article are some of the best budget-friendly, less pricy gaming keyboards on the market. But to complete a great gaming gear, one would also need a perfect mouse. Below, accordingly with the purpose of this article, we present a few good quality gaming mice that should definitely go well with keyboards listed above.
Conclusion
Choosing a keyboard is about more than style. A good keyboard will prevent your fingers from getting tired despite hours spent gaming or typing, and a good wrist rest will slow down the onset of unpleasant conditions like the Carpal Tunnel Syndrome. The keyboards we presented above are not the most pricey peripherals you could get, but they do their job well, and you won't spend on any of them more than on a single triple-A video game release if you find a good offer.