Cooking in real life is fun, especially considering the fact, that you are actually making a real thing that you can later eat and make your stomach happy. However, if you're looking for an entirely new cooking-related experience, or if you're not a master chef yet but you still would love to try some advanced kitchen action, trying out some cooking video games may be the answer.
In this case, we're happy to help – let's dive into the list of the best cooking games on PC that you can play right now.
Overcooked! 2
| | |
| --- | --- |
| Release: | 2018-08-07 |
| Genre: | Indie |
| Developer: | Ghost Town Games Ltd. |
The first game on the list allows players to play alone, but it's especially good if you have some friends to play with – it's more of a party game that shines when played together.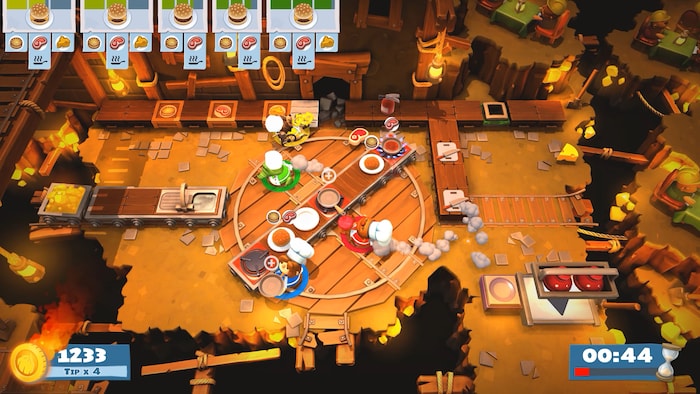 Overcooked! 2 is a cooking simulation game made with cooperation in mind. The game is about cooking all sorts of ordered dishes as fast as possible. The catch? Everything needs to be prepared before it can be used, which means a lot of running around the kitchen. And since you can't be everywhere yourself, the help in form of your friends is invaluable. Instead of running around with the ingredients, you can throw them to the others. For example, a tomato may need to be chopped, but sometimes it's stored in a box on one side of the kitchen, while the chopping board is on the opposite side. If you have a friend to play with, you don't have to run with that tomato through the entire kitchen – just throw it to your friend and let him chop it instead, which will save you a lot of time and improve the score.
Key features
An addictive cooking simulation game with adorable 3D visuals
A cooperation-heavy game, but a single-player mode is also available, allowing one player to switch between cooks in the kitchen
A casual-friendly atmosphere with relaxing and slightly goofy music
Favors playing together with friends – a perfect party game
Restaurant Empire II
| | |
| --- | --- |
| Release: | 2009-05-27 |
| Genre: | Indie |
| Developer: | Enlight Software Limited |
If strategy management games are your thing, there's also something for you in the store. Check out Restaurant Empire II, for example.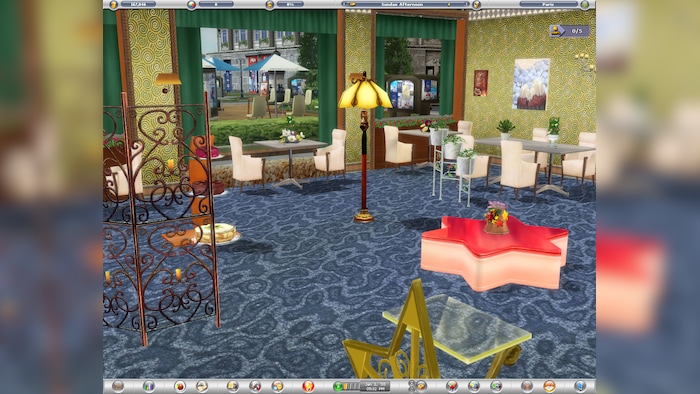 Restaurant Empire II is a business simulation game focused on managing your very own restaurant. You won't be cooking here, but instead, you will be responsible for running the entire business, hiring staff, furnishing your restaurant, and so on. However, it's worth noting that you will also be able to fine-tune your recipes, and it's actually a quite important element of the gameplay – you will have to find a balance between the taste and quality of your dish and the amount and quality of ingredients used to make it. The better the ingredients, the higher the cost of the dish, which means that it will be harder to make a profit out of it, but on the other hand, it may make your customers happier and more likely to visit your restaurant again.
Key features
A business simulation game that revolves around running a restaurant
Gameplay focused on all sorts of management aspects, from furnishing the restaurant to hiring the staff and choosing the menu
A challenging single-player campaign with various scenarios to complete
An option to adjust recipes by choosing the quality of ingredients used or adding new ingredients to make the food fancier
Cook, Serve, Delicious! 3?!
| | |
| --- | --- |
| Release: | 2020-01-29 |
| Genre: | Indie |
| Developer: | Vertigo Gaming |
In Cook, Serve, Delicious 3 your job will be to take orders and do your best to prepare all the dishes for your impatient customers. It may sound simple, but it can quickly turn into a challenging experience.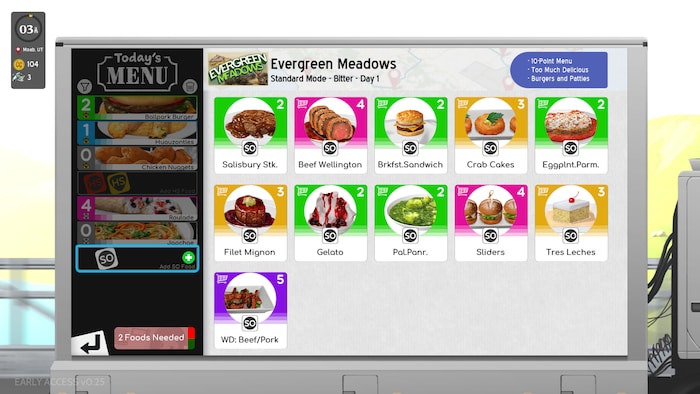 Cook, Serve, Delicious! 3?! is a simulation video game, where players are tasked with completing a variety of orders from their customers. Gameplay is more streamlined when compared to the game's predecessors to allow more people to learn the basics and have a great time. It doesn't mean that the game is easy, though – if you want to achieve the best scores, expect some frantic action and a lot of clicking to complete dishes as fast and as efficiently as possible. If it all sounds great to you, make sure to also check out previous games from the franchise, as they were equally awesome and had some differences, which ensures a refreshing experience, no matter which part you will play in the end.
Key features
An addictive cooking simulator
Easy to learn but hard to master
Streamlined gameplay, but fast reflexes are needed to achieve success
Detailed and polished painted visuals
Pizza Connection 3
| | |
| --- | --- |
| Release: | 2018-03-22 |
| Genre: | Indie |
| Developer: | OP Productions LLC |
If making pizzas is what you've been dreaming of, this game could satisfy your needs – you can make all the pizzas you want in a safe, virtual environment, without worrying about them going to waste in case you failed the recipe in the real life.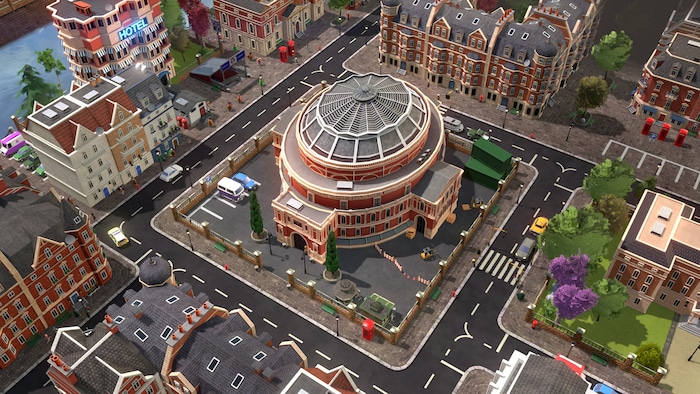 Pizza Connection 3 is a business simulation game where your main objective is to prepare pizzas according to your customers' orders. It starts as a simple game but gradually gets more difficult as you progress further into the game. As you play, new ingredients and techniques are introduced, and your customers become pickier and more impatient, forcing you to work faster and better. Failing to satisfy their needs in time will hurt your budget, and you need all the money you can get to upgrade your pizzeria.
Key features
An addictive business simulation game focused on running a pizzeria
Simple gameplay that doesn't require too much learning
A light-hearted atmosphere with humorous dialogues
Great visuals and replayability
Recipe for Disaster
| | |
| --- | --- |
| Release: | 2021-11-04 |
| Genre: | strategy, cooking |
| Developer: | Dapper Penguin Studios |
Recipe for Disaster is a perfect example of an indie game made with love – it's a surprisingly addictive restaurant management game.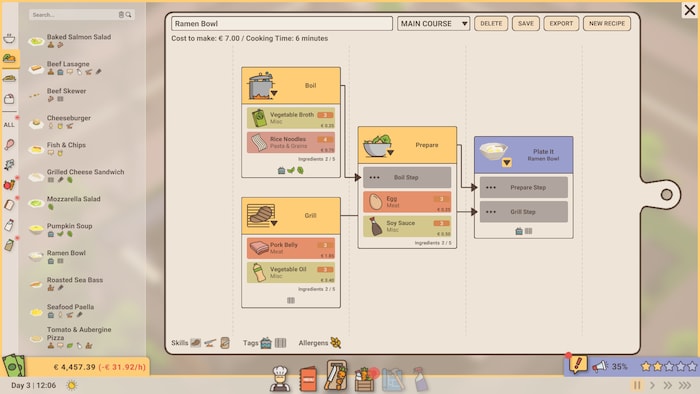 Recipe for Disaster is a business simulation game that lets players run their own restaurant and adjust all the major things you'd expect to be able to change. You can furnish your restaurant, get all the necessary equipment for your staff, hire people to work for you, and so on. It's a well-made management game and a perfect time killer. One of the coolest features of the game is probably the fact that you can create your own recipes and then get your customers' opinion on them – they'll let you know if you hit the nail on the head or missed the opportunity to create something refreshing and unique for them to eat. Making your own food adds another layer of strategy and is a great source of satisfaction when your ideas start being appreciated by the customers, even if your customers are just a bunch of computer-controlled pixels on the screen.
Key features
A business simulation game about running a restaurant
Possibility to create new and modify existing recipes to satisfy customers
Simple but adorable low-poly graphics full of bright colors, and clean UI
Easy to learn gameplay with a rather casual and joyful atmosphere
Cookie Clicker
| | |
| --- | --- |
| Release: | 2013-10-08 |
| Genre: | Incremental game |
| Developer: | DashNet |
Maybe it's not a type of game you'd expect to appear on the list of the best cooking games on PC, but it's still a food-related one and it's fun enough to earn a place among other great titles.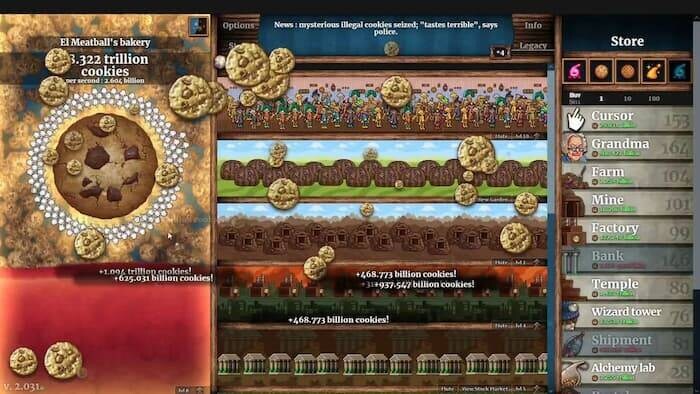 Cookie Clicker is an incremental game – it represents a genre that became quite popular in recent years. The game starts with you clicking the cookie to generate cookies. Once you earn a few, you can get an upgrade that will automatically earn you more cookies without the need to click anymore. The more you play and the more time you invest, the more upgrades you will unlock to further speed up the process. The game can be played on and on and it's not only surprisingly addictive but also fun. There are tons of achievements to complete and there's always something new to do. If you didn't play incremental or idle games before, give it a try and you'll be surprised how quickly it can grab your entire attention.
Key features
An incremental game about getting more and more cookies
A very simple gameplay formula
Can get insanely addictive
Tons of achievements and upgrades to unlock
Battle Chef Brigade
| | |
| --- | --- |
| Release: | 2017-11-20 |
| Genre: | adventure |
| Developer: | Trinket Studios |
Battle Chef Brigade is quite a unique game, where you won't become an ordinary chef, but a battle chef instead.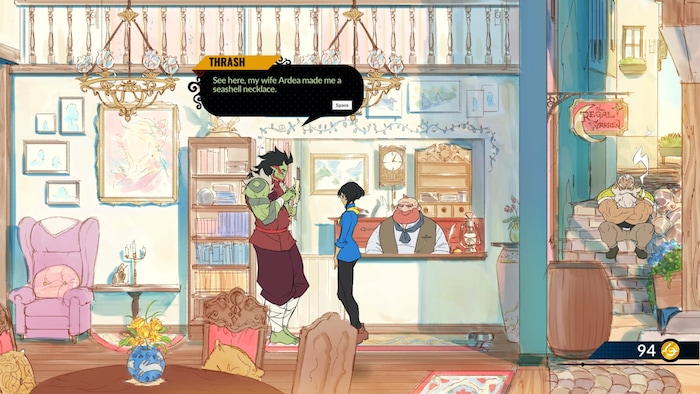 Battle Chef Brigade is a fun combination of brawler and tile-matching video games, where your main objective is to cook and improve the quality of prepared dishes by playing a simple minigame of matching colorful orbs. To be able to cook, however, you need ingredients, and most of the time you need to collect them yourself. That means that if the recipe calls for some creature products, you need to actually go out and defeat some wild animals and other beasts to get whatever you currently need. The game also stands out thanks to its 2D visuals, which resemble the old-school anime style.
Key features
A well-made mix of a brawler and tile-matching game
The gameplay focused on playing a minigame of matching tiles, as well as fighting creatures to get the necessary ingredients
Great visuals that resemble old-school anime style
Quite easy to learn and fully enjoy from the very beginning
Diner Bros
| | |
| --- | --- |
| Release: | 2018-06-08 |
| Genre: | action, managment |
| Developer: | JAYFLGAMES |
Although Diner Bros might look similar to Overcooked at first, don't judge the book by its cover – there are some important differences that make Diner Bros a game that's definitely worth trying.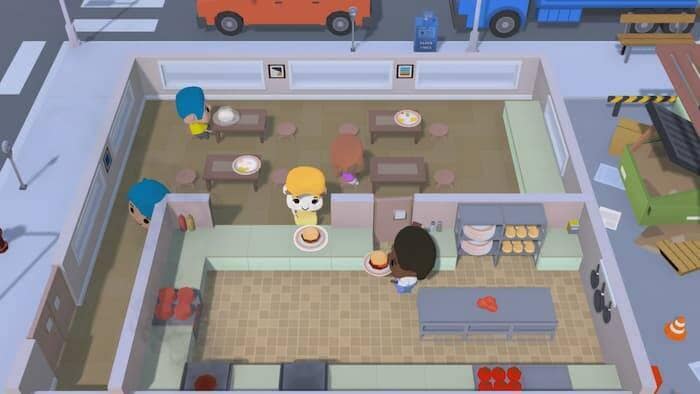 Diner Bros is a simulation game that can be played alone, but, just as Overcooked, it's best played with friends in a local co-op mode, where you can cooperate and help each other to achieve more things in a shorter amount of time. In Diner Bros you will be responsible for running around the restaurant, getting orders, preparing ordered dishes, and serving the meals to your customers. The main difference between Diner Bros and Overcooked is the lack of goofy gimmicks – no earthquakes, no fires, no movable shelves or shape-shifting rooms, just you and your restaurant. There is also an infinite mode – an ultimate challenge to your chef skills. How long can you last?
Key features
An addictive kitchen simulation experience that can get quite intense, especially in later levels
The gameplay focused on running around the kitchen while preparing and serving the meals
Shines when played with friends in co-op mode – a perfect idea for a party game
Infinite mode for those who are looking for an extra challenge
World End Diner
| | |
| --- | --- |
| Release: | 2021-06-19 |
| Genre: | simulation, cooking |
| Developer: | Andymente |
If you're looking for some cool restaurant managing games, you shouldn't sleep on World End Diner that stands out thanks to its pixel-art style, chilling music, and simple but polished gameplay.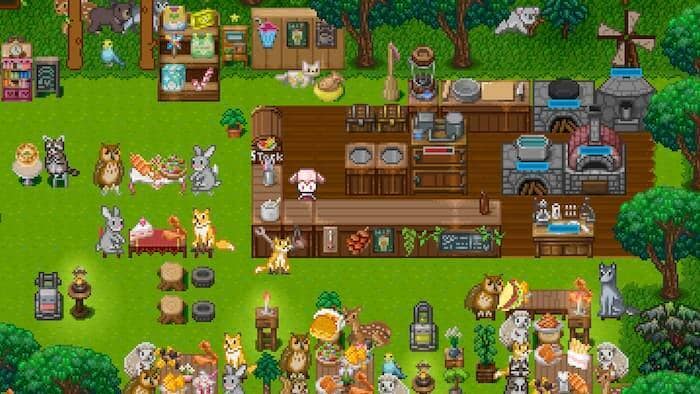 World End Diner is a cooking simulation game where you will be responsible for running a restaurant for the last living animals. However, as opposed to most games from this genre, you won't be spending all of your time inside the restaurant. Making meals requires ingredients, so you'll have to occasionally leave your place and go to a nearby forest and do some gathering. The island is yours to explore – who knows what wonders it hides? It's also worth noting the game's pixel-art visuals – if you love this kind of thing and you need some cooking-related title to relax after a tiring day at work, then World End Diner is obviously a must-play.
Key features
An addictive cooking simulation game with sandbox elements
Gameplay that combines running a restaurant and gathering resources needed to prepare dishes
A fun and unique atmosphere full of joy
The cute pixel-art visual style
Cooking Simulator
| | |
| --- | --- |
| Release: | 2019-06-06 |
| Genre: | Indie |
| Developer: | Big Cheese Studio |
Cooking Simulator is definitely the most realistic and immersive food-making game on the list, and it's really good gameplay-wise, so it's not surprising that it also made its way here.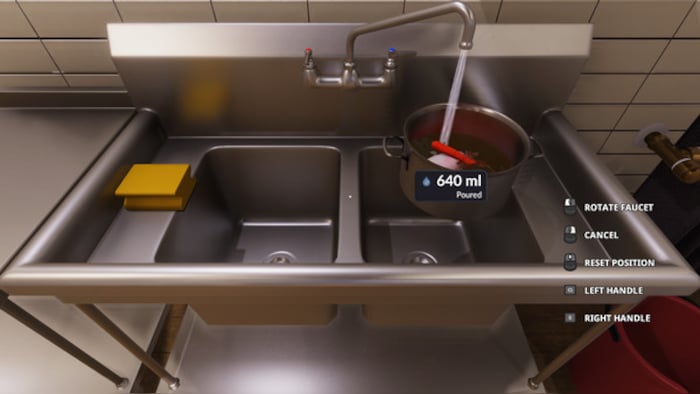 Cooking Simulator is a simulation game focused on preparing all sorts of dishes according to your customers' requests. It's played from the first-person perspective, which contributes a lot to the game's immersive value. It's also quite realistic – the recipes are thorough enough that you could probably use them to cook something edible in real life. If you wish to become a top chef in Cooking Simulator, don't forget to check out the game's DLCs that further increase your available options when it comes to making food. There is, for example, a Pizza DLC that focuses entirely on this tasty Italian dish.
Key features
A cooking simulation that takes a more realistic approach
A first-person camera and good graphics make wonders for the immersive aspect of the title
Well-written recipes that could be easily followed in real life after some minor tweaks to create tasty dishes
Advanced physics engine
The Best Cooking Video Games to Play in 2021
Cooking in real life is insanely fun, but it takes a lot of effort to become a good cook and make amazing meals. However, thanks to video games, everyone can cook. You can run your own restaurant or a cafe without worrying about having no money to pay your staff salaries. You can test your chef skills in a safe, virtual environment, so jump into your favorite title and start experimenting.
If you're looking for some fun cooking video games to play right now, check out our list above – you won't be disappointed.