Does winning even matter if you don't look good while defeating your enemies? This has forever been true in video games, which is why so many games offer cosmetic customization. Especially online games thrive on it, letting you dress your chosen character to the nines before jumping into combat.
The evergreen MOBA Dota 2 knows the power of good cosmetics, and offers a wide selection of them, from big revamps of characters to weapon-specific skins, many of which are in high demand from the player base and seasonal event skins get the entire playerbase up in arms to get the new shiny things.
If you're wondering how to get your character to look like a million dollars, this list should give you a few pointers. These skins won't pull you into top rankings, but you will look like you belong there. It's not just about rarity, it's about how to buy smart and look good.
If you want any of them, on G2A you'll find gift cards for online stores selling these and many other skins.
10. Reaper's Wreath
This elaborate bow skin comes at the Immortal rarity, so you know it's a big deal. It's designed for Traxex the Drow Ranger. Her usual bow skins are fairly subdued and presented in dark tones, but Reaper's Wreath comes in bold mix of blue, red, and white, and looks like tree branches mounted on a metallic base. It's not stealthy, but it is very stylish.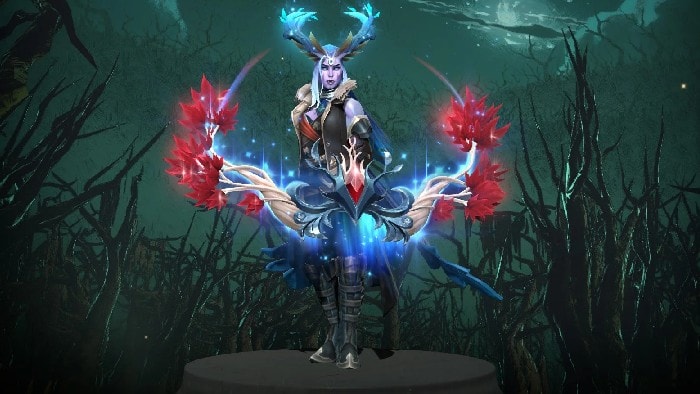 The Wreath was unlockable through the 2019's The International Battle Pass, so if you want it now you must hit the market and hope there's someone who wants to sell.
9. Exalted Great Sage's Reckoning
The Monkey King is already looking quite good on his own – a strong design drawn from Chinese culture. But what if he could look more dignified? That's where the Great Sage skin comes in. It goes in the Head slot, and makes Monkey look much more venerable. It even changes appearance as needed to blend in nicely with the Wukong's Command Ability.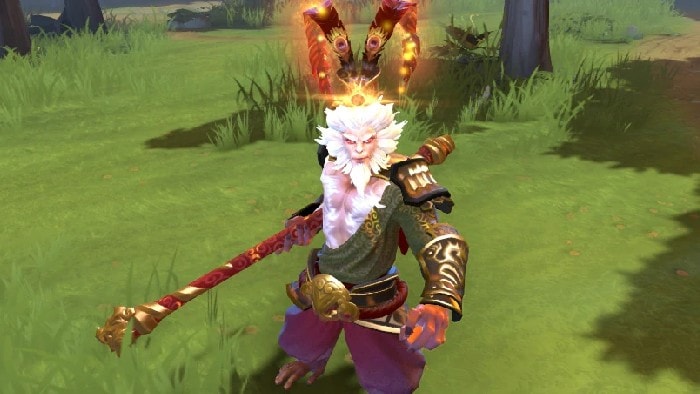 If you'd like to not only have a cool skin, but also have a cool and RARE skin, you could go for the Exalted variant. It was only available for purchases until January 31st of 2017, and like all Exalted variants is now only available from the market.
8. Righteous Thunderbolt
Another weapon slot upgrade on the list, Righteous Thunderbolt gives Zeus his iconic attribute: the mighty thunderbolt. What's the point of picking the Greek God of the Sky and Thunder and NOT getting to huck lightning javelins at fools? Righteous Thunderbolt certainly completes the look, and it looks great on its own.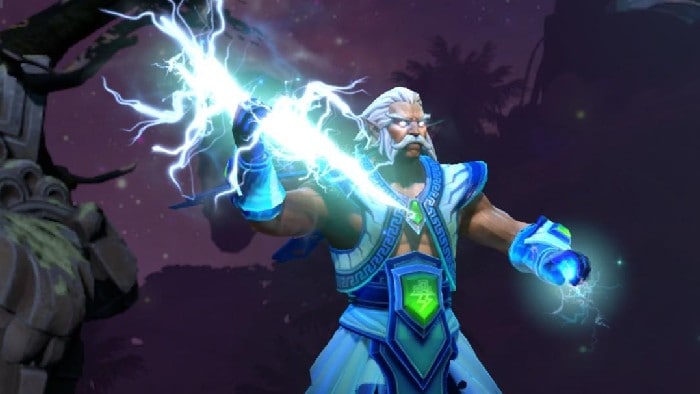 It comes at the Immortal rarity, and was released back in 2015 and, as is the theme for this list, can only be acquired via trading. Regardless, if you're keen on Zeus, you should not ignore this piece.
7. Solar Forge
Staying in the mythic realm, Solar Forge is an Immortal-rarity head skin for the Phoenix. Solar Forge gives the already impressive-looking fire bird a golden headpiece looking like a fierce bird of prey. Solar Forge also changes the appearance of the Sun Ray ability, giving it more visual flair and tweaking the color.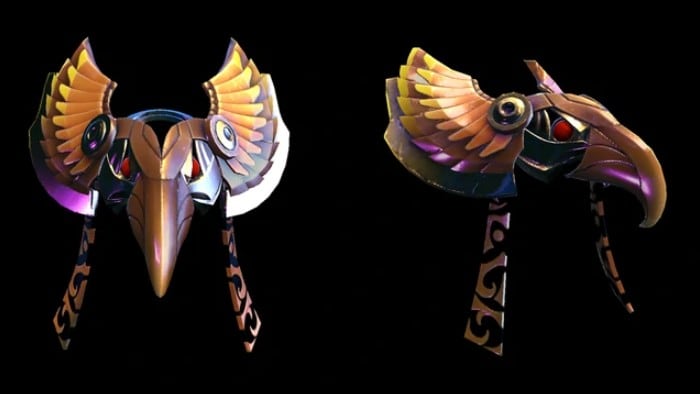 Unfortunately, now it's only obtainable through the market, since it's been a part of 2016's Immortal Treasure collection. It used to be Rare then, but now it's among the ranks of other Immortal cosmetics.
6. Golden Mandate of the Stormborn
Golden Mandate of the Stormborn is a fancier counterpart to the regular Mandate… arm cosmetic for Storm Spirit, a boisterous thunder in humanoid form. The Mandate is worn as a pauldron, surrounding Raijin's shoulder in golden arcs of electricity. It even upgrades the visual of the Overload ability, giving it a golden flourish upon discharge.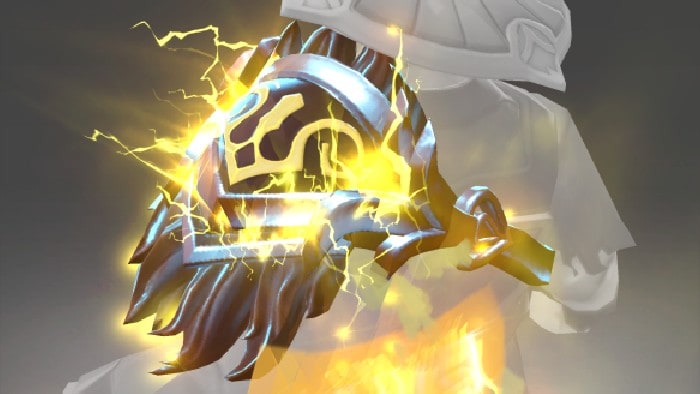 Golden Mandate originates from The International 2018, a Very Rare variant of a Regular Mandate…. These days, if you'd like this snazzy skin for your Storm Spirit's shoulder, you'll have to find someone willing to part with it.
5. First of the Flood
First of the Flood is an Immortal-rarity back accessory for Slardar the Slithereen Guard. Not only does it add two stylish, glowing pieces to Slardar's shoulders, but also covers his tail with slick scaly armor. First of the Flood also comes in a Crimson variant from The International 2019 life event, rather than the battle pass like the regular version.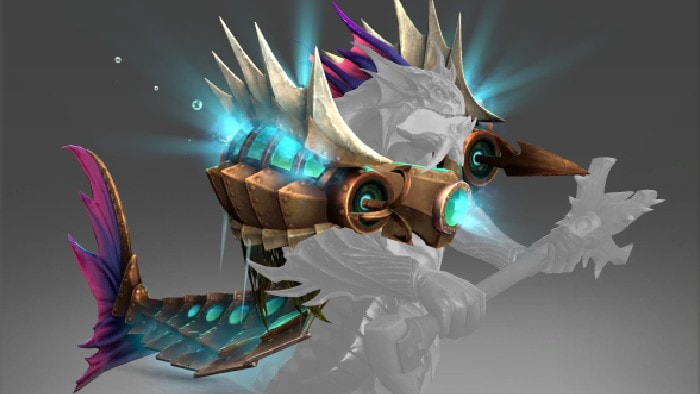 The good news is that both items remain tradeable if you need to spice up Slardar's look and nothing else would satisfy your fashion sense.
4. Crown of Tears
Crown of Tears is an Immortal head cosmetic for Morphling, covering his face with a stylish, science fiction-looking green mask, working nicely with the hero's blue palette. As usual, it also affects the appearance of certain abilities, here the power affected is Waveform, now trailing spectral green fins/blades in its wake. It's a great look for the water elemental alien.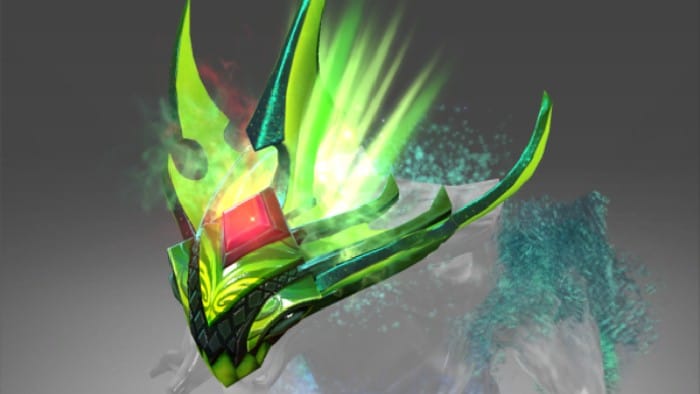 The Crown of Tears was a part of The International 2016 Battle Pass, so now it's only accessible via trading with players who were around at the time.
3. Exalted Frost Avalanche
The Frost Avalanche is a very stylish, icy cloak for Crystal Maiden's back slot. It upgrades Rylai's comfy coat with a bit of winter magic, trailing magical, snowing aura with every move. It also adds a lot of extra pizzaz to Crystal Maiden's abilities, including a spectacular visual upgrade for the Freezing Field, which now makes the ground itself freeze over on impact.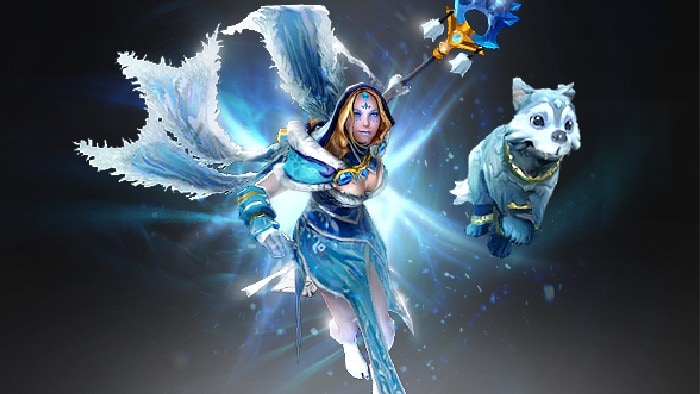 The piece is still on sale, but it you'd rather have the Exalted version for the sake of rarity, you must hit the market, because Exalted Frost Avalanche hasn't been available since 2015.
2. Profane Union
An Immortal back cosmetic for the Lifestealer, Profane Union covers the ghoulish form of the "hero" with arcane armor. Somehow, it gives the creature an even more bestial appearance due to the "tail" trailing behind the armor. Profane Union also comes in a golden variant, because playing as a ghoulish beast with two psychic pilots doesn't mean you must look bad.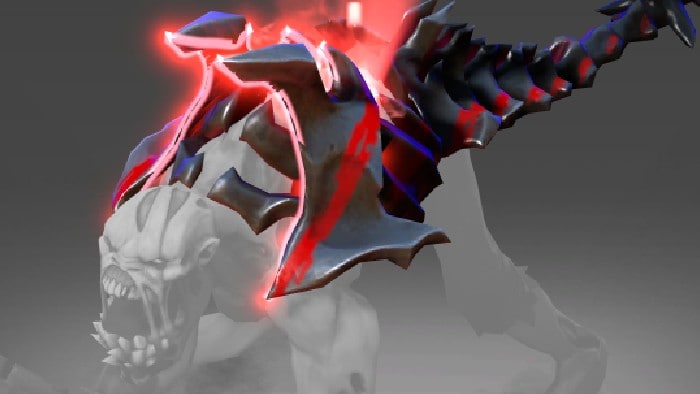 As an Immortal item from 2017, there's no chance for you to get it without trading, and the same applies to the golden variant. But if you can't look at the flesh and ribs of Lifestealer anymore, give it a shot.
1. Bellows of Creation
The last item on the list is another Immortal back accessory, this time for the Elder Titan. Bellows of Creation is actually what remains of the Titan's lost world, holds within a lot of arcane energies, and the Titan carries it on his back. In practical terms it means it's a chunky, glowing, gently animated ring of stone shards. It also adds extra crunchy visuals to the Echo Stomp ability for extra oomph.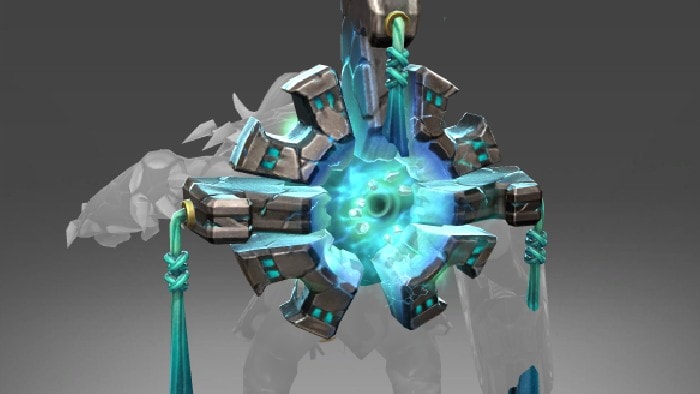 Bellows of Creation is an Immortal item dating back to 2017, so your Elder Titan won't get to lug the remnants of his world unless you decide to get the item second-hand.
Old Dota 2, new skin
That's concludes our list of skins you might want to take a look at if you're looking to make some of your favorite heroes look stylish and get some extra credit for using rare skins. And even if you don't main the heroes we wrote about here, these skins should give you an idea where to look for accessories for characters you DO play.