Destruction, screeching tires, and crumpled metal are real music for the ears. Especially for Twisted Metal fans! As it turns out, there are more games out there that offer the same experience.
Vehicular combat games are pure fun – not only for car lovers. Are you into fast-paced action, spectacular racing, or epic vehicle combat? Be sure to play Twisted Metal! And if you are looking for even more adrenaline-fueled video games, take a look at this text. Dive straight into the competitive racing world and discover the best games like Twisted Metal on Steam!

The Best Games like Twisted Metal
Carmageddon: Max Damage
| | |
| --- | --- |
| Release: | 2016-10-27 |
| Genre: | Race |
| Developer: | Stainless Games Ltd |
It is an action game with one goal – maximum destruction! Take the wheel of one of over thirty fantastic cars and wreak havoc on the best maps in the history of this epic series.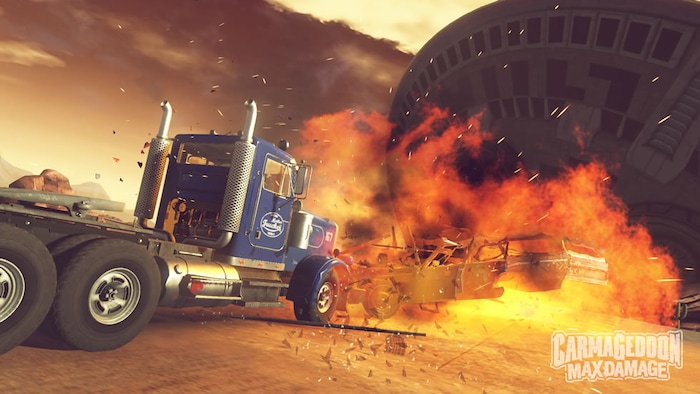 Welcome to the deadliest race ever! Choose your game mode and map and lose yourself in this spectacular fight for survival. Wreck other cars, run over pedestrians, or explore vast maps hunting for the weakest players in the competition. Solo or in addictive multiplayer!
Key features
Play the latest installment of the classic vehicular combat series
Choose from over thirty vehicles and wreak havoc
Collect power-ups to gain an advantage over other players
Play solo or fight in multiplayer
Wreckfest
| | |
| --- | --- |
| Release: | 2018-06-14 |
| Genre: | race |
| Developer: | Bugbear Entertainment |
It is a recommendation for enthusiasts of killer competition and modifications of vehicles. Let your imagination run wild and create the most powerful car to run everything in your way.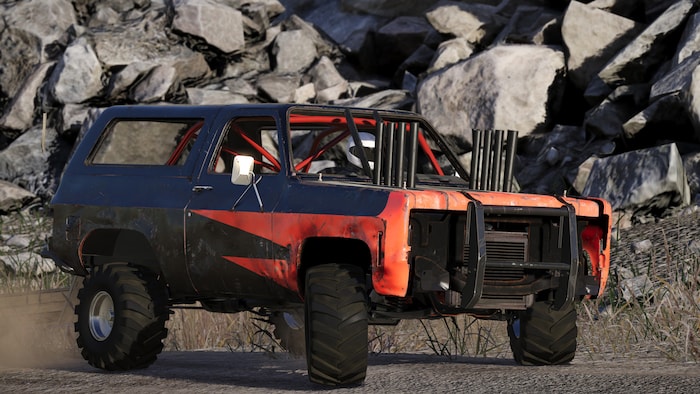 Join merciless battles and race without any fair-play rules. Design completely new upgrades for your vehicle and create a beast on wheels. Go to the arena and get carried away by fiery competition, in which only one thing counts – total demolition. You will fall in love with this game!
Key features
Join the deadly racing competition
Drive classic car models and modify them as you like
Try out various game modes
Play solo or in multiplayer
Mad Max
| | |
| --- | --- |
| Release: | 2015-09-01 |
| Genre: | Adventure |
| Developer: | Avalanche Studios |
Travel through the wastelands as one of the most recognizable movie characters – Mad Max. Become part of a completely new scenario where the hero of the post-apocalyptic world will do anything to improve his car.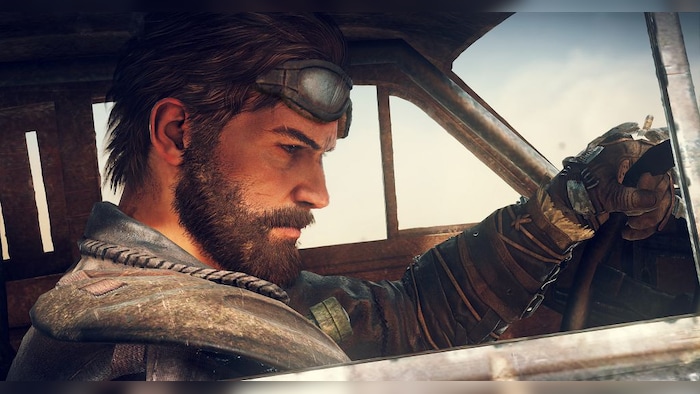 The wastelands are full of dangers, and only a well-equipped car can support you on your journey. Create a new vehicle — the Magnum Opus — and encounter your old enemies. Find out what revenge, madness, and immortal will to live are. In a world where people have lost humanity, only you will survive.
Key features
Play as Mad Max and set off on an adventure to a post-apocalyptic world
Explore the open world and learn its rules
Design a new car and upgrade it as you like
Complete missions and fight in car battles
Road Redemption
| | |
| --- | --- |
| Release: | 2014-09-18 |
| Genre: | Adventure |
| Developer: | Pixel Dash Studios, EQ |
Do you love motorbikes? Feel the adrenaline rush in this game like no other! Create your biker gang and climb your way through a criminal career on the fastest machines on the road.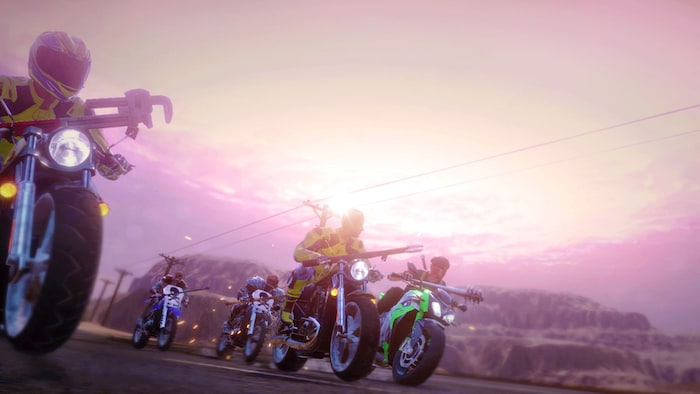 Lead the squad and participate in a series of fierce races on the best tracks ever. Complete tasks, eliminate hostile gangs and steal to establish your position in the criminal hierarchy. The more brutal, the better! Get a sword and wreak havoc on the wildest roads of your life!
Key features
Create a motorcycle gang and start a series of adrenaline-fueled quests
Become part of the story and establish your position in the criminal hierarchy
Use a variety of weapons and eliminate enemies
Play solo or in multiplayer
Diesel Express VR
| | |
| --- | --- |
| Release: | 2017-06-21 |
| Genre: | Adventure |
| Developer: | Lazylab Games |
Two words – cars and guns. Sounds like fun? It is! Join exciting vehicle battles on various addictive maps and enjoy the pure essence of car competition.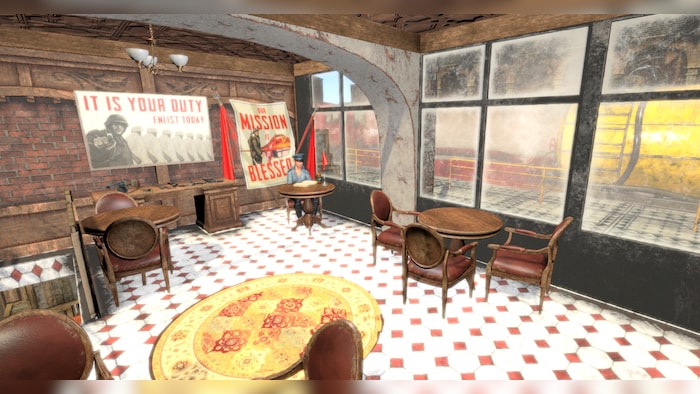 Pick one of the many vehicles and customize it to make it unbeatable on any map. Explore the farthest corners of the wastelands, find hidden features and drive as far as possible. Or take part in a battle against powerful opponents and see who is the best. Did we mention guns? Because this game is not only crushing cars but also crazy gun battles with various customizable features! The best thing about this version? It feels like real life because of the VR.
Key features
Play a game full of cars and guns in VR mode
Explore vast maps and look for hidden surprises
Enjoy simple controls and become a driving genius
Try different types of weapons and deadly cars
Bloody Rally Show
Welcome to the game where the grandest prize will be your survival! In this race, your viewers decide if you deserve any recognition. Join the deadly competition and destroy your opponents!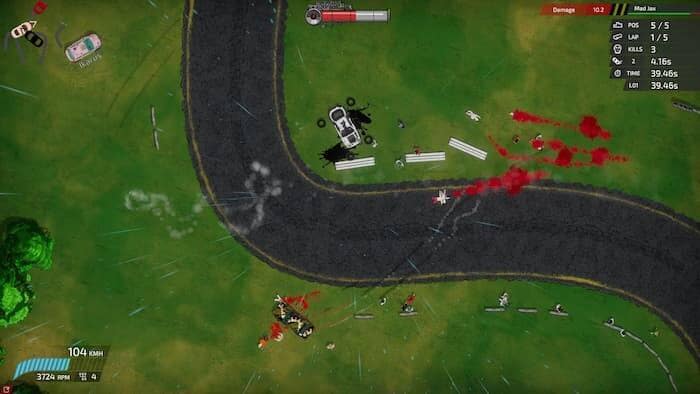 In Bloody Rally Show, you can truly become a god of chaos. Select the best car and upgrade it to destroy and kill. Race on various tracks, discover new game modes and lose yourself in spectacular special attacks. Enjoy solo gameplay or compete with friends and earn epic achievements! It's a game where you can target even the pedestrians. Or become one of them!
Key features
Take part in a chaotic race for survival
Choose a car and upgrade it as you like
Try out different game modes and maps
Play solo or in multiplayer
Post Apocalyptic Mayhem
| | |
| --- | --- |
| Release: | 2011-03-17 |
| Genre: | Action & Shooter |
| Developer: | Steel Monkeys |
Are you looking for challenging routes and worthy opponents? You will find these two features in this unique game! Join the fight for first place in the unforgiving race and use every trick to win.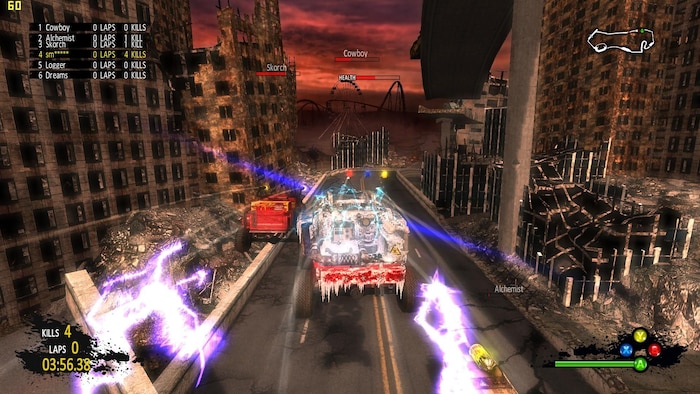 Post Apocalyptic Mayhem is a game where you will find a variety of vehicles with many special attacks. Try each of them and choose your favorite, then join the race and crush your opponents. But be careful – you will come across many traps, obstacles, and pleasant surprises along the way! So keep your eyes open and awake your inner warrior.
Key features
Play one of the most brutal car games
Select a car and its weapons
Race on a variety of tracks and watch out for traps
Play solo or in multiplayer
Auto Age: Standoff
| | |
| --- | --- |
| Release: | 2017-09-21 |
| Genre: | Indie |
| Developer: | Phantom Compass |
It is a MOBA game where you will find yourself in the very heart of the 80s – in the future! Welcome to the year 2080. It is the time of extinction and motorized gangs ruling the entire United States. Whose side will you choose?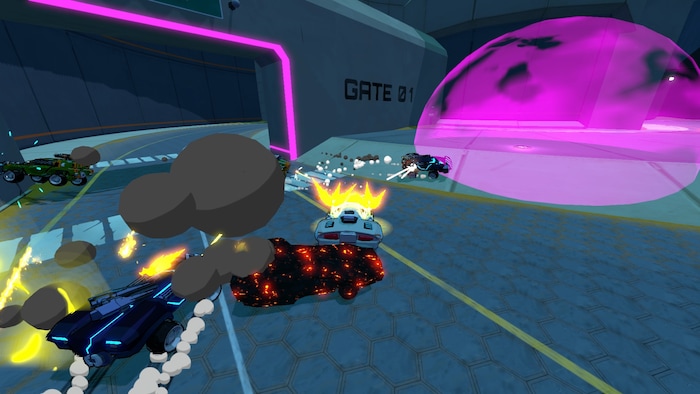 Create your unique car by customizing its equipment or armor. Discover a world of alliances and fierce conflicts where everyone struggles to survive. Enjoy an extensive solo campaign or immediately join the multiplayer competition and lose yourself in the racing madness!
Key features
Play a post-apocalyptic game set in the 2080 USA
Choose a car and modify its equipment as you like
Play an immersive solo campaign and complete quests
Discover other game modes and compete in multiplayer
desTRUCKtors: Warfare Showdown
| | |
| --- | --- |
| Release: | 2018-03-16 |
| Genre: | Indie |
| Developer: | |
There is only one goal in this game – destroying all your opponents. Discover the devastating possibilities of military weapons and combine them with the most powerful vehicles to win.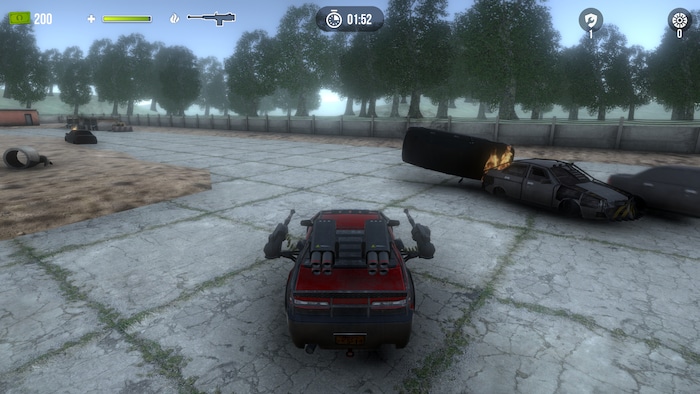 Pick one of the many cars and equip it with indestructible weapons. Surprise your opponents with special attacks and earn points for the most spectacular demolitions. Get ready for explosions, epic collisions, and memorable victories! The more you destroy, the more you win!
Key features
Join the brutal competition for survival
Select a car and equip it with special weapons
Join the fight and finish off all your opponents
Earn points to upgrade your vehicle
Metal War Online: Retribution
It is a free-to-play multiplayer game for fans of competition with other players. Enter the world of crazy car wars and show no mercy!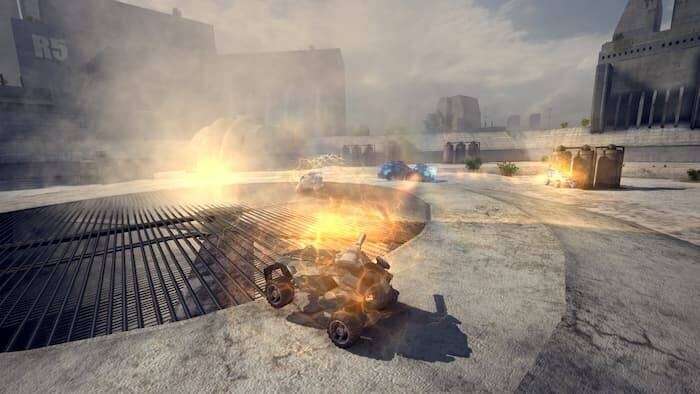 Create a car and improve it to participate in more and more challenging competitions. Join one of the sides and take part in an epic battle for influence, domination, and resources in unwelcoming wastelands and abandoned cities. Each player can be your ally or your deadly enemy!
Key features
Play a racing MMO game
Choose a car and upgrade it with the latest technologies
Pick a side and join the struggle for power
Join epic clashes and car racing
Many believe the vehicular combat genre is dead. The Twisted Metal game evokes memories and is considered by players on Steam as the most epic racing game ever. Unfortunately, it is a game of the past, and there is no sign that any other title will take its place. With many genres to choose from, players forget car titles, gaining the same satisfaction in fighting or FPS games. Pity because many of these titles are rare gems waiting for discovery. If you're a fan of games like Twisted Metal and still think vehicular combat is life – this list will make your dreams come true!