Alright, we gotta admit: this year's been an absolute trainwreck when it comes to gaming. Botched releases, crappy AAA games everyone's been waiting on, a bunch of high-profile controversies… Still, you know what they say: every cloud's got its silver lining or something along these lines. Without further ado, let's delve into our top list of the best things this year's had to offer. And believe us, there are some really good games!
Hoping to see [productLink,10000001564005]GTA: Trilogy Remastered[/productLink], [productLink,10000255724007]Battlefield 2042[/productLink] and a bunch of other big titles on this list? Our ranking doesn't cover these. The reason's really simple: these games are not so good. But there's a whole bunch of other 2021 releases that are so worth checking out. Why? They're just so darn good!
Honorable mention: [productLink,10000272233002]My Friend Peppa Pig[/productLink]
| | Game | Release | Genre | Developer | Sale | |
| --- | --- | --- | --- | --- | --- | --- |
Resident Evil Village
Aristocratic biohazard
A mysterious village somewhere in eastern Europe where evil monsters run rampant and a vampire lady–a truly towering figure–pulls all the strings? Sounds like a wonderful tourist destination for Ethan Winters! A follow-up to the 2017's [productLink,10000032862013]Resident Evil 7[/productLink], Village certainly takes things up a notch when it comes to all things action.
Fear not, however: there's plenty of creepiness and all sorts of scares. You explore the aforementioned titular village, fight off werewolfish Lycans (or simply run if you're out of ammo), and discover the secrets of this crazed place. Compared to the previous game, there's much more combat, but the gameplay is still top-notch. RE Village is definitely worth checking out if you're a horror fan.
Key features
A scary village that you can explore
Immersive gameplay
Lots of action
Lady Dimitrescu
[buy,]
Inscryption
| | |
| --- | --- |
| Release: | |
| Genre: | Roguelike, Horror |
| Developer: | Daniel Mullins Games |
Collectible scare game
What an amazing blend of roguelite, deck building and insane horror this is! Inscryption seems a bit like Jumanji: the protagonists discover a strange game, starts playing it and gets sucked into a world beyond belief. Instead of a fantasy jungle land, however, Luke Carder ends up battling a malevolent card dealer in a grim, hostile realm.
Each of the three acts packs new challenges and surprises to keep the core deck builder mechanic fresh and interesting. Inscryption surely is one of the most interesting card games out there. Definitely one of the most unusual horror games ever released. 2021 was certainly a good year for those who all sorts of frights.
Key features
A clever take on horror games and deckbuilders
Three distinct acts
Unique atmosphere
The dealer's one nasty son of a gun
[buy,]
Forza Horizon 5
| | |
| --- | --- |
| Release: | |
| Genre: | |
| Developer: | Playground Games |
Mexico? Best choice ever
Playground Games dropped what's probably the most amazing racing game this year, possibly ever. Forza Horizon 5 lets you freely explore a fictionalized take on Mexico, featuring all sorts of towns and cities, jungles, deserts, Mayan temples, heck, even an active caldera volcano! And you get to explore all this freely since it's an open-world game. And it's incredibly beautiful, too.
Naturally, there are all sorts of races that you can take part in and there's a campaign that you can complete. There's even a battle royale mode, first introduced in [productLink,10000156553001]Forza Horizon 4[/productLink]! There's just so much to see and do here. FH5 will certainly keep you entertained for dozens of hours.
Key features
Mexico is free for you to roam
Around 500 cars to choose from
Incredible graphics
Tons of races to complete
[buy,]
Forgotten City
| | |
| --- | --- |
| Release: | |
| Genre: | Mystery, RPG |
| Developer: | Modern Storyteller |
When in Rome…
Fans of time travelling and temporal shenanigans had a good year. The Forgotten City takes you back 2,000 years in the past, to ancient Rome. There is a city beset by a curse. If even one inhabitant sins, all die. And so you set out to discover who destroyed the city. You can do that through exploiting the time loop, solving moral dilemmas and interacting with a rich cast of diverse characters that inhabit the game's world.
It's a truly gripping, immersive story, a perfect choice for those who enjoy strong narratives in video games. And to think this used to be just a Skyrim mod!
Key features
Non-linear story with various endings
Moral dilemmas and super tough choices to make
A rich world full of interesting characters
Puzzles and problems of all kinds to solve
[buy,]
Age of Empires IV
Wololo 2021
A triumphant return of one of the best real-time strategy series of all time. Some might say it's just a modern update of [productLink,10000002238008]Age of Empires 2: The Age of Kings[/productLink]. Is it really a bad thing, though? AoE 4 is rooted in the tradition of the previous installments, yet there are certain new features serving as an elegant evolution of the core mechanics.
Vast differences between the 8 civilizations featured in the game is one of the biggest innovations. Each nation has its own playstyle and traits, opening up fun new ways to play. And you gotta love the documentary-style videos in-between campaign missions. Age of Empires 4 is simply a labor of love and an incredible addition to the legendary series. If you love RTS games, this one's a must-have. But…you probably know that already.
Key features
The return of a mighty classic!
8 vastly different civilizations
Amazing multiplayer
[buy,]
Guilty Gear Strive
Less complex, but just as fun as its predecessor
Among this year's best there is a fighting game belonging to an acclaimed series. Guilty Gear is known for its highly technical gameplay that often overwhelms newcomers. This is why Strive was made more streamlined and accessible. Does that make it any less worthy than the previous games? Heck no!
Strive's a "complete reconstruction of the franchise," according to the game's director. Many of the gameplay mechanics have been revamped, meaning the game should appeal more to new players to the series and be less overwhelming. It's also definitely gorgeous to look at; if you're an anime fan, you're in for a real feast for your eyes.
Key features
More accessible to newcomers
Astonishing visuals
Trading punches has never been this epic
A worthy addition to a classic series
[buy,]
Monster Hunter Rise
| | |
| --- | --- |
| Release: | 2021-03-26 (Switch) / (PC) |
| Genre: | Action RPG |
| Developer: | Capcom |
Big monsters strike back
If hunting down gargantuan beasts was one of your childhood dreams, Monster Hunter: Rise certainly delivers. The game refines the features and mechanics of the previous installment, [productLink,10000084263007]MH: World[/productLink], and adds plenty of new stuff that surely keeps the whole thing fresh. At its core, though, Rise stays true to the series' famous gameplay loop: kill a big monster, turn its parts into better weapons and armor so that you can kill even bigger monsters, and so on.
Aside from typical search & destroy quests that you can complete in parties of up to 4 players, there's also Rampage. It's basically a survival mode. You get to defend a village against attacking monsters, set up defenses and so on. Monster Hunter: Rise does its job very well. It's basically more of the same, but it's really, really well done and that's why it's on this list!
Key features
More monsters to slay
More epic weapons to forge
Rampage Mode
Fun co-op for up to 4 players
[buy,]
The Medium
Psychological horror in a post-Communist Poland
Bloober Team's latest offering is a scary take on the late 90s. As Marianne, a woman able to communicate with the spirit world, since she's the titular medium, you set out to uncover a mystery behind the dreams that have been haunting your for some time. And so you travel to the Niwa hotel, a place that turns out to be truly nightmarish.
The Medium uses an interesting mechanic. Since your character exists in both spiritual and physical realms, you can interact with them both, which is presented in a split-screen form. What's great about this game is its audio design, handled by the team responsible for the Silent Hill series. If you're its fan, you'll most likely love The Medium as well. By the way, have you noticed that horror games are very well-represented on this list?
Key features
1999's Poland
Exploration of both the physical and spiritual realms at once
Incredible atmosphere
Audio handled by the Silent Hill team
[buy,]
Farming Simulator 22
| | |
| --- | --- |
| Release: | |
| Genre: | Simulation |
| Developer: | GIANTS Software |
Ah, the great outdoors!
Giants certainly took their sweet time preparing their new game, and the effort shows. It's pretty, it's complex, it's full of fresh features that make Farming Simulator 2022 a (perhaps surprisingly) pretty amazing game. No wonder people forced to stay home because of the pandemic kept themselves busy with tending to virtual crops!
So, what's new in FS 2022? Aside from improved audiovisuals, the game now sports a four-season cycle. This means you'll get to do so many things aside from agricultural activities: forestry, animal husbandry, helping out other farmsteads… You can even build your own empire by creating production chains! There's also a multiplayer mode where you can run a farm with a bunch of friends. Farming Simulator 2022 is simply so much fun. Who knew driving a harvester can be so chill?
Key features
Looks great
Four different seasons with their own challenges
You can run a farm with a bunch of friends
It's super relaxing
[buy,]
Football Manager 2022
Spreadsheets can be fun to play, too!
Ah yes, the classic "it's like playing FIFA, but in MS Excel." FM 2022 doesn't seek to revolutionize the classic formula. It updates it, fixes a lot of issues that bugged the fans for years, and adds some improvements of all sorts, making this installment a worthy addition to the series.
FM 2022 is incredibly deep, attentive to detail and very addictive. OK, newcomers might have a hard time adjusting to what's going on, as it's so complex, but longtime fans will surely love this edition. Sports Interactive once again unleashed one heck of a sim!
Key features
Amazing depth and complexity
Lots of improvements
Elegant UI
It's super addictive!
[buy,]
Hitman 3
Killing them softly
It's no wonder that IO Interactive's latest magnum opus is featured on this list. After all, it's one of the most innovative and incredible stealth game series out there. Hitman 3 ends the World of Assassination trilogy, started in [productLink,10000083772001]2016[/productLink], on a high, high note.
Just like previously, you're given a target to eliminate, but how you're going to do it, it's all up to you. That's why people call Hitman a puzzle game instead. It's a game of patience, precision and observation where all rules are permitted, but not every action leads to desirable outcomes. Walking in with guns blazing? Yes, it's certainly possible, no, it's definitely not fun. Careful planning and execution (pun sort of intended) is where it's at. Hitman 3 is the absolute Hitman game. IO definitely have outdone themselves this time. Bedroom assassins, you're in for a real treat!
Key features
An amazing conclusion to the World of Assassination trilogy
Lots of game modes to choose from
Complex, detailed levels
Agent 47 kicks butts as usual
[buy,]
Marvel's Guardians of the Galaxy
Marvel's "Here's Something Better Than Marvel's Avengers"
Alright, Marvel's Avengers may have been a dud, but GotG is where it's at! Loud, obnoxious, flashy and super fun, this take on the Guardians' canon turned out to be a surprisingly good action-adventure affair (even if combat's a bit repetitive according to some).
But it's not blasting all them creeps and crafting combos out of your teammates' abilities that's the most interesting thing about the game. It's not even Star-Lord's motivational speeches of varying quality (tacky all the same). It's probably the team's bickering in between and during the missions. Yes, you can even make some decisions that will please half the team, but won't sit well with others. If you're into superhero stuff and want a good action game, Marvel's Guardians of the Galaxy should totally scratch that itch.
Key features
Lots of combat and explosive action
Star-Lord's super tacky motivational talk
Lots of decision making
Your team's a really fun pack of characters
[buy,]
Psychonauts 2
| | |
| --- | --- |
| Release: | |
| Genre: | |
| Developer: | Double Fine |
Cartoony braindancing
It took Tim Schafer 16 years to return with the sequel to [productLink,10000000578003]Psychonauts[/productLink], but it was well worth the wait. Psychonauts 2 is every bit just as great as the original game from 2005. Razputin "Raz" Aquato is back and ready to rock! A truly daunting task awaits him: the Psychonauts' leader has been kidnapped and a sinister plot is rearing its ugly head!
And so Psychonauts 2 treats you to yet another dose of awesome and incredibly zany platform-adventuring. You get to infiltrate people's minds and uncover all sorts of secrets. Since you're invading dreams, things get really, really wacky. Still, between hilariously imaginative locales and polished, varied gameplay, there's this emotional, touching aspect to the game. The message is that even the baddest of baddies are never beyond redemption. Hey, Double Fine: people came here to laugh, not to feel!
Key features
An amazing sequel to an amazing game
Wacky levels and tons of surprises
Incredible gameplay
Lots of feels, too
[buy,]
It Takes Two
| | |
| --- | --- |
| Release: | |
| Genre: | Action-adventure |
| Developer: | Hazelight Studios |
Double trouble
No, it's certainly not as heartbreaking as the Marriage Story film, but this unique co-op game does have plenty to say about staying married despite all the hardships couples have to endure. The main characters, Cody and May, are planning a divorce. Through an uncanny sequence of events, they become trapped in the dolls of their daughter, Rose. The goal? Fix their marriage.
It literally takes two to play It Takes Two. There's no single-player mode and you need a second player to complete all the varied levels in the game. There's plenty of surprises and gameplay changes along the way. One thing's for sure: Hazelight Studios dropped what is pretty much the most interesting and unique co-op game in years.
Key features
The most intriguing co-op game as of late, probably ever
No single-player, zero, nada
Each level is pretty much a game of its own
An uplifting marriage story
[buy,]
Deathloop
Groundhog Day, but with guns blazing
Welcome to Blackreef, an island where things have gone awry. We're talking temporal paradoxes here. The entire place is stuck in a time loop and in order to put an end to this madness, the main character, going by the name of Colt, must kill eight Visionaries before midnight. If even of them survives, the loop restarts. Your task is to get them all in one place, so that you can kill them off at once. Easier said than done…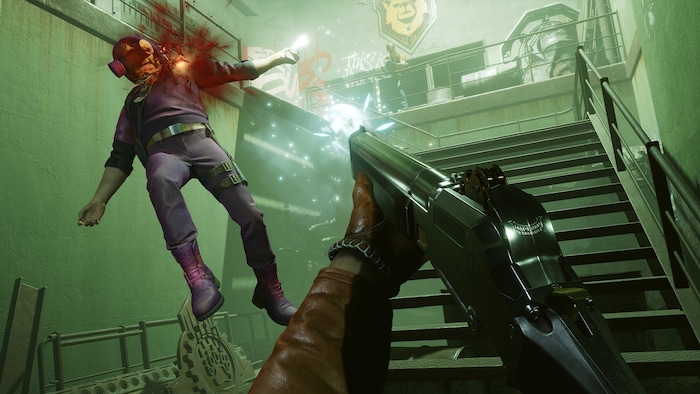 What you get in Deathloop is basically a mixture of [productLink,10000002531007]Dishonored[/productLink] and [productLink,10000034041004]Prey[/productLink]. You get to use a wide variety of weapons, abilities and tactics to figure out the best way to take out your targets as soon as possible. Be on the lookout, though: another assassin named Julianne is out there to get you. There's this fun feature in the game where another player can join your session and play as J to hinder Colt's progress and annoy the living heck out of him. Deathloop's definitely one of the most interesting first-person shooters out there, so give it a shot, especially if you're a fan of Arkane Studios.
Key features
You get to figure out the best way to complete the game
Time paradoxes
Lots of thinking
Another player can drop in and try to ruin your plans
[buy,]
Jurassic World Evolution 2
| | |
| --- | --- |
| Release: | |
| Genre: | Construction, management |
| Developer: | Frontier Developments plc |
Life found a way, again
Cue 2018. The [productLink,10000155987002]first JW: Evolution game[/productLink] certainly delivered when it comes to dinosaurs. When it comes to everything else, though, not so much. But fret not! Evolution 2 improves on the previous game in pretty much every way imaginable. Is this then the best dino park manager ever? That's very likely!
Just like in the previous game, you are tasked with constructing and creating your very own Jurassic World theme park. So, you build all sorts of facilities and amenities, hire scientists and park rangers, conduct scientific research on prehistoric beasts, etc. A major difference is that this time you're building your park in the contiguous United States instead of an archipelago. This means a wide variety of biomes and landscapes, and new obstacles to overcome. There's also plenty of improvements in the dino department. With several game modes to choose from, Jurassic World: Evolution 2 is sure to please your inner Alan Grant.
Key features
An improvement over its predecessor in every aspect
The dinos are nothing short of incredible
A diverse set of biomes where you can build your park
Dr. Ian Malcolm approves
[buy,]
Wildermyth and other big disappointments of 2021
| | |
| --- | --- |
| Release: | |
| Genre: | Tactical RPG |
| Developer: | Worldwalker Games |
Let the narrative run wild
You've certainly heard of procedurally-generated levels, perhaps even played games that feature them. But how about a procedurally-generated story? Wildermyth is probably the closest to a tabletop, pen & paper RPG experience when it comes to video games.
Your characters get old and bruised, they can get married or start lifetime rivalries. You can recruit heroes from your previous playthroughs to aid your new set of champions. While it's a fantasy fare, Wildermyth's far more original, as the developers wanted a departure from typical orc & goblin menagerie. Even the stories aren't really about heroic deeds and exploits, they explore what our heroes feel and think about their surrounding world. There isn't really a game like it, so it's no wonder it ended up on this list.
We've already mentioned some. Obviously, New World had some problems, especially with queues and some minor bugs. Battlefield 2042 made a lot of promises but never delivered. The game's really buggy and devoid of content. Furthermore, GTA: The Trilogy – Definitive Edition looks like a joke and a shameless cash grab and became a meme just like last year's [productLink,10000156543001]Cyberpunk 2077[/productLink], even if at its heart it's a collection of games we all know and love.
Key features
Procedurally-generated stories
You can build your own pantheon of heroes
Devs shy away from fantasy tropes
Looks great, too
[buy,]
Some hopes for 2022?
Horizon: Forbidden West, definitely. [productLink,10000145208006]Zero Dawn[/productLink] was insanely good, so as long as the devs won't try fixing what ain't broke, we should get a game that is going to end up on many "best of 2022" lists. Too bad the PC version is nowhere in sight, but…that's just a matter of time.
Same goes for [productLink,10000192193004]Dying Light 2[/productLink]. The predecessor was a fantastic game, so what Techland needs to do is just drop a game that refines the already-established gameplay, add lots of new adventures and stuff, and stay true to the roots. This one has a chance to become one of the best zombie games ever!