Do you remember the bygone days of LAN parties? Do you remember coming over to your friends and huddling around the screen to play a game that would probably end with people being angry at each other while waiting for the level to reload?
Well, we're here to bring these days back! To an extent. Believe it or not: the days of couch co-op and chilling with controllers in your hands aren't gone, you just have to look a little bit deeper. And this one goes to Sony, because we're talking PS4.
Of note is also the PS4-specific feature of Playlink which allows multiple players to use their phones along with the console in order to set up something akin to a game show. You can be sure that given the subject at hand, we'll be taking a look at some of the games available in that category.
It Takes Two
| | |
| --- | --- |
| Release date | 2021-03-26 |
| Genre | Platform game, Puzzle video game |
| Developer | Hazelight Studios |
The first thing you need to know about It Takes Two is that if you don't have somebody to play it with, you're not going to get anywhere.
Like Hazelight Studios' previous game, A Way Out, ITT is built entirely around two people in co-operation and its many challenges can't be completed solo. That design supports the story, because the game is about two people fixing their relationship.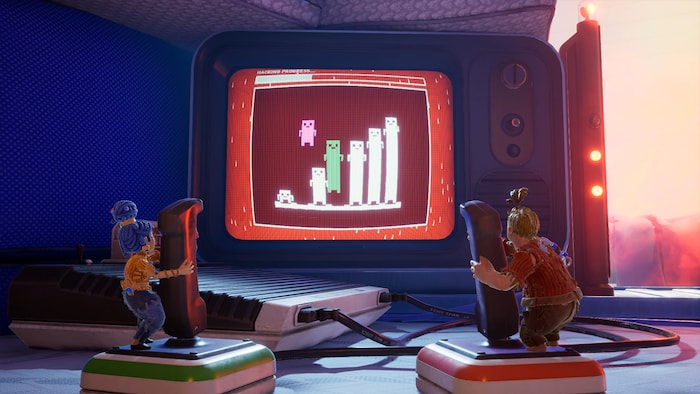 Specifically, it's about Cody and May, a soon-to-be-divorced couple and parent to a girl called Rose.
For plot reasons Cody and May's souls end up in dolls made by their daughter, and they have to complete challenges designed by an animated relationship self-help book. It's a lovely game with a strong theme, touching story, and varied co-op gameplay. Perfect if you're looking specifically for 2-player PS4 games.
Key features
Exclusively cooperative
Good story
Great, evocative aesthetic
Solid gameplay
Divinity: Original Sin 2
| | |
| --- | --- |
| Release date | 2017-09-14 |
| Genre | Adventure |
| Developer | Larian Studios |
Both Divinity: Original Sin are a great pick for a local co-op session, but the second one is a definite improvement over its predecessor and can be enjoyed in mixed multiplayer.
Which means that two sets of local co-op partners can play together in the same world, sharing an adventure in a game which welcomes individual initiative and creative solutions. There's even an Arena mode for a bit of PvP.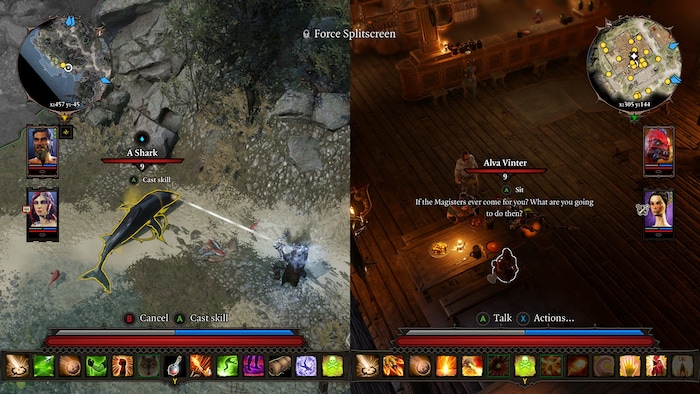 DOS2 is a wonderfully interactive party-based RPG. Your abilities can create surfaces and clouds and infuse of explode them in various ways.
Many objects in the world can be picked up and moved elsewhere. Even some puzzles can be circumvented with some creative use if items and spells. And that's on top of large maps filled with stories, characters, and dungeons of variable length.
Key features
Four-player mixed local & online co-op
A Game Master mode for fans of playing custom adventures
You can create your own characters or pick some of the pre-made Origins
Turn-based combat
Spelunky
| | |
| --- | --- |
| Release date | 2013-08-08 |
| Genre | Adventure |
| Developer | Mossmouth |
Spelunky is a reliable option for anyone interested in great local co-op experiences.
To be fair, Spelunky is a reliable option even when you're not interested in co-op, but just want a good platformer/ roguelike in general. It's a 2D game, of course, and you're playing as an intrepid explorer descending ever deeper into an extensive cavern complex. Many treasures and many dangers wait down there.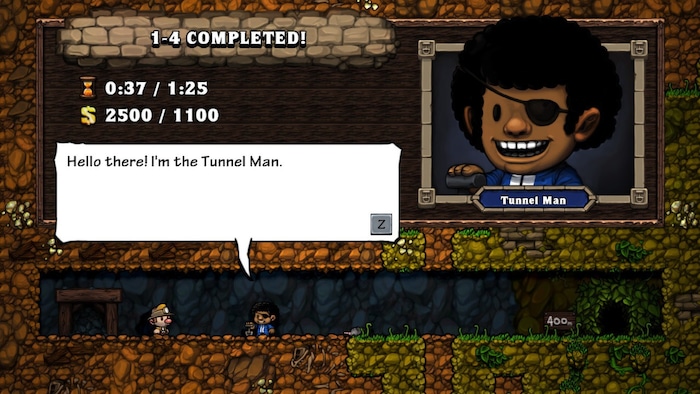 The multiplayer options can handle up to four players. in addition to general co-operative descent into the caves and antagonising the shopkeeper, you can also go guns blazing into a deathmatch. There are many different playable characters, other than the default spelunker, but they all operate in the same manner. Spelunky looks lovely, has great gameplay, and you'll enjoy ever second of co-op.
Key features
Multiplayer options include co-op and deathmatch
An excellent roguelike in its own right
Friendly aesthetic
Very tenacious shopkeepers
Nex Machina
| | |
| --- | --- |
| Release date | 2017-06-20 |
| Genre | Indie |
| Developer | Housemarque |
Nex Machina is an option for people who want to play something fast, intense, and filling the screen with all kind of colourful explosions.
It's a twin-stick shooter, with a very neon-colored aesthetic, well-designed maps, swarms of enemies to shoot, and deadly bosses to conquer. Inevitably there are also power-ups to grab and experience their might and power as you carve through your foes.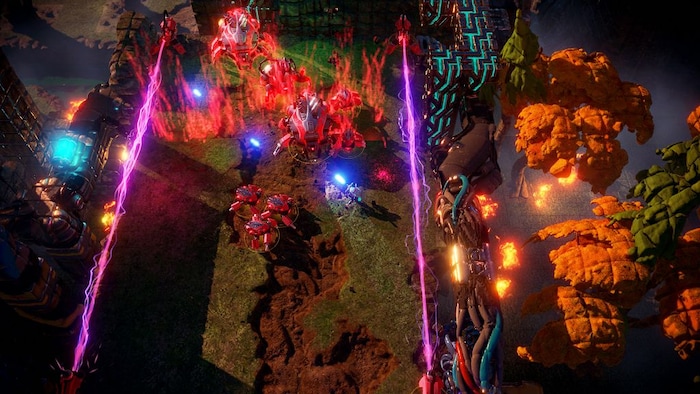 It's very good when you play solo, but as it usually goes, gets even better when you have somebody holding the second controller, helping you out. Either way if you're looking for something to play that doesn't require a lot of commitment, but instead offers a quick burst of fun, you could do a whole lot worse than Nex Machina. Especially if you like twin-stick bullet hells.
Key features
Looks great
Well designed maps
Local co-op for two players
Intense twin-stick combat
Little Big Planet 1-3
| | |
| --- | --- |
| Release date | 2008 / 2011 / 2014 |
| Genre | Puzzle platformer, kart racing |
| Developer | Media Molecule and more |
the LittleBigPlanet franchise is a series of delightful games empowering creativity by allowing players design their own levels using simple tools and a very robust physics engine.
Better yet: players can share their levels with the broader community. Although the game is openly a platformer, the flexibility of available tool allowed people to create some truly inspiring, complex things.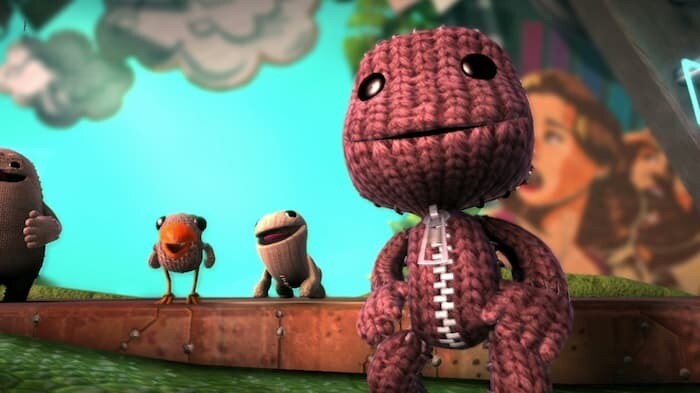 It's also playable in co-op, up to 4 players. What is co-op experience like? You can do pretty much anything you can do solo, but since LBP is such a great playground, it's more fun to enjoy it with friends, whether you're building something or racing to see who completes the level first. The co-op is also drop in/drop out, so you can just give the other players their own controllers and you're good.
Key features
Can handle both local and online co-op, including combining both
Create complex (or simple, that's nice too) levels and share them with the community
Sackboy and friends are cute and family-friendly
Three main entries and several spin offs
Overcooked and Overcooked 2
| | |
| --- | --- |
| Release date | 2018-08-07 |
| Genre | Indie |
| Developer | Team17, Ghost Town Games |
Overcooked was possibly created by Gordon Ramsey himself, or at the very least it was influenced by his subconscious dreams leaking into the real world.
Original Overcooked is a fantastic treat even today, but it should be noted that the sequel that came out two years later expands on the formula with new mechanics and several quality-of-life upgrades, making the game more fun and nuanced.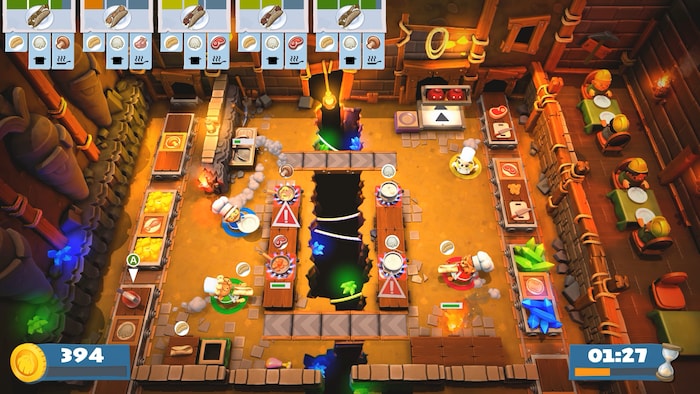 Functionally, it's both one of the most chaotic and most rewarding cooperative games out there. It gives a lot of opportunity for players to show off their skills of working under great pressure and save the day with a fantastic play. It may not exactly fall under a "chill" experience, but fun? In spades. This is not exactly split-screen as everything happens in the same, small space, but with moving kitchen walls and characters being often stuck on the other side of the map, it's quasi-split-screen.
Key features
It will test your organisational skills…and your friendships
Simple aesthetic with cute designs
Can get really hectic, really fast
Two people can use a single controller in a pinch
Minecraft
| | |
| --- | --- |
| Release date | 2011-11-18 |
| Genre | Adventure |
| Developer | Mojang |
But even despite that, Minecraft is still a great purchase for an adamant PS4 fan who wants to play with their friends.
The game features up to 4 player split-screen coop and to date remains one of the most popular games on any platform, including PlayStation. Minecraft's premise is simple: you wake up stranded, get up, punch a tree and go on to recreate to-scale Statue of Liberty.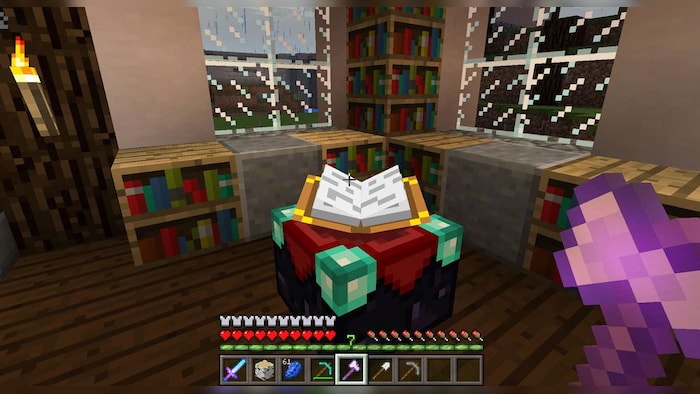 Or mess around with red-stone and set-up a full symphonic performance. Or create a fully autonomous factory of diamond pickaxes. Possibilities are endless. Playing with friends, especially locally, can greatly speed up the construction of…whatever you want to build. Even in the survival mode it's easier when you're not facing the creepers alone. Die together, it's way more fun.
Key features
Strong modding community
Iconic blocky aesthetic
Doesn't limit your creativity in almost any way
One of the most popular games of all time
Rocket League
| | |
| --- | --- |
| Release date | 2015-07-07 |
| Genre | Race |
| Developer | Psyonix, Inc. |
The idea behind Rocket League, which is—you kick a ball, but with a car, is something only Rocket League managed to do it right.
With up to 4 players occupying the same space, you can invite the whole gang and turn this into a tournament of sorts. Matches usually take about 5 minutes and are very, very intense, which is perfectly suited for a party setting.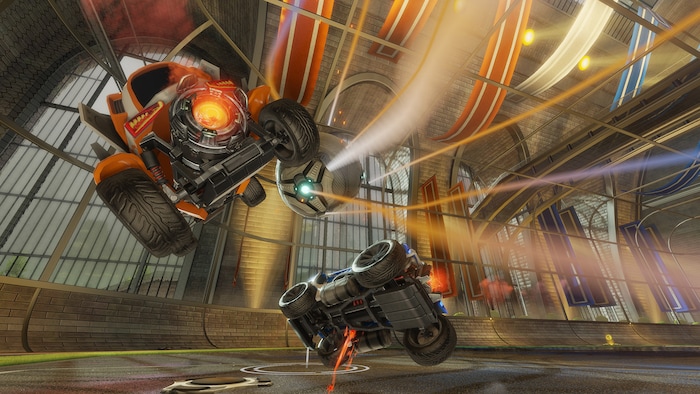 Moreover, there's a lot of ways to change up the game with special modes that shift the rules. Lowering gravity, changing speeds, increasing ball velocity, there's a whole lot of ways you can spice things up. It's an easy game to get in, hard to master and in the long run, almost impossible to get bored by. The fantastic multiplayer options make it truly shine, but it's great even if you're playing alone.
Key features
If you don't like football, there are other sports too
Many cosmetic customisation options for your cars
Local co-op for 4 players
High skill ceiling
Diablo 3
| | |
| --- | --- |
| Release date | 2012-05-15 |
| Genre | RPG |
| Developer | Blizzard Entertainment |
Diablo is a Hack & Slash series of much renown and the 3rd part certainly lives up to that lineage.
This time around, you can take up to 4 of your friends to fill in all the classes and fight the demons of hell in a glorious cooperation. Notably: only the console versions, including, obviously, PlayStation 4 can play in local co-op. Not couch Diablo 3 for PC players!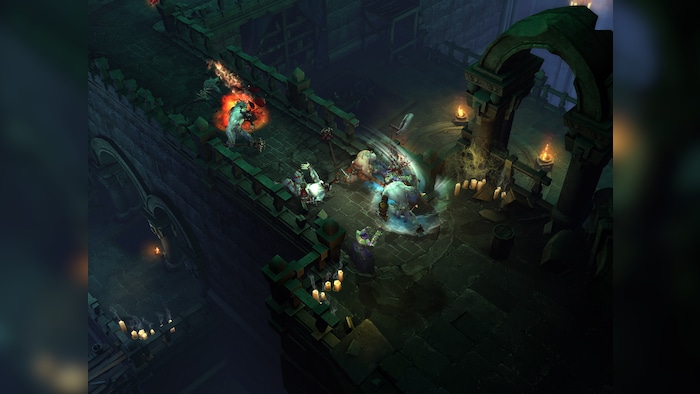 Diablo 3 is the kind of game you can come back to again and again in a lot of different permutations. The basic mechanics of blasting through waves of monsters are always entertaining and the visual presentation is really hammering home this hell-fighting fantasy. With several unique playable classes you can explore the minutia of this game for a long, long time and still find something new.
Key features
The third instalment of the classic series
Supports 4-player local co-op
Carving through legions of monster is never not fun, especially with friends
Hundreds of hours of fun slaughter guaranteed
Borderlands: The Handsome Collection
| | |
| --- | --- |
| Release date | Mar 24, 2015 |
| Genre | Adventure |
| Developer | Gearbox Software |
The original Borderlands is arguably responsible for creating the looter-shooter genre in the first place.
The sequel (and the convoluted pre-sequel) is an across-the-board improvement on the original game, with better graphics, combat, story and of course, more guns. So what is Borderlands about? In short: guns! In long: GUNS, GUNS, GUNS!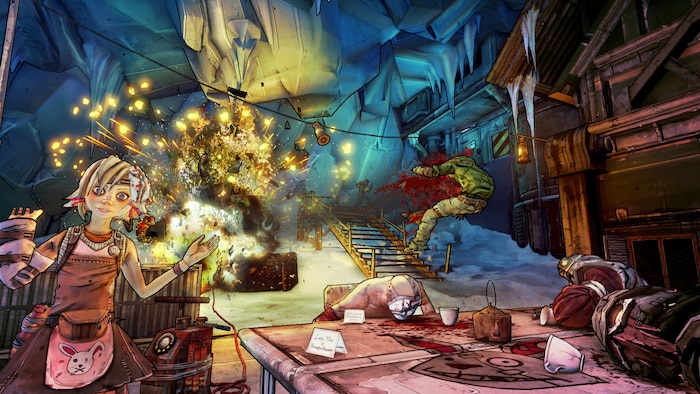 Borderlands features an ingenious technique of loot generation where guns spawn with several random elements, completely changing their functionality, with some Legendary weapons forcing a playstyle unique to them. While it gets grindy when playing alone, with friends it truly shines and its hilarious story and sense of style serves as the icing on this marvellous cake.
Key features
Cool classes/characters
Untold thousands of gun variations
Doesn't take itself seriously at all
Co-op allows the classes to truly play off each other
TEKKEN 7
| | |
| --- | --- |
| Release date | 2017-06-01 |
| Genre | Fighting |
| Developer | BANDAI NAMCO Studios Inc. |
Tekken is one of the trifecta of fighting games holding all of us captive with their varying degree of competitive charm.
Notably for multiplayer, you can pick which specific side of the screen you want to be bound to, making the entire process easier. Tekken isn't particularly difficult to get into, but the skill ceiling is really high, allowing a competent player to unleash a fantastic display of prowess.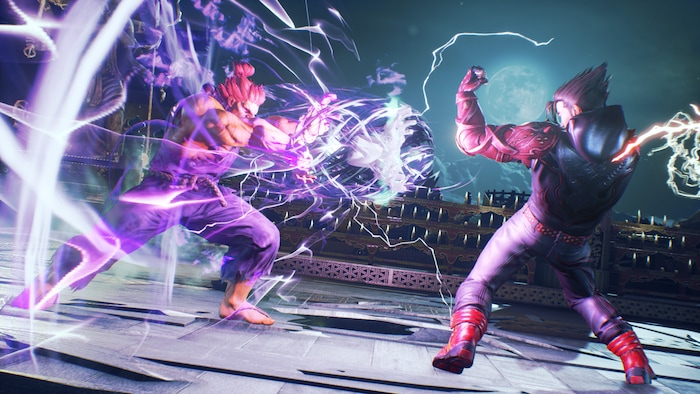 If you can get friends as competent as you to play on the couch, it can turn into an amazing, tactical jig. The roster of characters is varied and their various unique aspects make learning each one of them a great journey. And to top it all off, you can establish a full, structured tournament in game if you want a veneer of professionalism. Can't go wrong with this one.
Key features
An excellent fighting game from a long-running series
Large rosters of competent fighters
High skill ceiling
The next chapter in the story of the Mishima family
Hidden Agenda
| | |
| --- | --- |
| Release date | 2017-10-24 |
| Genre | Action-adventure |
| Developer | Supermassive Games |
Part investigative thriller, part interactive movie, part a test of your reflexes, Hidden Agenda is a pretty unique experience.
It's a crime story about a murder investigation. When you're playing in couch co-op, each player can vote for a course of action with their phone (via PlayLink). The "Hidden Agenda: part comes into play in the competitive mode: 1 player secretly acts against others.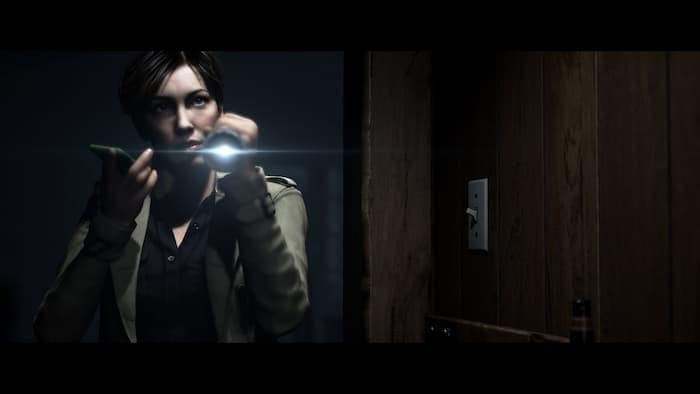 The real fun lies in lies, so to speak, and the thriller itself is tangential to the conflict between the players happening in front of the console. It's one of the more innovative games to utilize the PlayLink feature and it's fairly unique in the way it plays out. It technically does have the solo mode, but it's simply not really designed for it, which for the purposes of this list, is not an issue.
Key features
An interesting narrative game from the creators of Until Dawn and The Dark Pictures Anthology
Good, tense murder mystery
Can be played with smartphones as a party game
Can be cooperative or competitive
Call of Duty: WWII
| | |
| --- | --- |
| Release date | 2017-11-03 |
| Genre | Action & Shooter |
| Developer | Raven Software |
If cooperative fun and first-person shooters are what you care for, there's no denying that this one got you covered.
Supporting a two-player split-screen (with two more people joining online, if necessary), CoD: WW II allows you and your friend to stand together and tackle on the rest of the world. Or undead world, anyway, because co-op is available "just" for the evergreen Zombies mode.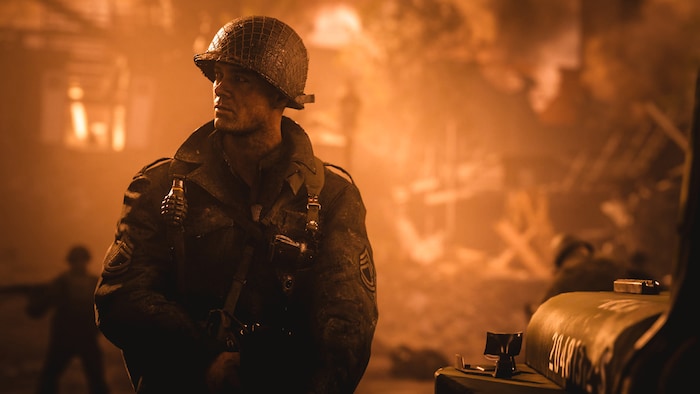 It has been polished to perfection and functions as its own, separate, cooperative mode of play. There's also a plethora of side activities and modes, including a global lobby where you can hang around and chill. And honestly, what could possibly bring two people together more than blasting Nazi zombies to bits? Nothing! That's why this mode has been such a success for the CoD series.
Key features
The Zombies mode is as good as ever
Co-op for two players, two more can join online
Class-based multiplayer
Singleplayer campaign for lone soldiers
Star Wars Battlefront 2
| | |
| --- | --- |
| Release date | 2017-10-17 |
| Genre | Adventure |
| Developer | EA DICE |
Battlefront 2 is primarily a multiplayer shooter with a wide selection of character classes fighting on both sides of the conflict taking place in the galaxy far, far away.
Moreover it breaks up the formula by adding segments of starship combat as varied and enjoyable as the typical ground war. It does also have a singleplayer campaign bridging episodes VI and VII, and a local co-op in the Arcade mode.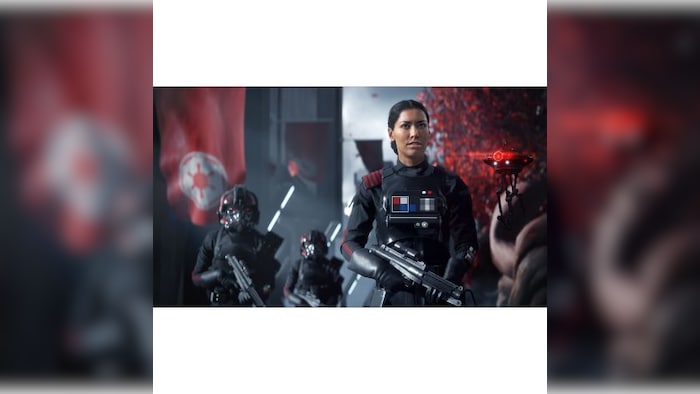 The split-screen coop component is available for 2 players and it has its own selection of arcade game modes such as always popular horde mode. There are multiple scenarios to play through, so you can shuffle them around, keep things fresh. Unfortunately, local co-op isn't available for regular multiplayer modes, so no massive battle with your friend by your side, that's in online territory.
Key features
A singleplayer campaign, many online modes, AND a local co-op arcade mode
Local co-op for up to 2 players
Many heroes from all trilogies await in online multiplayer
Battles include spaceship dogfighting
A Way Out
| | |
| --- | --- |
| Release date | 2018-03-23 |
| Genre | Adventure |
| Developer | Hazelight Studios |
This game had to be on this list for a very simple reason: this one was custom built and designed for split-screen coop.
Created by the man behind Brothers: A Tale of Two Sons and It Takes Two, A Way Out is a story-driven game about two convicts escaping a prison. It's a game about trust in more ways than one. It masterfully juggles tension, conflict and levity, creating a really captivating mix.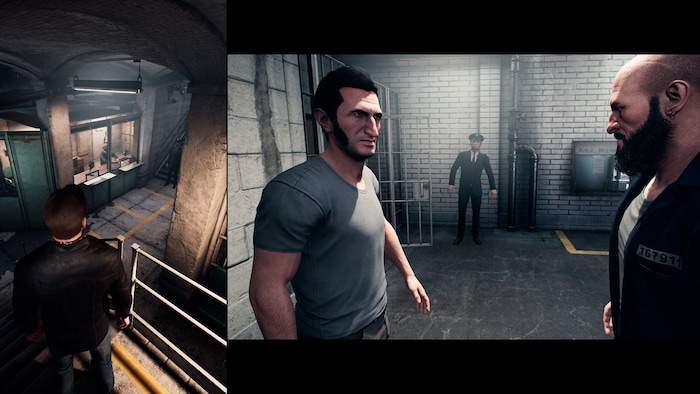 This game is designed for coop, so much so it is literally impossible to play it alone and playing it with a good friend is greatly advised as it turns the game from a good one into a fantastic one. Virtually every scene requires the protagonists, Vincent an d Leo, to either work together or do something essential in different locations while the other, say, distracts a guard. It really requires good cooperation.
Key features
Designed exclusively for co-op
One copy is enough for two players even in online play
Cinematic and dramatic story of two convicts on the loose
Many minigames available if you want to take a break from the story
Charge your controllers and jump into the game!
This concludes our list with 15 of the best split-screen PS4 games for a nice afternoon with friends and a PS4. There're also two more lists for you if PS4 isn't your thing, featuring the best coop shared/split screen and competitive games for Xbox and PC.
Whether you need to entertain a nephew or a party of blood hungry friends, local multiplayer, cooperative or otherwise is a time-tested solution to bring some extra life to a chill party or a nice, relaxed evening with your partner