There are approximately 2.8 billion gamers in the world and 100 million of them are Xbox users. That's a strong community – they discuss gaming news, share tips and strategies and even make friends on the platform.
This overview includes exclusive titles, shooters, iconic RPGs, and action games – all worth playing. There won't be any controversies. Just the good old titles to which we always happily return. Admire the world, explore, conquer, fight, win, and fail. Let's dig into the best Xbox games of all time!
Halo: The Master Chief Collection
| | |
| --- | --- |
| Release date: | 2020-11-17 |
| Genre: | Action & Shooter |
| Developer: | 343 Industries |
Xbox fans see Halo almost as something sacred. This title has cemented Microsoft's position on the console market and won the hearts of millions around the world.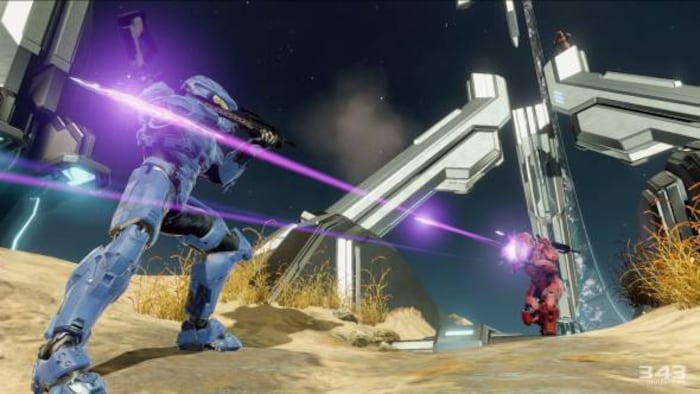 Halo: The Master Chief Collection is a tribute to the series and a great treat not only for devoted fans but also for new players. The selection consists of the fully remastered original trilogy, as well as Halo 4, Halo: Nightfall, and Halo 5: Guardians Multiplayer Beta.
If you're into first-person shooter games, you definitely don't want to miss out on Halo: The Master Chief Collection. Tons of awesome multiplayer maps, additional features, and diverse modes make it a definite must-have for all FPS enthusiasts out there.
Key features
Updated graphics and improved gameplay mechanics
Immersive and engaging experience
Compelling storyline
Many additional goodies such as weapons, gear, and vehicles
Forza Horizon 4/5
| | |
| --- | --- |
| Release date: | 2018-10-02 |
| Genre: | Racing |
| Developer: | Playground Games |
When it comes to the most popular Xbox exclusives, one of the unquestioned leaders among racing fans is Forza Horizon 4 and 5. What makes it special is an enormous open world that allows you to race to your heart's content.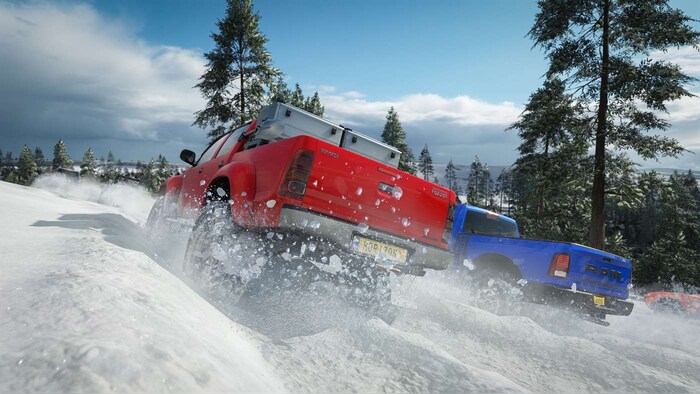 In the Forza franchise, you're taking part in the Horizon Festival race with an extremely immersive atmosphere. If you feel like getting behind the wheel of one of the many perfectly represented vehicles and feeling the adrenaline rush as you traverse beautiful landscapes, this is the best option for you.
Both Forza Horizon 4 and its sequel include numerous challenges. Fans claim that you can play this game almost indefinitely without getting bored at all. This title is a must-have for race fans, however, the great atmosphere, interesting storyline, and enormous maps with breathtaking views make even people who have never been fond of races reach for Forza Horizon.
Key features
Great attention to detail and dynamic changes in the atmosphere
Hundreds of challenges on the map
Different types of races ensuring varied entertainment
Custom route editor in Forza Horizon 5
Minecraft
| | |
| --- | --- |
| Release date: | 2011-11-18 |
| Genre: | Action |
| Developer: | Mojang |
Minecraft is an iconic sandbox that has also been appreciated by Xbox players – first released on Xbox 360. Here, your task is to explore the open world, mine various materials and create different items – all in addition to facing enemies.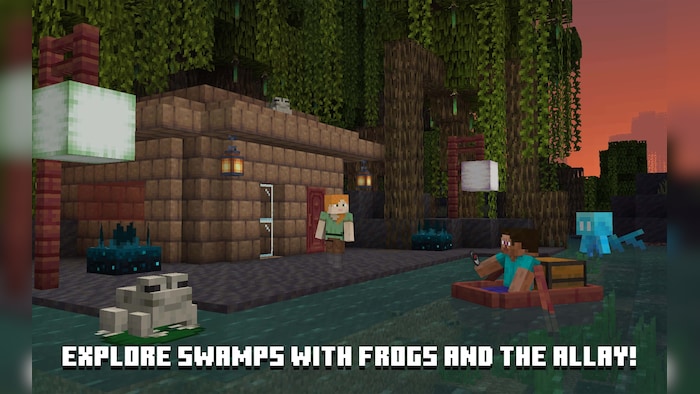 Various gameplay modes, including Survival, Creativity, Hardcore, and Adventure, allow you to find your favorite way to adventure. What makes the game even more fun are the cooperative and competitive multiplayer modes. One of the unique aspects of Minecraft for Xbox is that you can enjoy local co-op play thanks to the possibility to play split-screen with your friends.
Minecraft has become a fixture in pop culture and almost everyone knows about it, even if they haven't played it themselves. The game has been called a true revolution by many. The freedom to create and build literally anything makes the possibilities almost endless.
Key features
Multiplayer options allow players to explore together or become rivals
Limitless freedom to create and explore
Close-knit, dedicated community
High accessibility – it's perfect for both younger and older players
The Witcher 3: Wild Hunt
| | |
| --- | --- |
| Release date: | 2015-05-18 |
| Genre: | RPG |
| Developer: | CD PROJEKT RED |
The Witcher 3: Wild Hunt is one of the most iconic action RPGs in history. It is the third game in the series based on Andrzej Sapkowski's books. The adventure beloved by gamers around the world is even more playable with the next-gen update, also available on Xbox consoles.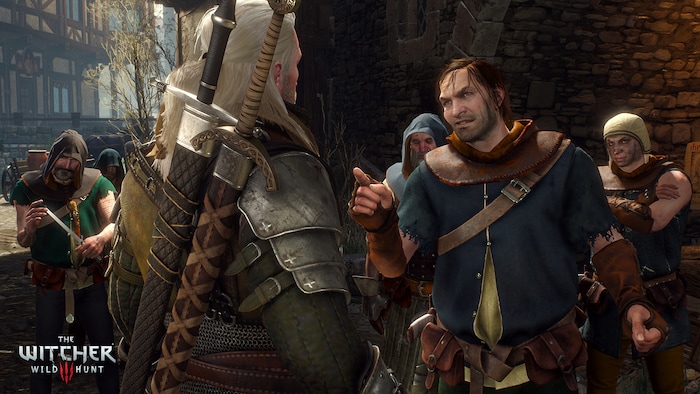 In the game, you play the role of the Witcher Geralt – a monster hunter looking for his missing adopted daughter Ciri who is in great danger from the mysterious Wild Hunt. You traverse a vast open world where destruction and death reign in the wake of war. Along the way, you are faced with many choices that are neither easy nor obvious, and sometimes you can only choose the lesser evil.
The Witcher 3: Wild Hunt delights console gamers with its epic story, the great momentum of the world, and moral dilemmas with no self-evident consequences.
Key features
Immersive open world
Memorable, well-written characters
Intimate, touching story
Filled with complex side quests and activities in addition to the main story
Red Dead Redemption 1, 2
| | |
| --- | --- |
| Release date: | 2018-10-26 |
| Genre: | Action |
| Developer: | Rockstar Games |
Red Dead Redemption is an open-world action game set in the Wild West. It has everything: chases, shootouts, and even horse racing. And to top it all off – a compelling storyline and a multitude of tasks to complete. This combination makes it one of the best games of the genre for Xbox.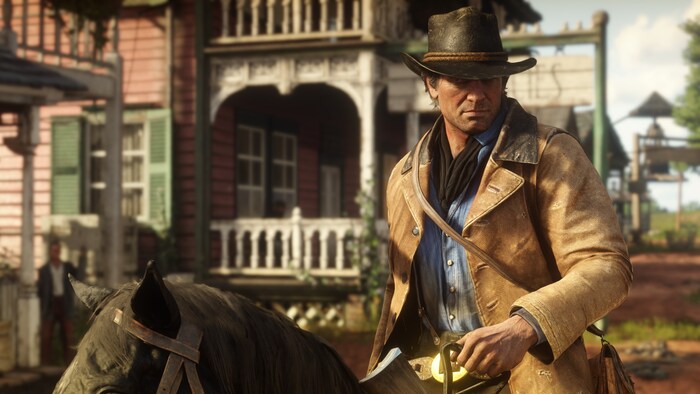 Red Dead Redemption 2 is a prequel telling the story of what happened before the adventures of John Marston in part one. Here, you take on the role of a new character, Arthur Morgan, an outlaw gunfighter, who is a member of the Van der Linde gang.
You will encounter many challenges and your moral compass should be guided by honor, which is very easy to lose. The world is increasingly hostile to outlaws – when you do something illegal and get caught, the tidings will quickly get to the sheriff and you will become a wanted person.
Key features
Vast and nuanced open world
Number of references to the characters and events in both parts
The game built exclusively around the narrative, which makes it very real and immersive
Multiple tasks and unpredictable events affecting gameplay
Call of Duty 4: Modern Warfare
| | |
| --- | --- |
| Release date: | 2007-11-12 |
| Genre: | Action & Shooter |
| Developer: | Infinity Ward |
Despite the passage of time, Call of Duty 4: Modern Warfare still provides players with a lot of entertainment. During its time, the game was a huge hit on Xbox Live, in part due to Microsoft's exclusive partnership with Activision.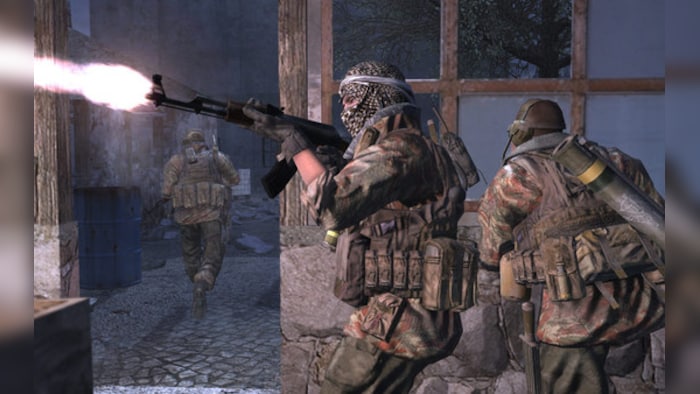 The player is thrown into the world of a fictional armed conflict caused by one of the Russian nationalists. The game's developers resign from the World War II-based theme and create an epic, engaging story, full of exciting missions.
Call of Duty 4: Modern Warfare is a must-play for all FPS fans. The graphics, atmosphere, and extremely dynamic action were revolutionary for its time. The game is widely considered one of the best games in the series and a landmark title in the first-person shooter genre.
Key features
Immersive and intense gameplay experience
Robust multiplayer mode, which has become a trademark of the franchise
Numerous weapons, equipment, and gear
One of the most iconic titles for FPS enthusiasts
Star Wars: Knights of the Old Republic
| | |
| --- | --- |
| Release date: | 2003-11-19 |
| Genre: | RPG |
| Developer: | BioWare |
The Star Wars universe is an extremely interesting and vivid world. It has become an endless source of inspiration for creators of films, TV series, as well as comic books and games. As for the latter, fans loved Star Wars: Knights of the Old Republic.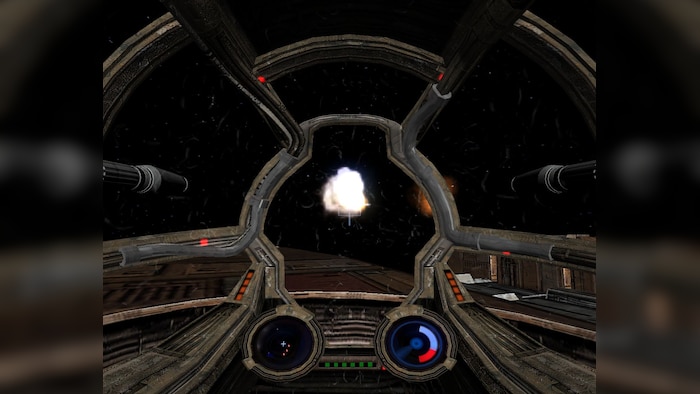 The story in this role-playing game takes place approximately 4,000 years before the events of the Star Wars movies. This gave the creators a lot of creative freedom and no plot restrictions.
One of the key features of Star Wars: Knights of the Old Republic is its innovative morality system, which tracks the player's actions and decisions and assigns them either the light or the dark side alignment. It affects the player's abilities and interactions with other characters in the game.
Key features
Fast-paced plot-twists and an engaging storyline
Diverse world open for exploration
Two different endings depending on the decisions you make
Great character development
The Elder Scrolls V: Skyrim
| | |
| --- | --- |
| Release date: | 2016-10-27 |
| Genre: | Adventure |
| Developer: | Bethesda Game Studios |
In Skyrim, you take on the role of Dragonborn, a hero with the power to slay dragons and absorb their powers. The game is set in a vast and immersive world filled with cities, dungeons, mountains, and forests. What really makes this game stand out is its unique atmosphere.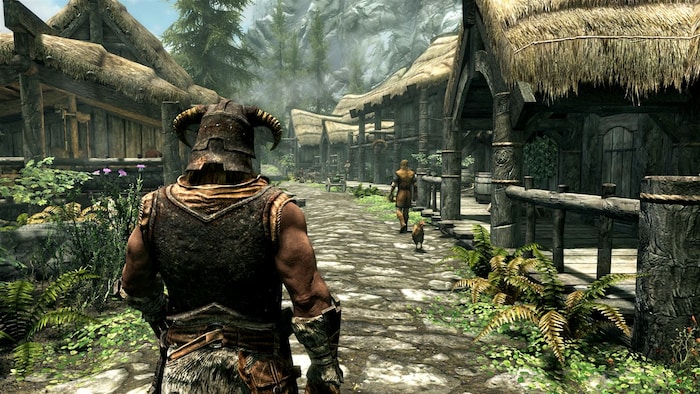 An engaging storyline and distinctive characters allow you to fully immerse yourself in the game. Many players have racked up more than 100 hours of playtime. A massive open world with breathtaking scenery and memorable places offers an incredible amount of depth, freedom, and immersion.
Without a doubt, The Elder Scrolls V: Skyrim is one of the games that you'll want to return to over and over again. The game is considered a true masterpiece of the role-playing genre. The soundtrack, which adds an unusual atmosphere to the game, also deserves an honorable mention
Key features
Stunning dragon animations
Dozens of gameplay hours
Compelling and engaging storyline
Number of mods from the devoted community
Gears of War
| | |
| --- | --- |
| Release date: | 2011-09-20 |
| Genre: | TPS |
| Developer: | Epic Games, Inc. |
Gears of War is a popular third-person shooter, released exclusively for Xbox. The game has received many beloved sequels that keep the series alive.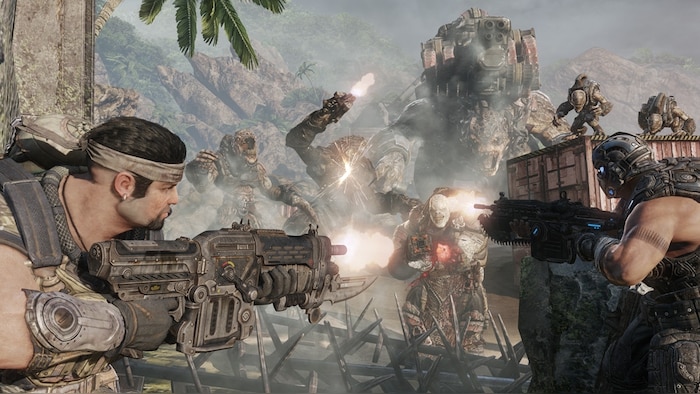 The game has become a classic for fans of rapid action and shooters with an interesting single-player campaign. The title has won nearly 30 different awards and has been praised not only by critics but also by gamers all around the world.
It is an action-packed cover-based shooter with an engaging story. It has become a staple of the Xbox platform and has inspired multiple sequels and spin-offs over the years.
Key features
Single-player campaign with a compelling story and additional cooperation mode
Intense and brutal combat with a variety of weapons and enemy types
Fast-paced gameplay
Distinctive cover-based gameplay mechanic allowing you to take cover behind objects
Grand Theft Auto V
| | |
| --- | --- |
| Release date: | 2014-11-18 |
| Genre: | Action |
| Developer: | Rockstar Games |
Grand Theft Auto V is a title that simply had to be included in this overview. It is one of the best-selling and most popular games of all time and a must-play for fans of the open-world action-adventure genre.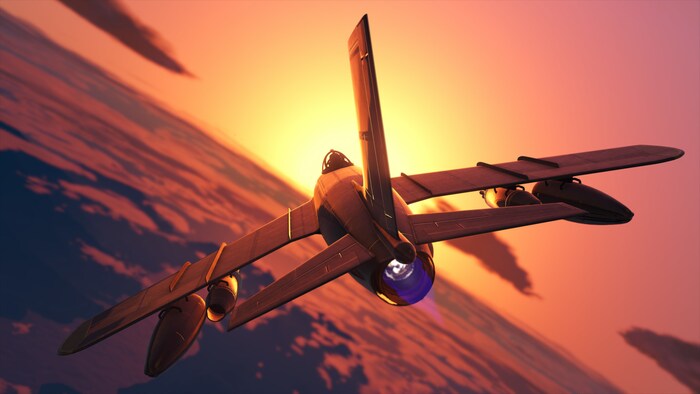 The game is set in the fictional city of Los Santos and its surrounding areas, which are based on real-life locations in Southern California. You can choose to play as one of the three main characters with unique personalities and storylines: Michael, Franklin, or Trevor.
A massive open-world environment allows you to explore a city filled with multiple neighborhoods, landmarks, and hidden secrets. The game also features a robust single-player campaign, which includes a variety of missions and side activities, such as heists, car chases, and shootouts.
Single-player campaign and a highly popular online multiplayer mode
Massive and immersive open-world game
Key features
Single-player campaign and a highly popular online multiplayer mode
Massive and immersive open-world game
Intense, violent and mature content
Impressive graphics and sound design with a dynamic soundtrack
Xbox offers games in a wide range of genres, from first-person shooters to racing and role-playing games. Choosing the right title is a matter of personal preference, but there are some games that everyone has heard of, and critics and fans around the world love them, often despite the passage of time. Just such items are included in our compilation of the 10 best Xbox games – but of course, feel free to add your suggestions.