There is something about these award-winning video games that guarantee fast and action-packed gameplay. Play for a while, shoot, get loot, and chill. It is the essence of the success of looter-shooter games!

Looter shooters like
Borderlands
or
Destiny 2
conquer the gaming world, proving their greatness. These are games that we can engage in for long hours, devoting ourselves to them entirely, or drop by for a moment to let off some steam. There is also a plot in the background that we can engage in or not pay attention to at all. Sounds like fun? It is! But today we'll review two rather new video games in this genre – Division 2 and Anthem. If you wonder which of these titles is better than the other, you've come to the perfect place.
General overview
Both titles are action loot shooters with RPG elements, focusing on multiplayer gameplay and the battle against armies of enemies. Each of them is a perfect recommendation for enthusiasts of fast-paced action and spectacular fights with futuristic weapons. The gameplay is set in a third-person perspective, and the goal is to disqualify the enemy and get the best loot. Thanks to better and better items, players can upgrade their equipment and become an utter threat to opponents on the battlefield. These features are the essential similarities between Anthem and Division 2, but here the differences arise.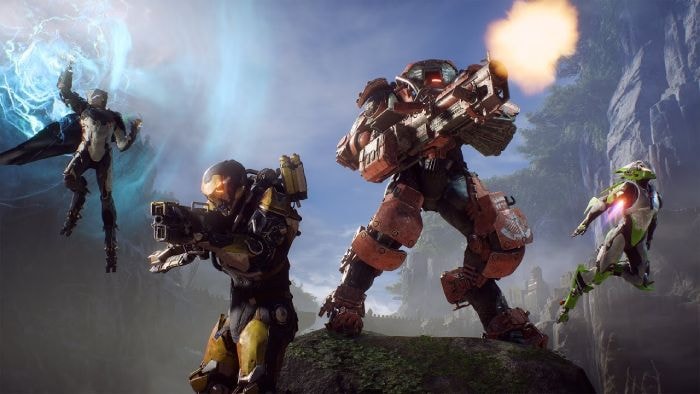 Anthem was developed in 2019 by BioWare studio, known for such legendary games as Mass Effect or Baldur's Gate. The creators emphasize the story and the epic course of the entire gameplay. In this title, you will travel to a sci-fi world where the fate of all humanity depends on your courage. The action takes place on an alien planet, where a handful of survivors live in a mighty fort, fighting hordes of monsters and the invasions of the evil Dominion faction. Become one of the Freelancers and wear Javelin – powerful armor with unlimited abilities. As you can see, Anthem is a spectacular looter shooter where you will have the opportunity to use unique powers and lose yourself in the heat of combat.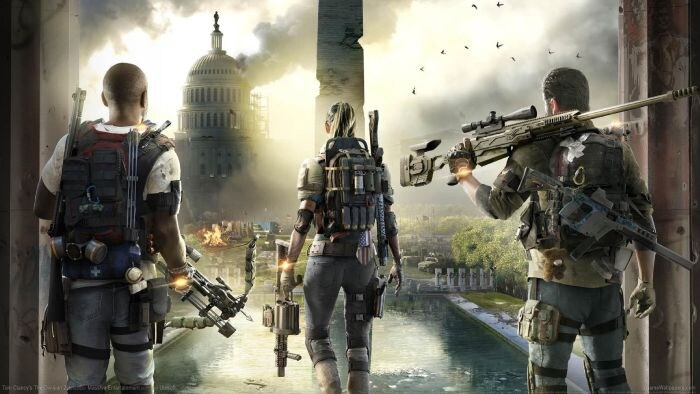 The Division 2 action takes place on Earth – in Washington DC. As the deadly virus ruined humanity, the survivors decided to seize power. The world is ruled by chaos and corruption, and your elite unit's task is to restore the former law and order. Create a hero and join the fight for a better tomorrow! But is it worth it? Let's move on to the crucial differences!
Combat
In looter shooters, the combat generates the unique flow of the game, allowing you to forget the whole world. In Anthem, you have your weapons and power armor, making you an extremely powerful opponent on the battlefield. However, weapons are less important than the Javelin, equipped with several awesome abilities. The first is flying! Anyone who has dreamed of epic, dynamic combat in the air will be delighted with this title. Anthem abandons careful strategic gameplay for spectacular explosions, shootings, and smooth flying from place to place. In addition, Javelins are equipped with abilities like elemental storms and massive cannons that turn the battlefield into pure chaos.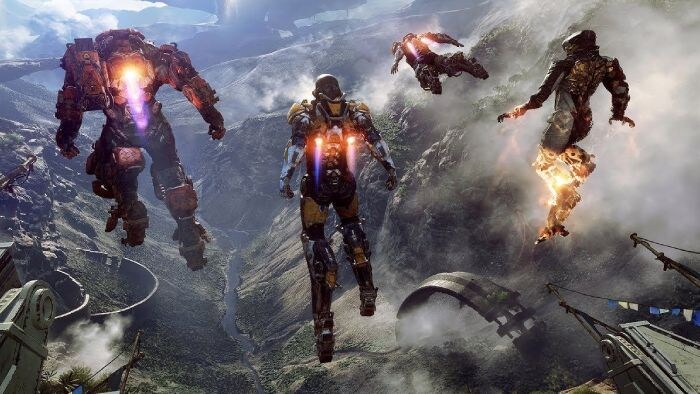 In Division 2, combat is entirely different. The right strategy and stealth approach play an important role. Opponents are clever and can easily surprise less attentive players. The fight focuses on hiding behind covers and eliminating enemies who are also concealing in their hideouts. There is no power armor, no epic blasts, but very accurate weapons with impressive stats.
Appearance customization
In Anthem, you can freely design your character at the very beginning of the game. The title allows you to select the colors of individual armor elements and components, making the gameplay feel more personal. In Division 2, acquired weapons and equipment look much less exciting. But with time, you will gain access to better and better loot and create a more satisfying outfit.
The world
Let's start with the plot as it creates the world and the way we see it. Anthem focuses on the story, brilliantly introducing players to the game. But how does this translate into practice? As it turns out – not so well. Players complain that although the quests and missions are addictive at first, they get repetitive and boring after a short time. The game world turns out to be not very explorable and rather empty. For this reason, the game developers have plans to introduce new improvements and fix existing bugs.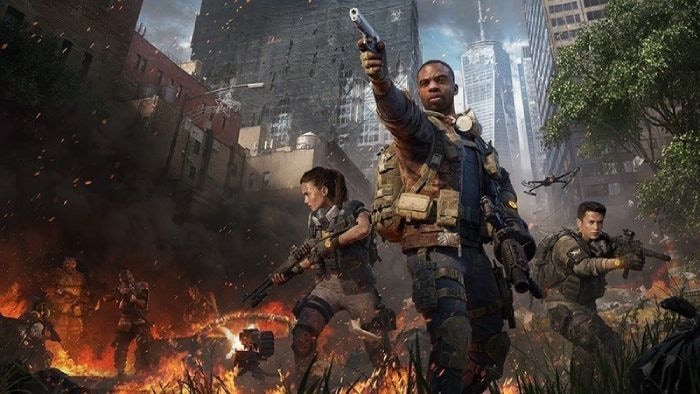 Division 2 presents a story, but it doesn't focus on it at all. In this game, you might as well pretend the plot doesn't exist as the combat itself is fun. However, in the game world category, this title does better. The missions are varied and engaging, and the locations are memorable. The gameplay is not monotonous – it is quite addictive.
Multiplayer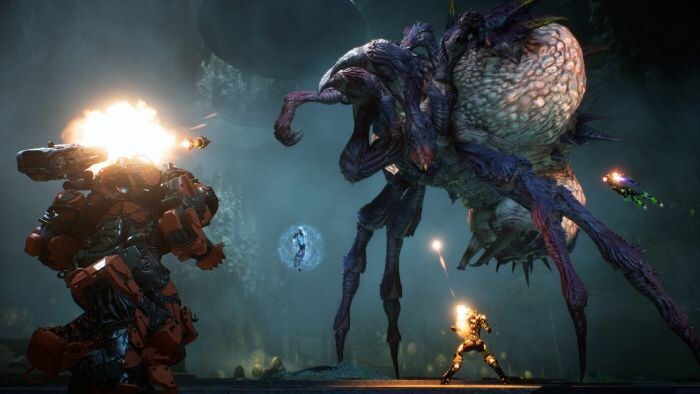 Both games allow you to play completely solo, with one condition – it can be unimaginably difficult. Anthem offers cooperative gameplay for up to four players and Division 2 multiplayer for up to 16 people. Do you see the main difference here? Yes, Anthem does not have a PvP mode. You can only play this game in the co-op or alone. The creators promised to introduce the PvP mode, but it is difficult to predict whether we can still hope for it or not.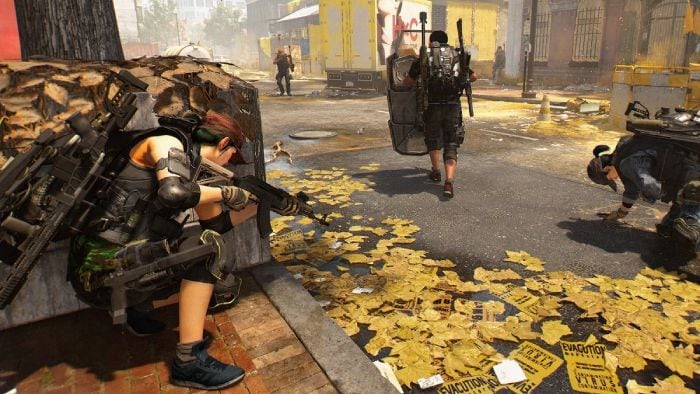 Division 2 guarantees an epic multiplayer experience, introducing PvP, PvE, and the solo campaign. In this game, you will find unique areas known as Dark Zones. These are locations where players can hunt the best possible loot, but also lose everything they have. Dark Zones attract players hungry for intense PvP, so they are perfect for people with strong nerves.
Summary
Both games have their pros and cons. They also have their loyal fans who, even after many hours of gameplay, still can't decide which one they prefer. With this Anthem vs the Division 2 guide, it should be a little easier because the choice is simple. If you are into PvP mode, a sense of threat, equipment with a million complex stats, and more strategic gameplay – choose Division 2. It is a recommendation for patient, careful players planning to develop their hero in the slightest detail. But if you are into mighty armor, spectacular explosions, a sci-fi world, and overpowered abilities – Anthem will meet your expectations. Also, remember this game is constantly evolving and may surprise us all very soon.