Tekken is a legendary production in gaming history, with origins in the 90s. Its fame continues to this day and represents the absolute sensation of the genre – that's why we want to check out how it has changed over the years.
The Tekken franchise came to life in 1994 and went straight from arcade machines to the first PlayStation console. It was one of the first 3D productions in the fighting genre, so no wonder the game now has over 54 million units sold worldwide. It's a hugely popular esports title with an extensive selection of playable champions. Tekken history of changes, upgrades, and evolving lore is a fascinating adventure! That's why we prepared a brief overview of all video games in order to learn everything about this exciting title.
Tekken
Equipped with 3D graphics, the first Tekken appeared in 1995 on the iconic PlayStation console. With animation at 60 frames per second!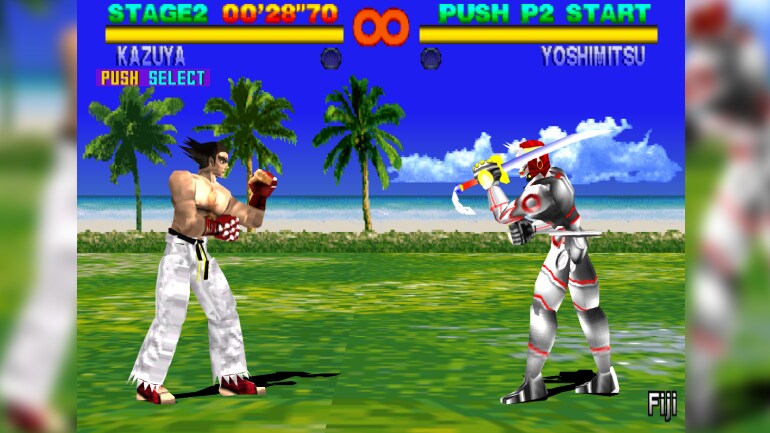 It is the story of Kazuya Mishima, who wants to take revenge on his father for the events that happened in his youth. So when Heihachi Mishima arranges the elite King of the Iron Fist tournament, his son enters the brutal battles to complete his goals and defeat the final boss. This initial title had only eighteen playable characters. But Tekken still made it into the Guinness World Records as the first PlayStation title to sell over a million copies.
Key features
Play the first Tekken video game
Take part in the brutal King of the Iron Fist tournament and prove your worth
Choose from eighteen playable fighters
Learn each champion's unique moves and discover their motivation for participating in the contest
Tekken 2
This part came to life a year later for arcades and PlayStation. It turned out considerably finer than its predecessor, introducing features like improved enemy AI, more fighters, and better combat mechanics.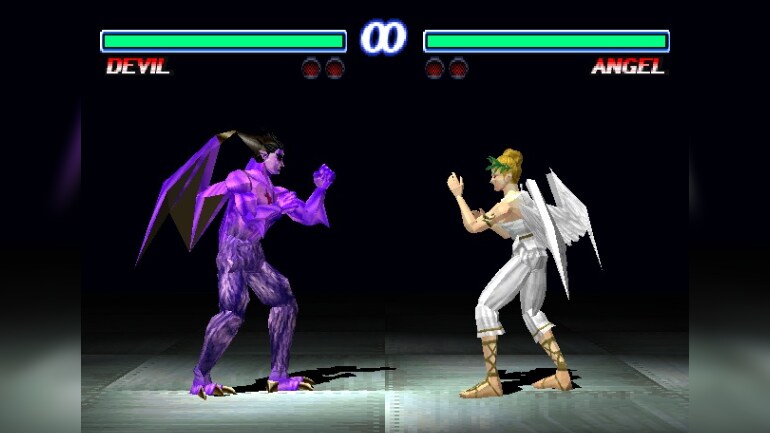 When Kazuya acquires his father's company, the business becomes even more corrupt. He also meets Jun Kazama, a wildlife protection officer with whom he conceives a son, Jin. And in the meantime, his father once again wants to fight for control of the company. All heroes meet at the next King of the Iron Fist tournament featuring 25 warriors. The title introduces new gameplay modes and combat mechanics like juggling enemies or hilarious big heads. Plus, you will meet new heroes, including a dinosaur and a kangaroo.
Key features
See the continuation of the Mishima clan's fate
Choose from 25 powerful and fun fighters
Enjoy new combat mechanics and choose from various game modes
Play solo or in multiplayer for two players
Tekken 3
Also known as the best installment in the series. Blending an improved combat system and dark storyline, Bandai Namco sold over 8 million copies of the game, and it was the last title released on the PS1.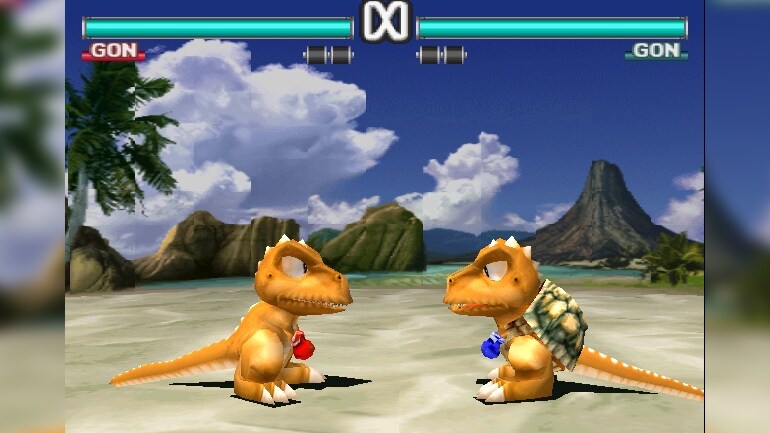 When the Tekken Force awakens an ancient god, Jun Kazama becomes one of his first victims. Eager for revenge, young Jin begins training with his grandfather to eventually fight in the next tournament that Heihachi wants to lure the mighty Ogre to. The title introduces side moves, realistic jump heights, and many new playable fighters, including Panda, Doctor Bosconovitch, and Ling Xiaoyu. You can also expect more hilarious game modes like the iconic Tekken Ball Mode.
Key features
Play fifteen years after the events of the last part
Enjoy a darker plot
Choose from many new playable heroes
Play solo or in multiplayer for two players
Tekken Tag Tournament
It is an improved version of the third installation, developed for group competition with two-player teams. And it's the first title designed for the PlayStation 2 power!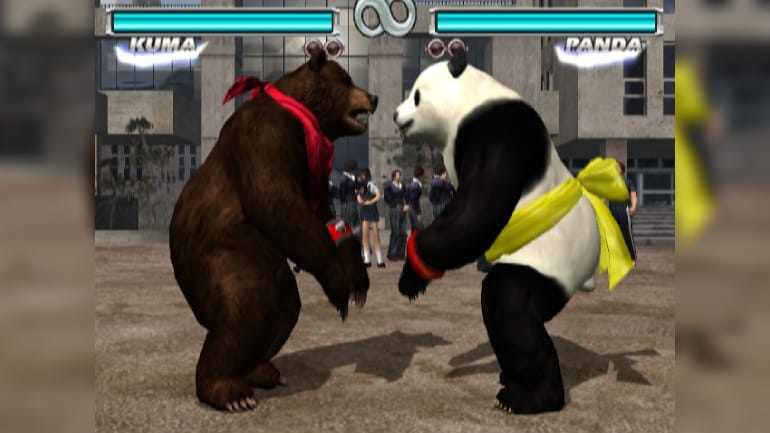 Play solo or in multiplayer with up to four players to enjoy exciting two-on-two battles. It's all about teamwork, combat tactics, and skillful use of your chosen champion's talents, as one defeated player means the entire team fails. And in this unique title, you can choose from all the heroes from the previous parts!
Key features
Play an improved version of Tekken 3
Choose from all existing players
Work together, choose from multiple game modes, and see the ending for each hero
Play solo or in two-on-two teams
Tekken 4
It's two years after the events of Tekken 3, and old Heihachi Mishima will do anything to lure the mighty Ogre. Meantime, it turns out that his son is still alive.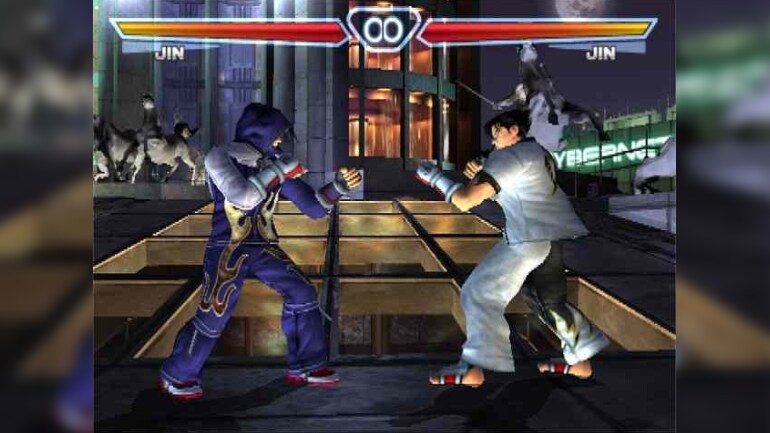 It's time for another King of the Iron Fist tournament! This time, the prize is complete control over the mighty Mishima company. Choose from familiar and brand-new heroes with unique abilities. Play in interactive arenas and use the environment to your advantage. Also, learn deadly moves and combos to design your combat style! Tekken 4 is the classic fighting game experience in a graphically satisfying version.
Key features
Fight for power in the Mishima company
Choose from new and familiar fighters
Explore immersive game modes and use the surroundings to win
Play solo or in multiplayer for two players
Tekken 5
This installation introduces three new heroes: Raven, Feng, and Asuka. Explore their abilities in classic but slightly more dynamic combat!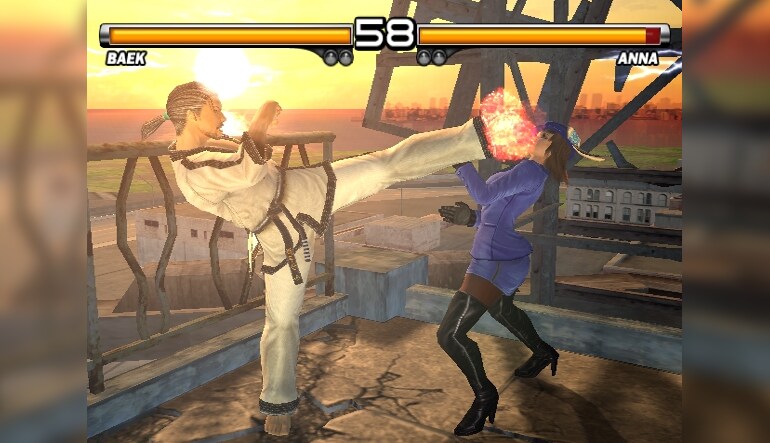 After the dramatic events of the fourth part, Heihachi seems dead. But somehow, the Mishima Zaibatsu is still running, and what's even more surprising – is hosting another tournament. Choose from multiple modes like Survival, Arcade, Time Attack, or Devil Within, and unravel the secret of this new story.
Key features
Learn who is in charge of the powerful Mishima Zaibatsu
Fight in the next King of the Iron Fist tournament
Choose from familiar and three new heroes
Play solo or in multiplayer
Tekken: Dark Resurrection
It is the first installment released on the PlayStation Portable console. It may not look as good as the PS2 version, but there are new heroes and online competition against other players!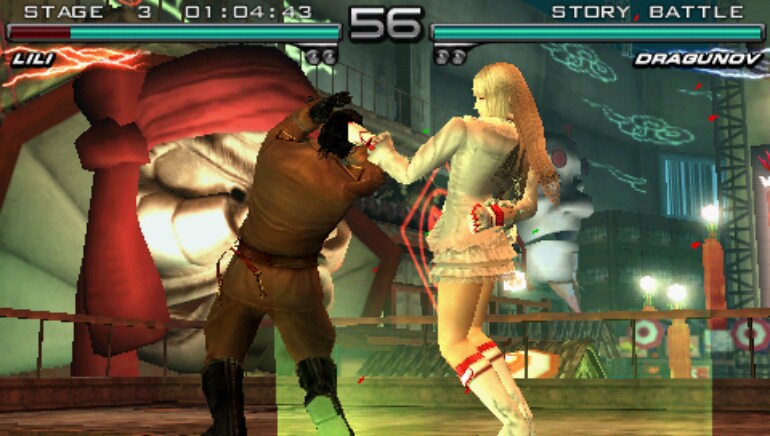 Play as Dragunov, sixteen-year-old Lili, or your favorite Armor King! This title includes everything the franchise has to offer: the best arenas, new ranks, most enjoyed heroes, and mini-games. It's a visually beautiful recommendation on PSP, featuring an epic soundtrack and smooth animations. If you're a handheld console user, experience all the Tekken magic in that one incredibly replayable game!
Key features
Discover the PSP version of Tekken 5
Enjoy a wide selection of your favorite and new heroes
Choose from proven game modes and customize your character
Play solo or in multiplayer
Tekken 6
It is the first installment released on Xbox 360, where the whole story gets darker than ever. And it features over forty playable fighters, so there is plenty to choose from!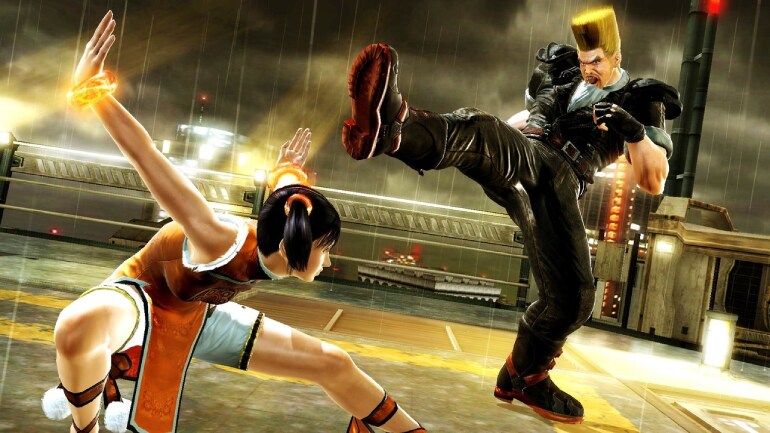 Jin Kazama took over the Mishima Zaibatsu, and his father – Kazuya Mishima – represents the last obstacle on his way to developing a mighty empire. Choose from over forty heroes, customize their appearance, and enjoy new locations. Now you can also decide on your equipment and use the innovative Rage System to deal more damage while injured.
Key features
Witness the continuation of the final conflict between Jin and Kazuya
Learn all heroes' unique skills
Customize your warrior's look and fight in breathtaking locations
Play solo or in multiplayer
Tekken Tag Tournament 2
If you prefer pure fighting fun – this title is your ideal choice. Lose yourself in tag competition and unlimited combat adventure!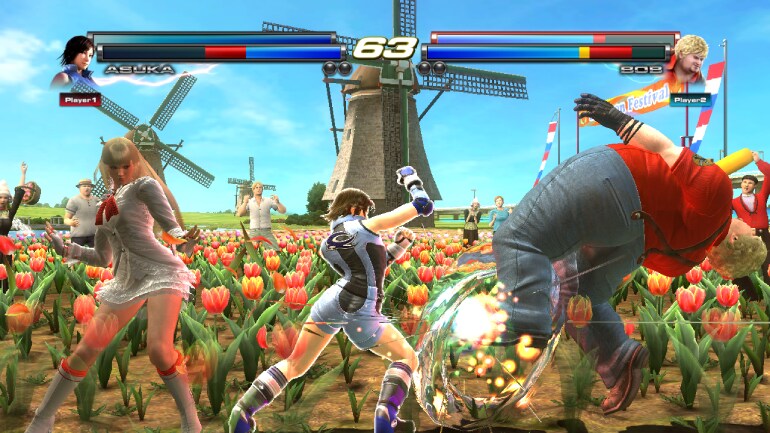 While the TTT2 fighters provide backstories, they don't count as canon. Choose from over fifty heroes and fight in epic one-on-one, two-on-one, or two-on-two battles. Switch your fighters, use the surroundings to win, and have fun with deadly combos, throws, and punches. All this accompanies the legendary Tekken soundtrack featuring superstars like Snoop Dogg.
Key features
Lose yourself in pure combat gameplay
Play as over fifty characters with unique abilities
Fight in challenging modes and prove yourself in combat
Enjoy this title solo or discover its full potential in multiplayer
Tekken 7
Discover the answers to all your questions about the Mishima family's destiny. What happened to Kazuya and Heihachi? Who will win? It's time for the final battle!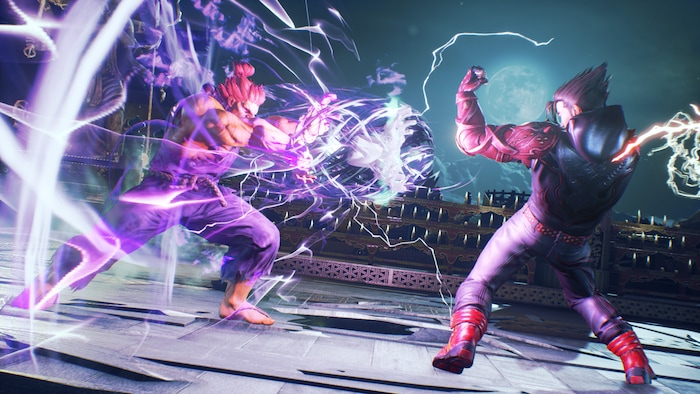 Take part in the upcoming King of the Iron Fist tournament by choosing from nearly forty familiar and new fighters. Eventually, you will discover the future of the Mishima family and learn the stories of the most important side heroes. Tekken 7 is a grim tale featuring even more dynamic battles and combat mechanics. And in terms of graphics, it looks unimaginably beautiful, thanks to Unreal Engine 4.
Key features
Take part in the ultimate battle between Kazuya and Heihachi
Uncover the secrets of all crucial fighters
Use new combat techniques and enjoy gorgeous graphics
Play solo or in multiplayer
Tekken 8
It is the upcoming installment, adapted to the impressive capabilities of PlayStation 5 and Xbox Series X/S. Explore a new generation of the fighting genre and see what happened to the King of the Iron Fist tournament!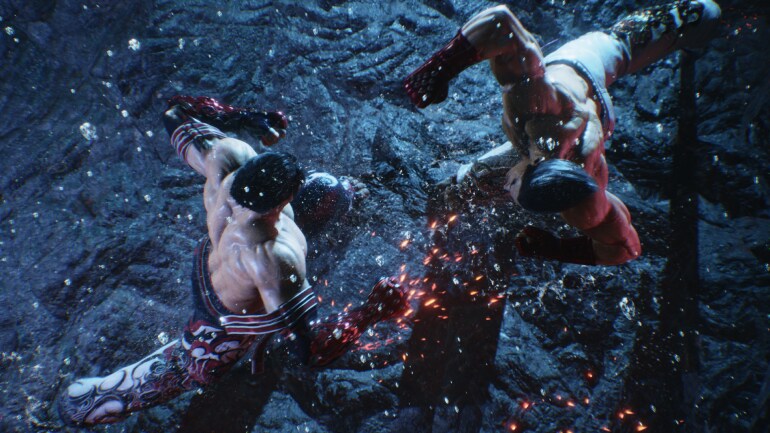 The new title will focus primarily on Kazuya Mishima's rivalry with his son Jin Kazama. What more can we expect? Many familiar and different heroes, stunning audiovisuals, spectacular fights, and conflicts taking the genre to a new, higher level of fun.
Created by Bandai Namco, the Tekken franchise doesn't need to rush to maintain its thriving fame. It took them over seven years to develop the eighth installment! And in that time, Tekken 7 became one of the best fighting games and competitive esports titles. Can we predict its future? Like Street Fighter or Mortal Kombat, all Tekken games will live forever as they were tough enough to survive the transfer from 90s arcades to today's consoles.