So you want to buy a copy of The Last of Us Part I on the occasion of it finally coming to PC, and you're faced with a hard choice: which edition should you get? The Standard version would be the default choice, but you might find the add-ons from the Digital Deluxe edition quite worthwhile!
Let's take a look at what it contains, shall we?
The story content
You're getting the same full story you would with the standard edition. This means the core campaign and the Left Behind DLC which shows a short chapter of Ellie's life before meeting Joel.
Deluxe unlocks
In addition to the core game, the Deluxe Edition also provides some optional help in the early game, in the form of quicker access to upgrades you'd otherwise need to work for.
The upgrades included are as follows:
Crafting Speed,
Healing Speed,
9mm reload speed,
Rifle Clip Capacity.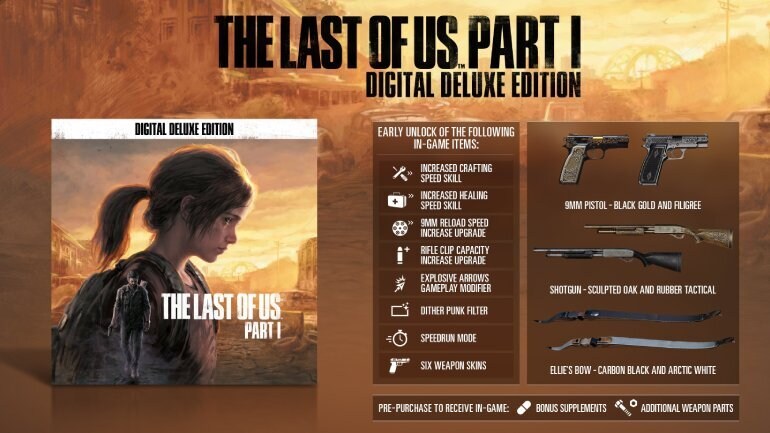 On top of that, you're also getting easier access to three "modes":
The Explosive Arrows gameplay modifier does pretty much exactly what the name implies
The Dither Punk Filter is an additional render mode, which completely changes the appearance of the game.
The Speedrun Mode adds an in-game timer which keeps track of the time you take completing a playthrough. Helpfully, it's paused during non-interactive elements, such as loading screens and cutscenes.
Deluxe bonuses
On top of the early unlocks, the Deluxe Edition also features several weapon skins, in case you'd like to face the post-apocalyptic challenges looking a bit fancier.
For the 9mm pistol: Black Gold and Silver Filigree skins
For the shotgun: Rubber Tactical and Sculpted Oak skins
For the bow: Arctic White and Carbon Black skins
The skins are exclusive to the Digital Deluxe and the Firefly Edition, so unlike the unlocks, you can't get them by just playing the game.
The complete package
This is all the stuff included in The Last of Us Deluxe edition. It's up to you to decide if it is worth the extra cost, but the skins look great, and if you'd like some extra help before you get the hang of the gameplay, the early unlocks can be quite handy.
And if you're wondering where to buy the game, why don't you take a look at offers available on G2A.COM to find attractive prices and instant delivery?