The Steam Gift Card is one of the best gift ideas for gamers ever. If not the best! And in this short guide, you will find out why it is a fact.
Want to give someone a dream video game but don't know which one? Or wish to save some money on Steam for the upcoming grand release? Whatever the reason, the Steam Gift Card is the universal answer to all these fundamental questions.
What is a Steam Gift Card?
It's a prepaid voucher you can use to purchase video games, in-game items, hardware, and more on Steam. By entering its code in the right place, additional funds will automatically appear in your Steam Wallet – which is Steam's universal form of payment. The cards come at many prices reflecting their value for future purchases, so there are plenty of excellent choices to make the recipient truly happy.
Why is it such a good gift idea? Because when giving it to a friend, you don't have to think about a specific product. No one knows what the recipient might want most at the moment. And by giving a Steam Gift Card in person or digitally, you can be sure they will use it for all their dream gaming purchases.
Where to Buy a Steam Gift Card?
Steam gift cards come in two versions: physical and digital. You can buy the former in shops, stalls, and markets all over the world! The latter can be found on the official Steam website, various online stores, or websites/marketplaces like ours – and they always come faster thanks to instant online delivery.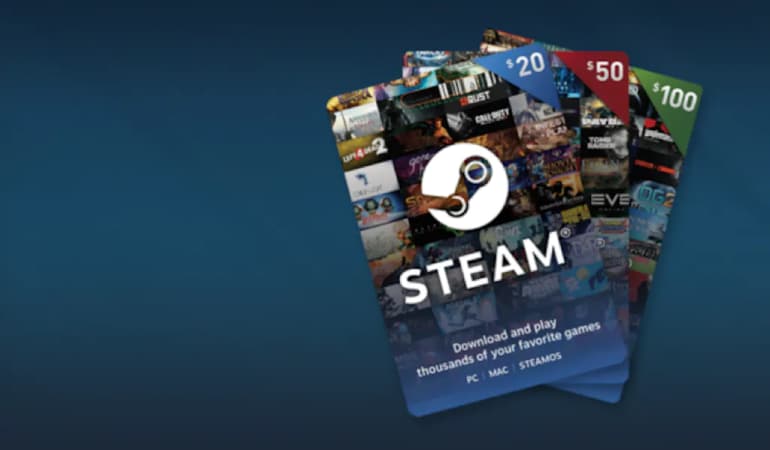 How to Redeem a Steam Gift Card?
First, go to Steam via the website or app and sign in to your account. Click on your username next to the avatar and select Account Details. Next to your current account balance, you will find Add funds to your Steam Wallet – proceed and select Steam Wallet Code. Now, whether you received your gift card code by email or on a physical voucher, enter all sixteen numbers and click Continue. Wait a few minutes, and the entire amount will appear in your Steam Wallet.
Conclusion
As you see, giving someone a Steam Gift Card is the best idea ever. The recipient can add extra funds to their Steam Wallet to spend on whatever they want. And you can enjoy their genuine happiness and a well-done job – even if it's a last-minute gift!