As the old Klingon proverb goes: "Revenge is a dish best served cold". Well, it is not. The feeling of betrayal and subsequent need for retribution is often hot and full of bodies left by the one seeking to square the beef with those who had wronged them.
Taking the reigns of a character on a righteous path of vengeance has been one of the privileges of players since the gaming industry's very beginning. Whether avenging the death of a parent, repaying commander their betrayal or settling generations-long family feud – avengers have fueled the imaginations of players and developers have used this fact to push their stories of revenge into the market.
| | Game | Released | Genre | Trailer | Sale | |
| --- | --- | --- | --- | --- | --- | --- |
| | Dishonored - Definitive Edition | 2012-10-11 | Action | | -79% | Read more |
| | Dishonored 2 | 2016-11-11 | Action | | -84% | Read more |
| | Max Payne | 2001-07-25 | Adventure | | -58% | Read more |
| | Max Payne 2: The Fall of Max Payne | 2003-10-14 | Adventure | | -70% | Read more |
| | Max Payne 3 | 2012-05-31 | Adventure | | -18% | Read more |
| | Middle-earth: Shadow of Mordor Game of the Year Edition | 2014-09-30 | Adventure | | -83% | Read more |
| | Shenmue I & II | 2018-08-21 | Adventure | | -90% | Read more |
| | Shenmue III | 2020-11-19 | Adventure | | -97% | Read more |
| | TEKKEN 7 | 2017-06-01 | Fighting | | -87% | Read more |
| | TEKKEN 7 Ultimate Edition | 2017-06-01 | Fighting | | -63% | Read more |
| | Call of Duty 4: Modern Warfare | 2007-11-12 | Action & Shooter | | -29% | Read more |
| | Call of Duty: Modern Warfare 2 | 2009-11-12 | Action & Shooter | | - | Read more |
| | Call of Duty: Modern Warfare 3 | 2011-11-07 | Action & Shooter | | -68% | Read more |
| | Sleeping Dogs: Definitive Edition | 2014-10-08 | Adventure | | -88% | Read more |
| | Grand Theft Auto IV Complete Edition | 2008-12-02 | Adventure | | -35% | Read more |
| | Grand Theft Auto IV Complete Edition | 2008-12-02 | Adventure | | - | Read more |
| | Assassin's Creed II Deluxe Edition | 2012-11-21 | Adventure | | - | Read more |
| | Assassin's Creed III | 2012-11-21 | Adventure | | - | Read more |
Our list presents the 10 of the best revenge stories that graced our computers and consoles. Through them we have felt the sting of betrayal and gruesome satisfaction of retribution, perhaps projecting some of our real-world beefs onto the fictional scenarios.
WARNING: THIS ARTICLE DISCUSSES MAJOR PLOT POINTS OF THE GAMES WITHIN IT. PROCEED WITH CAUTION IF YOU DON'T WANT THEM SPOILED.
Call of Duty: Modern Warfare 2
| | |
| --- | --- |
| Release date: | 2009-11-12 |
| Genre: | Action & Shooter |
| Developer: | Infinity Ward |
Modern Warfare 2 is remembered as one of the most controversial video games in the Call of Duty series. From the shocking "No Russian" mission, that put the player as an unwilling participant in a terrorist massacre to the invasion of the US east coast by Russia's military forces, the game did not spare the player from butt-clenching moments.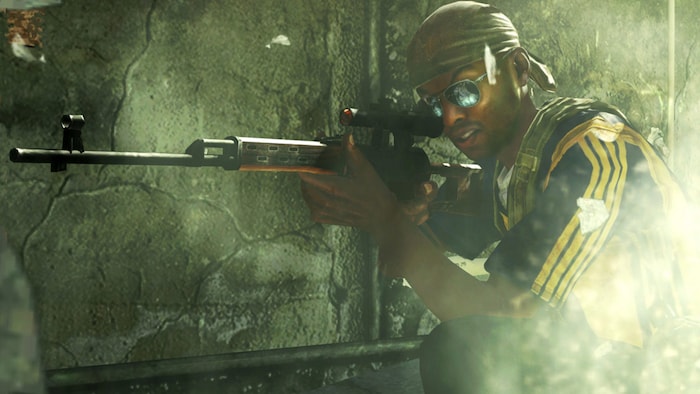 However, the cake for the most outrageous set piece of MW2 is the culmination of a mission to retrieve intel on the game's main antagonist – Vladimir Markov. The successful task results in the death of two of the game's protagonists, Ghost, and Roach, at the hands of their commander – General Shepherd. After that, the game turns into a relentless hunt for rogue US military, resulting in an epic showdown between Shepherd, Soap and Captain Price. Sending a knife through a guy's skull never felt so…cathartic.
Key features
Quintessential FPS experience
The fast-paced campaign filled with unexpected plot twists
Classic multiplayer mode
Sleeping Dogs
| | |
| --- | --- |
| Release date: | 2014-10-08 |
| Genre: | Adventure |
| Developer: | Feral Interactive (Mac) |
Sleeping Dogs is a reboot/sequel to the True Crime series, where the player treads the line between good evil as an undercover policeman embedded in a criminal organization. Wei Shen is a San Francisco cop, called to help with the investigation on one of the Hong Kong triads.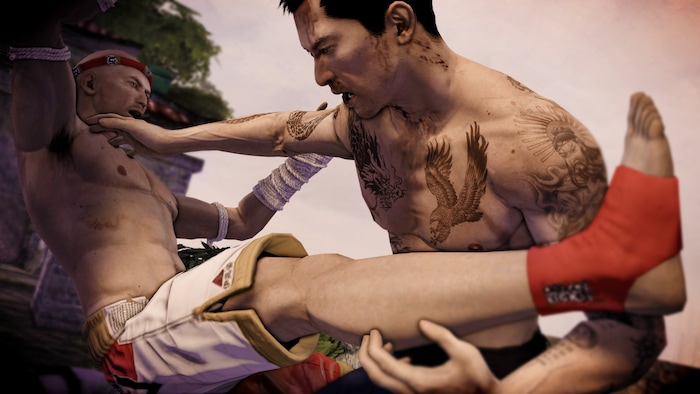 As he infiltrates the inner circle of the organization, he becomes emotionally compromised, bonding with those he was meant to investigate. When one of the triad leaders and Wei's friend, Winston Chu, is killed during his wedding alongside his new wife, things become very personal. What follows is a Hong-Kong crime movie-style revenge story, filled with intense shootouts, men cut into dog food and crime bosses thrown into ice chippers.
Key features
Open-world environment based on the areas in Hong-Kong
A gripping story of loyalty and revenge
Excellent gameplay mechanics, blending action and exploration of the bustling city
Grand Theft Auto IV
| | |
| --- | --- |
| Release date: | 2008-12-02 |
| Genre: | Adventure |
| Developer: | Rockstar North |
Not many of the games on our list make revenge the core of the protagonist's motivation throughout the entire game. When Niko Bellic arrives in Liberty City he has one goal in mind: find out who betrayed his squad, leading to the deaths of all but three of its members.
What follows is a typical GTA story of climbing the crime world ladder, making connections with a variety of crime bosses big and small, being betrayed by them, and getting that sweet-sweet revenge. Really, throughout the game, almost every major "employer" that Niko works for ends up betraying him in some way or another, most likely because of the protagonist's reluctance to deliver on a deal or using his boss to further his plans.
Needless to say crime bosses don't like being duped. Niko's main quest of finding out the traitor of his squad culminates in a mission where he is given a choice – spare the man or kill him. The player's choice influences the dialogue that follows, which can either lift Niko's spirits or leave him more despondent, cementing the game's message on the fickle nature of revenge.
Key features
The first GTA installment in full-HD
Open-world filled with content and activities
A dark story of inability to escape the past and start a new life
Assassin's Creed II
| | |
| --- | --- |
| Release date: | 2012-11-21 |
| Genre: | Adventure |
| Developer: | Ubisoft Montreal |
Ezio Auditore's life was not easy. First, his family is accused of participating in a plot, leading to the hanging of his brothers and father. After murdering the one responsible for throwing such accusations, he is forced to escape Florence with his mother and sister.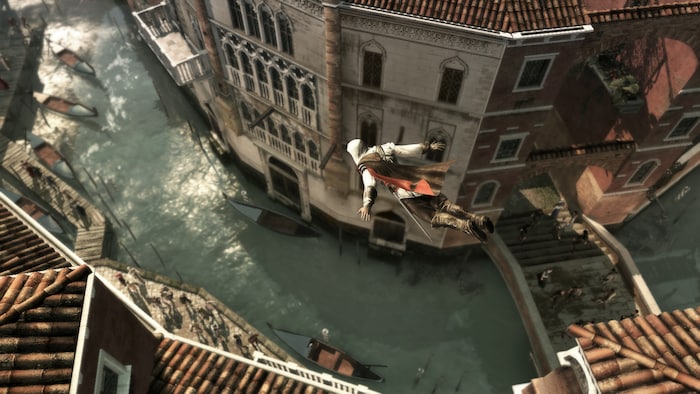 After that, he finds out that his family is a part of an ancient brotherhood of Assassins, waging a centuries-long war against the Templar Order. Oof, that's a lot to take in within a day. Throughout the rest of the game, Ezio hunts down the conspirators, responsible for the deaths of his father and brothers.
The task takes him across all of Italy, eliminating one target after another, leading to the mastermind behind the whole plot – Rodrigo Borgia, newly elected pope, who wanted to gain access to the Pieces of Eden and the secrets hidden within the Precursor Vault in Vatican City. Ezio stops Borgia and defeats him in a fistfight under the roof of the Sistine Chapel – one of the most memorable fights in the history of the AC series.
Key features
The open-world setting of Renaissance Italian cities
An epic story of revenge and growing into one's heritage
Groundbreaking gameplay mechanics
Dishonored
| | |
| --- | --- |
| Release date: | 2012-10-11 |
| Genre: | Action |
| Developer: | Arkane Studios |
The spiritual successor to the Thief series of FPP games focusing on stealth, Dishonored could boast a fairly straightforward, classic revenge story. Corvo Attano is a member of the elite Imperial Guard, tasked with protecting Empress Jessamine Kaldwin, ruler of the Empire of Isles.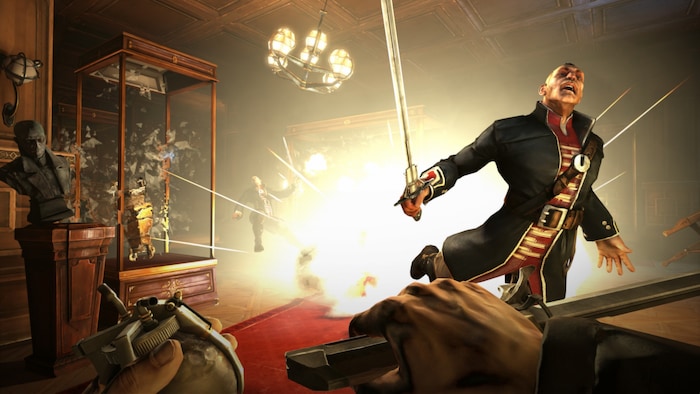 After returning from an overseas mission, Corvo is a witness to the Empress' murder and kidnapping of her daughter, Emily. Accused of betrayal by the Royal Spymaster, the true mastermind of the murder, he is sentenced to death. Attano eludes execution, aided by Imperial Loyalists and joins the resistance forces against the Spymaster's regime.
Unlike many other games featuring the theme of revenge, Dishonored gives the player a chance to not leave a pile of bodies on their quest for revenge. The game focuses on stealth and offers a lot of paths to completing the mission without spilling a drop of blood. Of course, the player can still choose to slaughter everyone standing in their way using Corvo's physical and supernatural abilities. Having the choice of how to proceed throughout the game is what matters in this case.
Key features
Gameplay mechanics emphasizing stealth
Variety of skills the player can use to deal with enemies
A choice to avoid any conflict whatsoever
God of War I-III
| | |
| --- | --- |
| Release date: | 2022-01-14 |
| Genre: | Action |
| Developer: | Santa Monica Studio |
Kratos' quest for revenge in the God of War series is truly an epic one. Not every video game character has a beef to squash with the actual gods and is determined enough to accomplish his goal.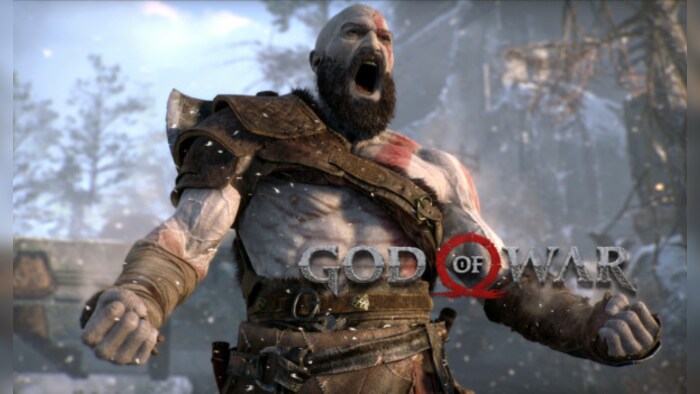 Kratos' path of vengeance against the Greek pantheon begins after he becomes the servant of Ares, the God of War. At his bidding, the Spartan warrior commits unimaginable atrocities including killing his own family. Devastated, he swears to kill Ares, thus beginning the quest that will see him to the Hades and back, to the top of Mount Olympus and back down to Hades, in a constant carousel of betrayals and surprising revelations.
The God of War series takes the cake for most gruesome depictions of revenge in the video game history. The pile of bodies left by Kratos is high enough to reach the top of Olympus, and brutal depictions of murders: eye-gouging, head-ripping, neck-snapping and more, will haunt the player's dreams for many nights after finishing the series. GoW games are some of the greatest revenge stories in gaming.
Key features
An excellent action-adventure game with elements of platforming
Excellent fighting mechanics involving a variety of unlockable weapons
Epic encounters with towering bosses and their brutal takedowns
Max Payne 3
| | |
| --- | --- |
| Release date: | 2012-05-31 |
| Genre: | Adventure |
| Developer: | Rockstar Studios |
Remedy Studio's Max Payne series was a cult-classic story of a cop seeking revenge on those who killed his family. Max Payne 3 takes the protagonist to sunny Brazil, where drug lords and street gangs already line up to mess with the protagonist's siesta.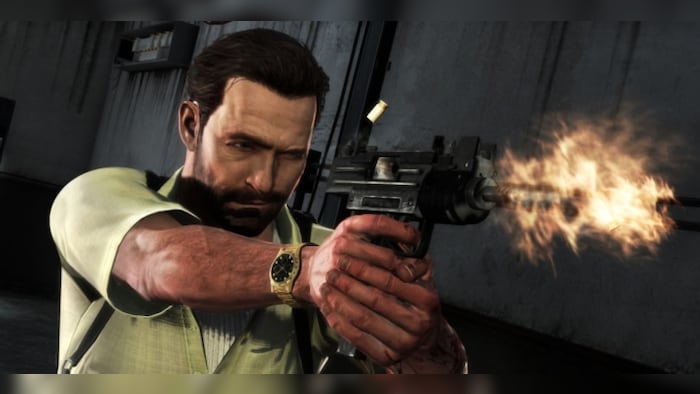 The game features a straightforward plot, that serves only as a loose connection between series of gunfights. A wife of Max's employer is kidnapped and Payne must do his best to find her alive. That includes slaughtering entire favelas of local criminals and getting betrayed at least twice along the way, by friends and foes alike. The only thing that doesn't betray Max on his bloody mission through the streets of Rio de Janeiro is a large arsenal of deadly firearms and a steady supply of painkillers. Among video games about revenge, Max Payne stands out as the most hardboiled of them all.
Key features
An arsenal of lethal weapons: from pistols to grenade launchers
Bullet time allows for precise aiming and effective kills
A well-written story, narrated in the style of a film noir
Middle-Earth: Shadow of Mordor
| | |
| --- | --- |
| Release date: | 2014-09-30 |
| Genre: | Adventure |
| Developer: | Feral Interactive (Linux) |
Shadow of Mordor gives the player a unique chance to explore the world of J.R.R. Tolkien's series of epic novels. It also gives them a chance to skewer armies of orcs with a sword and see them return from the grave seeking revenge, or the other way around.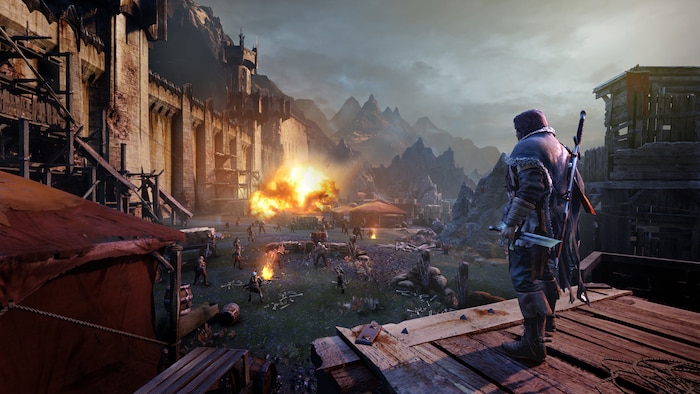 Thanks to a unique Nemesis system, the game tracks the player's status with respective enemies, marking them as revenge targets if the player is killed by them. Exacting revenge might be the end of it, but in some cases the more powerful orcs will cheat death and seek retribution of their own. Oh, and also, the story of the follows Talion, a Gondorian Ranger avenging his family killed by Sauron's Black Numenorean generals, making Shadow of Mordor an all-around revenge game.
Key features
An open-world setting based on the Lord of the Rings universe
Nemesis system tracks the player's status with specific foes
Gameplay mechanics based on exploration and free-flow combat
Shenmue
| | |
| --- | --- |
| Release date: | 2018-08-21 |
| Genre: | Adventure |
| Developer: | Sega |
Since the part three of the series premiered only last year, we could not mention this classic revenge story on our list. When Ryo Hazuki's father is murdered in a duel by a Chinese martial artist, the young man embarks on a quest to find the killers and avenge his death. Can't get more classic than that.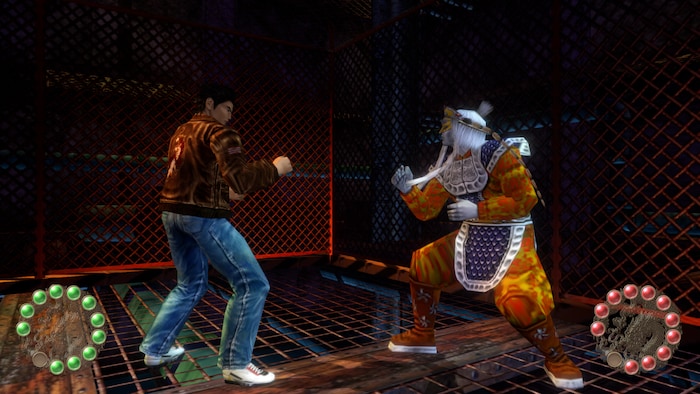 The game features a competent fighting system, which allows performing combos and special attacks. During certain sequences the player will have to perform a series of QTEs to deal with the enemies. Aside from investigating the Chinese's whereabouts and fighting, Ryo can spend time on socializing with his friends, buying various items from slot machines and exploring his hometown of Yokosuka.
Key features
Exploration of small Japanese town in the 1980s
Solid fighting mechanics
A straightforward but engaging revenge story
The Tekken series
| | |
| --- | --- |
| Release date: | 1994-2017 |
| Genre: | Fighting |
| Developer: | BANDAI NAMCO Studios Inc. |
Most likely the oldest and the longest-running series on our list, Tekken series is all about revenge. Almost every character of the roster is motivated by vengeance, with the overarching plot of the series being an intergenerational conflict within the Mishima family.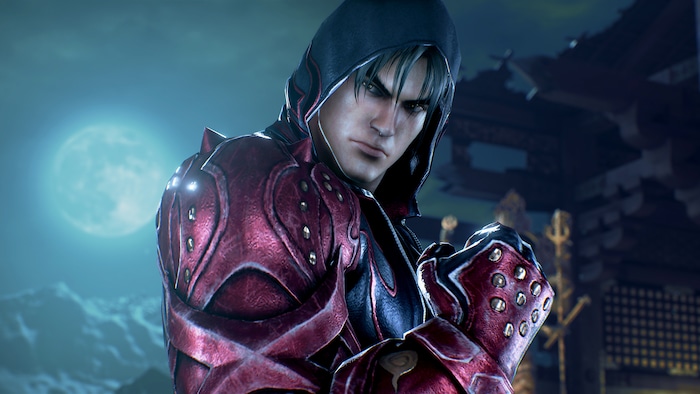 The family feud between Kazuya, Heihachi and Jin drives the series plotline adding new characters to the mix as it progresses. Characters return from the dead o reveal themselves as true villains of the series, making the story even more complicated. Especially guilty of that is the seventh and so far last installment of the Iron Fist series, which introduces Street Fighter's Akuma as one of the primary antagonists.
Key features
A large roster of character representing various martial arts
Colorful arenas set in different locations across the globe
An overarching tale of an intergenerational family feud