Despite what recent gaming trends might suggest – that video games should aim for the amount of gritty realism that would make Emile Zola shiver – there still are titles that aim to make the players laugh instead of putting them through existential crises.
The Best Funniest Games Ever
| | Game | Release | Genre | Developer | Sale | |
| --- | --- | --- | --- | --- | --- | --- |
| | Bully Scholarship Edition Rockstar Key Global | 2008-10-21 | Adventure | Rockstar New England | 66% | Read more |
| | Garrys Mod | 2006-11-29 | Indie | Facepunch Studios | 15% | Read more |
| | Goat Simulator | 2014-04-01 | Adventure | Coffee Stain Studios | 71% | Read more |
| | Hatoful Boyfriend | 2014-09-04 | Indie | Hato Moa | 54% | Read more |
| | Human Fall Flat | 2016-07-22 | Adventure | No Brakes Games | 70% | Read more |
| | I Am Bread | 2015-04-09 | Adventure | Bossa Studios | 82% | Read more |
| | Lego City Undercover | 2017-04-04 | Adventure | Traveller's Tales | 88% | Read more |
| | My Friend Pedro | 2019-06-20 | Indie | DeadToast Entertainment | 78% | Read more |
| | Octodad Dadliest Catch | 2014-01-30 | Adventure | Young Horses | 42% | Read more |
| | Portal 2 | 2011-04-18 | Adventure | Valve | | Read more |
| | Postal 4 No Regerts | 2019-10-14 | Action | Running With Scissors | 57% | Read more |
| | Saints Row Iv Game Of The Century Edition | 2014-07-15 | Adventure | Deep Silver Volition | 74% | Read more |
| | South Park The Stick Of Truth | 2014-03-06 | Adventure | Obsidian Entertainment | 81% | Read more |
| | South Park The Fractured But Whole | 2017-10-17 | Adventure | Ubisoft San Francisco | 74% | Read more |
| | Totally Accurate Battle Simulator | 2019-04-01 | Indie | Landfall Games | 22% | Read more |
| | Undertale | 2015-09-15 | Indie | tobyfox | 22% | Read more |
| | Untitled Goose Game | 2020-09-23 | Indie | House House | | Read more |
| | Yakuza Kiwami 2 | 2019-05-09 | Adventure | Ryu Ga Gotoku Studio | 56% | Read more |
| | Overcooked | 2016-08-03 | Action & Shooter | Ghost Town Games Ltd. | 78% | Read more |
| | Worms Wmd | 2016-08-23 | Strategy | Team17 Digital Ltd | 85% | Read more |
| | The Stanley Parable | 2013-10-17 | Adventure | Galactic Cafe | 21% | Read more |
Let's take a look at some of them in our list of 10 funniest games ever.
Hatoful Boyfriend
The first game on our list is Hatoful Boyfriend, a visual novel where the protagonist – a young woman living in the wilds – experience the thrills of dating 13 available suitors. Did we mention that said suitors are pigeons? No? Well, now you know.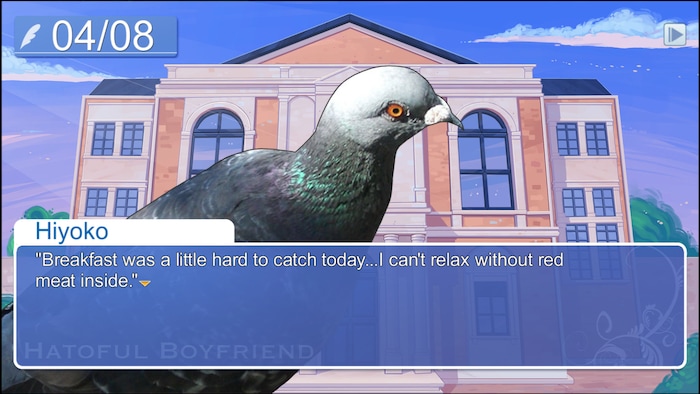 Games made in Japan are weird, to say the least. But Hatoful Boyfriend made even the Japanese gamers raise eyebrows in understandable confusion. Here we have a game that meets all the prerequisites of a dating sim – player-insert protagonist, dateable studs with a wide range of personalities – but the sole fact that the dudes are birds made the game one of the most talked-about titles.
If you're a fan of the genre and want to have a laugh at the bizarre antics of our protagonist's avian suitors, you should definitely play Hatoful Boyfriend.
Key Features
Completely bizarre setting
14 dateable "suitors," each with a very distinct personality
Multiple endings
Goat Simulator
There was a time when everyone on the internet went crazy about goats. And, to be honest, it's hard to blame them. They can be quite adorable, as long as they do not devour your furniture or knock over everything around. Goat Simulator allows the player to do many of the latter, causing mayhem on a suburbs-wide scale.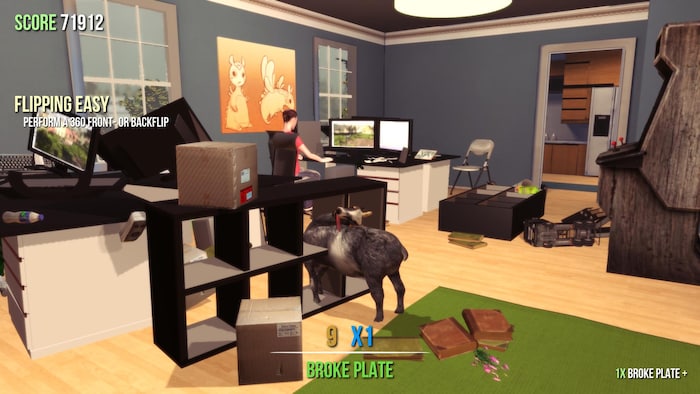 The core gameplay mechanics of Goat Simulator have been compared to Tony Hawk's Pro Skater game series. The goal of the game is to rack as many points as possible by causing chaos and destruction. While in control of the goat, the player can ram vehicles and picnic tables, scare pedestrians, etc. Each action is reward with points, which can be multiplied by performing various tricks.
The player can also locate various mutators, which unlock additional mechanics. All in all, the game's crazy antics will have you rolling on the floor, laughing at a ragdoll goat flung into the air after crashing with a car.
Key Features
Become the most menacing animal in the world – a goat!
Explore the suburbs and cause all sorts of trouble
Locate gameplay modifiers and watch the mayhem unfold
Untitled Goose Game
Sometimes the funniest games are the simplest ones. One of those is Untitled Goose Game. Following Goat Simulator's footsteps, House House production features yet another farm animal causing chaos in the suburbs.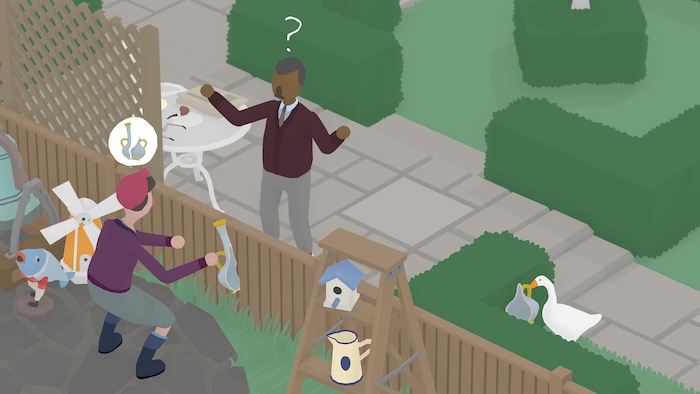 Unlike Goat Simulator, which gave the player only optional objectives to achieve, UGG features goals that really matter for the game's progression. As a goose running around a small village area, the player has to steal certain objects or force the villagers into certain actions to proceed to new areas. All that while honking and flapping wings, like all the geese do.
UGG features a co-op multiplayer mode, in which players can complete the objectives together. So grab a friend and get your honk on in Untitled Goose Game.
Key Features
Explore the village as a rambunctious goose
Steal, honk and flap wings at the villagers to complete various objectives ad unlock new areas
Tema up with a friend to double the goosetastic fun
Octodad: Dadliest Catch
This hilarious adventure game puts the player in the shoes of an octopus trying to hide his identity from his wife and kids. And if you are not laughing already, then I don't know what to tell you.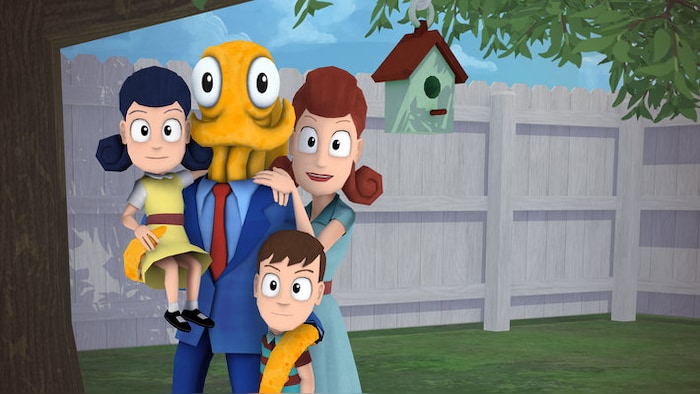 Octodad: The Dadliest Catch's gameplay mechanics focus on performing various everyday activities while keeping Octodad's identity as a cephalopod a secret. While the task may sound simple, the mechanics of controlling Octodad are anything but. The player has to maneuver the clumsy octopus around different locations using their tentacles as hands and legs.
Each set of limbs is controlled separately, making even the most mundane chore difficult. You will have a lot of fun trying to do the dishes or sweeping the floors, trust us on that!
Key Features
Become the best of dads, even though you're just an octopus
Control your chaotic tentacles to carry out daily tasks
Keep your cool and don't let anyone figure out who you really are
I am Bread
One of the games that let you know everything about itself with its title. Bossa Studios, the creators of Surgeon Simulator, present I Am Bread – in which you play as a slice of bread on his way to freedom.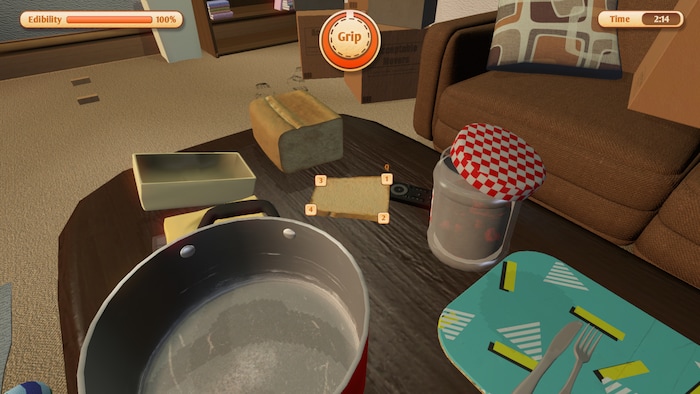 I Am Bread's gameplay focuses on maneuvering slices of bread across the kitchen to escape the cruel fate of becoming toast. The player has to avoid coming into contact with various contaminants – dirt, mold, ants, etc. – or falling to the floor in order to retain peak edibility.
Various expansions were released for the game, adding new gameplay options, such as playing as different baked goods.
Key Features
You're a slice of bread, and the toaster is ready for you – RUN!
Make your way through the kitchen and avoid getting soiled or falling to the floor
Check out various expansion packs or more fun with food
Saints Row IV: Game of the Century Edition
Volition's series of open-world action-adventure games was one of the first "GTA clones" to carve out space for itself in the market. Saints Row IV provides more of the craziness that would make its older brother blush in embarrassment.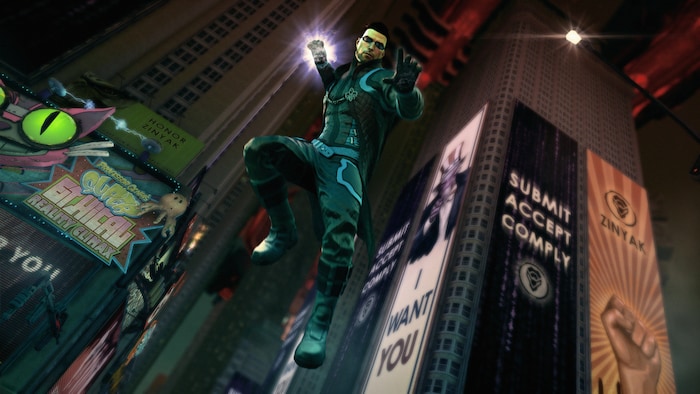 SR IV pulls no punches, throwing the player in the thick of the action. The game begins with the protagonist, Boss of the Steelport Saints gang, become the President of the United States. What follows is a rollercoaster ride of alien invasions and other wacky scenarios, in which the player will have a chance to cause a whole lot of mayhem.
The game is also side-splittingly funny. An example is an early mission where the player is placed in a simulation based on a 50s sitcom. Classic Saints Row!
Key Features
Explore Steelport overtaken by aliens
Experience the breakneck pace of Saints Row IV action
Play as the President of the United States of America in a hilarious story campaign
Portal 2
Portal 2 has the capacity of doing two things – making people roll on the floor crying from laughing or from frustration. Funnily enough, either of those two can happen immediately after the other. Embrace the hell that is this cooperative title from Valve.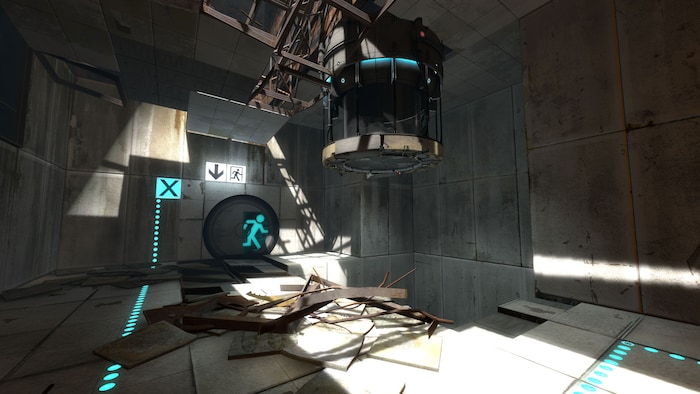 Portal 2's mechanics put the players up against a series of tests set up by GLaDOS. The tests vary in difficulty and require both players to work together in creating portals to find a way out of the test room. All that spiced up by the A.I.'s snarky comments at the players' ineptitude.
The fun of the game comes with working out a functional relationship with your co-op partner, one that won't end in either or both of you leaving forever.
Key Features
Face the tests set up by GLaDOS
Work with your partner to figure out the spatial puzzles.
Survive scorching roasts delivered by a bored A.I.
LEGO Star Wars II: The Original Trilogy
Traveller's Tales Lego series is an ultimate example that the Danish bricks make everything 100 times funnier. Try keeping a straight face in LEGO Star Wars II: The Original Trilogy, as the most iconic moments of the George Lucas original saga, are ruthlessly parodied.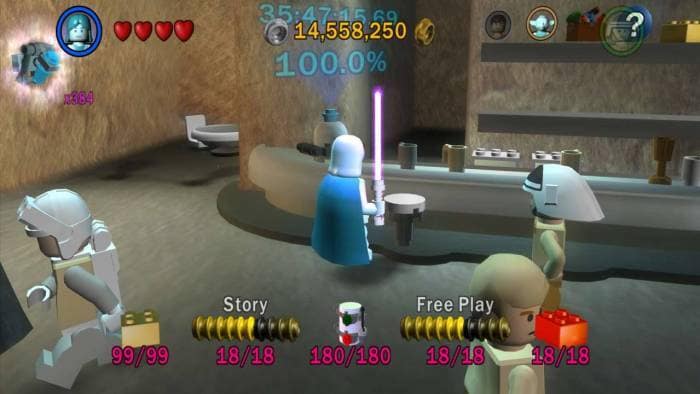 Other than the parody aspect of the game, LSW II offers a neat puzzle-platform gameplay. The player can control dozens of characters from the Star Wars universe – or rather their LEGO minifig counterparts. Laugh out loud moments about, especially in the moments that are supposed to be serious.
It's a perfect game for those who want to step back from the Star Wars saga's gravitas and experience it in a more relaxed and humorous way.
Key Features
Experience George Lucas' original trilogy in a brand new way
Relive the classic moments as told by LEGO minifigs
Enjoy gameplay focused on platforming and solving puzzles
South Park: The Stick of Truth
South Park: The Stick of Truth gives the player a chance to become part of the city's community. Kyle, Stan, Cartman, and Kenny are obsessed with a new LARP game and the New Kid, who recently moved to South Park, joins them in their quest to reclaim the Stick of Truth, a mystical object of great importance.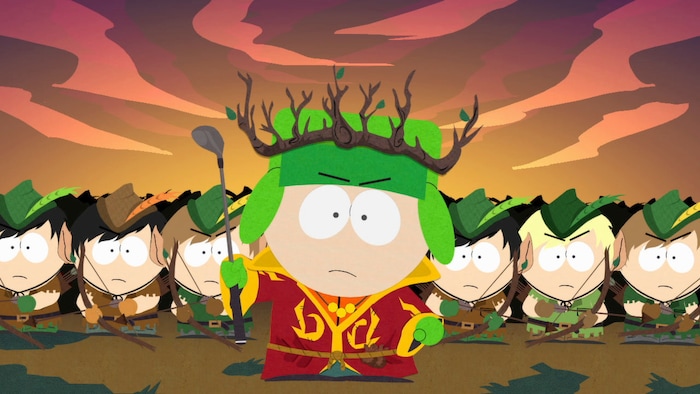 No one expected the game based on the controversial cartoon created by Matt Stone and Trey Parker would be anything that a collection of obscene, blasphemous, or politically charged jokes. And while these abound in Obsidian Games' production, they are only the frosting on the delicious cake of turn-based RPG gameplay.
The game also gives the player a chance to become part of South Park's colorful cast of wonderfully deranged characters. Who would say no to that?
Key Features
Explore the town of South Park, Colorado, and experience its lovely atmosphere (psych!)
Join the gang of colorful characters and create lasting bonds of  friendship (fat chance, loser!)
Enjoy complex turn-based RPG gameplay mechanics (who wrote this s***? Kyle's mother?)
LOL!
The games on our list are considered to be some of the funniest titles ever released. Some of them are funny because of their gameplay mechanics. Some tell a funny story. Others – have both of those things going for them. The most important thing about them is that they provide the player to enjoy a few moments of levity and humor. It's something all of us need from time to time.