After eleven years of waiting, Devil May Cry 5 finally arrived on March 2019, and, wouldn't you know, it was a hit.
Both critics and the fans welcomed DMC 5 with open hands, and the reviews were almost universally positive, even gushing. But things weren't always looking this bright for fans of absurd combos, big swords, and casual ridiculousness mixed with surprising sincerity.
Over eleven years between installments players had to find some substitutes to get their character action fix, and, thankfully, there were a few games which could deliver on at least some part of that demand.
What's in Devil May Cry's DNA?
What features make a game similar to Devil May Cry, then? What are the features of Capcom's irreplaceable character action franchise? They can be broadly described by two aspects. The first are the characters.Devil May Cry is a series with fantastic combat systems, but it wouldn't be half as popular if it wasn't for the larger-than-life characters populating its world. And nobody accomplishes it better than Dante, the king of cheese and pizzas without olives.Vibrant characters with clear personality traits are important. The second aspect is action, specifically: how good it feels to slice and dice. DMC isn't Dark Souls, killing and surviving is just beginners' class. DMC is about looking awesome while doing the killing and the surviving. It doesn't have to be difficult, but it has to feel good.
Selection of games like Devil May Cry 5
| | Name | Release | Discount | |
| --- | --- | --- | --- | --- |
| | Bayonetta Steam Key GLOBAL | 2017-04-11 | -40% | Read more |
| | Nioh: Complete Edition (PC) - Steam Key - GLOBAL | 2017-11-07 | -76% | Read more |
| | Darksiders III Steam Key GLOBAL | 2018-11-27 | -95% | Read more |
| | Enslaved: Odyssey to the West Premium Edition Steam Key GLOBAL | 2013-10-24 | -85% | Read more |
| | God of War PSN Key NORTH AMERICA | 2018-04-20 | - | Read more |
| | Metal Gear Rising: Revengeance Steam Key GLOBAL | 2014-01-09 | -77% | Read more |
| | NieR: Automata Game of the YoRHa Edition Steam Key GLOBAL | 2017-03-17 | -33% | Read more |
| | Devil May Cry 5 Deluxe Edition Steam Key GLOBAL | 2019-03-08 | -70% | Read more |
| | Castlevania: Lords of Shadow Ultimate Edition (PC) - Steam Key - GLOBAL | 2013-08-27 | -81% | Read more |
| | Ryse: Son of Rome Steam Key GLOBAL | 2014-10-10 | -83% | Read more |
| | Sekiro : Shadows Die Twice - GOTY Edition (PC) - Steam Gift - GLOBAL | 2019-03-22 | -38% | Read more |
| | NINJA GAIDEN: Master Collection (PC) - Steam Key - GLOBAL | 2021-06-10 | -44% | Read more |
| | TRANSFORMERS: Devastation Steam Key GLOBAL | 2015-10-06 | - | Read more |
| | Darksiders Genesis - Steam - Key GLOBAL | 2019-12-05 | -85% | Read more |
| | Hellblade: Senua's Sacrifice Steam Key GLOBAL | 2017-08-08 | -77% | Read more |
Bayonetta
Bayonetta shares a lot of its DNA with DMC, which is only reasonable, given that it was created by Hideki Kamiya, the man who was behind the original Devil May Cry. Bayonetta is loud, it's colorful, shamelessly ridiculous and its spectacle can be best summarized with the phrase "no regrets". It's a total blast.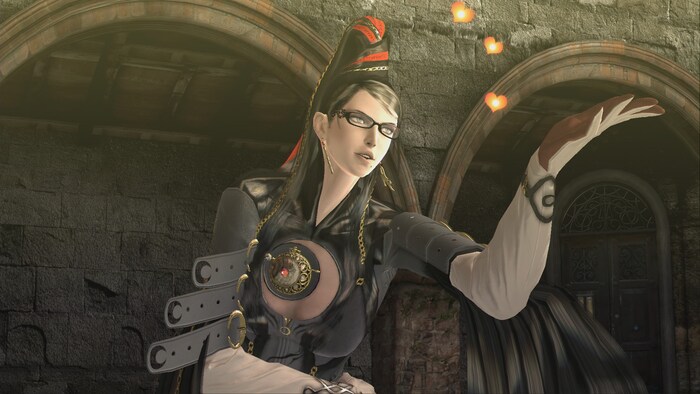 The eponymous Bayonetta is an Umbra Witch who awakens after centuries long-slumber and has to deal with a celestial mess and her own incomplete memories. With magical hair, four guns, and flair for the dramatic, Bayonetta is a fast, wild, and immensely satisfying action game which captures DMC's best features.
Key features
Flashy, ridiculous, unbridled fun
Four handguns at a time
Spectacular Umbra Witch magic
Developed by Devil May Cry's original creator
Darksiders
Darksiders is quite a bit less cheerful than DMC, but the grim-faced protagonist War is surrounded by characters which are fun to interact with and are fun to look at. Under the direction of Joe Madureira of the "Battle Chasers" fame, Darksiders has a distinctive art style and some brutal combat.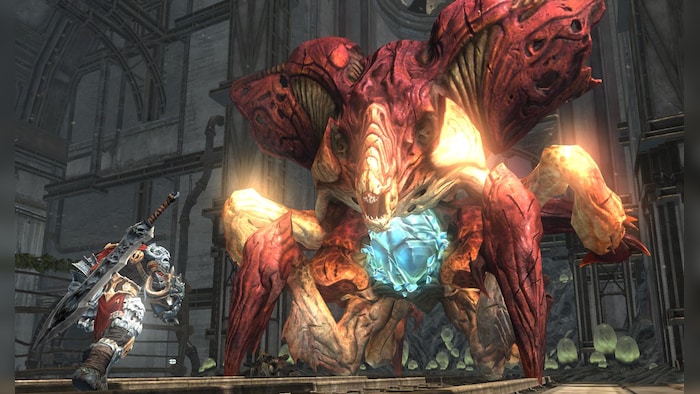 At least brutal if you're on the wrong end of War's sword, scythe, or gauntlet. The game isn't particularly difficult and has a more ponderous tempo. War is a walking tank with anger issues simmering just beneath the surface, and his combos do a great job conveying the force and momentum behind his weapons. This shows very well during finisher animations, especially on the bosses.
Key features
War is much slower, but also more brutal than Dante
Legend of Zelda-like progression
Unmistakable art direction
Interesting image of a post-apocalyptic Earth
Enslaved: Odyssey to the West
Developers at Ninja Theory seem to enjoy experimenting with action games. Enslaved is their attempt to take some of the motifs and characters from the Chinese epic "Journey to the West" and make them work in a post-apocalyptic, science fiction-like setting. And it works!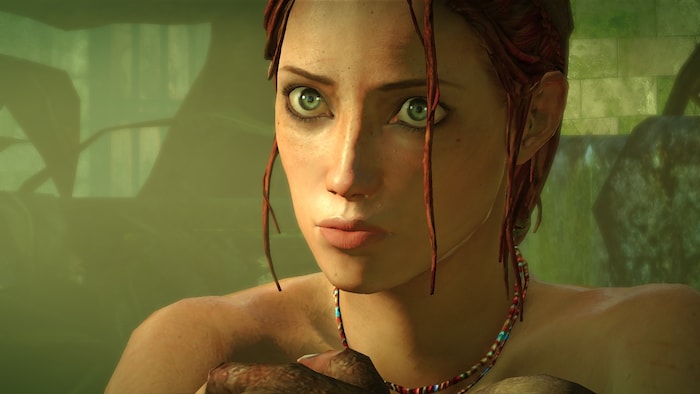 The player character is called Monkey, a very agile, nearly bestially so, man, and an adept user of an enhanced bo staff. The game mixes puzzle segments relying on the peculiar system for giving orders to Monkey's companion, and capable and spectacular combat against enemies.
Key features
Interesting adaptation of Journey to the West.
Innovative system of controlling two characters
Beautifully designed locations
Excellent motion capture by Andy Serkis
God of War
2018's God of War is one of the best games of that year, and one of the best titles in the genre. Although much like Darksiders, it's not really cheesy, it's exceptionally dramatic, love its family issues, and the combat feels amazing and crunchy.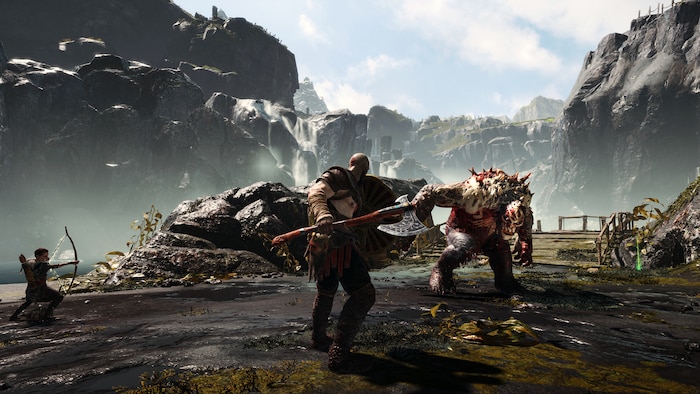 The story about old Kratos trying to do right by his son and dead wife would be interesting on its own, but when you add Norse mythology to it, with its own set of weirdness, it gets amazing. Sadly it's a PlayStation 4 exclusive, so not everyone will get to experience it.
Key features
Extremely tactile and satisfying combat
Well-told great story
Immersed in Norse mythology
Amazing graphics
Metal Gear Rising: Revengeance
What do you get when you give a super-katana to a ninja cyborg? You get cut, that's what. Metal Gear Rising: Vengeance is all about cutting, and with the finesse typical for PlatinumGames, it really does make the cut, and more.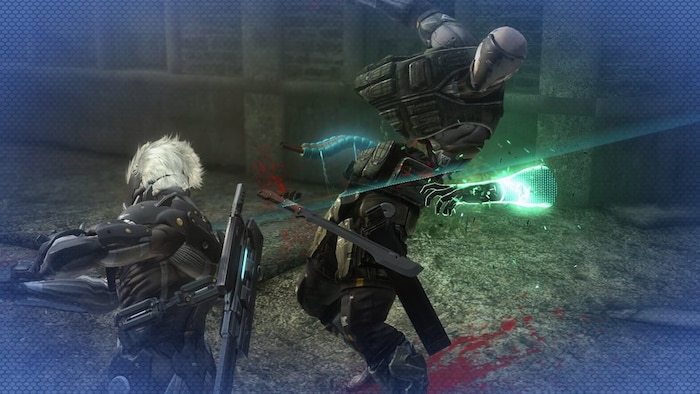 MGR stars Raiden, a platinum-haired man from the main Metal Gear series, who due to stuff gets some upgrading. One of the benefits is that his tricked-out new sword can actually cut anything. A car? You can slice it. A watermelon? You can dice it. You enemies? Chop them to pieces. Platinum actually designed the models in a way that allows you to see the cross-section after the bisection.
Key features
Unprecedented kind of destructibility
Brilliant soundtrack
Flashy, ridiculous, fun
A spin-off from the Metal Gear franchise
NieR: Automata
NieR: Automata was one of the highlights of 2017, and not without reason. It looks great, the world it presents is vivid in a certain "post-apocalyptic wasteland" kind of way, the story becomes more and more weird everything you play it, and the action is on par with anything in the genre.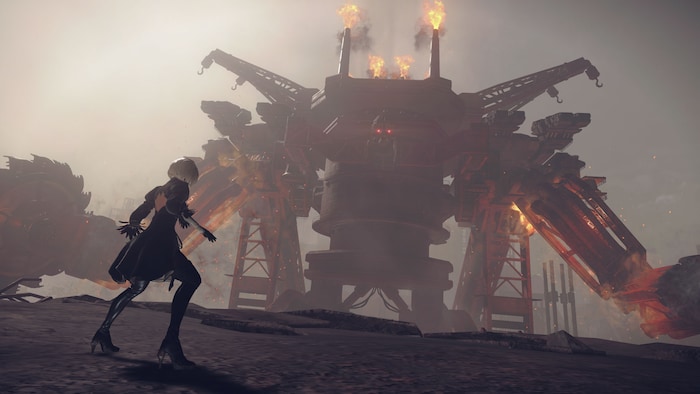 NieR: Automata isn't content with limiting itself to one type of encounters, so good old-fashioned hacking and slashing get a healthy serving of bullet hell sequences, for example. And there are even four different types of weapons to check out, not just one.
Key features
Stylish and philosophical
Intense boss battles
Replayability is crucial to the experience
An installment of the Drakengard series
NioH
Nioh may look closer to Dark Souls, what with demanding difficulty and all. But it also holds some DNA from DMC's once big contender: Ninja Gaiden, and there is something about what's going on that lends it some of the cheesy, ridiculous nature of DMC.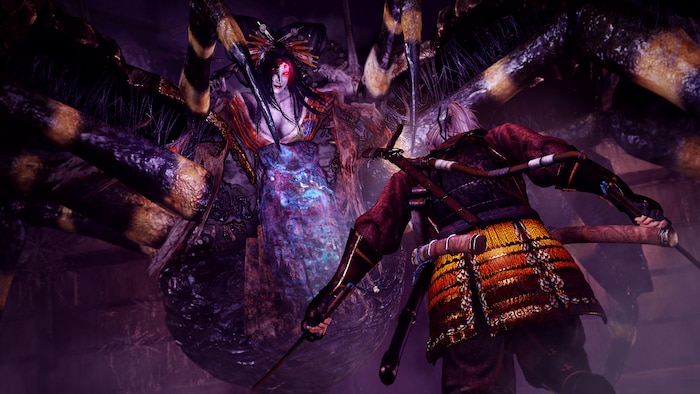 The final boss is as Biblical (apocryphal, actually) as it gets, your character encounters cutesy Kodama spirits, and the high-medium-low stances introduce some flexibility you may know from DMC4 and DMC5's Styles.
Key features
Many weapons with unique move sets
A three-stance combat system
Steeped in both European and Japanese mysticism
Demanding and precise
Judgment Cut
Thus ends our small glimpse at games which wear their ridiculous, cheesy action on their sleeves. Out of them all Bayonetta and Metal Gear Rising are the competition for DMC, but the other games also have a lot to offer, and are well worth checking out.