Yeah, new video games are okay. But nothing brings that blast of the past like the simple titles Amiga owners used to play in their younger, not-so-distant years.
Sold between 1985 and 1992, the Commodore Amiga was one of the best things to happen after the dramatic video game crash of 1983. People chose computers over consoles, and soon Amiga left a legacy of many legendary video games. Can you play them on PC? Yes! Many best Amiga games are available through Steam or various online emulators so PC users can revisit dear gaming adventures from their childhood days. And here you will find the top ten!
Stardust
| | |
| --- | --- |
| Release date: | 1993 |
| Genre: | Multidirectional shooter |
| Developer: | Bloodhouse |
This simple 1993 Asteroid game clone changed everything. Introducing beautifully crafted, colorful visuals and unique mechanics, it quickly became one of the best Amiga titles.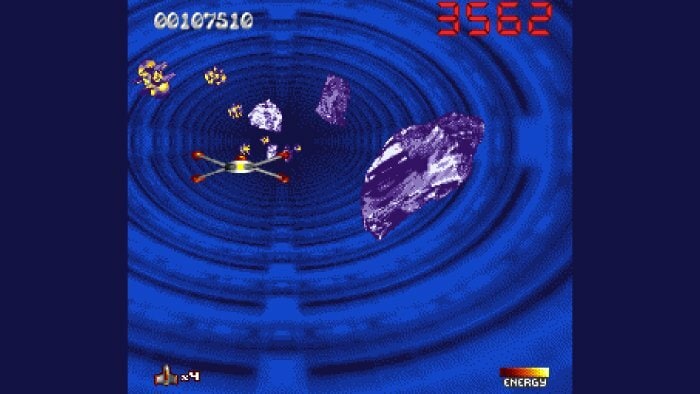 When the evil Professor Shaumund kidnaps the princess, her fate lies in the player's hands. Confront the heartless army of approaching meteorites and proceed to the following maps! Sounds simple? So let us tell you that Stardust, in addition to the semi-3D graphics, presented space tunnels acting as intense cutscenes between levels. Two independent games within one title!
Key features
Play the epic Asteroid clone
Explore four unique worlds and fight incoming asteroids
Use five weapons and three homing missiles
Avoid obstacles in epic space tunnels
Prince of Persia
| | |
| --- | --- |
| Release date: | 1989 |
| Genre: | Cinematic platformer |
| Developer: | Broderbund |
Beat dozens of challenging levels to save the princess! This massive success of the 90s was the first to introduce rotoscoping, so it quickly became a standard for other computer games of these times.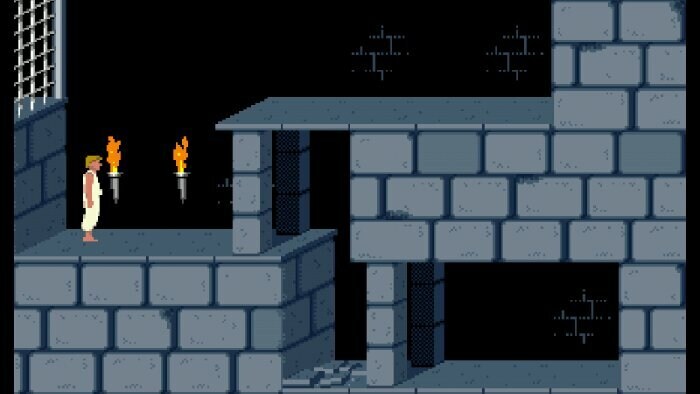 When the king of Persia leaves his kingdom, the evil Jaffar takes charge to give an ultimatum – the princess will marry him or die. Playing as a prince, players must defeat omnipresent enemies and solve puzzles to finally free themselves from the gloomy dungeon and save their beloved. In one hour!
Key features
Play the legendary Prince of Persia from 1989
Proceed through the levels and hurry up
Battle hordes of enemies to defeat the evil Jaffar
Enjoy dynamic animations and an incredibly addictive soundtrack
Worms
| | |
| --- | --- |
| Release date: | 1995 |
| Genre: | Artillery, strategy |
| Developer: | Team17 |
Everyone has heard of this title before, but what are its origins? Well, it all started with this iconic Amiga game!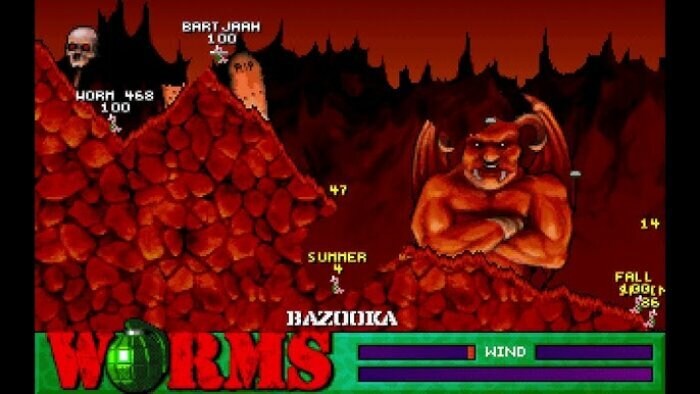 Starting with nostalgic cinematics, Worms is the coolest game of its time. As the leaders of worms armies, players can wage devastating battles against the AI or others operating an impressive arsenal of hilarious weapons. Friendly worms comment on your violent actions! And that's not all, because this particular game is now available on Steam for everyone.
Key features
Discover the first Worms video game, now available on Steam
Lead a group of four heroic soldiers
Enjoy devastating and ridiculous weapons to destroy the enemy team
Play solo or in explosive multiplayer
Cannon Fodder
| | |
| --- | --- |
| Release date: | 1993 |
| Genre: | Shoot 'em up |
| Developer: | Sensible Software |
It is a timeless legend in the war game genre, combining shooting with avoiding challenging obstacles. And each upcoming mission brings a higher difficulty level!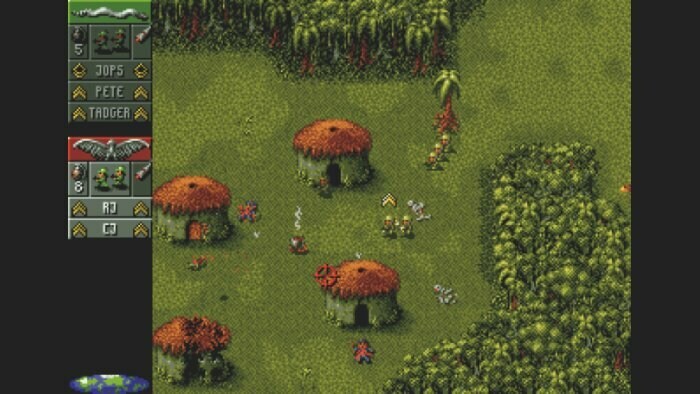 Cannon Fodder is a humorous vision of war in which players control a squad of up to five soldiers fighting on different battlefields. The entire game consists of 23 missions in the desert, jungle, or icy environments, and each task requires an appropriate strategy. Interesting fact – this iconic title has received some criticism for glorifying war as great fun.
Key features
Play 23 missions of an exceptionally addictive war campaign
Lead a crew of up to five soldiers fighting on battlefields around the world
Fight and avoid surprising obstacles
Enjoy fun and increasingly challenging gameplay
Sensible Soccer
| | |
| --- | --- |
| Release date: | 1992 |
| Genre: | Sports |
| Developer: | Sensible Software |
Before the world got the excellent FIFA series, there was this game. And those who remember can confirm that each match was faster than any other title!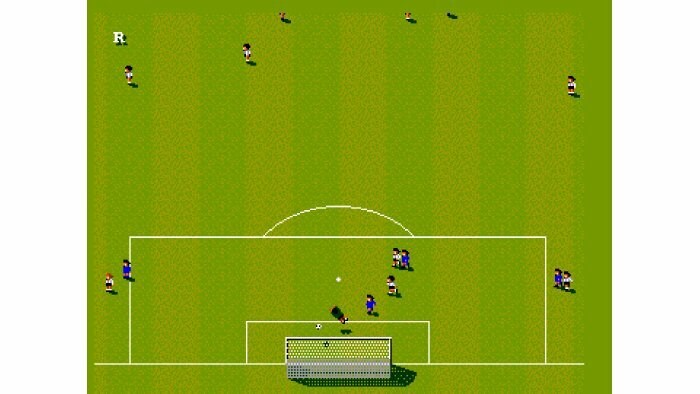 Equipped with an intuitive interface, editable team arrangements, and a top-down perspective, Sensible Soccer was a must-have for all football fans playing on the Amiga. And what makes it unique is that losing the ball is a matter of seconds, so the game requires skills and superhuman reflexes.
Key features
Play the first game in the legendary Sensible Soccer series
Edit teams and learn each player's skills
Enjoy the intuitive interface
Choose from a multitude of available teams
Syndicate
| | |
| --- | --- |
| Release date: | 1993 |
| Genre: | Real-time tactics |
| Developer: | Bullfrog Productions |
Journey to 2096 for ultimate control over the world. If you were looking for the Amiga version of Cyberpunk 2077 – this is your best choice.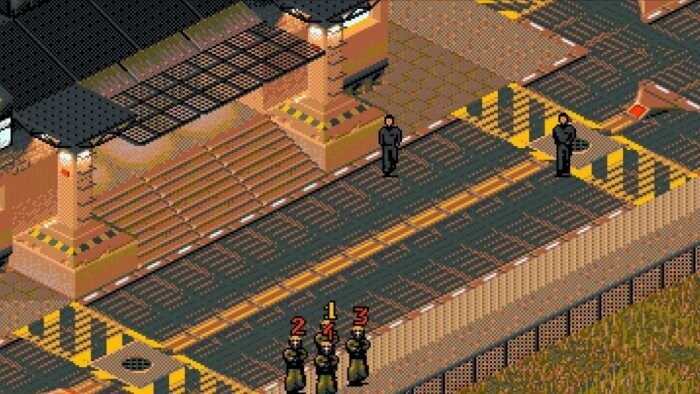 In a world ruled by megacorporations, you must do everything to take control. Play fifty challenging missions scattered worldwide, transform ordinary people into powerful cyborgs, and complete dangerous tasks. This is an ultimate race for power, so don't waver. Do whatever it takes to invent new technologies and mighty weapons that are the key to making the entire Earth yours.
Key features
Discover a unique cyberpunk game from 1993
Control four cyborgs working for your syndicate
Collect funds to invent better technologies
Complete the entire campaign and take over the world
Lemmings
| | |
| --- | --- |
| Release date: | 1991 |
| Genre: | Puzzle, strategy |
| Developer: | DMA Design |
The self-destructive Lemmings' adventures are a gaming legend, and saving them from sudden death was something everyone tried to achieve at some point.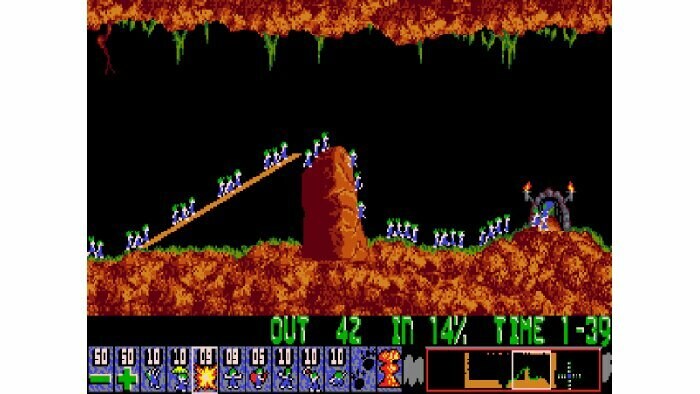 The fundamental goal of this game is simple – save as many lemmings as possible and escort them to the exit. Easier said than done! While crossing the various levels, the poor little creatures constantly encounter dangerous obstacles. But you can assign chosen group members to specific tasks and deal with them! The problem is Lemmings are constantly moving forward, and some places require the player's instant reaction to save at least a small group. Highly addictive!
Key features
Play the iconic puzzle game from 1991
Guide a group of Lemmings to get them out 
Assign tasks to reach higher difficulty levels
Save as many as you can
Sid Meier's Civilization
| | |
| --- | --- |
| Release date: | 1991 |
| Genre: | Turn-based strategy |
| Developer: | MicroProse |
Before Civilization looked the way we know it today, this game was a typical pixel strategy with a simple map and animations. And many play it to this day!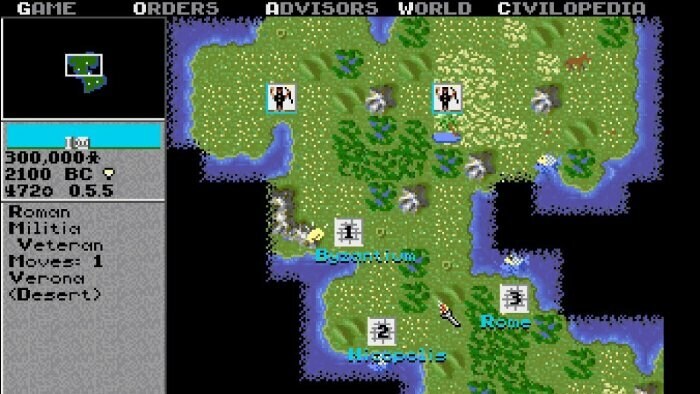 Control a chosen civilization during hundreds of years of development! Players engage in political, technological, scientific, and religious growth to surpass other nations in the fierce fight for world domination. There are many ways to succeed, like sending people to another planet or winning a global war. But every reckless decision along the way can dramatically delay this process.
Key features
Play the first Civilization game ever
Manage your chosen nation during hundreds of years of its development
Invest in science, the army, and wonders
Discover all ways to win the game
Bomberman
| | |
| --- | --- |
| Release date: | 1990 |
| Genre: | Action |
| Developer: | Hudson Soft |
Also known as Dyna Blaster. This game is all about exploding bombs! But don't be fooled by its simple graphics. Some levels are genuinely hard to beat.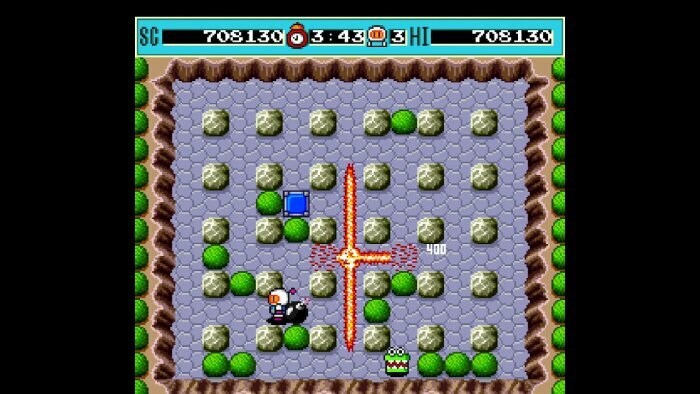 The goal of this game is to find the door and proceed to the next level. However, the hero equipped with bombs must first overcome a complex maze of obstacles inhabited by enemies. How to do it? Use bombs! But not so fast. These opponents are pretty clever, and ambushing them can be complicated – but ultimately, that's your problem!
Key features
Use bombs to find a way out
Use various power-ups to make this task easier
Outsmart your enemies
Play solo or in multiplayer against other players
Superfrog
| | |
| --- | --- |
| Release date: | 1993 |
| Genre: | Platform |
| Developer: | Team17 |
From the creators of Worms, Superfrog is an old-school platformer about a frog desiring to defeat a wicked witch. As you can easily guess, his archenemy kidnapped the princess, and our hero is a prince turned into a green amphibian.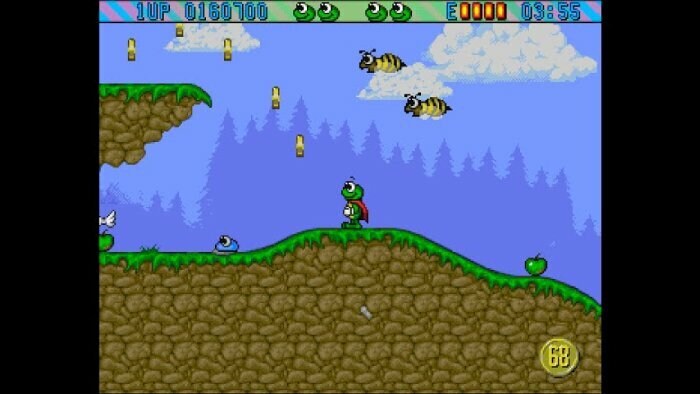 Travel through six fantasy worlds, collect coins, and avoid obstacles to save your beloved. Superfrog is a pleasant platformer set in a classic fairy tale world. But each level becomes progressively more dangerous! Fortunately, players can choose the difficulty level to enjoy it however they want.
Key features
Play a classic fantasy platformer about saving a damsel in distress
Travel across increasingly challenging levels
Collect coins, win bonuses, and avoid obstacles
Defeat the evil witch!
As you can see, older games have more to offer than one might think. Some — like Lemmings — may even result in a tiny trauma caused by hundreds of unsuccessful attempts to save a group of adorable creatures. It means these video games really were able to impress and still can! If your favorite childhood title is unavailable on Steam, use the emulator. Among the best, you will find proven software like WinUAE, WinFellow, or RetroArch. There's no point in reflecting on how it used to be when you can easily bring these days back to glorious life in the present.