Although technology is advancing rapidly and game developers are doing everything to surprise players with the most realistic graphics, pixel art games still enjoy great popularity.
Perhaps this is due to nostalgia or a desire to go back to youthful years…? However, it must be admitted that games in the pixel art style have an enduring charm.
Best Pixel RPG Games
Among the games that awaken the child in all of us, there are several, even more modern ones, that stay in our memories for a long time. We have selected the best pixel RPG games that every 2D game fan should know.
1. Unsighted
| | |
| --- | --- |
| Release date: | 2021-09-30 |
| Genre: | Action |
| Developer: | Studio Pixel Punk |
Unsighted is a sci-fi adventure game, published by Humble Games.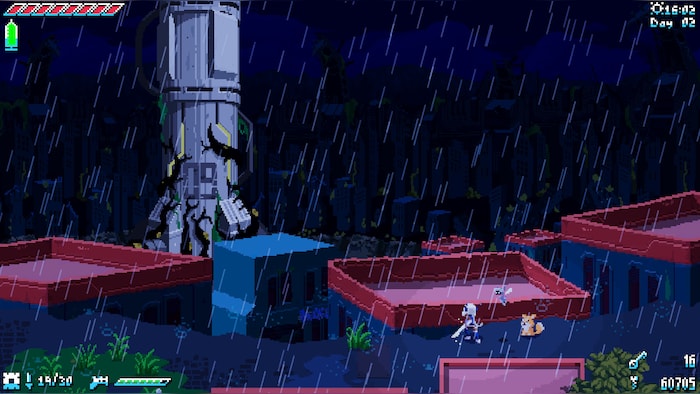 This incredible title tells the story of Alma, an Automaton who awakens in a world ravaged by war. Animus, the resource that gives Automatons the sentience, is depleting. As it runs out, Automatons turn into mindless, murderous machines known as the UNSIGHTED. Will Alma have enough strength to save herself and her friends?
Studio Pixel Punk has mastered the art of pixelated graphics to perfection, and Unsighted is a testament to that. With its extraordinary visuals, the game leaves a lasting impression.
Key features
Stunning pixel art graphics worth seeing
Vast world ready for exploration
Combat system based on parrying
Rich arsenal of weapons
2. Chrono Trigger
| | |
| --- | --- |
| Release date: | 2018-02-27 |
| Genre: | RPG |
| Developer: | Square Enix |
Chrono Trigger is a game that kicks off the Chrono series. Square (now Square Enix) was responsible for its development and release. The title was released on multiple platforms.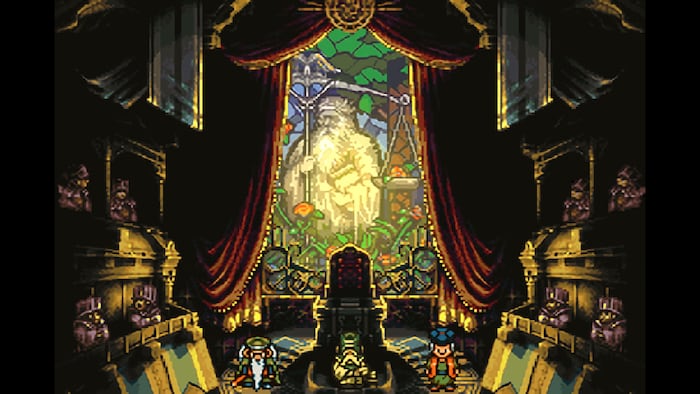 The game's story revolves around the fate of the Earth in an alternate dimension. The main character, Crono, meets Marle during the Millennial festival, but she disappears while testing a time machine. Was it a coincidence or a deliberately plotted intrigue? This is something we will discover through numerous time-traveling adventures.
Chrono Trigger achieved extraordinary commercial success and is considered one of the best games of all time. Certain aspects of the game, such as its original combat system, have been hailed as revolutionary.
Key features
Side quests connected to the main story
Multiple different endings
Manga-style pixelated graphics
Memorable soundtrack by Nobuo Uematsu
3. Octopath Traveler
| | |
| --- | --- |
| Release date: | 2019-06-07 |
| Genre: | RPG |
| Developer: | SQUARE ENIX |
Octopath Traveler, published by Square Enix, is a return to old-school jRPGs.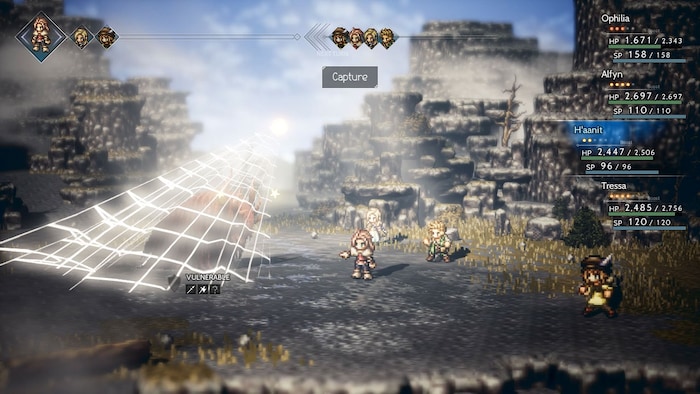 The action of Octopath Traveler takes place in the land of Orsterra, created by the gods. In this world, we encounter eight travellers, each with their own goals and paths. It is up to us to decide which traveller's path to follow first.
Octopath Traveler received numerous awards, and its overall presentation, soundtrack, and classic turn-based combat system loved by Final Fantasy fans were very well received.
Key features
Eight different adventures
Turn-based combat system
Various possible solutions to side quests and the main storyline
Striking combination of 2D and 3D graphics
4. Vampire Survivors
| | |
| --- | --- |
| Release date: | 2021-12-17 |
| Genre: | Action |
| Developer: | Luca Galante |
Vampire Survivors, developed and published by Luca Galante, is a game with horror elements. Although it is often referred to as an action RPG, it is closer to a roguelike game with bullet hell shooter elements.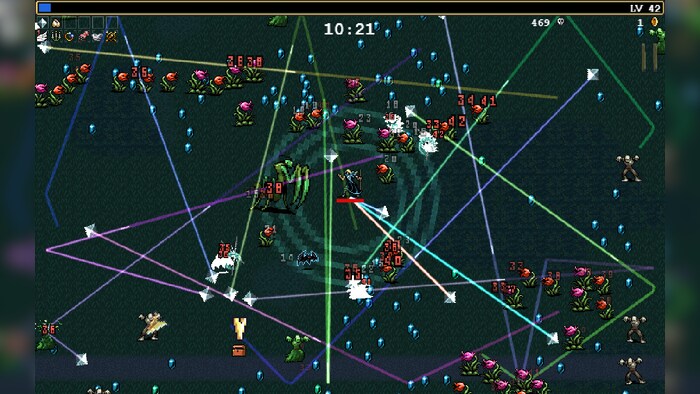 The Italian province has been terrorized by Bisconte Draculó and his hordes of monstrous vampire minions. Only a handful of survivors have the strength to confront them. To do so, they must defeat hordes of monsters. Take on the role of any character and fight the forces of evil. Your task is to survive until dawn.
Although Vampire Survivors is a game with a simple premise and even simpler story, its replayability and gameplay depth have allowed it to reach new heights. Contrary to appearances, the combat in the game is incredibly deep, which has been positively received by critics.
Key features
Dark gothic atmosphere
Over fifty playable characters
15- and 30-minute play sessions
Power Up upgrade system
5. Starbound
| | |
| --- | --- |
| Release date: | 2016-07-22 |
| Genre: | Adventure |
| Developer: | Chucklefish |
Starbound, produced and published by Chucklefish, is a unique exploration game that also features RPG, strategy, and even sandbox platformer elements.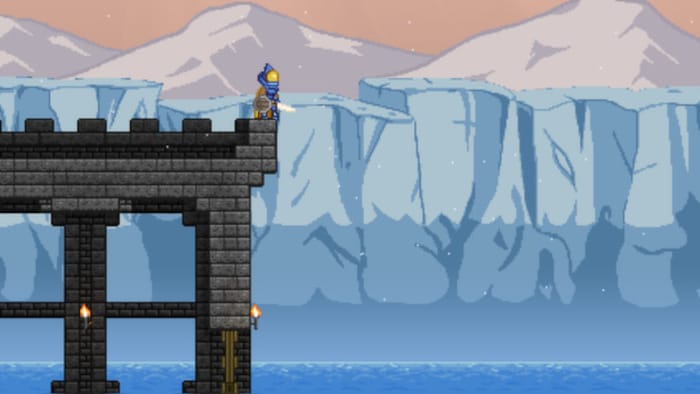 Earth has been destroyed, and our protagonist is one of the few survivors who managed to escape the Green Planet in a spaceship. Their task is to survive and, with the help of other survivors, defeat the final boss, The Ruin, and other monsters encountered along the way. The player chooses the path they will take, and soon they will discover the impact they have on the fate of the universe.
Starbound is a title full of surprises, where players can (but don't have to) follow the main story path. They can also engage in space exploration and colonization of uncharted planets, where they can encounter ancient temples and modern metropolises. The game allows for cooperation or competition, offering countless possibilities.
Key features
Many planets to discover
Create your own story and world
Various gameplay options to choose from
Cooperate with friends or compete with them
Conclusion
This concludes our ranking of the best pixel RPG games. While not all the games we presented are typical representatives of pixel RPGs, we aimed to select those that not only evoke nostalgic memories in players, but also prove that pixel art games can still pleasantly surprise with modern solutions combined with a retro style. They demonstrate that it's not realistic graphics but a compelling story, emotions, and atmosphere that are the most important aspects in games!