Ah, vampires. Ever since Bram Stoker's Dracula, people were fascinated by these creatures. Majestic, aristocratic, kinda sexy – the bloodsucking children of the night have it all…including their worst enemies.
Vampire hunters took it upon themselves to eradicate the monsters plaguing humanity, and they've been doing a good job slaying them across book pages, TV screens, and other media – video games included.
Best Vampire Hunters in Video Games
Let's take a quick look at some of the best vampire hunting games, featuring brave humans and reformed demons alike.
Incredible Adventures of Van Helsing
| | |
| --- | --- |
| Release date: | 2015-11-06 |
| Genre: | Adventure |
| Developer: | NeocoreGames |
One of the newer IPs on our list, The Incredible Adventures of Van Helsing gives the player a chance to put on the shoes of the classic vampire hunter's…son.
That's right, the old professor has retired, and now it's up to his son to carry on the mantle. Van Helsing Jr. is sent to the city of Borgova, where mysticism and myths meet technology. The city is plagued by all sorts of monsters, and the young protagonist is tasked with getting rid of the evil once and for all.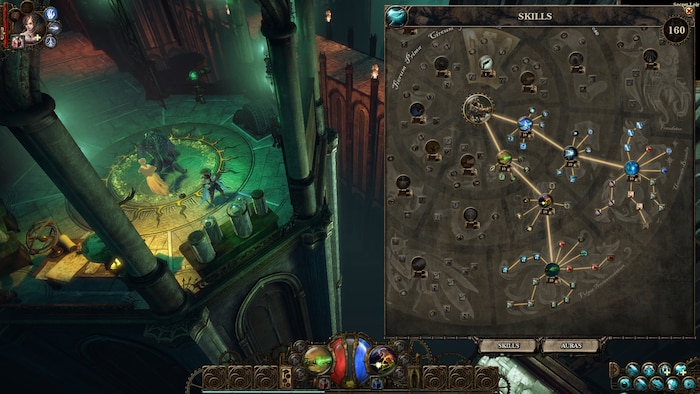 The gameplay features of TIAoVH are similar to other hack and slash action-RPGs (looking at you, Diablo), combined with a bit of base management. The player controls Van Helsing, who can use various skills to annihilate monsters that cross his path. Junior can use upgradeable skills as well as different types of items. An interesting mechanic is the presence of Lady Katarina, Van Helsing's companion, who can be equipped with skills of her own. All this, mixed with beautifully neo-gothic level design and witty dialogues, makes for an excellent title for the fans of the genre.
Key features
Play as the son of famous Van Helsing and destroy monsters plaguing the city of Borgova
Level up skills and craft items to suit your playstyle
Expand the abilities of your lady companion
Expand your base with necessary facilities and monster traps
The Elder Scrolls V: Skyrim (Dawnguard expansion)
| | |
| --- | --- |
| Release date: | 2016-10-27 |
| Genre: | Adventure |
| Developer: | Bethesda Game Studios |
No list would be complete without this old gem. It seems that The Elder Scrolls V: Skyrim would have something for everyone – in this case, people who want to kill vampires.
One type of enemies the players will encounter throughout the game are pure-blood descendants of Molag Bal, vulnerable to fire and sunlight. While traversing the region, the player will encounter different versions of these beings – from fledgling vampires to powerful Nightlords.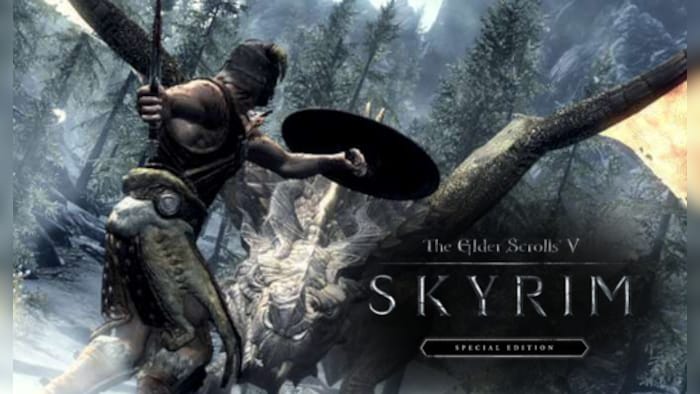 Aside from slaying vamps, the player will have a lot to do in Skyrim. The game offers unparalleled freedom of exploration of the vast areas of Northern Tamriel. With plenty of story missions and sidequests, traveling across Skyrim will rarely be boring. It should be noted, that if someone wants to become a professional Vampire Hunter in Skyrim, one will need the Dawnguard expansion pack, which adds the famous organization led by Isran along with armored troll companions, crossbows or special armors. Discover a dark prophecy, decide what to do with Serana and save the world from Vampire Lord Harkon.
Key features
Explore the vast expanses of northern Tamriel
Fulfill your destiny as the Dragon-born
Complete a variety of main and optional quests
Expand your skills to take on increasingly stronger enemies
Vampire: The Masquerade Bloodlines 2
| | |
| --- | --- |
| Release date: | 2021 |
| Genre: | Action |
| Developer: | Hardsuit Labs |
A long-awaited sequel of the cult-classic series promises to be everything the players would want from the game based on the Vampire: The Masquerade franchise.
The player will begin the game as a newly turned vampire – a thinblood – and will have to hone their new skills to join one of the five vampiric clans ruling the city. Joining a plan provides access to different skills, and the player can choose to work for more than one of them to acquire more abilities.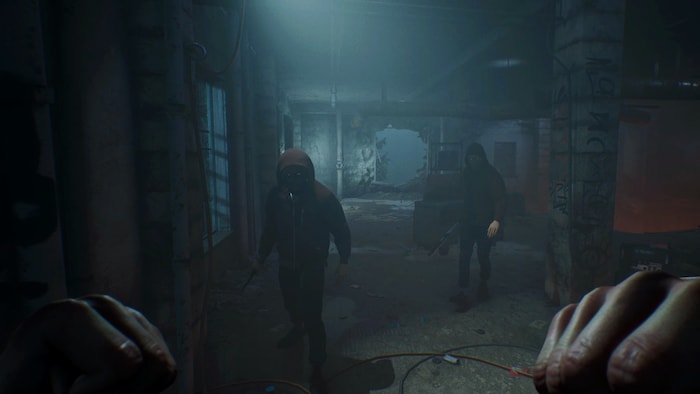 The game's story is set in Seattle, where the player character is attacked and transformed by a horde of rogue vampires. As a member of the world of darkness. The player will have to find out the truth behind the mass attack on humans, an infraction of one of the vampires' sacred rules.
Key features
Play as a newly turned vampire and choose from various backgrounds to determine your initial perks
Decide to which of the five clans you will pledge your loyalty
Hone your vampiric skills on the streets of Seattle
The Witcher 3: Wild Hunt (Blood and Wine expansion)
| | |
| --- | --- |
| Release date: | 2015-05-18 |
| Genre: | RPG |
| Developer: | CD PROJEKT RED |
Based on a series of bestselling novels about a monster-hunting warrior named Geralt of Rivia, The Witcher 3: Wild Hunt takes the player to the world of Slavic myths, where they will encounter various creatures that plague the good folk of the Continent.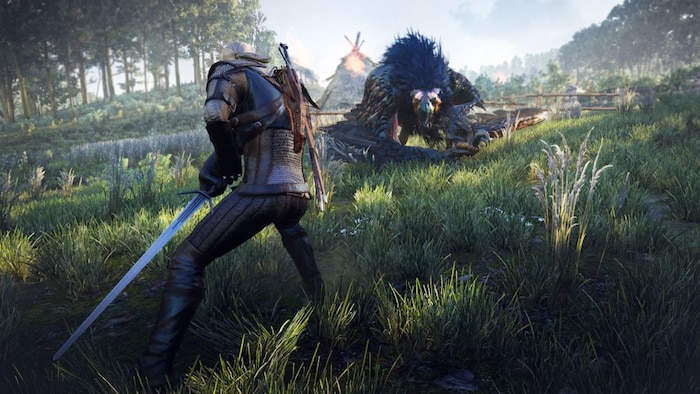 Among wraiths, goblins, and other monstrosities, the player will find vampires, also known as Upirs. Geralt will meet various types of vampires throughout his journey, from animalistic monsters to highly sophisticated nobles. Fighting them won't be easy due to their various skills and resistances. Blood and Wine expansion introduces a whole new story about the vampires, including Geralt's old friend of Geralt and a new nemesis that he would need to face to save an idyllic duchy of Toussaint. The expansion is a great way to end the adventures of Geralt after the main quest and finally use the crossbow to hunt some vampires.
The Witcher 3 is probably the best game based on Andrzej Sapkowski's prose. The developers at CD Projekt RED managed to recreate the world from the pages and bring it into the realm of electronic entertainment. The fans of the books will find themselves at home with cleverly written dialogues, familiar characters, and the general atmosphere of an epic fantasy adventure.
Key features
The third installment in the popular Witcher series
Geralt f Rivia returns to face the monsters plaguing the world
Expand your skill set to face the strongest enemies
Explore the world of the game and engage with its people, carrying out sidequests and participating in optional activities
Devil May Cry 5
| | |
| --- | --- |
| Release date: | 2019-03-08 |
| Genre: | Action |
| Developer: | CAPCOM |
Capcom's Devil May Cry is a cult-classic series about the legendary demon hunter Dante.
The fifth installment pits him against his toughest opponent, demon lord Urizen. Together with his young protege Nero and a mysterious man calling himself V, Dante will have to use all the tricks up his sleeve to defeat Urizen.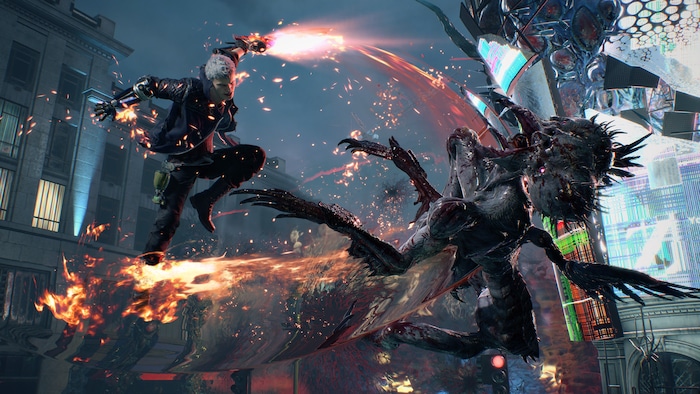 DMC 5 gives the player a chance to play as three unique characters, each with different skills and playstyles. Dante can switch between his four distinct fighting styles. Nero uses a mechanical device called Demon Breaker, which has many different applications, and frail V summons demonic creatures to fight his battles for him. Each of the characters has their time to shine, offering the player quite a unique, demon-slaying experience.
Key features
Play as Dante, Nero, and V and use their skills to deal with a variety of demons
Collect red orbs to buy skill upgrades
Unlock new weapons and tools and upgrade them to become the best demon hunter
Explore the different modes of DMC 5 solo or with friends online
Bloodrayne
| | |
| --- | --- |
| Release date: | 2003-09-09 |
| Genre: | Adventure |
| Developer: | Terminal Reality |
Rayne might be the only lady on our list (if you don coun the customizable protagonist of Bloodlines 2), but what a lady she is.
Back in the early 2000s, she was on the lips of everyone. Her distinct look – blazing red hair, tight leather outfit, and iconic armblades – and give-no-shit attitude have made her extremely popular among the male player base. The first game in the series of Rayne's adventures has become a cult-classic, fondly remembered by the players who dreamed about finding themselves at the end of Rayne's blades.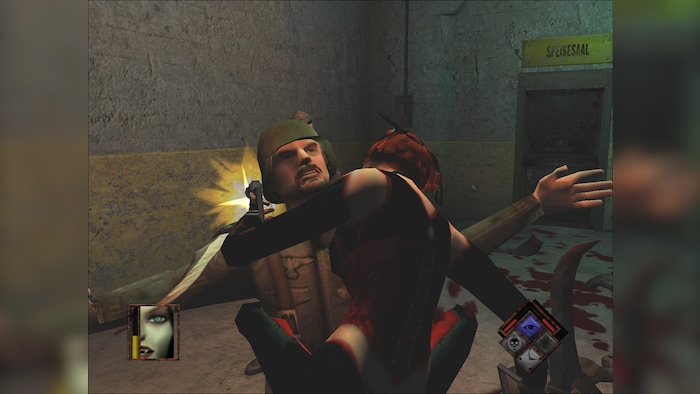 The gameplay mechanics of the first Bloodrayne were a fairly standard TPP action-hack and slash fare. The player could use Rayne's blades to slice and dice monstrous enemies in 1930's Louisiana and later thwart a Nazi plot in Argentina. Rayne could also use various firearms, most of which could be dual-wielded. Rayne could also leap onto enemies to drain them of their blood to regenerate lost health. All these features made for a decent action game and possibly the edgiest one on our list.
Key features
Put on the leather stilettos of Rayne and slay monsters in style
Hunt down Nazi cultist in various locations
Use different firearms and Rayne's iconic armblades to deal with your enemies
Blood Omen: Legacy of Kain
| | |
| --- | --- |
| Release date: | 1996-11-01 |
| Genre: | Adventure |
| Developer: | Silicon Knights |
Last but not least, another cult-classic for vampire-killing edgelords. Blood Omen: Legacy of Kain put the player in the shoes of titular Kain, a vampire whose moral ambiguity is the central point of the game's story.
Turned into a nightwalker against his will, Kain turns his wrath both against humans and the vampires inhabiting the fantastical realm of Nosgoth.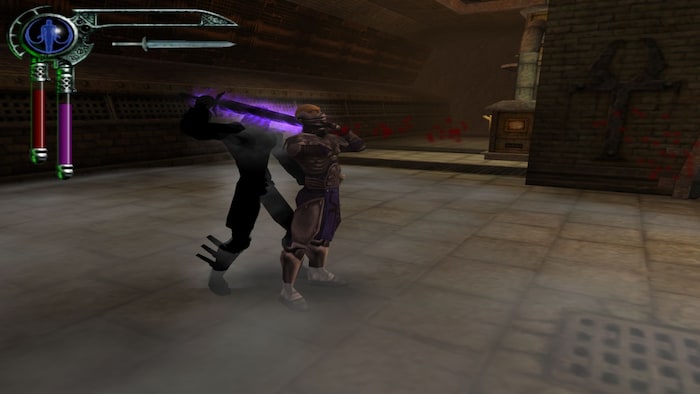 Blood Omen is a 2-D action game. The player controls Kain, viewed from a top-down perspective, and explores various locations, killing humans and monsters alike. As a vampire, Kain can suck the blood of their enemies – the red blood of humans restores his health, while the green blood of the undead poisons him. Throughout the gameplay, the player will find different equipment – armors and weapons – that they can use in different combinations. The protagonist can also use magical attacks. If you're a fan of well-written stories and Diablo-like gameplay, Blood Omen: Legacy of Kain should be right up your alley.
Key features
Explore the realm of Nosgoth – a land of myths and monsters
Unleash your wrath on human and undead enemies alike
Use different vampiric skills in a fast-paced hack and slash combat
With our list, we hoped to give you, the player, a glimpse into the rich world of vampire-and-all-sorts-of-other-monster-killing games. Some of these games are already cult classics; others are the next iterations of popular series, others still are brand new IPs presenting fresh ideas and themes. One thing is for sure – in those games, you'll get to spill a lot of undead blood. So sharpen your wooden stake, ready your crucifix, and go slay some vampires!