We love the smell of burnt tires in the morning. The whiz of bullets overhead can also bring a person to life! If you're looking for games where you can enjoy both, you've come to the right place.
Vehicular combat games are entertainment for people who live for wild action and have a high chaos level in their blood. If the gameplay in other video games does not trigger particularly strong emotions in you, then in these suggestions you will discover something new and exciting for sure. Expect everything: racing, survival, brutal combat, intense truck shootings, and post-apocalyptic battle royale, set in realities straight from the Mad Max movie set. Ready for a ride? Get at the wheel!
Best Vehicular Combat Games
10 Best Vehicular Combat Games – Shoot while you Drive games
Carmageddon: Reincarnation
| | |
| --- | --- |
| Release date: | 2015 |
| Genre: | Vehicular Combat, racing |
| Developer: | Stainless Ga |
A racing game full of wicked humor, known as controversial for some time. The Carmageddon series is so loved by players, that many fans supported the fundraiser set up by its creators. If you suspect your middle name should be Chaos, then this is just the thing for you.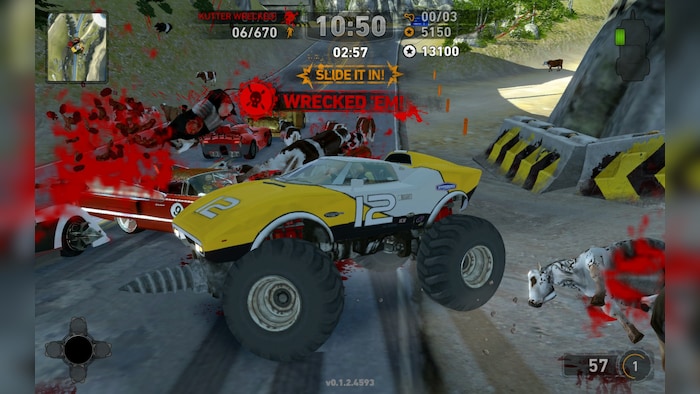 Your car, your laws! There are no rules in Carmageddon, and your job is to spread panic and destruction in the streets. The more people you kill, the closer you are to winning. Explore various locations, try all the available game modes and drive every car there is.
Key features
Play an epic installment of a series of games in which the goal is the ultimate destruction
Try over 30 vehicles available
Splatter as many citizens as possible
Try every possible game mode and complete additional tasks
Crash Team Racing Nitro-Fueled
| | |
| --- | --- |
| Release date: | 2019 |
| Genre: | Kart Racing |
| Developer: | Beenox |
One of the best motorcycle fighting games for Nintendo Switch. The alien race driver announces that if the earthlings fail to compete in the races, the planet will be turned into a large parking lot. Does it remind you of a Space Jam scenario? Maybe, but it's all about speed here!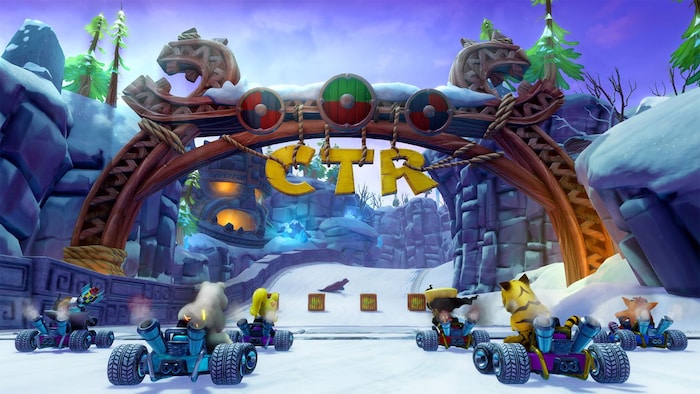 Play with Crash's team and set out to compete for the title of the fastest one. Get in awesome karts and traverse twisted maps in this colorful world of cartoon racing. Ride the tracks, collect rewards, get power-ups, and use sneaky tricks. You have to be the fastest of the fastest!
Key features
Save an entire planet by racing in the craziest race ever
Select the character and vehicle you want to play
Get on the track and flow with the speed
Play solo or in multiplayer
FlatOut 4: Total Insanity
| | |
| --- | --- |
| Release date: | 2017 |
| Genre: | Race |
| Developer: | Kylotonn |
The fourth installment of the appreciated series of battle racing games, polished with the help of the players themselves. Become a FlatOut 4 driver and show that you are second to none! It will be sharp, brutal, and hot.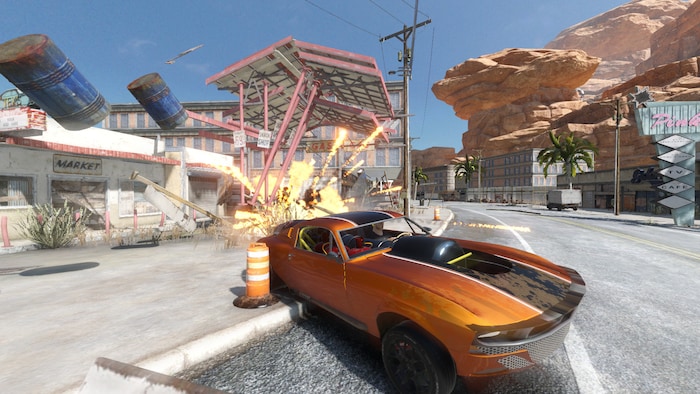 Take part in badass races without any rules. To win, you just have to eliminate everything and everyone in your path. Sounds complicated? Do not worry, as soon as you take the wheel of your vehicle, the road will lead you. You can be certain there will be crashes, explosions, and absolute demolition. Try mini-games and see what else you are capable of!
Key features
Try over 20 unique vehicles to wreak havoc along the way
Test yourself on each of the possible routes
Grant no mercy and eliminate everything in your path
Play solo or with friends in multiplayer
Mad Max
| | |
| --- | --- |
| Release date: | 2015 |
| Genre: | Adventure |
| Developer: | Avalanche Studios |
Anyone who knows the Mad Max title knows there is a decent, post-apocalyptic adventure ahead. Play as Max and together with your irreplaceable car, set off to find your luck in the merciless Wasteland.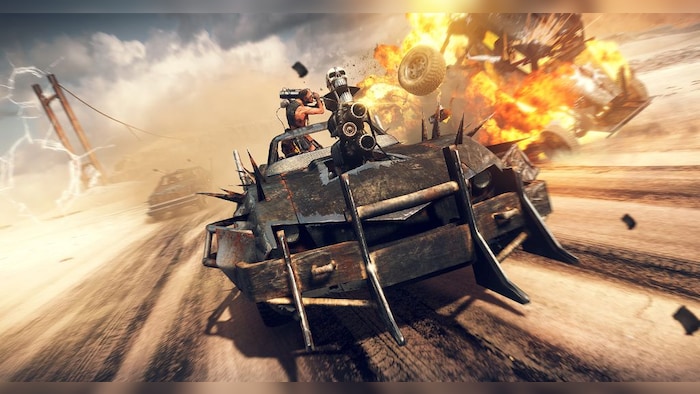 Say goodbye to modern reality and enter the open world of Mad Max to discover all its secrets and riches. Your goal is to upgrade your vehicle. Before you achieve it, you will have to fight your way through hordes of enemies, traps, and unexpected adventures. Your companion on this journey will be your trusted Magnum Opus, with which you can get anyplace. Take part in mad battles, find resources and food and avoid the dangers lurking in the dangerous Wasteland.
Key features
Play the game loosely based on the most famous post-apocalyptic movie productions
Fight and take part in fierce battles
Drive your car through the rough Wasteland
See the fantastic graphics that will draw you into the world of dirt in no time
Mario Kart 8 Deluxe
| | |
| --- | --- |
| Release date: | |
| Genre: | Kart Racing |
| Developer: | Nintendo |
Mario could not miss the ranking of the best racing games. And Mario Kart 8 Deluxe is not only the basic version of the game but also all the additions and improvements, that will make you enjoy everything that this game has to offer.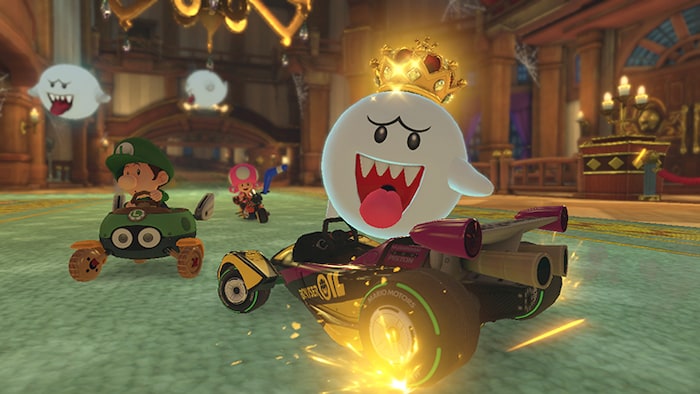 Enter the game and let yourself be carried away by the race passion right away! Choose from a variety of transport, including even water and air vehicles! The colorful tracks will delight and surprise you with how twisted they can be. Ride them however you like! In this installment of the game, you can even handle tracks by driving up the walls or completely upside down. Race in the air, underwater, and find out that gravity has no power over you.
Key features
Play the Deluxe version and get access to all the upgrades and additions
Choose from a variety of characters and vehicles
Drive any surface you can and become the fastest of them all
Play solo or in multiplayer
Wreckfest
| | |
| --- | --- |
| Release date: | 2018-06-14 |
| Genre: | Vehicular Combat Racing |
| Developer: | Bugbear Entertainment |
A proposition for players who especially like racing games, aimed at demolition and chaos. Play Wreckfest and see the most realistic world of racing destruction.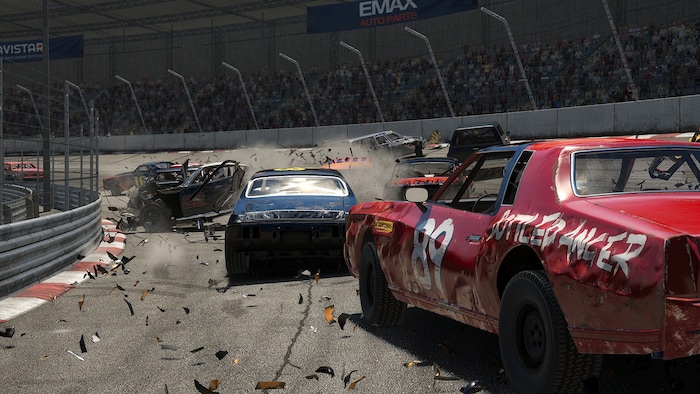 No holds barred. Ride in crazy street races, crash in collisions, destroy enemy vehicles and eliminate them from the game. Your winning depends not only on your skills but also on the car's gear. You can custom your vehicle as you wish, so that it is pleasing to your eye and very deadly for other participants of the race.
Key features
Play gameplay that is unlimited by any rules
Choose a vehicle and customize it as you like
Fight in high-speed races and try out the available game modes
Play solo or compete against other players
Zombie Driver
| | |
| --- | --- |
| Release date: | 2009 |
| Genre: | Action & Shooter |
| Developer: | Exor Studios |
Races and zombies. You will keep your hands and mind busy as Zombie Driver combines these two features. Get ready because the game will be fast, brutal, and focused on your fight for survival in a violent, post-apocalyptic world.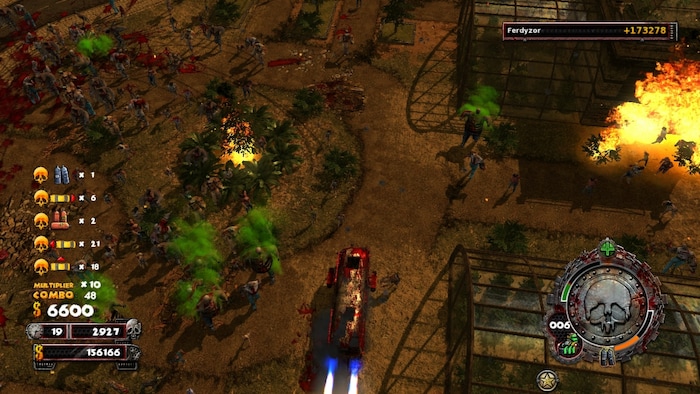 As a result of a chemical experiment, the world was flooded with bloodthirsty zombies. The familiar reality has turned into a gloomy caricature of what it has been so far. Well, you don't have many options left. Get in the game and spend your life fighting the zombies! You can run them over or chase and eliminate them with powerful weapons. By killing your opponents, you earn money that will allow you to develop your arsenal. You can even get yourself a nice military truck. So stand up to fight and clear the world of zombies!
Key features
Run over bloodthirsty zombies with your armored vehicle
Collect weapons and eliminate your enemies one by one
Assemble car upgrades and create the Chariot of Death
Complete tasks and earn money for better and better equipment
OnRush
| | |
| --- | --- |
| Release date: | 2018 |
| Genre: | Racing |
| Developer: | Codemasters Evo |
A cooperative treat for fans of fierce competition in a multiplayer mode. Fight as a team, complete tasks, and become invincible together.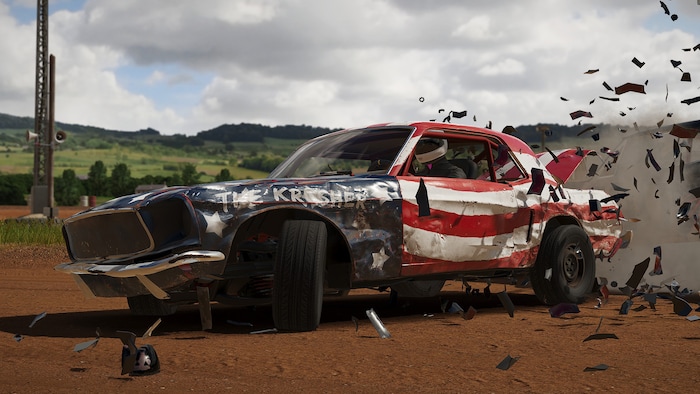 Choose from many vehicles that are a sure guarantee of your win. Customize their features to suit your playstyle and enter a racing world like never before! Each game mode has different gameplay objectives. You have to work together to win. Hit the track together, avoid traps, race, and complete checkpoints. There is no monotony in this game, and the winning options are countless.
Key features
Try yourself in a game focused on cooperation between players
Choose vehicles that meet your expectations
Try out the available game modes and complete all the tasks
Play solo to polish your skills or compete in multiplayer gameplay
Star Wars Episode 1: Racer
| | |
| --- | --- |
| Release date: | 1999 |
| Genre: | Action |
| Developer: | LucasArts |
Every Star Wars fan dreams of one thing – to take part in speeder races. And any of them can do it. Star Wars Episode I: Racer has been offering this kind of entertainment on Steam to PC users for years. And now it's also available to PS4, Nintendo Switch, and Xbox One owners!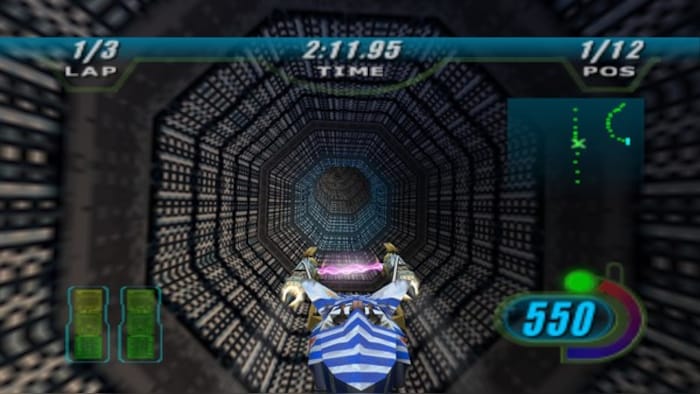 This title is very faithful to the racing style of the racers, known from the movie series. Play as one of several available players, then choose your machine and compete. No holds barred! And since fair-play is kinda a fiction here, feel free to apply any dirty moves you can think of. And all of this on long routes spread across the galaxy straight out from the most famous sci-fi saga.
Key features
Try tracks set in all possible locations
Choose the character and the racer to win each competition
Use tricks and dirty moves to win
Be the fastest in the entire galaxy
Split/Second
| | |
| --- | --- |
| Release date: | 2010 |
| Genre: | Action & Shooter |
| Developer: | Black Rock Studio |
One of the best car combat games, in which you will take part in the most spectacular competition for a TV program. Engage in the fight and race, but most of all – make a good show of it!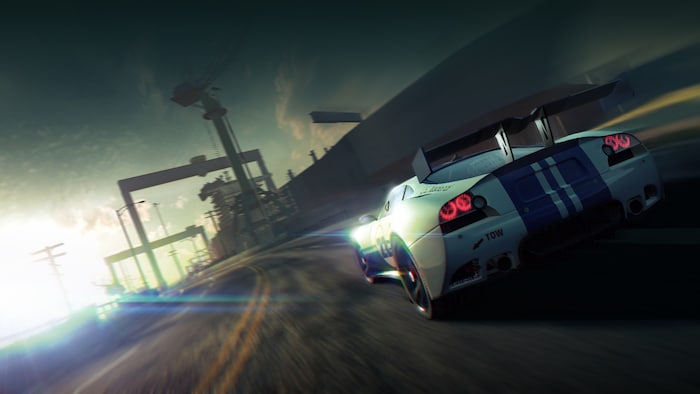 Become the driver of one of the fastest sports cars and enter the fierce gameplay. The crowds will go wild when you prove what you are capable of! And racing is only half the fun here because the best part is the explosions! Charge your Power Bar and blow up road fragments or entire structures. Become the pain in your opponent's lives, outsmart them, outrun them and use the environment to your advantage. You can be sBecome the driver of one of the fastest sports cars and enter the fierce gameplay. The crowds will go wild when mad maxure that this gameplay will be wild, explosive, full of fast-paced action and unexpected twists.
Key features
Race and avoid your opponents' dirty moves
Blow up parts of the route and its surroundings to make other participants' lives more difficult
See amazing effects straight from the best action movies
Play solo or in multiplayer
Blowing up buildings, taking part in truck shootings, and wreaking havoc in the streets remain activities that aren't very welcome in real life. But sometimes people just want to blow up something anyway.
Fortunately, we have access to hundreds of fantastic battle racing games with action-packed gameplay like never before. Everyone wants a bit of brutal steel smashing from time to time. Fast-paced racing or an exciting fight for survival in a post-apocalyptic world. And if you need something lighter, but also set in a similar atmosphere – you can see for yourself, that you will find comparable emotions in car combat games like Mario or Crash Team Racing. So whatever you are seeking, you can rest easy. With each of these titles, your heart will beat to the rhythm of adrenaline and mad speed rush!