For the average, perfectly healthy person playing games is a routine activity. You buy your dream title, run it, play, and that's it. But what if such a trivial task was unimaginably more challenging?
About 16% of the world's population experience some category of disability. And that includes specific groups like people with permanent conditions, seniors, kids, and those with temporary injuries. Games are fantastic entertainment and an incredible escape from everyday problems – regardless of your health. But it turns out that disabled gamers face many more obstacles on the way to perfect gaming joy than anyone else.
The Importance of Accessibility in Video Games
Accessibility in games is about making them more elastic to approach, which in no way means easier. Everyone wants to enjoy a similar difficulty level or be able to choose from more than one setting option to customize the gameplay to their own needs and preferences.
Why does it matter? Because many people in pain, disabled, sick, or stuck at home find freedom in games that the real world can't give them. Games help distract from suffering, are great for mental health, improve dexterity and provide a sense of achievement.
A Historical Overview of Accessibility in Video Games
The history of accessibility in games dates back to 1950 and the arcade Bertie the Brain title. Equipped with different difficulty levels, it made playing tic-tac-toe against AI accessible to everyone, regardless of age, skills, or health. But this was still a time when the topic of gaming as home entertainment was practically non-existent. Everything improved a few years later, and in 1988 Nintendo released the first-ever official controller for disabled people – the NES Hands-Free. Soon, many companies followed suit, adding the first accessibility options to games and gaming equipment.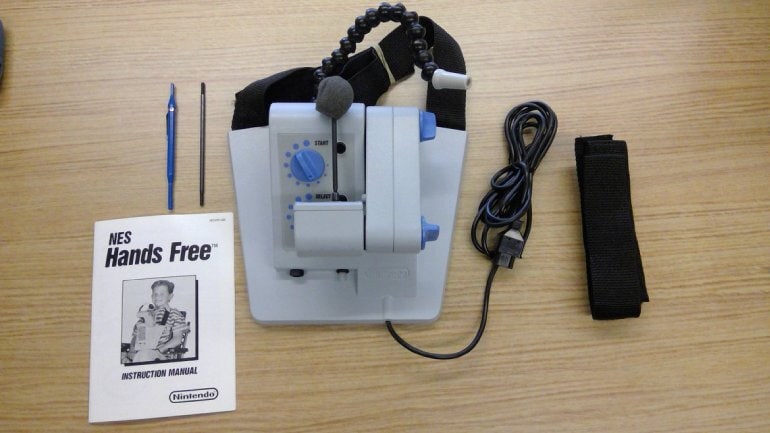 source:https://pbs.twimg.com/
Case Studies – Games That Got Accessibility
The history of gaming knows many cases of developers who took care of greater accessibility in their most popular titles. Already in 2015, World of Warcraft presented a colorblind mode.
But the most famous case is Uncharted 4: A Thief's End, which has a wide range of accessibility choices thanks to suggestions from disabled gamer Josh Straub.
Other great examples are Borderlands 3, Shadow of the Tomb Raider, Marvel's Spider-Man, and Celeste.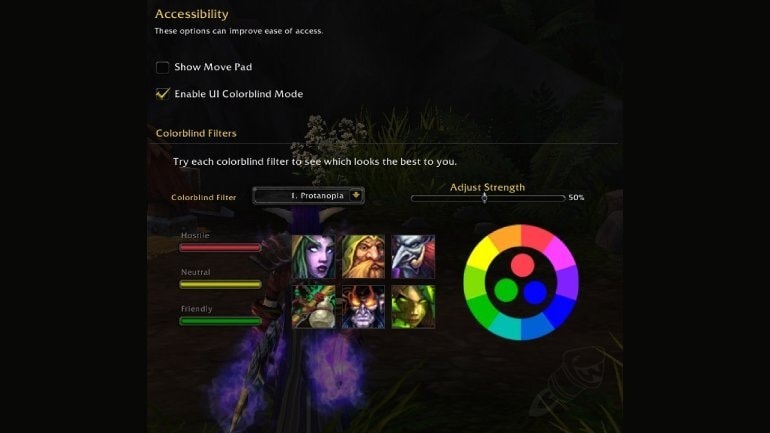 source:https://wow.zamimg.com/
Innovations in Accessibility
Josh Straub decided to help more people, and in 2012 he launched the DAGERS website (Disabled Accessibility for Gaming Entertainment Rating System), dedicated to reviewing new titles in terms of accessibility.
His team evaluates and describes many innovative changes created by developers to make the gameplay experience less problematic. And these are not even some exceedingly complex improvements! Among the basics, we can find:
clearer subtitles
color change settings
different difficulty levels
the ability to skip quick time events
customization of control configurations
button-mashing elimination
All these changes make a huge difference.
The Role of the Gaming Community
For a long time, gamers with disabilities were almost invisible in the gaming world. A lot has changed during the Covid-19 pandemic, which stuck everyone at home and motivated people to play and chat about games online. Celeste's assist mode has also initiated a massive change, making the indie genre the most accessible.
People started talking, which led to some giant companies' interest in improving their games with more accessibility options. God of War and The Last of Us represent just the beginning of the upcoming story about forging new standards. Although some developers, including Hidetaka Miyazaki, still avoid lowering the difficulty level in their games like Sekiro: Shadows Die Twice.
Conclusion
For now, Microsoft seems the most focused on introducing accessibility choices, releasing enhancements like the Xbox Adaptive Controller and co-pilot mode. It is a clever move because disabled players are a massive group of new customers – who always bring money.
source:https://cdn.mos.cms.futurecdn.net/
But accessibility in games is still a young direction, and we must remember that releasing a new title can take years. It, however, means that upcoming titles can introduce many innovative settings and dedicated controllers. The community is becoming more aware. And all we have to do is keep the topic buzzing because even the healthiest man alive may one day need better accessibility in gaming.