Voxel – or volumetric picture element – is the 3D space counterpart of a pixel. Voxels' positioning on the grid is determined by their relation to other voxels in their vicinity, meaning they can be used in rendering complex patterns and structures. For that reason, they are often used in medical computer imaging, such as CAT scanning.
Another use of voxels has been found in video games. Volumetric pixels are easy enough to program. While the graphics achieved with them might lack the detail of polygons, they are a perfect solution for developers to create procedurally generated worlds and destructible environments. From our list, you will find out about the best voxel-based games. 
| | Game | Release | Genre | Developer | Sale | |
| --- | --- | --- | --- | --- | --- | --- |
| | Minecraft Java Edition | 2013-11-19 | Action | Mojang | 22% | Read more |
| | Minecraft Story Mode A Telltale Games Series | 2015-10-13 | Adventure | Telltale Games | | Read more |
| | Teardown | 2020-10-29 | Puzzle | Tuxedo Labs | | Read more |
| | 7 Days To Die | 2013-12-13 | Adventure | The Fun Pimps | 80% | Read more |
| | Paint The Town Red | 2015-10-13 | Action & Shooter | South East Games | 37% | Read more |
| | Pixark | 2018-03-27 | Adventure | Snail Games USA | | Read more |
| | Clone Drone In The Danger Zone | 2017-03-16 | Action & Shooter | Doborog Games | 24% | Read more |
| | Lego Worlds | 2017-03-07 | Adventure | Traveller's Tales | 77% | Read more |
| | Staxel | 2018-01-23 | Indie | Plukit | 83% | Read more |
| | Voxel Tycoon | 2021-04-15 | Simulation | Voxel Tycoon | | Read more |
| | Dragon Quest Builders 2 | 2019-07-12 | Action | Koei Tecmo Games | 58% | Read more |
| | Cloudpunk | 2020-04-23 | Indie | ION LANDS | 78% | Read more |
| | Astroneer | 2016-12-15 | Adventure | System Era Softworks | 11% | Read more |
Minecraft
| | |
| --- | --- |
| Release: | 2013-11-19 |
| Genre: | Action |
| Developer: | Mojang |
Minecraft is the quintessential voxel game. Created by Markus Persson, the game allows the players to create complex structures in an open-world environment. Each piece of the environment is made of a separate voxel, so the player can easily dismantle them for resources necessary for building.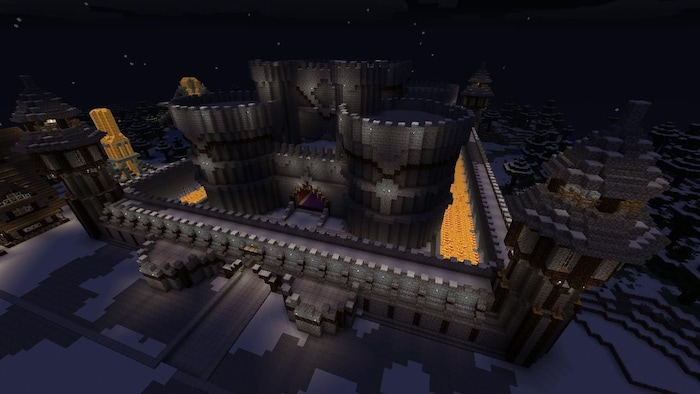 The game features various modes, only some of which rely on the voxel-based building. Minecraft's game modes will have the player fighting for survival against a horde of bloodthirsty Creepers or digging deep into the structure of the world to find and fight the Ender dragon. However, the real fun of Minecraft lies in unrestricted creative freedom, which players can use to build fantastic constructions to wow others.
Key features
Explore the procedurally generated open-world environment
Enjoy a voxel-made world full of exploitable resources
Enjoy the variety of modes, including the popular Survival
Teardown
| | |
| --- | --- |
| Release: | 2020-10-29 |
| Genre: | Puzzle |
| Developer: | Tuxedo Labs |
Teardown could be called a "reverse Minecraft." While Mojang's production focused on the creative process using the voxels, Teardown has the player rip things apart and collect materials from the volumetric pixels. In the game, the player controls a member of the Lockelle Teardown Services – a company that takes on illegal business to stay afloat. As the player explores five open-world levels, they will get a chance to tear down buildings and extract resources in timed missions.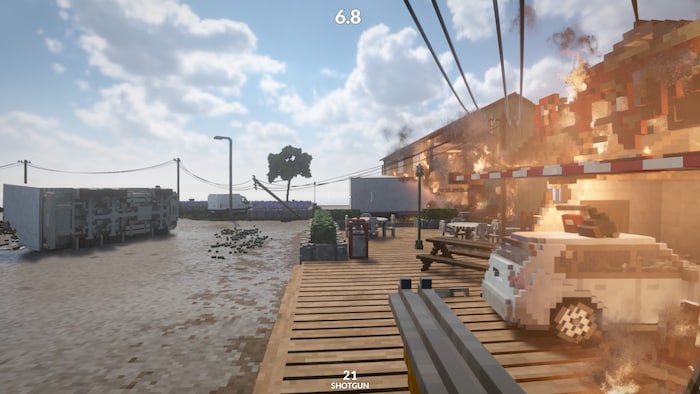 The gameplay isn't only about destruction, though. While the primary goal of Teardown's missions is to rip buildings apart for resources and money, the game features a sandbox mode and a level editor in which the player can have some creative fun. Using the program MagicaVoxel, the player can build and import their constructions into the game, including buildings and levels. Teardown is a perfect game for those who want to experience a bit of voxel destruction.
Key features
Enjoy voxel mayhem as an employee of Lockelle Teardown Services
Sneak into buildings and tear them down to rubble using a variety of tools
Finish the job before the time is up and collect the materials from the destroyed building
7 Days to Die
| | |
| --- | --- |
| Release: | 2013-12-13 |
| Genre: | Adventure |
| Developer: | The Fun Pimps |
7 Days To Die is set in a post-apocalyptic world where a nuclear war has left most of the planet uninhabitable, except for small pockets of human activity. One of them is the town of Navezgane, Arizona, where the action of the game takes place. Every day, the town is assaulted by a horde of bloodthirsty mutants, and the player's job is to survive against the onslaught as well as against the unforgiving elements.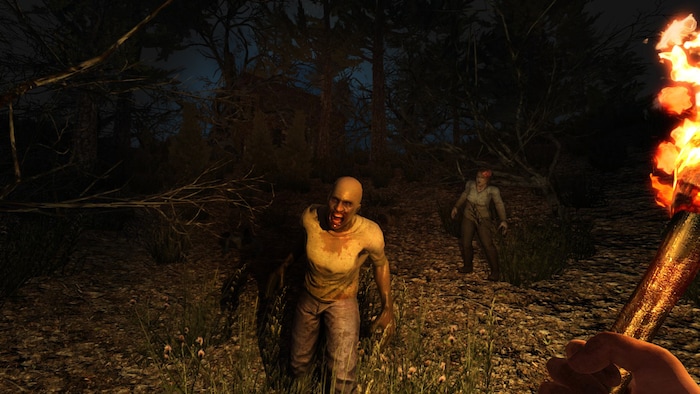 7 Days to Die's gameplay focuses mainly on survival. The player has to tend to their character's needs, providing food and water to keep them healthy and strong. The use of voxels is featured in small bits of construction and destruction mechanics that the player can use to strengthen the defenses against the mutant hordes. 7DtD is a perfect game for the fans of intense survival horror games.
Key features
Welcome to Navezgane, Arizona. Population – you and the horde of mutants
Gather resources to survive against the elements and enemy attacks
Build your defenses using voxel-based construction mechanics
Paint the Town Red
| | |
| --- | --- |
| Release: | 2015-10-13 |
| Genre: | Action & Shooter |
| Developer: | South East Games |
If you ever wanted to take part in a bar fight but were too afraid to start one, how about you try your luck in Paint the Town Red. This brutal, voxel-based melee combat game encourages players to fight their way through patrons of bars, dance club partygoers, saloon brawlers, and more. Using anything that falls in your hands, beat the living daylights of anyone within your reach and watch them fall apart into a bloody, voxel mess.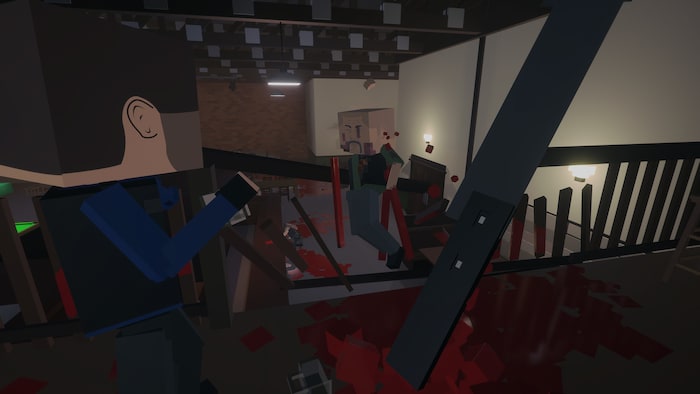 Paint the Town Red features several game modes. Scenario mode throws the player into the heat of battle in different locations. In Beneath, the player explores rogue-lite dungeons. Arena mode features various challenges, and in the Endless mode, the player has to survive as long as they can against enemies. All that in a voxel-made world, against voxel-made, completely destructible enemies.
Key features
Fight epic brawls in various locations
Enjoy a variety of single-player and multiplayer modes, including the rogue-lite Beneath
Enjoy destroying your voxel-based enemies and  environment
PixARK
| | |
| --- | --- |
| Release: | 2018-03-27 |
| Genre: | Adventure |
| Developer: | Snail Games USA |
PixARK blends the gameplay mechanics of the two titles that inspired it – Minecraft and ARK: Survival Evolved. The voxel-based graphics of Minecraft blend surprisingly well with the survival gameplay of ARK. The player can explore the island, populated by 100 different species of dinosaurs, and manipulate the voxel-based environment by adding or removing blocks.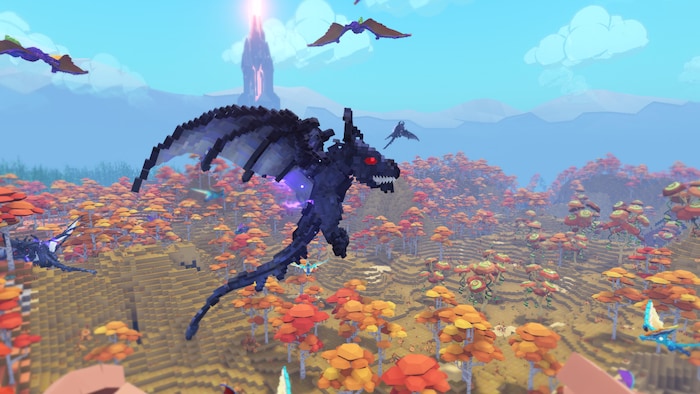 The game features two modes – Survival and Creative. In survival mode, the player is put against the challenges of the game's procedurally generated world and its randomized quests. In creative mode, the player can enjoy endless possibilities of building structures without worrying about getting chewed on by a dino. PixARK is the perfect match for those who enjoy the creative options and survival mechanics of both Minecraft and ARK and would like to enjoy them in one game.
Key features
Explore the procedurally generated voxel-art world inhabited by 100 species of dinosaurs
Tame dinos or hunt them for resources
Build magnificent voxel structures in Creative mode and fight for your life in the Survival mode
Clone Drone in the Danger Zone
| | |
| --- | --- |
| Release: | 2017-03-16 |
| Genre: | Action & Shooter |
| Developer: | Doborog Games |
In the distant future, robots with human brains are fighting each other in brutal arena fights to the joy of millions. But the robot arena showrunners are in for a rude awakening, as the resistance is brewing right under their noses. Will you lead fellow gladiators against your masters? Or will you enjoy your time in the limelight by brutally massacring anyone that stands in your way? The choice is yours.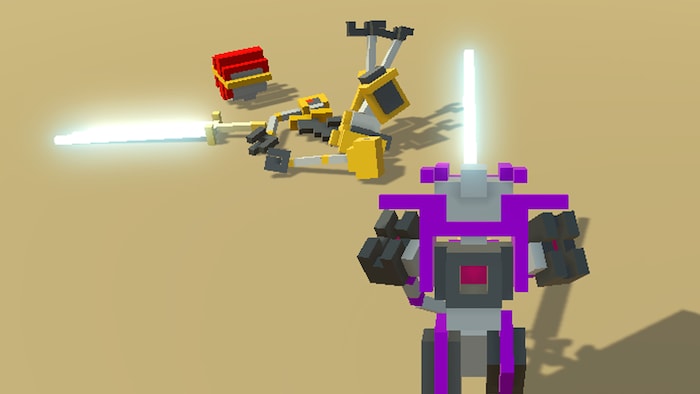 Clone Drone in the Danger zone features several gameplay modes, both single-player and multiplayer. The solo participants in the robot mayhem might enjoy cutting up their voxel enemies in an inspiring Story Mode, Endless Mode, where they take on waves of enemies, and Challenge Mode, only to be completed under specific conditions. In multiplayer, the players can team up on the arena in co-op mode, participate in a deathmatch, or fight to the last drone in the Last Bot Standing mode. The game features voxel-based graphics and physics – defeated enemies fall apart depending on where the player had struck them with their laser sword.
Key features
Enjoy the voxel-based battle royale against robots
Participate in a variety of single-player and multiplayer modes
Experience the complex combat mechanics