These days, kids enjoy a considerably broader range of entertainment than in the past, and they no longer have to limit themselves to purely physical games. They can put their muscle and mental strength into something better and more immersive than any comic book or movie – video games.
Video games come in different versions – from educational to pure entertainment or fitness, like Just Dance. But how can you know which are good for kids in a particular age group? Yes, a game is an excellent choice for Christmas or a birthday. But average parents don't have time to read a million descriptions on Steam or watch trailers on YouTube to judge if this is the one. Fortunately, we can help you learn how to quickly and easily choose age-appropriate video games.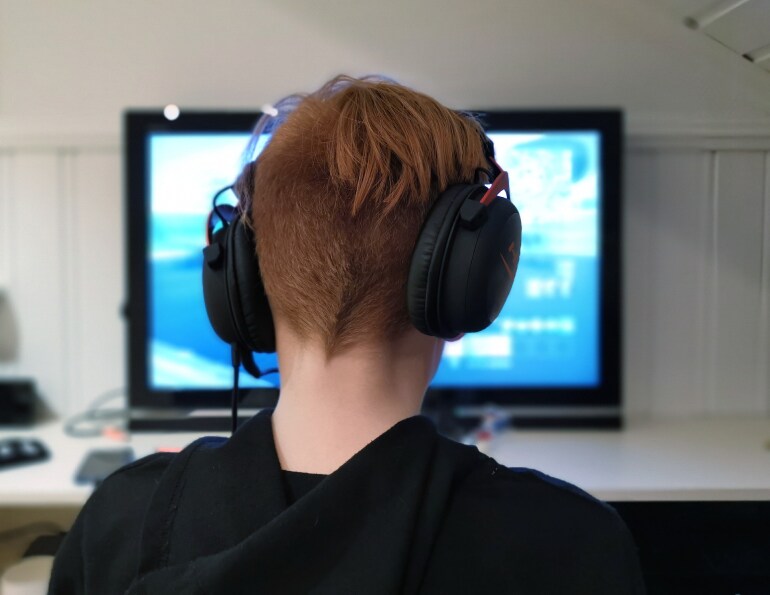 Importance of knowing the age of the kid when choosing the game
Video games are an enormous source of education and fun if their content is tailored to the recipient's age. Younger offspring can easily get scared by specific scenes in titles for older kids, and slightly older children can learn inappropriate language or behavior. But you can easily distinguish age-appropriate games based on age ratings. In Europe, it is PEGI (Pan European Game Information), and in the United States, it is ESRB (Entertainment Software Rating Board). These two organizations have created and enforced strict age-rating rules for video games, and the easiest way is to learn and recognize their markings.
Kid's ages and appropriate game types for each age group
Depending on which part of the world you live in, check out this quick guide about recommended titles for the chosen age group. If you learn the age ratings, buying a video game for your child will be easier than ever. And to make you grasp what types of games will be the finest for a particular age group, we prepared some classic examples to help you get an idea of the best content.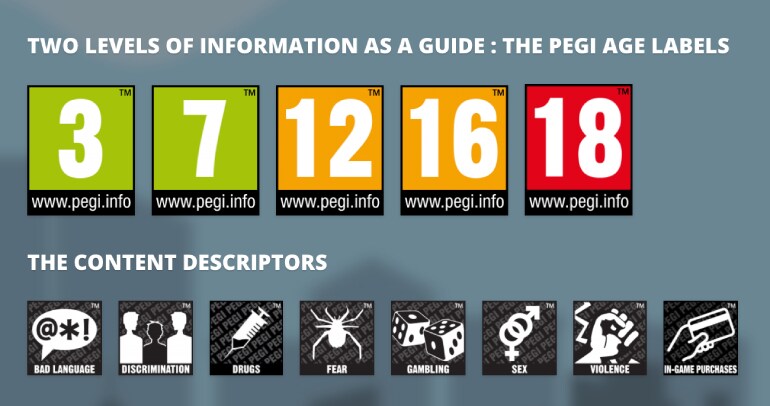 The PEGI system distinguishes five essential identifications:
PEGI 3 – Right for all ages, but the game should not contain images or sounds that can scare small children. The best choice is educational, cooperative, and adventure games like Overcooked, Just Dance, or Animal Crossing.
PEGI 7 – Suitable for young children, it may contain mild forms of violence. Games for this age group can be a little more challenging, improve coordination, and train memory. They include Super Mario Odyssey, Plants vs. Zombies, Minecraft, or Ori and the Will of the Wisps.
PEGI 12 – Appropriate for children 12 and over, it may contain lifelike depictions of violence. These games can have some scary features and encourage the use of imagination. There are titles like The Legend of Zelda: Breath of the Wild, Sea of Thieves, or The Sims 4.
PEGI 16 – Suitable for children 16 and over, it may show realistic forms of violence, strong language, and the use of various drugs. When looking for video games for this age group, you can choose from many inspiring titles like Horizon: Forbidden West, Uncharted, Diablo 3, or Elden Ring.
PEGI 18 – Suitable for adults, it may contain intense scenes of violence and glorify sex, drug abuse, and gambling. In this category, the choice largely depends on what your kid enjoys the most, as there is a massive selection of genres. The best titles include God of War: Ragnarok, Grand Theft Auto V, Red Dead Redemption 2, and Demon's Souls.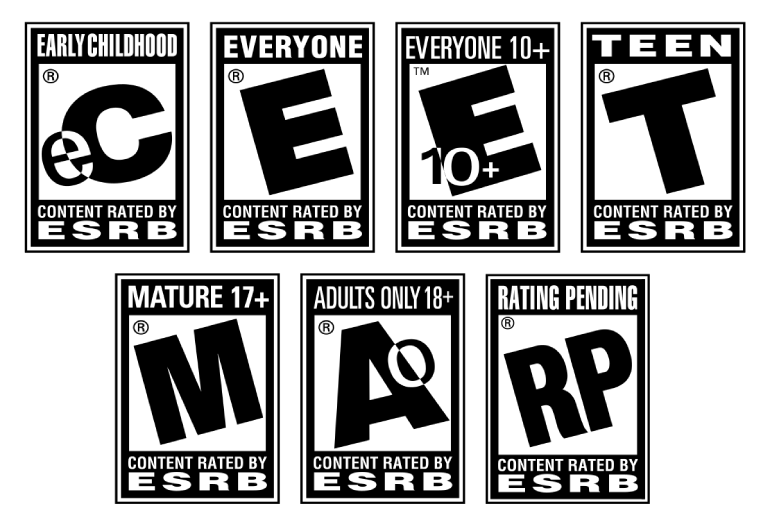 The ESRB system looks a bit different, using letter designations:
E – Everyone – Appropriate for all ages, must not contain scenes that can frighten small children. It may feature fantasy or cartoon mild scenes of violence. Among the games with this tag, you will find engaging titles like Farming Simulator, FIFA, Animal Crossing, or Sackboy: A Big Adventure.
E 10 – Everyone 10 – Suitable for ages 10 , may contain mild violence, light language, and suggestive themes. In this category, you will discover a vast selection of fun games like Hello Neighbor, Minecraft, LEGO Star Wars, Hollow Knight, and more.
T – Teen – Appropriate for ages 13 and older. It may contain more realistic scenes of violence, use of strong language, or crude humor. Among the games with this classification, choose Immortals Fenyx Rising, Hogwarts Legacy, Octopath Traveler, or No Man's Sky.
M – Mature – Suitable for ages 17 and up, it may contain realistic violence, gore, blood, strong language, and drug use. These games are also much more challenging and include mature content. If you are looking for an accurate title for your seventeen-year-old, choose from games like Forspoken, The Last of Us, Elden Ring, or Like a Dragon: Ishin!
AO – Adult – Suitable for adults only, may contain scary scenes of violence, sex, drug abuse, and strong language. Titles with similar content include Manhunt 2, Hatred, and Agony.
RP and RP Likely Mature 17 – Mean games waiting for their rating.
Guidelines for choosing the right game for kids
As a parent, you probably know best what type of person your child is. So theoretically, just reading the details of a video game in a chosen age rating should be enough to tell whether it will be fun enough or beneficial for education. But if you're still unsure and don't have time to play the game, know the main age ratings reveal additional content descriptions like bad language, drugs, fear, alcohol reference, and more. If you want to avoid any of these sensitive details, discover the precise meaning of content descriptions for the ESRB and PEGI to always be sure.
A brilliant idea would be to download the innovative PEGI app from Google Play or the Apple Store. Having it always at your fingertips, you can investigate the content details of each game and its age rating. The app is also stocked with valuable information about parental controls, co-playing, and the best games for kids of all ages. It is incredibly easy to operate, and you can even use it in the local store for last-minute Christmas shopping.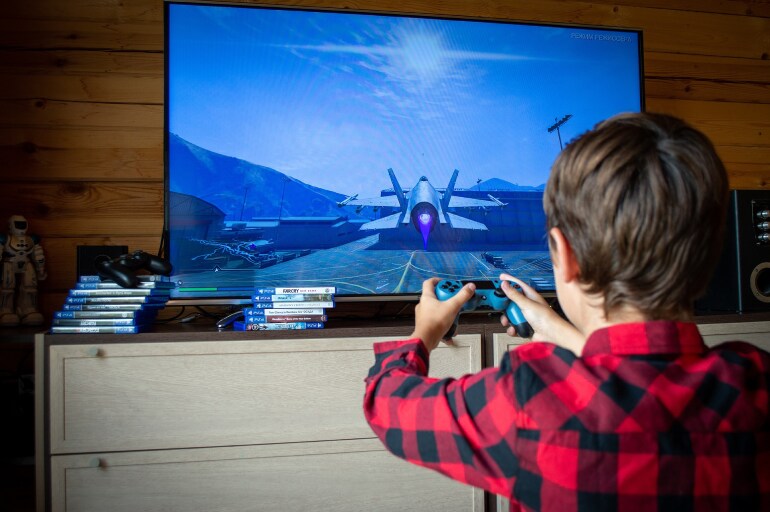 Conclusion
The ESRB and PEGI are leading organizations that care about the right content for every age group. But remember that despite the strict rules of official classification, even these markings can sometimes be wrong. Much depends on other external factors, like your moral preferences, the child's interests, or his particular sensitivity to some controversial themes. So you can't simply trust the tag and make an instant gift based solely on the rating because it is partially just a practical suggestion.
The best will be to consider your options as a buyer, think about what this kid likes to play, and make a gift that will be a cherished memory for a lifetime. Because at the end of the day, any video game is just fun – even if it has some educational value. Your most important task is to not turn this experience into a nightmare and enjoy your kid's joy.