In the early 2000's, choosing the right keyboard for a computer wasn't particularly difficult, because most keyboards available on the market at that time were very similar. There were differences, sure – you could choose the color, layout, presence of multimedia buttons and such. Sometime later, when USB standard became more popular, you could also choose if you wanted a USB keyboard or an old-fashioned PS/2 one.
And that was it. Most of the widely-available mass-produced keyboards worked similarly, and if they didn't, many of us couldn't even tell the difference. They were cheap and they had only one purpose – to allow us to type on the computer. Most consumers didn't care about the comfort of use, because they didn't spend much time on the computer, and they didn't know any alternatives.
But there were alternatives, and those who knew what to look for could find them. The mass-produced keyboards were the membrane keyboards. However, there were already other types of keyboards available, including the buckling spring ones made by IBM, namely the famous Model M manufactured between 1984 and 1999. It produced specific clicky sound each time you pressed a key – for some, it was enough of a reason to use the buckling spring keyboard over the membrane ones. But typing was also noticeably more comfortable in comparison to membranes. Gaming, on the other hand – not so much, due to the more force being required to press each key.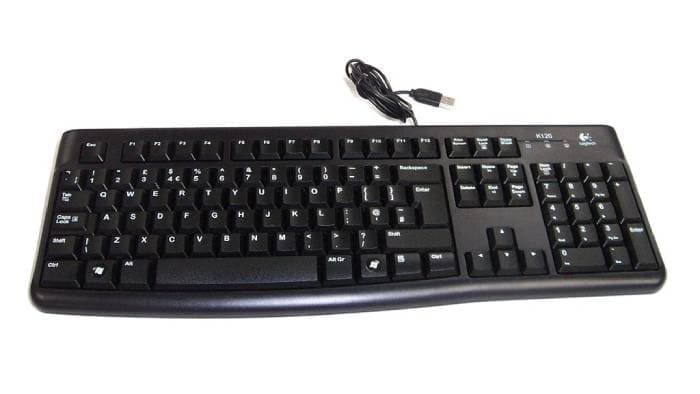 Unfortunately for more advanced computer users, manufacturers started to look for a cheaper way of making keyboards in order to deliver their products to more people, thus allowing companies to make more money. Membrane keyboards were the way to go as they were much cheaper to make. As a result, they soon flooded the market and left mechanicals far behind, turning them into niche products for enthusiasts.
Years passed and gaming became more and more popular. The Esport scene formed and gaming-related activities started to generate meaningful income. Things got serious, and it was the perfect time for the gamer's Holy Grail to emerge – a mechanical keyboard. Better. Faster. Smoother. More responsive. With better feedback. It was a gamer's dream come true. Now mechanicals are all over the place – this is what's currently on top.
But why all this fuss? Are mechanical keyboards really that much better than membranes?
Mechanical Keyboards – Main Features
Let's take a look at the key (no pun intended) features of mechanical keyboards. We won't look at how they work under the hood, but rather at what we can experience ourselves when using each keyboard.
Noise. The first thing you will notice is the noise each mechanical keyboard produces when pressing the keys. In mechanicals it largely depends on the specific switches used in keyboard – some make more noise than others. If you share the housing space with roommates or family, you might want to get linear or tactile switches, as they are not as loud as clicky ones. Clickies, on the other hand, have that specific click sound resembling the good old Model M keyboard – it may sound great for some, but it may be also annoying for people sitting in your proximity.
Durability. Another noticeable feature is the overall construction. Mechanical keyboards are much more sturdy, durable and heavy. They don't feel cheap. And it's not just a false sensation – mechanical keyboards are in fact very resistant to damage. This includes the switches, that can last 50 to 100 million clicks, on average. On the flip side, the greater weight of mechanical keyboard translates to greater difficulties when it comes to transportation – it's undoubtedly an issue when it comes to packing a bulky mechanic.
Activation Point. Something that's less obvious at first glance, but still very important in terms of mechanical keyboards features, is the activation point. In mechanics, there's no need to bottom out keys, as each key is usually registered halfway. You can still push it all the way down, but there's no reason for that. In fact, it's worth learning how to not bottom out the keys on mechanical keyboards. It may take some practice, but it will significantly increase your efficiency at typing – you will type faster and you will need less pushing force.
Key Rollover. This is not as important as previous entries, but still worth mentioning. Key rollover tells the number of keys that can be pressed simultaneously and still be registered correctly – the more, the better. Most mechanical keyboards usually have 6KRO, or a 6-key rollover, meaning you can press up to 6 keys simultaneously, but it's not hard to find even an NKRO mechanical keyboard, which means it will have an unlimited key rollover. Cool addition if you're planning to play with a friend on a split-screen using the same keyboard.
Removable Keycaps. Keycaps in mechanical keyboards can be easily removed. This means two things. First – you can swap some keycaps with different ones, making a fully-customized keyboard. Second – you can gain access to the lower parts of the keyboard, making it much easier to clean from dirt.
Price. The last thing we need to mention is the price. As you might have guessed, mechanical keyboards are usually more expensive. It's understandable, however, considering the above-mentioned features – all of them will cost you a little extra.
Mechanical Switches – Linear, Tactile, Clicky
When choosing a mechanical keyboard you will need to decide what kind of mechanical switches you want. There are tons of different switches, each providing a slightly different experience, so you will surely find ones that suit your needs and preferences. You can choose from a variety of renowned brands, such as Cherry MX, Gateron, Kailh or Outemu, to name a few.
The switches are different in terms of the actuation force, activation point, travel distance, and few other things, but probably the most important is the choice between linear, tactile and clicky switches.
When pressing tactile or clicky switches you will experience a little bump right before reaching the activation point, making it easy to tell if we pressed the key yet or not. The clicky ones additionally make that specific clicky sound known from Model M keyboard or old typewriters.
Linear, on the other hand, have no such bump. If you closed your eyes and started to slowly push the key down, you wouldn't be able to tell at which exact moment the key is registered.
There are no good or bad switches – to each his own. Your best bet before buying a mechanical keyboard would be to visit your local retail shop and test each switch yourself.
RAZER BlackWidow V3
| | |
| --- | --- |
| Switches: | Razer Green (clicky) |
| Waterproof: | IP54 |
| Wrist rest: | No |
| Backlight: | Green |
| Key rollover: | 10-KRO |
If you are looking for a new mechanical keyboard, you can't go wrong with Razer BlackWidow Ultimate.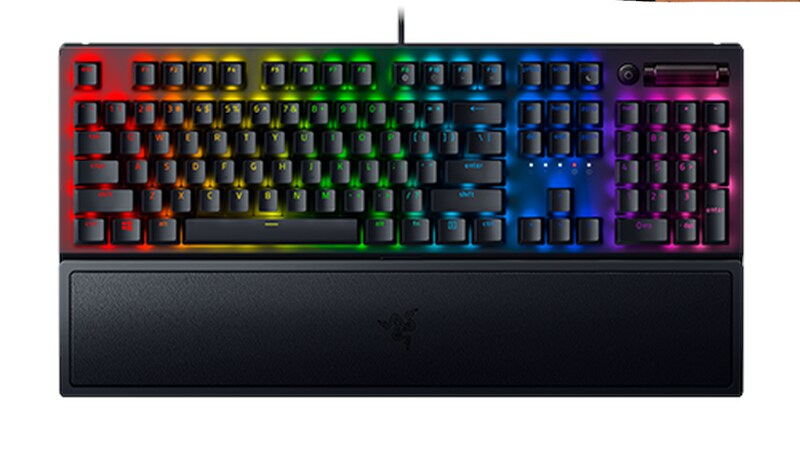 This is a gaming keyboard that aims to give you an edge in competitive Esport titles with its highly-responsive Razer Green Switches – tactile and clicky. It is worth noting the IP54 rating, meaning the keyboard is resistant to dust and accidentally spilled drinks.
| | |
| --- | --- |
| Switches: | QX2 (linear) |
| Waterproof: | No |
| Wrist rest: | No |
| Backlight: | RGB |
| Key rollover: | NKRO |
If you are after mechanical keyboard with impressive RGB lighting, then SteelSeries Apex M750 could be the way to go.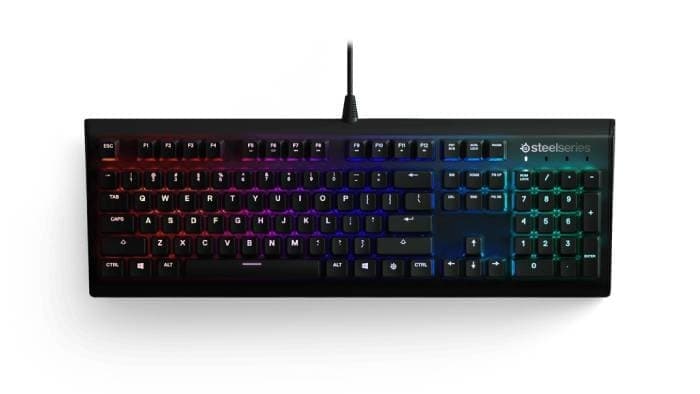 The keyboard works on QX2 linear switches with a 45cN actuation force and 2 mm activation point. The linear nature of the switches ensures comfortable experience during playing, especially in dynamic games where it's often required to quickly press the same key multiple times.
Roccat Vulcan 120 AIMO
| | |
| --- | --- |
| Switches: | Roccat Titan (tactile) |
| Waterproof: | No |
| Wrist rest: | Yes |
| Backlight: | RGB |
| Key rollover: | NKRO |
Another possible option is Roccat Vulcan 120 AIMO.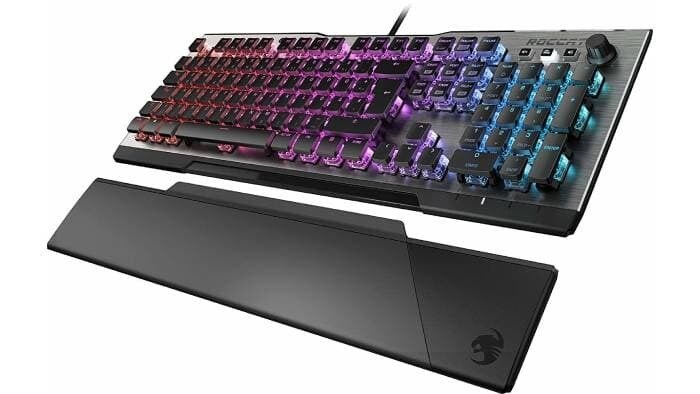 The ergonomic design combined with included magnetic wrist rest allows using the keyboard comfortably even during longer sessions of playing. The keyboard's uniqueness lies in the keycaps – these are much shorter than in most other keyboards, revealing the LEDs placed underneath for more enjoyable RGB experience.
Logitech G513
| | |
| --- | --- |
| Switches: | Romer-G Tactile, Romer-G Linear, GX Blue (clicky) |
| Waterproof: | No |
| Wrist rest: | Yes |
| Backlight: | RGB |
| Key rollover: | 26-KRO |
Logitech G513 also makes a good choice, especially if you are a dedicated gamer.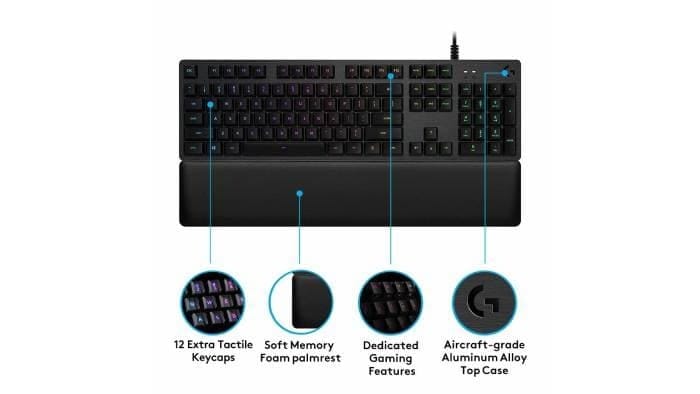 Besides the RGB lighting, which these days is a standard in such high-quality gaming-related products, it's worth to mention the extremely durable construction, as well as 12 extra keycaps for keys used most often in games. The memory foam wrist rest makes the overall experience even better.
Summary
If you never tried a mechanical keyboard before, you should definitely at least give it a go, especially if you spend a lot of time on the computer. Depending on your needs, mechanical switches can turn both typing and gaming into a much more pleasant experience. Your productivity will most likely increase, and you will have a real advantage in competitive games.
There are tons of great keyboards available on the market, like the mentioned Logitech G513 or Razer BlackWidow Ultimate, but you need to remember that each mechanical keyboard may perform slightly different. This is why it's important to try the keyboard yourself and compare the possible options before deciding which one to purchase. Good luck and have fun!