Steam is possibly the biggest player in the field of digital distribution of games. It's an immense store where games of effectively every type can now be bought, in addition to various kinds of utility software. With that in mind, it's worth considering a method of payment built into the platform: the Steam Wallet.
What is a Steam Wallet?
To put it shortly, Steam Wallet is a virtual cache of currency which you can use to purchase products in the Steam Store.
It functions as an alternative to the more traditional methods of payment, such as a credit card, or external payment service providers. Steam Wallet holds all the funds you have topped it up with, ready for immediate use. It cuts out the middleman, which makes it faster than virtually any other payment method.
It can also be used as a voucher or the secondary payment method, because you can use it to cover the difference between your funds on, say, PayPal, and the price of the product.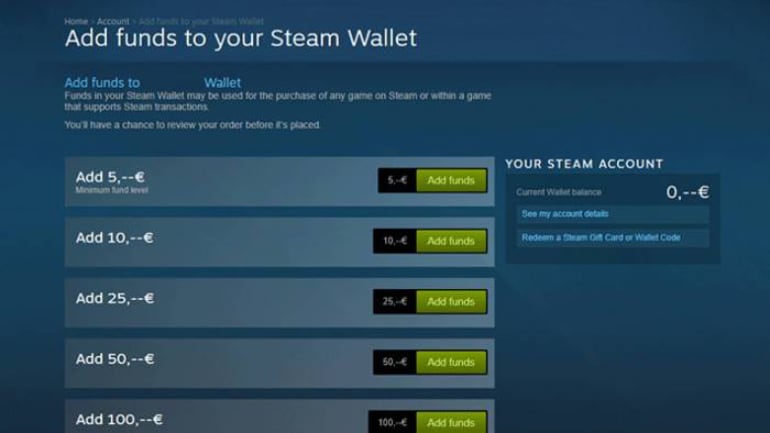 For instance: your PayPal account holds $45, but you want to buy a $60 game. If your Steam Wallet has at least $15 on it, then the transaction will go through, with the necessary amount drawn from the Wallet. You can always see your Wallet balance in the upper right corner of the Steam client (or webpage, if you're using the browser version at the given moment) as long as you have some money in it. Alternatively, follow these steps to access it after logging in:
Click your account name in the upper right corner
Select "Account Details"
How to add funds to Steam Wallet?
There are three ways to top-up your Steam Wallet.
A transfer – you can add funds to the Wallet by "buying" them the way you would buy a product.

Go to the "Account Details" subpage described above, and select " Add funds to your Steam Wallet".
You will be prompted to select a specific value (predetermined by the store based on your currency), and then you'll be able to check out like for any other product.
The funds will appear on your account as soon as your bank and/or payment service provider records the transaction.

A Steam Wallet code – in certain physical (and some digital) stores you can find what amounts to a Steam gift card with predetermined amounts of money on them.

If you're based in the USA, for instance, and your Steam Store currency is USD, you have the following Steam card prices/values available: $5, $10, $25, $50, $100.
Using cards with a currency different from the one your account defaults to (the one your store uses) might result in an error, caution is advised.
We provide a quick guide to using these codes further down.

Selling digital items on the Steam community market – Steam provides its users with a bustling marketplace where they are able to sell a variety of items gained mostly through playing games.

Many of them include cards which can be collected and turned into badges, emotes, and backgrounds for your Steam profile, or sold for some amount of money.
The skin trade is likewise thriving, and items you sell on the Steam market result in funds added to your Wallet.
It's not always a large sum, often it's miniscule, depending on the demand and supply, but it's something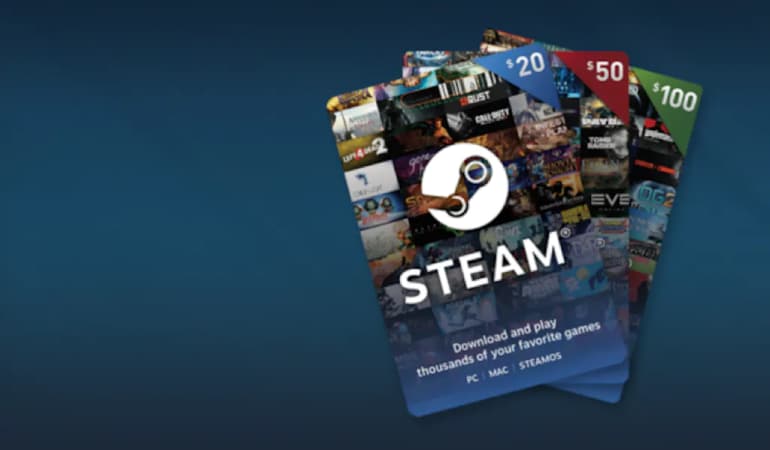 Frequently asked questions about Steam Wallet
Do the funds expire?
No, they don't. If you notice that your Wallet is empty despite having contained some funds before, it is likely because you made a recent transaction, and the system automatically drew funds from it in addition to your chosen payment method.
Can Steam Wallet funds be withdrawn?
No, once you transfer the money it stays on your account. You can only use it in the Steam Store or external websites which cooperate with Valve (Steam's owner) to allow payments with Steam Wallet.
What can I buy with Steam Wallet funds?
Everything on the Steam Store (games, software) and Steam Community Market (in-game and community items), provided you have enough funds to complete the transaction.
Where can I buy Steam Wallet codes/cards?
There are many retailers, digital and physical which may have them in stock.
In the case of physical stores it depends on your region, not all of them operate everywhere in the world.
In the case of digital ones, marketplaces like G2A.COM often have a selection of many gift cards, in different currencies, independent of Steam's own region detection limiting what currency you can purchase.
Where to redeem these Steam Wallet vouchers
You need to go to http://www.steampowered.com/wallet if you're using the browser version.
In the Steam client you need to click your account name in the top-right corner.
Select "Account Details" and click on " Add funds to your Steam"
Select "Redeem a Steam Gift Car or Wallet Code" from the sidebar on the right.
In both cases you then need to type in or paste the code from the card into the text box and click continue.
If your Steam card was purchased in a currency different than your Steam Store uses, you will be prompted to accept the currency conversion before receiving the funds.
Can Steam Wallet funds be transferred to another account?
No. Once they are tied to your account, it is impossible to directly transfer them to another, unless the other account puts something up for sale.
Otherwise, if you wish to give funds to another account you need to purchase a new Steam Wallet code.