We assumed Mojang Studios invented every idea Minecraft had to offer. Oh, how wrong we were! Especially since Legends is something completely different than before.
The official Minecraft Legends trailer is quite intriguing. The courageous hero, on his equally heroic mount, thoughtfully watches the countless hordes of Piglin forces invade his peaceful world. There is only one solution – battle. To the accompaniment of an epic soundtrack, enemy armies clash on the battlefield to… well, what? The gameplay features many possible outcomes, so it turns out that the players decide how the plot develops. To learn more about this exciting title, read our brief guide!
Story
Overworld encounters a grave threat that may disturb the peaceful balance of the entire land. The hostile Nether forces cross Portals, demolishing and ruining everything in their path. This world needs a charismatic leader, a chief who will guide allied armies into fierce battles to banish evil once and for all! Sounds like fun? It is just the beginning of the glorious adventure this title contains!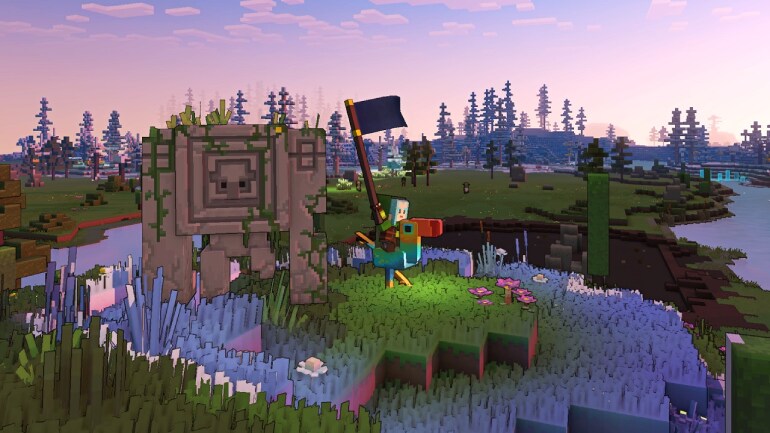 Gameplay
ML game is a unique combination of real-time action and third-person strategy. This new Mojang Studios creation is the product of cooperation with Blackbird Interactive – known for making successful games like Homeworld: Deserts of Kharak and Crossfire: Legion. And it shows, as no other Minecraft spin-off has ever been as adrenaline-fueled and plot-oriented as this one. The fun begins with an understandable and intriguing tutorial capable of engaging even entirely new players. The controls are similarly uncomplicated, and all functions are immediately visible in a simple campaign menu using only four hotbars. After grasping all these details, players can continue straight to the game's heart.
The goal is simple – do whatever it takes to defend the land of Overworld from the multiplying Nether invaders. The evil Piglins are destroying everything in their path, so the players must rebuild the fortifications and villages before it's too late. Unlike classic Minecraft, the campaign in this title allows you to create your mighty army and get help from possible allies to build faster and plan attacks on enemy forces. There is also exploration, collecting resources, and very handy story cutscenes suggesting what to do next. Destroying all alien Portals means the end of the campaign and the possibility of creating another one on an entirely new procedurally generated map.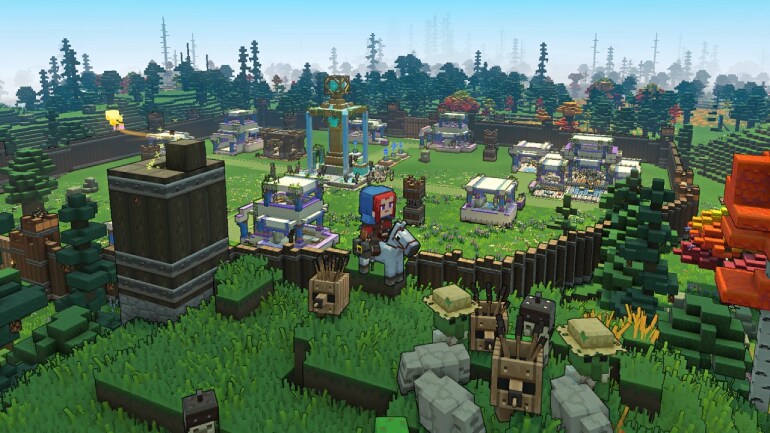 Some players may wonder how different this is from Minecraft: Dungeons since both titles are story-driven spin-offs of classic Minecraft. Overall, Dungeons focuses on exploring linear levels solo or with friends, while Legends is obviously a combat-centered game. The former also features a different type of story dedicated to fighting Illagers attacking local villages. Plus, it provides more content in the form of six DLCs.
Multiplayer
But that's not all this exciting new Minecraft title has to offer! In addition to the single-player campaign, players can lose themselves in a cross-platform co-op or fierce competition with their friends, random participants, and Piglins as opposing PvE factions. Co-op features immersive campaign players can experience together to construct a base and defend their peaceful world from waves of invaders. PvP, on the other hand, is a game for eight people divided into two teams of four made up of friends or random members.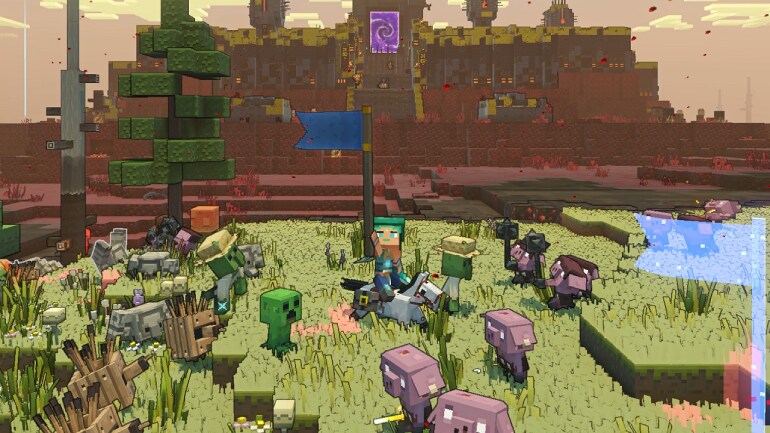 Mobs
There is no Minecraft without AI-driven mobs. Assuming you wonder if this title will allow the use of their presence for your command purposes, we have good news! The new game from Mojang Studios features many hostile, friendly, and neutral mobs. You can build an army of Skeletons, Creepers, Zombies, Golems, and more by riding the magnificent Regal Tiger (known from the official launch trailer), colorful Big Beak, or Horse. But prepare for encounters with mighty hostile armies using various dangerous creatures like all kinds of Piglins, Lava Launchers, or Portal Guard mini-bosses that can be pretty challenging to defeat. All these creatures are an excellent opportunity to implement alternative strategies in the face of impending danger!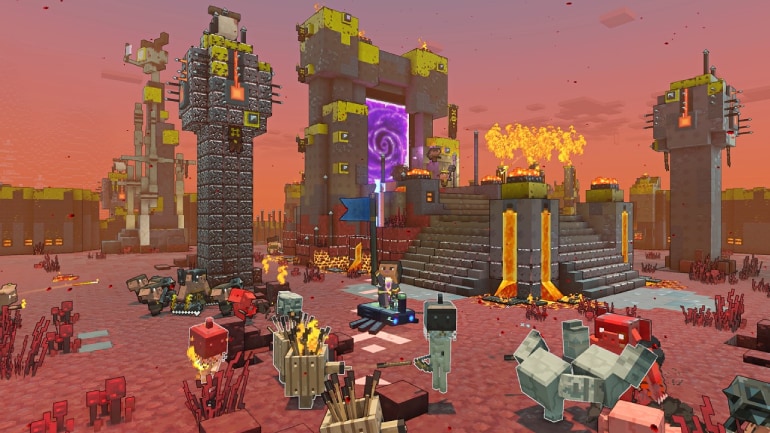 Difficulty levels
Expect four difficulty levels: Storied, Fabled, Mythic, and Legendary. The first is, by far, the most relaxing, with fewer enemy bases and more resources. Fabled features more complex challenges, still suitable for new players. Mythic means fewer necessary resources and menacing opponents, requiring some focus and the use of proper strategy in combat. And the last — Legendary — is an unexpectedly hostile world, full of multiplying enemies and frequent attacks with almost no help to use.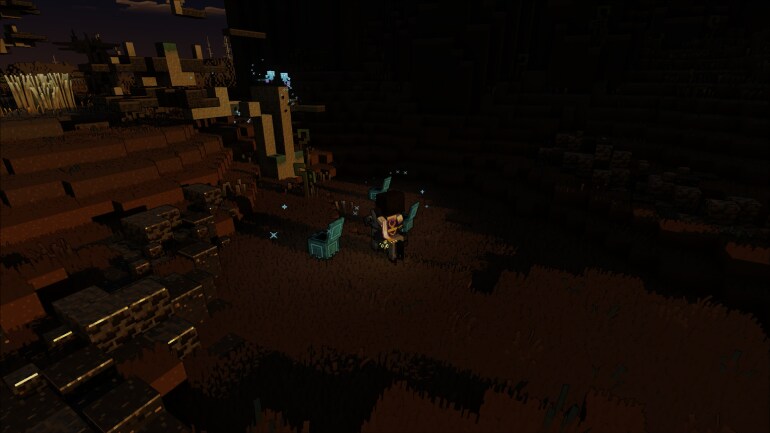 Release date and available platforms
Legends game launched on April 18, 2023, for PC, Xbox One, Xbox Series X/S, PlayStation 4, PlayStation 5, and Nintendo Switch. The title delivers cross-platform multiplayer fun between all these devices. And is available on Xbox Game Pass – meaning playing with a subscription! The game comes in two price editions: Standard and Deluxe.
Reception
Despite the massive pre-release hype, ML didn't receive enthusiastic reviews from the most anticipating fans. Some of the negative feedback was due to initial bugs, others to the complex nature of the expected content, as players were waiting for an RPG or classic real-time strategy game. But Legends combines the essential features of these genres, adding something from each other. Nevertheless, many fans have realized this title is all about pure fun and now has an impressive score of around 69% on Metacritic.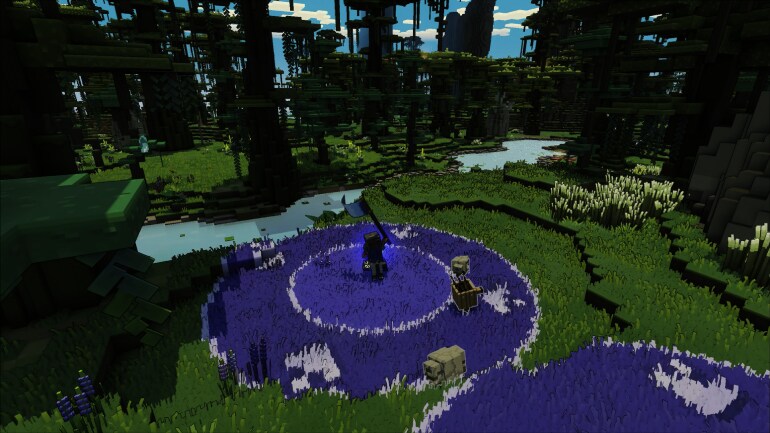 Summary
Legends is still a relatively new video game, a spin-off sequel to the classic Minecraft beloved by millions. Like all PC games, it certainly won't escape the modders' creativity looking to take advantage of mods compatibility for an even better strategic gameplay experience. It will also get increasingly better with post-launch tweaks, bug fixes, and free monthly challenges, so we're looking forward to these changes. As part of the Xbox subscription, the Legends video game is a must-have for all longtime Minecraft fans. And it may be the ultimate choice for those uncertain whether classic block-building fun is exciting enough.