With open beta starting soon we decided to collect all valuable information about the upcoming entry in Sniper: Ghost Warrior series.
I'm trying to forget the original Sniper: Ghost Warrior. The second game wasn't as bad as the first entry, but it had various problems. CI Games, formerly City Interactive, is persistent at trying to improve that universe and the third game aims to revolutionize the formula.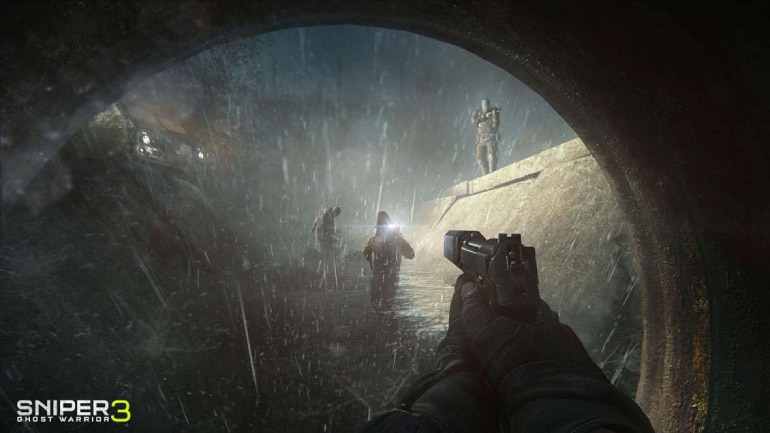 Free traveling
The first noticeable difference is the fact that finally the series went open world. It's set in northern Georgia and if you wonder where's that, think about a very, very close proximity to the Russian border. We play as an American Marine Captain Jonathan North, a.k.a. Jon, who – while taking side in a civil war – tries to find his missing brother.
What's interesting is the fact that the open world structure gives us some level of freedom in the order of choosing missions and side activities. Fortunately, there are fast travel points that allow to quickly visit the nearest place to our main objective. There are a few spots on the map that can be called safe houses – there we'll prepare for the next mission, customize our accessories and have a nap. I'm not joking here as the game offers a day-night cycle, which influences the gameplay.
Safe houses have to be discovered and you'll find new items and information in some of them. When ready, you are able to fast travel to every point except the marker territory of current objective. As you may guess, the day-night cycle might be used to gain advantage. If you plan to go fully stealth, night is the best option.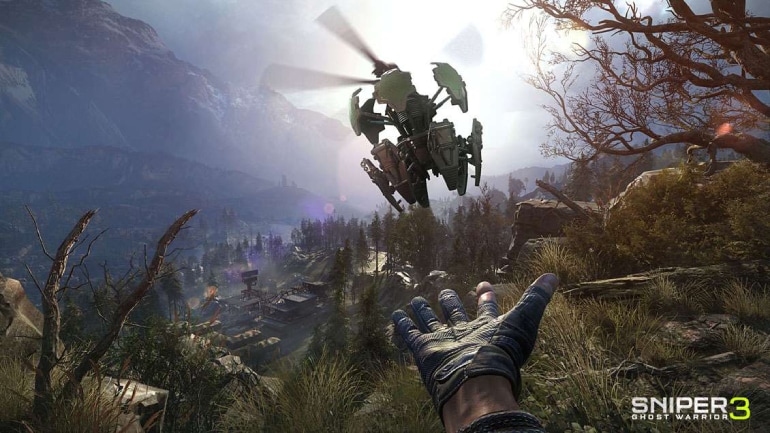 Backpack
Although our arsenal is immense, sniping is at the core gameplay experience. During your progress you'll be able to buy more powerful sniper rifles and upgrade them with silencers, tripods and other elements. Efficiency with this weapon is essential as various factors affect your accuracy. During long-range shooting you have to consider how the weather affects the bullet's trajectory. The wind and the fact how far our target is (thus, how gravity impacts the shot). Oh, and then there's North's breath, which should be stable and slowed down before the shot.
Every time we have access to a form of facilitation – the Scout mode focuses our sight on enemies, health and ammo packs, resources and places where we can climb. It's useful because killing the target might not be the hardest part of the mission. Sometimes we are requested with doing a side task – e.g. recovering the drone. Finding a way to achieve this and then successfully extraction can be tricky. A lot of free climbing, parkouring, and rappelling is necessary.
I have mentioned the drone and it's worth noting that we'll have one for ourselves (or more, if we learn a skill – more about that in a moment). Drones are used to detect enemies, scan target location, but also serve as a form of distraction or a hacking tool. This gadget can be customized with addition of some entertaining features. But be careful! NPCs are able to notice the drone and the base on full alarm is the last thing we should wish for.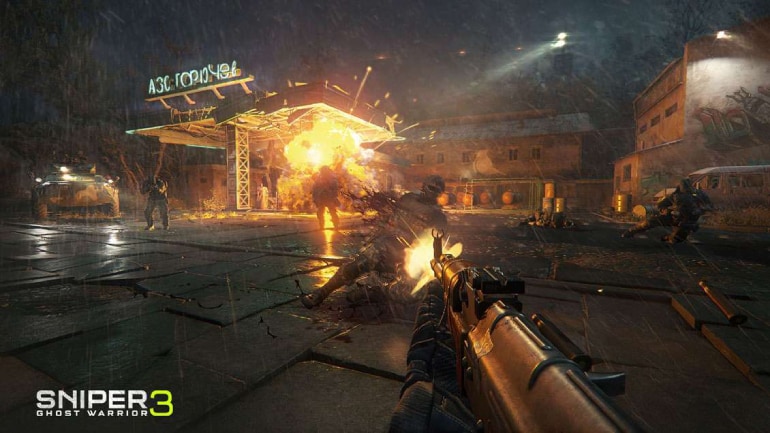 Sniper, ghost and warrior
While traveling you'll be gathering intel that allows to find targets (they are always at the scheduled place, but you can make the upcoming mission more comfortable with such information). There are also outposts and other forms of activities, but what's important is the fact that game's title works as a description of three possible approaches.
You can play as the titular Sniper and focus on observation. You'll be able to detect other snipers and interesting items. Your skill tree will allow for bullet crafting and longer breath slowing. It's possible to play as a Ghost – namely with a stealth approach. People choosing this path can loot and climb quickly and make their steps silent. The interesting skill here is the ability to "see" sounds, e.g. guards approaching your position behind a wall. And there are Warriors, who can grab additional assault ammo, more gadgets etc. Their stamina is drained at slower rate, they take less damage from explosions and medkits are much more effective in their case.
General notes:
There's always a vehicle waiting for you near the safe house. If you have to discover a new place, that's the faster method. But be aware – enemies will easily notice you when you are driving!
If you aren't good at navigating, no worries – there's a GPS line visible every time when the mission is selected or a custom marker is placed on the map.
There are five types of resources used for crafting and customization of your equipment. You'll additionally need cash to buy new guns, ammo and other elements.

Sniping perfected
Season Pass
It has been confirmed that the Season Pass is free for everyone preordering the game on PC or PlayStation 4. It contains two additional missions. The first one is The Escape of Lydia and it works as a prequel for the main game, in which you play as the titular female sniper Lydia. The second mission is The Sabotage, in which players take the role of separatists. It changes the focus of the story and allows gamers to see "the other side" and the whole tale takes as more grey zone than black and white vibe. This content pass will include two multiplayer maps, as well as additional weapons and a vehicle.
Sniper: Ghost Warrior 3 is set to release on April 4th, 2017 for PC, PlayStation 4 and Xbox One. You will find future info about the game in our latest news section or via the title's tag.