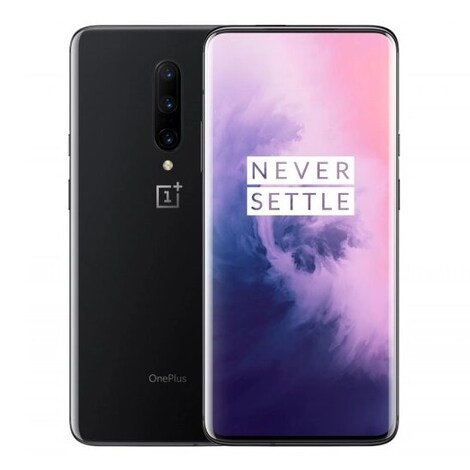 1/1
OnePlus 7 Pro 8GB/256GB Dual Sim Szary Błyszczący
Selected offer from:
OnePlus 7 Pro 8GB/256GB Szary Ekran: 6,67" Qualcomm Snapdragon 855 (8 rdzeni, do 2.84 GHz) Pamięć wewnętrzna: 256GB Pamięć RAM: 8GB System: Android 9.0 Pie Aparat: 16.0 Mpix - przód, 48.0 + 16.0 + 8.0 Mpix ...
Specifications
Specifications
Connectivity:

4G

Contract:

Without Contract

Lock Status:

Factory Unlocked
Product description
OnePlus 7 Pro 8GB/256GB Szary

Ekran: 6,67"

Qualcomm Snapdragon 855 (8 rdzeni, do 2.84 GHz)

Pamięć wewnętrzna: 256GB

Pamięć RAM: 8GB

System: Android 9.0 Pie

Aparat: 16.0 Mpix - przód, 48.0 + 16.0 + 8.0 Mpix - tył

Bateria: Litowo-jonowa 4000 mAh
OnePlus 7 Pro
Oto potężny OnePlus 7 Pro 8/256GB w kolorze błyszczącej szarości. Przyjemny dla oka kolor ozdabia solidną obudowę, która mieści w sobie ultra wydajny procesor Snapdragon 855 oraz ogromną ilość pamięci RAM - 8GB! To urządzenie nie dostanie zadyszki, nawet, gdy uruchomisz bardzo dużo aplikacji na raz. Wybitne osiągi uzupełniane są przez piękny wyświetlacz Fluid AMOLED. Za rewelacyjną jakość zdjęć odpowiada aparat o rozdzielczości aż 48Mpix.
Niewiarygodna płynność
Zobacz doskonały obraz. Od dziś, podczas oglądania filmów lub grania w Twoje ulubione tytuły, nie spotkasz się ze smużeniem obrazu. Ciesz się jasnymi barwami wyświetlanymi na ekranie o rozdzielczości QHD+. Z ekranem zintegrowano też bardzo szybki skaner linii papilarnych. Wystarczy, że przyłożysz palec szklanej tafli ekranu i w mgnieniu oka przejdziesz do menu.
Ostre i nasycone zdjęcia
Lubisz robić selfie? Oneplus 7 Pro nie zawiedzie Cię. Dzięki wysuwanemu aparatowi o rozdzielczości 16Mpix uchwycisz piękne ujęcia - wystarczy się tylko uśmiechnąć. Główny aparat zaskoczy Cię swoimi parametrami - 48 Mpix to coś imponującego! Przetwornik Sony IMX 586 oraz jasna przysłona f/1.6 wraz z udoskonalonym trybem HDR+ utrwalą otoczającą Cię rzeczywistość w doskonały sposób.
Dwa rewelacyjne aparaty
Obiektyw szerokokątny uchwyci piękno otaczających Cię krajobrazów oraz dużych budynków. Dla uchwycenia obiektów oddalonych od Ciebie Oneplus 7 Pro wykorzystuje aparat z 3x zoomem optycznym. Dzięki niemu bezstratnie przybliżysz oddalone obiekty, nie tracąc przy tym ostrości. Jest to możliwe dzięki zastosowaniu optycznej stabilizacji obrazu.
Najwydajniejszy mocarz
Procesor Snapdragon 855 oraz 8 GB pamięci RAM to idealnie połączenie. Ich wydajność zostanie wykorzystana w pełni dzięki odpowiedniej optymalizacji dedykowanemu dla Oneplus systemowi Oxygen OS. Urządzenie pracuje dzięki temu bardzo płynnie i responsywnie. Zastosowana technologia ładowania Warp Charge sprawi, że nie będziesz marnować czasu na ładowanie urządzenia. Dzięki niej Twój Oneplus 7 Pro zostanie naładowany w kilka chwil.
Procesor
Qualcomm Snapdragon 855 (8 rdzeni, do 2.84 GHz)
Układ graficzny

Adreno 630

Pamięć RAM

8 GB

Pamięć wbudowana

256 GB

Typ ekranu

Fluid AMOLED

Przekątna ekranu

6,67"

Rozdzielczość ekranu

3120 x 1440

Łączność

Bluetooth

Wi-Fi

LTE
NFC

System nawigacji satelitarnej
Złącza

Gniazdo kart nanoSIM - 2 szt.

USB Typu C - 1 szt.

Bateria

Litowo-jonowa 4000 mAh

Zainstalowany system operacyjny

Android 9.0 Pie

Aparat

48.0 Mpix + 16.0 Mpix + 8.0 Mpix - tył

16.0 Mpix - przód

Lampa błyskowa

Wbudowana

Rozdzielczość nagrywania wideo

3840 x 2160 (4K)

Grubość

8,8 mm

Szerokość

75,9 mm

Wysokość

162,6 mm

Waga

206 g

Kolor

Szary błyszczący

Dodatkowe informacje

Szkło Corning Gorilla Glass 6

Akcelerometr

Żyroskop

Magnetometr

Czujnik światła

Czujnik zbliżenia

Czujnik podczerwieni

Wbudowane głośniki stereo

Czytnik linii papilarnych wbudowany w ekran

Skaner twarzy

Funkcja szybkiego ładowania Warp Charge 30

USB OTG

Dołączone akcesoria

Ładowarka

Kabel USB

Etui

Gwarancja
12 miesięcy (gwarancja producenta)