Outlast 2 STEAM CD-KEY GLOBAL
Available from marketplace sellers
There are %d people looking at this product.
Outlast 2 for Steam platform is a digital product – no box included. The price applies to a digital version of the product.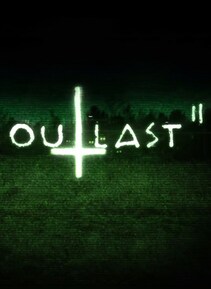 Language available:

Region:

GLOBAL

Platform:
Buy product from these sellers:
How does G2A Goldmine work?
Tell your friends about G2A's Goldmine – build a team and boost your earnings!

2

Watch your profit grow!

Just sit back and relax as your work brings profit now! Use the tips and tools we made for you to maximize the earning potential.

A job well done deserves a proper credit. And still, you have not been working hard to achieve it right? Choose your preferred payment option and receive the paycheck!
Product Description

The first Outlast was a disturbing trip through a dilapidated mental hospital. Now in Outlast 2 (PC) you will visit the cornfields of Arizona where a doomsday cult controls a village in the middle of nowhere. Disturbing imagery, unsettling sound design, and a feeling of hopelessness make Outlast 2 a rightful successor to the first game's legacy.

The story out of classic horror movies

The Langermanns is a married couple of investigative reporters following the story of mysterious murders they traced back to a village on the Sonora desert. But everything went awry when their helicopter crashes and Lynn Langermann goes missing, leaving Blake to find her while staying alive. What he discovers and understands of the madness around him is up to the player to see.

And humans may not be the only things hiding in the dark.

Outlast 2 gameplay

Outlast 2 continues the gameplay style of its predecessor. Blake is not a fighter, but a professional cameraman. Don't expect to be a hero dealing justice. Watch the world through your camera's night vision mode, but remember to scavenge for batteries. Blake's camera is very good, but sometimes maybe it's better not to see what crawls in the dark. Can you stay away from your pursuers, understand the village's mystery, and find your wife before all is too late?

Excellent audiovisual design

Outlast 2 has masterfully crafted graphics to let you see in perfect detail the horrors of the village in Arizona. Every apparition, scuttling terror, and hostile cultist looks real and even more disturbing. The sound supports the visuals, creating an eerie atmosphere with just enough sound to keep the player alert. Are you brave enough to play Outlast 2 with your headphones on and you handle the screams of terror, eerie whispers and the breath of things that must be directly behind you?

Provocative imagery

The Red Barrels studio holds no punches. Outlast 2 is set in a half-forgotten American village controlled by a cult believing the end of days is upon them. The burning crosses, defaced Catholic schools and satanistic imagery set the main theme of the Outlast 2 experience and create a consistently unsettling atmosphere. Deciphering the meaning behind all the images will not be easy, and may be more terrifying than staying in the dark. Ignorance is bliss when knowledge reveals things you may not be able to handle.

Key features

Outlast 2 is a sequel to 2013 critically acclaimed game. Instead of a rundown mental hospital this time the players are tasked with uncovering a series of mysterious murders as Blake and Lynn Langermanns, investigative reporters. What lies behind the doomsday cult running the village?

Outlast 2 features

Stunning graphics - Outlast 2 has amazing graphics to make sure every apparition on the edge of your perception looks as realistic as possible
Inspired by the Jonestown massacre - the developers cite the 1978 tragedy as one of the main sources of inspiration
New, better camera - as a cameraman, Blake Langermann has a professional camera with better night vision, clearer zoom, and sound detection
The isolation - Outlast 2 is set in the Supai region, in a village in the middle of nowhere. Nobody will come to your aid

Requirements

System Requirements:

Windows Vista / 7 / 8 / 10, 64-bits

Processor:

Core i3-530

Memory:

4 GB RAM

Graphics:

1GB VRAM NVIDIA Geforce GTX 260 / ATI Radeaon HD 4xxx

HDD:

10 GB

Platform:

PC

Other

Steam

Steam - Game can be activated on Steam, enables you to play on official Steam servers and your game will be kept updated with the latest patches via the Steam platform.

Key Type

This product is available as a CD key carried out via digital means - no shipping fees apply.