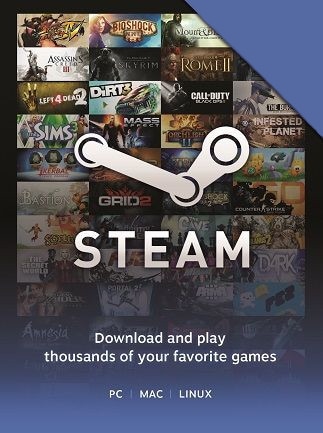 1/1

Steam Gift Card 500 ARS - Steam Key - For ARS Currency Only
Steam Gift Card is one of the easiest payment methods accepted by Steam Shop. One of the biggest advantages of this method is that it does not require any personal, or credit card information from its user.
Read More
Offer from seller
Instant_game
100%
Positive feedback
16913
Sales feedback (last 12 months)
---
This seller has received exceptionally high ratings from buyers for outstanding customer service.
---
This seller does not issue invoices.
Money Back Guarantee
for digital products provided by sellers
Excellent seller

100%

Positive feedback

16913

Sales feedback (last 12 months)

---

This seller has received exceptionally high ratings from buyers for outstanding customer service.

---

This seller does not issue invoices.

0

Sales feedback (last 12 months)

---

This seller does not issue invoices.

0

Sales feedback (last 12 months)

---

This seller does not issue invoices.

0

Sales feedback (last 12 months)

---

This seller does not issue invoices.

0

Gamersmarket

Excellent seller

100%

Positive feedback

1333

Sales feedback (last 12 months)

---

This seller has received exceptionally high ratings from buyers for outstanding customer service.

---

This seller does not issue invoices.

0

Sales feedback (last 12 months)

---

This seller does not issue invoices.

0

Sales feedback (last 12 months)

---

This seller does not issue invoices.

0

Show 9 more offers

Warning. You can only activate this Steam Gift Card having the same currency configured on your steam account.


No expiration date. 




Steam Gift Card will instantly add funds directly to your Steam Wallet. The added money can be freely spent on your favorite games from the rich Steam Store library. Buy the newest video games, and software without worrying about giving away your credit card information.

Steam Gift Card 500 ARS

Argentina Steam Gift Card 500 ARS represents the value of 500 Argentine pesos. After activation, the funds will be instantly transferred to your account, ready to use. The Steam Gift Card is the key to a world of fantastic entertainment! It can be activated on accounts registered in Argentina only.

How to redeem a Steam Gift Card?

Activation of a Steam Gift Card is very easy. All you have to do is follow these few steps:

Log in to your Steam Account
Click on your Account name
Go to Account Details
Click on 'Add funds to your wallet"
Enter the Gift Card code
Confirm and start browsing the Steam Store!

Key Features

Unlock the access to the new level of entertainment
Make a perfect gift for every gamer
Quick and easy way to top up your Steam Account
100% safe payment method
Online instant delivery - your funds will be added to your Steam Wallet right after the activation!

UK
Payment methods:
and 200+ more