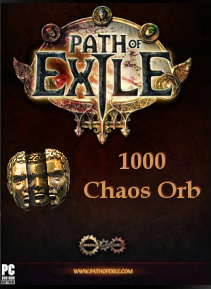 1/1
GLOBAL version for:

PC
Path of Exile Chaos Orbs Code PC GLOBAL 1000
Patch of Exile 1000 Chaos Orbs ...
Product description
Patch of Exile 1000 Chaos Orbs
Warning! 
This product can be applied 
ONLY 
to 
standard league 
characters.
To redeem this product:
Go to https://www.gramno.com/path-of-exile-currency, select your league, and select 1000 chaos orbs enter your in-game name.
Click "Add to cart" and select checkout
Fill the information and select voucher code in the bottom right corner.
Enter the code you got from G2A and click Continue
In the next 1-3 hours we will send you the items in-game.