Planar Conquest STEAM CD-KEY GLOBAL
Available from marketplace sellers
There are %d people looking at this product.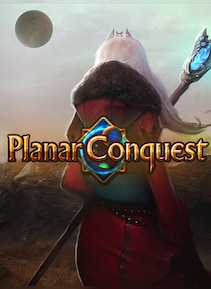 Limba disponibilă:

Regiune:

GLOBAL

Platformă:

Official Developer:
Buy product from these sellers:
Cum funcționează Goldmine?
1

Informează-i și pe alții

Spune-le prietenilor tăi despre G2A Goldmine, construiește-ți o echipă și sporește-ți câștigurile!

2

Uite cum crește profitul!

Relaxează-te, munca ta îți va aduce profit acum! Folosește-te de sfaturile și instrumentele pe care ți le-am pus la dispoziție pentru a-ți mări posibilitățile de câștig.

Un lucru bine făcut merită răsplătit. Și totuși, nu ai muncit atât de mult, nu-i așa? Alege metoda de plată preferată, iar apoi îți vei primi banii!
Descriere produs

Planar Conquest is a 4X turn-based strategy game inspired by Master of Magic. Created to give you that awesome feeling of the gameplay of the past, wrapped into modern look. "eXplore, eXpand, eXploit, and eXterminate" are the four words which are here to provide fun and challenge.

Customize your character and become all powerful Sorcerer Lord to rule the empire or choose a pre-generated character. Select from 13 spell circles that will determine which of the over 300 spells your lord can learn. Choose from over 40 disciplines that give your lord specific advantages or disadvantages, and will allow you to adjust your character to your gameplay style. Magic, military, diplomacy and economy can be harnessed to serve you.

Seven procedurally generated Planes of Existence all with their own special features, that can be customized with the shape, landmasses and size even up to 128x128 tiles. Over 40 types of locations that can be examined in search of various loot and fight with the guardians that protect those.

Over 40 different kinds of buildings to improve your settlements, over 150 unique military units to recruit and magical creatures to summon among with possibility to found new settlements to increase your empire's power and conquering neutral and enemy cities to extend your borders gives long hours of gameplay.

Caracteristici cheie

Use diplomacy to get an edge over your enemies.

Play out combat on a tactical battle board.

Hire heroes and equip them with magical weapons and armor.

Recruit unique and powerful Titans and make them to follow your orders!

Gain experience and make units more powerful as they achieve victory after victory.

Use tactical, strategic, and global spells to destroy your enemies.

Cerințe minime

Cerințe recomandate

Cerințe de sistem:

Windows Vista 64bit

Procesor:

Core2Duo 2GHz

Memorie:

2 GB RAM

Grafică:

HD Graphics 4000 ; DirectX 9.0c

HDD:

2 GB

Platformă:

PC

Cerințe de sistem:

Windows 10

Procesor:

i5

Memorie:

4 GB RAM

Grafică:

Nvidia Geforce GTX 670 or AMD equivalent

HDD:

3 GB

Platformă:

PC

Altele

Steam

Steam - Game can be activated on Steam, enables you to play on official Steam servers and your game will be kept updated with the latest patches via the Steam platform.

Key Type

This product is available as a CD key carried out via digital means - no shipping fees apply.
Frequently bought with this item