Planar Conquest Steam Key GLOBAL
Dostępne od sprzedawców
%d osób szuka tego produktu.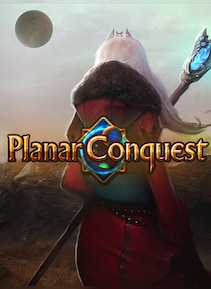 Dostępne języki:

Region:

GLOBAL

Platforma:

Oficjalny Deweloper:
Aktualne oferty sprzedających:
Jak działa Goldmine?
Dziel się informacją wszędzie gdzie to tylko możliwe. Podziel się informacją o Goldmine z przyjaciółmi – razem zwiększajcie swoje zarobki!

2

Popatrz, jak rosną Twoje zyski

Usiądź wygodnie i podziwiaj owoce swojej pracy! Użyj narzędzi i wskazówek jakie dla Ciebie przygotowaliśmy, żeby zmaksymalizować efekty.

3

Odbierz swoje pieniądze

Za każdą dobrze wykonaną pracę należy się wypłata. Z nami chyba się nie przemęczyłeś? Wybierz preferowany rodzaj wypłaty i odbierz zgromadzony zysk!
Opis produktu

Planar Conquest is a 4X turn-based strategy game inspired by Master of Magic. Created to give you that awesome feeling of the gameplay of the past, wrapped into modern look. "eXplore, eXpand, eXploit, and eXterminate" are the four words which are here to provide fun and challenge.

Customize your character and become all powerful Sorcerer Lord to rule the empire or choose a pre-generated character. Select from 13 spell circles that will determine which of the over 300 spells your lord can learn. Choose from over 40 disciplines that give your lord specific advantages or disadvantages, and will allow you to adjust your character to your gameplay style. Magic, military, diplomacy and economy can be harnessed to serve you.

Seven procedurally generated Planes of Existence all with their own special features, that can be customized with the shape, landmasses and size even up to 128x128 tiles. Over 40 types of locations that can be examined in search of various loot and fight with the guardians that protect those.

Over 40 different kinds of buildings to improve your settlements, over 150 unique military units to recruit and magical creatures to summon among with possibility to found new settlements to increase your empire's power and conquering neutral and enemy cities to extend your borders gives long hours of gameplay.

Kluczowe cechy



Use diplomacy to get an edge over your enemies.


Play out combat on a tactical battle board.


Hire heroes and equip them with magical weapons and armor.


Recruit unique and powerful Titans and make them to follow your orders!


Gain experience and make units more powerful as they achieve victory after victory.


Use tactical, strategic, and global spells to destroy your enemies.



Inne

Steam

Klucz należy aktywować na platformie Steam, co pozwoli na grę na oficjalnych serwerach Steam i pobieranie najnowszych aktualizacji.

Klucz

Produkt jest dostępny w formie klucza. Wysyłka jest darmowa.