PLAYERUNKNOWN'S BATTLEGROUNDS (PUBG) Steam Key GLOBAL
Available from marketplace sellers
There are %d people looking at this product.
Poznámka:Upozorňujeme, že pokud zakoupíte PLAYERUNKNOWN'S BATTLEGROUNDS EARLY ACCESS (PUBG) jako DÁREK, nebudete jej moci přidat do svého inventáře.
PLAYERUNKNOWN'SBATTLEGROUNDS EARLY ACCESS (PC) pro platformu Steam je digitálním produktem – bez krabice. Cena platí pro digitální verzi produktu.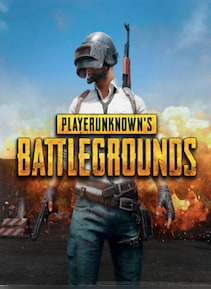 Dostupné jazyky:

Region:

GLOBAL

Platforma:
Buy product from these sellers:
How does G2A Goldmine work?
Tell your friends about G2A's Goldmine – build a team and boost your earnings!

2

Watch your profit grow!

Just sit back and relax as your work brings profit now! Use the tips and tools we made for you to maximize the earning potential.

A job well done deserves a proper credit. And still, you have not been working hard to achieve it right? Choose your preferred payment option and receive the paycheck!
Product Description

PLAYERUNKNOWN'S BATTLEGROUNDS je zbrusu nová multiplayerová střílečka pro Battle Royale vyvinuté pod vedením průkopníka žánru: Brendana 'PlayerUnknown' Greena. Nasedněte do letadla jako jeden ze stovky hráčů, seskočte na velký ostrov, najděte zbraně a snažte se, abyste přežili až do konce na neustále se zmenšující mapě. Máte na to? PLAYERUNKNOWN'S BATTLEGROUNDS (PC) vás prověří, neudělejte chybu.

Rozlehlá,
podrobná mapa

V PUBG je mapa oblast o velikosti 8 x 8 km Je plná osad, jedinečných geografických úkazů a je tu i město, kam se vydáte, až už nebudete chtít jednat v rukavičkách. Obdivujte detaily vložené při vytváření tajemného ostrova, ale buďte opatrní, abyste na památky nezírali příliš dlouho, protože vaši nepřátelé nebudou. Je to krásné místo k umírání, a dokonce ještě hezčí, když jej zaberete jako jediný vládce poté, co jste zlikvidovali všechny své nepřátele.

Prostředí s
řadou cílů

PUBG (PC) podporuje souboje až stovky hráčů najednou. Všichni se snaží ukořistit zbraně jako první, dostat se do bezpečné zóny před vámi a zabít vás dřív, než vy zabijete je. Pozitivem je, že máte k dispozici až 99 cílů. Negativem je: stejně tak váš protivník. Ať tak či onak, zůstat může jen jeden, takže využívejte zbraně, které najdete, a začněte pracovat na odstranění každého, kdo vám stojí v cestě.

Najít se dá
spousta vybavení

Ve hře PLAYERUNKNOWN'S BATTLEGROUNDS se nemusíte prát holýma rukama. Můžete najít vše potřebné. Na mapu seskočíte jen se svým důvtipem a prázdným místem pro vybavení, ale během pár minut z vás může být nejdrsnější tvrďák v okolí s MP4 nebo hezkým AK, aby nikdo nezpochybňoval vaši pozici. K dispozici je 17 typů zbraní, 35 vylepšení a dostatek kosmetických předmětů, aby byl každý spokojen.

Dokonalé
vyvážení hry

Hra PLAYERUNKNOWN'S BATTLEGROUNDS zapadá přímo mezi složitou a náročnou hru Arma 3 Battle Royale a H1Z1: King of the Kill, jež obě vyvinul Greene. PUBG spojuje přístupnost hry King of the Kill s nižší náročností oproti hře Arma 3 a nabízí poutavou hru s vývojem učení, který vás nepotrestá, když něco vyzkoušíte. Je to hra, kterou si užije každý fanda žánru stříleček Battle Royale!

Není čas na
odpočinek

Jestli si myslíte, že si může dát na čas a hrát pomalu, zamyslete se znovu. Čím dále ve hře se dostanete, tím méně prostoru máte. Každých pár minut se prostor zmenšuje stále silnějším silovým polem a nikdy nevíte, kde narazíte na bezpečnou zónu. Zastavte se a zlikviduje vás pole. Zůstaňte na místě a dostanou vás kobercové nálety. Zůstaňte v pohybu a máte šanci přežít do konce.

Key features

PLAYERUNKNOWN'S BATTLEGROUNDS is a multiplayer third-person shooter pitting the players against each other in huge, 100-player battles waged on a massive island. Fight against time and other players as the playable area shrinks at regular intervals. Can you stay afloat in the resulting frantic struggle for survival?

PLAYERUNKNOWN'S BATTLEGROUNDS? features

100 players on one map - the battle royale in PLAYERUNKNOWN'S BATTLEGROUNDS can easily support even 100 players, no problem
17 weapons - everyone can find something for their playstyle. There are even melee weapons for CQC enthusiasts
35 modifications - upgrade your weapon with attachments discovered on the map. Sights, magazines, and more await you!
Massive, varied map - fight on a 8x8 km map, with forests, villages and even a military base. Where will the final stand take place?
Shrinking area of operations - at regular intervals the playable area shrinks, adding time pressure to the gameplay

Požadavky

Systémové požadavky:

64-bit Windows 7, Windows 8.1, Windows 10

Processor:

Intel Core i3-4340 / AMD FX-6300

Paměť:

6 GB RAM

Grafika:

nVidia GeForce GTX 660 2GB / AMD Radeon HD 7850 2GB

HDD:

30 GB available space