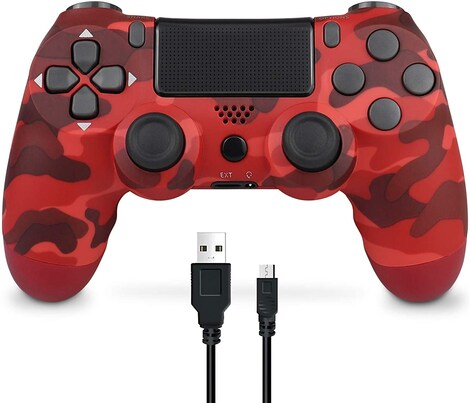 1/1
PS4 Controller Shock 4th Bluetooth Wireless Gamepad Joystick Remote Camouflage
Selected offer from seller:
With all the features of an official Dual Shock 4, this controller is an excellent and affordable way to enjoy any PlayStation 4 game. It looks great even when it's turned off thanks to interesting colour variants.
Buy it in a bundle, pay less:

PS4 Controller Shock 4th Bluetooth Wireless Gamepad Joystick Remote Camouflage
Offer from: Topgameacc
Offer from: Gamersuniverse
Product description
The controller is OEM produced by 3rd party professional factory and compatible with Sony PS4 controllers.
High cost-effective and very popular by EU customers.
This gamepad features all the technological advances popularised in the last generation by DualShock 3 and adds the extra flair and function of DualShock 4 to provide you with an affordable, yet fully functional way to enjoy your favourite PlayStation 4 games. All you need to do is establish a Bluetooth connection and start playing right from the bat!
Prominent features
One of the greatest advantages of using a gamepad is the smooth movement possible thanks to the twin analog sticks, but this controller goes a step further and features finely tuned sixaxis motion control system. With this extra layer of control you'll have an easy and more tactile way of executing precise manoeuvres in any game you decide to spend your time with. There's also the indispensable touch screen you can use in many different ways through console- and game-specific gestures. It's incredibly useful, and once to play a game that knows how you use it well you won't want to go back. Finally, this gamepad can play sounds, be it sound effects, or even audio logs you inspect. You can also plug in a headset into the controller, making it very easy for you to play games even relatively far from your TV and console, and you don't get tangled in cables. It's great if you're remote in your kitchen, but still want to chat.
Colour-coded for your convenience
This controller for PS4 also has a multi-colour LED strip featuring on the top. Not does it add style to the device, but it also identifies which player you are, if you're playing with friends. In some games you can even use it as an indicator of your character's status, such as health, adding extra immersion to the experience.


More information
More information
Invoices
This seller provides invoices. To receive one, you can contact them once you place an order.
Warranty
Guarantee & Return 1. We offer a 3-month warranty. If you receive defective item, please kindly notify us within 30 days. We will guide you the returning instruction for replacement or refund. 2. Original condition, no physical damage (does not include damage caused during transport).All accessories included in the original retail packaging of the product include, but are not limited to, instructions, warranty registration card, etc. 3. As all of our products belong to consumables, please contact us in valid guarantee time. We reserve the right to refuse any returns for objective reasons. Customers Service & Complaint No matter what problems you encounter after receiving the goods, please contact us as soon as possible. Please describe the problems you meet in detail. We will put forward reasonable solutions to protect your rights and interests according to your problems. Thank you for your cooperation! Feedback 1. If you are dissatisfied for any reasons, please don't be quick to leave us neutral or negative feedback. If there are any problems of your order, please feel free to contact us firstly. We are responsible and credible seller, will follow it for you asap. 2. If you are satisfied with the product you received, please kindly leave us a positive 5 star review. It would be much appreciated!
Earn 1.04 USD every time someone buys this product using your reflink.