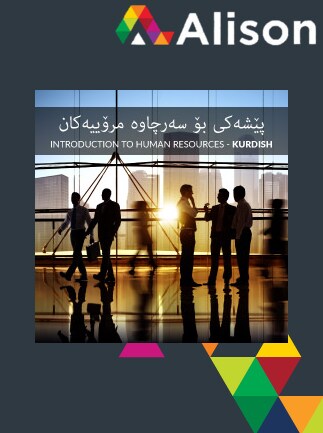 1/2
GLOBAL version
پێشەكی بۆ سەرچاوە مرۆییەكان Alison Course GLOBAL - Digital Certificate
سەرچاوە مرۆییەكان ڕۆڵێكی سەرەكی دەگێڕێت لە بزنس و دامەزراوە مۆدێرنەكان ، جا كەرتی تایبەت بن یان كەرتی گشتی یاخود دەزگای خۆبەخشی بن. ئەم كۆرسە ئۆنلاینە بەخۆڕاییە چەندین بابەتی تایبەت بە سەرچاوە مرۆییەكان دەگرێتەوە، هەر لە ...
Product description
سەرچاوە مرۆییەكان ڕۆڵێكی سەرەكی دەگێڕێت لە بزنس و دامەزراوە مۆدێرنەكان ، جا كەرتی تایبەت بن یان كەرتی گشتی یاخود دەزگای خۆبەخشی بن. ئەم كۆرسە ئۆنلاینە بەخۆڕاییە چەندین بابەتی تایبەت بە سەرچاوە مرۆییەكان دەگرێتەوە، هەر لە ڕۆڵی بەڕێوەبەرانی سەرچاوە مرۆییەكان و هەروەها چۆنیەتی چاككردن و هەڵبژاردن و ڕاهێنان و هەڵسەنگاندنی كارمەندانەوە تاوەكو بزواندنی كارمەند و پەیوەندی لەگەڵ خاوەن كاردا، هەروەها چۆنیەتی بەڕێوەبردنی گۆڕانكاریی لەناو ڕێكخراوێكدا. ئەم كۆرسە زانیاریی و تێگەیشتنێكی تەواو دەدات سەبارەت بەو ڕۆڵانەی كە سەرچاوە مرۆییەكان لە دامەزراوەكاندا دەیگێرێت، هەروەها دەبێتە جێگەی سەرنجی شارەزایانی بزنسی سەرچاوە مرۆییەكان و ئەوانەیش كە شوێن كەوتەی كاری ئەم بوارەن. ئەم زنجیرە كۆرسانە لەبارەی سەرچاوە مرۆییەكانەوە بەتایبەتی بۆ ئەو كەسانە جێی سەرنجە كە لە بواری سەرچاوە مرۆییەكان كار دەكەن یان بە نیازن لەو بوارەدا ئیش بكەن.



The following product allows you to obtain a Digital Certificate / Digital Diploma confirming completion of the related e-learning course which serves as a formal proof of your newly gained skills. You will receive it after passing the course assessment with a score of at least 80%.
Step-by-step guide on how to activate this product->  
Alison Activation Guide